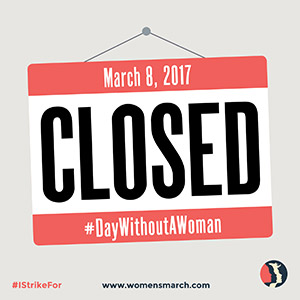 The group that organized the Women's March in January has planned "A Day Without a Woman" to coincide with International Women's Day on Wednesday, March 8th. International Women's Day has a long history- the first event was over a hundred years ago when women were fighting for the right to vote.
The organizers of "A Day Without A Woman" are encouraging women not to work or spend money as a way to bring attention to their critical contributions to our society.
You can read more here:
https://www.womensmarch.com/womensday/
After much thought on how to best support our employees, we decided to close on Wednesday, March 8th. By closing, we are allowing all of our employees to choose whether or not to participate without feeling pressure one way or another.