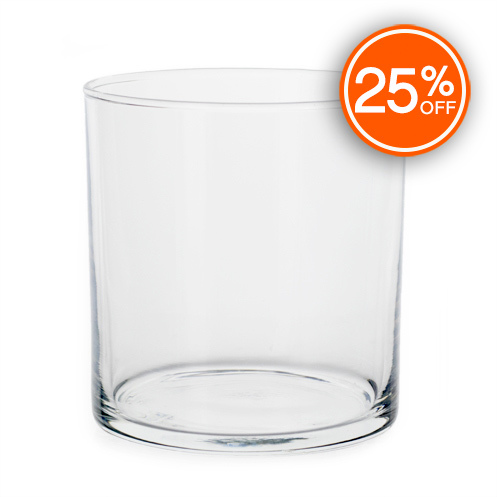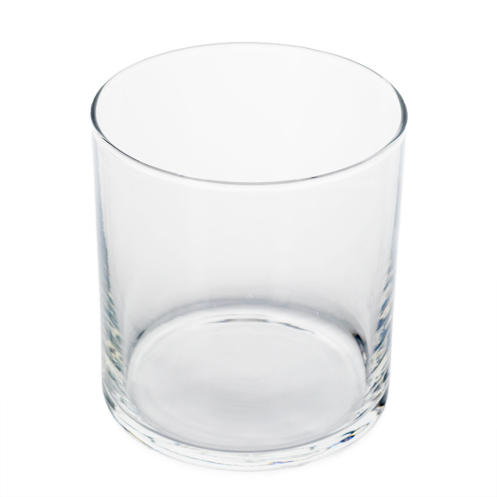 As of 03/10/2021:
This product is discontinued and no longer available.
Details
We added this imported straight sided tumbler to help compensate for the inconsistent availability of the Libbey straight sided tumbler. We have seen some quality issues with this initial shipment, particularly variation in the tumbler's rim and base, and so are offering them at a discounted rate. Please note that these issues are limited to the appearance of the jars—they are still safe for use in candle making and have passed both thermal shock and annealing tests. These containers will be available until stock runs out. We are working with our manufacturers to improve stock availability, quality, and consistency.
Our straight sided tumbler jars have a clean and balanced shape for a more contemporary style container. Our clear tumblers are made from blown glass forming a smooth and seamless finish. There may be a slight variance in the glass thickness.
We also carry the straight sided tumbler jar in additional colors and sizes.
Looking for a lid? Try our silver, bronze, and black metal flat lids.

How much wax will it hold?
Wax Weight (to fill line) - 8.5 oz.
Volume (to overflow) - 11.9 fl. oz.

Looking for a wick suggestion?
GB 464 - CD 18
IGI 4630 - LX 22
IGI 6006 - ECO 8
Check out our wick guide to see recommendations for other waxes! Our recommendations are estimates and should be used as a starting point for your own burn testing.

Looking for labels? Put the finishing touch on your candles with the perfect product label from Avery WePrint. Browse designs, create your own, and take 10% off all label orders! Head to avery.com to get started.

Need packaging for this jar?
Try our kraft and white straight sided tumbler boxes!
We recommend using either a lid, OR a tumbler box, not both.

Wholesale Ordering
View our wholesale page for more information on ordering in bulk.


Made in China
Properties
| | |
| --- | --- |
| Height | 3.46" (+/- 0.06") |
| Diameter | 3" |
| Max Labeling Area | 10" x 3" |
| Prop 65 Warning Required | No |
Reviews
I love these because they weren't a big hassle and very easy to pour into.
hi, im new on the candle business and this jar is work great so far and the price is amaizing! thank you candle science for help me on my new home candle business :) also I have a question ? do you carry a wood wick?? thanks and im addicted to you candle science ;)
I like my tumblers but the rim of the jar is uneven but they are working for me.
Thank God for these jars, perfect price! They are thin, but after testing them they work fine. Jar didn't crack, simply did what I desire for them to do.Thank you candle science.
If I may ask, what size lid fit these particular jars?
Hi there! These jars can be used with our silver, bronze, and black metal flat lids.
I have bought the other similar Libbey containers and when those were not available I bought these. I would not recommend getting these. They are very uneven and my labels do not go on well. I sometimes have to apply multiple labels just for it to come out ok. I also just had a customer notify me that the glass shattered when their candle was lit. Definitely not happy with these.
So let me just say thank you candlescience for providing these when there was a jar shortage, you saved my business and my income during the busiest time of the year. No these jars are not as great as Libbey but in an emergency, they worked. They will need to be rinsed clean and some of them, the bottoms are so thin. I only had one instance where one shattered in transit. Overall I wouldn't recommend these but if you need some for back up then absolutely use them.
Owner/Operator of T.W. Aromatics and Co.
Was I hesitant to purchase: Yes. But these substitution tumblers are just fine in my opinion. I had and have some rather large orders to fill and Candle Science went out of there way to provide us with an alternative. I am grateful for that and will continue to order these jars and then go back to the regular libbey tumbler. I hope that the response from their action with this does not deter them from seeking alternatives in the future when they were just trying to fulfill the demand of us candle business owners.
They're great during a glass shortage!
I am grateful for Candlescience finding a substitute for the Libbey jars during this glass shortage. I was losing my mind trying to find enough jars to fulfill customer orders during my busiest time of year, and then these guys came along. While they are not perfect, they are getting my business through for yet another record year. Thanks Candlescience!
Not great but good enough
These jars aren't perfect and nothing close to the original, but I appreciate the replacement. My business can continue to grow thanks to these jars and I haven't received a customer complaint yet!
Extremely thin, glass container. The rims are uneven. Some came broken as well
Hi there! I'm sorry to hear that your order arrived damaged. A member of our support team has reached out to offer further assistance!
I finally got around to making my candles in these just opened the boxes and am very disappointed in them. When I ordered them there were no reviews so I thought I'd take a chance on them but the glass is so uneven my candles get more "wet spots" than ever, the bottom of the jars are uneven so the wax looks funny in the jars, and there are little bumps on the edge of the jars. Just an overall cheap product. Would never buy again.
Don't Buy! Cheap, Poorly Made
I bought 2 cases of these jars and highly disappointed. They are nothing like the quality of the libbey jars and would never sell these to my customers. I'm honestly shocked that CandleScience would put out such an awful product to be sold. I feel like this order was a total waste. Listen to these reviews!
Straight Sided Tumbler Jar (Import)
I personally don't see why the other reviews are so horrible on these jars. I purchased 4 cases and you can tell they aren't as heavy weight as the Libbey jars and some of them did have a film on the glass that could be cleaned off, but overall, they served their purpose just as well as the Libbey jars.
Not perfect but I'll take the replacement
I don't love these jars but I'm thankful Candle Science did the hard legwork of finding a substitute until the Libbey jars are back in stock. The rips can be bumpy but most of mine aren't too had. Some of my labels don't go on well due to a slight but noticeable enough tapering from top to bottom. The jars are also a little dirty/oily so I've had to wash every single one in order to get my wick stickers to stick. But again, happy to have some sort of replacement because I would have lost so many sales without them. I'll use them until Libbey is back in stock and then go back to those. I wish Candle Science had made the decision to discount these sooner due to the inferior quality, but they did work with me and offer a refund for the jars I had previously purchased.
I was hesitant to order these based on previous reviews. None of the jars ordered were broken. Some of them were a little uneven on the rim, but I expected that based off the reviews. These jars are a slight bit shorter than the Libbey Straight Sided Tumblers (which is fine). The lids that work on the Libbey SS Tumblers will fit on these. They aren't perfect like the Libbey Straight Sided Tumblers are, but they definitely meet my needs. The couple jars that the rims were uneven will be used as my tester jars.
Not perfect but worked for me.
While these jars are not perfect *most* of them worked for me. Obviously we dont pay to have just some items work and not all but im still grateful to have had some sort of replacement and also for CS unmatched customer service so far. Cant wait for the regular jars to come back.
😫 I ordered cases of these last month as the Libby replacement. Well, I finally pulled these out and honestly cannot believe what I'm looking at. These jars are terrible. The sides and tops are uneven, the shapes are inconsistent, and they're thin! I'm afraid to use them but I need jars like NOW.
A major setback.
Thank you for letting us help you with this!
Are they perfect no, did I expect them to be, also no.
Although I received my shipment and one case had a cracked (but not shattered) tumbler, and another had one missing from it, I still think these are good enough.
I think a lot of people don't understand that it's honestly a blessing that CS was able to find and provide a decent container that can be substituted for the Libbey version while we experience this national glass shortage.
So thank you CS purchasers! I appreciate you bringing these in.
Thank you CS for finding a substitute but these are really inconsistent in quality from one jar to the next. I purchased these jars full price only because the libbey jars were out and I have a ton of orders to fill. I really didn't mind them when I first received my initial order, but as I ordered more, now I'm finding the lack of quality is more evident.
1. The bottoms are not all flat. My labels don't sit right and are bunched together. It looks bad. Also, sometimes the wax is uneven on the top of the jar because of the bottom slanting. Of course, I can't tell which jars will have this issue until I pour the wax. I can't sell these ones so I'm setting aside for Christmas gifts for family.
2. Maybe 2-3 jars per case have a funny rim. It pops up like a bubble. Luckily, I sell with lids so it covers it, but feels dishonest to cover up.
3. They do have a little bit different film on the glass, but I can handle that. However, the glasses all come dirty so I've been washing every jar before using. Just an extra step, but worth it.
I'm happy to have something to use, but I don't like paying the same price as the good jars. I see they are now discounted which is good! I can't wait for the good ones to come back.
I'm happy to say no jars came broken in my order. Packed well!
Hi! A member of our team has reached out to you!
I am a small business owner, spent my hard earned money in order to start up my business for Black Friday and these jars are completely unsalable. They have uneven rims and for bottom is uneven. Then I look up and they are 25% off now, that is so unfair. I trust candle science more than any other brand and I'm so disappointed, I could cry.
Hi! A member of our support team has reached out via email to assist you further!
Very disappointed with these jars!! Spent over $400 buying in Bulk right before you all decided to discount them!!
The tops are uneven and have bumps in them. This was my 1st time buying jars from candle science and I was so excited to upscale my jars and I'm stuck with these.. (Very Frustrated)
Hi there! A member of our support team has reached out via email to offer further assistance.
Not very happy with the jars or the customer service. I was making a large order that included the Libbey Tumblers. Unfortunately the tumblers were out of stock. So I was going to make one order and then make a second purchase just for the tumblers when they came back in stock. However Candlescience would not give a break on shipping (even after i contacted them). So now i'm stuck with these tumblers that came with many imperfections and defintely not as nice as the Libbeys. And now i find out they are cheaper than what i paid. Not happy at all. Will be taking my business elsewhere.
Hi! A member of our team will be reaching out shortly!
I chose these import clear jars when Candle Science was out of the regular straight sided clear tumbler jars. They work well and I haven't experienced any issues thus far. I like them, and will purchase them on clearance before they sell out!
Thanks CS for finding a substitute but these are terrible. I really didn't mind them upon initial review so I ordered a BUNCH. Now I'm seeing the following:
1. They are not all the same height. I know the description says they're shorter than the Libbey they're replacing, which is true, but some are even shorter.
2. The sides of the jars are not smooth, and I initially thought no biggie. But when I'm sending out custom jar favors for people and the labels are all wrinkled that's not appealing.
3. Two of my boxes (so far) are missing a jar from them. Whoever this supplier is, is sloppy. CS staff should not have to review each box to ensure all jars are inside.
The perks: the jars are packed with double wall dividers and extra cardboard on top and bottom. They are safe and secure. Overall, some jars are pretty close to libbey but it's hard to tell which ones have bumpy sides. They're too unpredictable. But I have no choice at this point since Libbey is sold out.
Again, TY CS for finding a replacement. I just wish I hadn't paid full price and even 15% off on my orders.
Hi! A member of our support team has reached out to better assist you!
I wanted the tumbler style jar and something better than what I got off of Amazon, I saw this duplicate for the libby jar and purchased 2 cases of it. Little did I know that all the tops are not straight, not sure if tops even fit right on it. I purchased them one day before the price went down which is annoying. It's unfortunate because I really tried to research the best jars for my company and can't really sell them.
Thank you for allowing us to provide assistance!
Purchases 6 cases of these jars since Libby is out and I need to fulfill orders. I'm just just disappointed at the quality of the jars. I hope more Libby jars would be restock because this is ridiculous.
Don't let the reviews scare you
I was wary to purchase these as a substitute but I'm pleased with them. They are slightly shorter than the Libbey Tumblers and some of the rims are uneven, but I didn't even notice at first. The metal flat lids fit perfectly.
Mine came fine but looking at other reviews I understand why they're getting discontinued.
These jars are working well for me in the clutch when the others are not available. My issue is that every time I place an order to not be "out of stock" the price drops *insert face palm". I mean we were clearly told the standard is not that of Libbey. I haven't had an issue thus far.
We purchased A TON of these jars. They are awful. We have had so many issues, and ultimately do not feel safe using them. They are thin and our labels will not stick at all, so these are all around unusable for our very busy holiday season. Now we're going to have to purchase more inventory, wait for shipping, and we'll have to deal with backlash from frustrated customers.
Disappointed in the quality and the money lost because of these jars.
Hi! Thanks for reaching out to the Support Team so we could assist!
Are you kidding me?! I don't know whether to be livid or cry. Or both. I was hesitant about buying these, so I actually called CandleScience and asked questions. I was reassured beyond belief about how similar they would be, so I took the chance.
What garbage. These are cheap crap that I can absolutely not sell to my customers. Now I have 6 cases of them that will just take up space. I was already bummed about having to pay twice as much for shipping as I did for the actual product, now it turns out it was all a waste of money. I have used CandleScience for almost ten years, I expected so much more from you. I'm so disappointed. I feel lied to and ripped off.
Hello! A member of our support team has reached out to better assist you!
I'm extremely disappointed these jars. This is not the quality I expect from Candle Science. The lip is very thick. The jar is very thin. It just feels cheap. I ordered 12 boxes of these because the original Libbey tumblers were out of stock....HUGE MISTAKE... I paid full price & now I see they are 15%. I am not happy.
Thanks so much for reaching out to our support team so we could assist you with this!
New candle maker, cheap jars & lids
I was so excited to place my order after months of research. I am disappointed after receiving my order today! These tumblers are extremely cheap, thin, and poorly made. The bottom surface is slanted. Each tumbler has a noticeable bump on the rim. The lids that I ordered have a few small scratches on them and they don't properly fit the tumblers due to the bump on the rim. I don't understand how a well respected company could ship/sell these tumblers and lids.
Thanks so much for reaching out to our support team so we could better assist you!
I ordered these like everyone else to compensate for the inconsistent Libby straight sided tumblers. On first glance they look good, but I bought 4 boxes at full price and almost all of my bottoms are uneven/have a bump in the bottom making it difficult for wick stickers to adhere as well as a bump in the rim. Very disappointed in these and that I paid full price.
Hi! A member of our support team has reached out to better assist you!
Unfortunately the import Libbey Tumblers have many glass imperfections. Making it difficult for lablels to lay perfectly flush on the glass with no bubbling, issues with lids fitting snug.
Yes they do hold your candles— however the finished product does not meet high standards. I do not want to sell to customers knowing these issues and finished product looking sloppy.
Paid full price and they are at 25% off and I can definitely understand why.
LOVE candle science— their wonderful product knowledge, EXTREMELY fast shipping and AMAZING customer service.
Looking forward to the Libbey Tumblers being back in stock.... *FINGERS CROSSES*
The jars I received were better than expected. Like everyone else, I bought these because the original Libbys are out of stock and holiday orders are coming in. Four of the 12 have a very noticeable bump on the rim and one has a smaller bump. They are definitely lower quality than the regular jars but it could be worse. I am annoyed that I paid the full price and now only days later they are discounted, but it sounds like the jars I got are better than some of the others that people received.
Hi! A member of our team will be reaching out shortly!
The jars arrived dirty with bumps around the rim and some of them are scratched. Plus the glass is very thin and I'm worried it's gonna break. I don't think I can send them to customers.
Hi! Thanks for reaching out to us so we could assist!
I called candlescience and was assured they tested these thoroughly before offering them and that they were comparable to Libby. I ordered 12 cases at full price, and now I see they are 15% off. Almost every case I received had at least 3 broken jars in them. The quality of the jars is no where comparable to the Libby jars. I'm disappointed because these were supposed to go to a new private label client and they are unusable.
Thank you for leaving a review on our site. A member of our support team has reached out to you via email to further assist you!
They are thinner but I've tested them with crystals in my candles and they don't crack when hot. It's frustrating when adding the wick stickers because they do come off easily but I just stopped wrapped them around the sticks.
I did not like the pricing but since the cost has gone down and I've tested the products I don't hate them. If the Libbey is out of stock as it continues to be I won't mind using these. I'm glad the pricing went down from the previous costs because that was a turn off for me. But keep the price at 10 a case, I won't mind these so thanks CS!
Thank you so much for allowing us to help with this! If you have any further issues or concerns please don't hesitate to reach back out to support@candlescience.com.
Let's start with how dirty these jars are then let's move on to how defective they are. Cheap and made in China so I wouldn't expect anything less. But I feel like everyone who purchased this item should be receiving 15% back from every case purchased to make this ok. Y'all have a lot enough of nerve.
Hi There! Thank you for leaving a product review with us. We are certainly happy to help! A member of our support team has reached out to you via email to provide further assistance.
As a follow-up to my earlier review - I find all the reviews that point out the uneven edges, etc., are super helpful when determining whether or not the lip of the jar is a factor in usability or branding. I have purchased them and truly appreciate that I could get any jars at this point. Thank you CandleScience for trying. I have not had any complaints from my customers.
These are the worst tumblers I have ever purchased. More than half my order has defects/lumps around the rim. They arrived dirty. The glass is extremely thin and lightweight, I would not trust an open flame inside this vessel. I can not use this product, not only would I be embarrassed to present this to a customer but I'm concerned if could also be a fire hazard. Very disappointing.
Hi! Thanks for reaching out to our Support Team so we could help!
Oh c'mon, it's not that horrible
But to each his own I guess. Yes these glasses are thinner than the Libbey ones. And yes the bottoms are lopsided but so are some of the Libbey ones I ordered. I poured candles in them and I've no issue so far. Note that the company did put in brackets the word import and I figured these were from China. However, they are not as bad as some reviews here are making them out to be.
Disappointed. Especially since the holidays are approaching
If I could rate these a zero star I would. They're horrible the bottoms are NOT flat! in the inside they're dome shaped with no thickness to them whatsoever. They are misshaped and smaller than the Libby tumblers. All of them have a weird film to them aswell. They look like they're from the dollar.
I'm in tears, I honestly don't know what I'm going to do them all. Not to mention shipping cost me more than the product since it shipped from the west coast.
Hi! A member of our team will be reaching out shortly!
not the best but I don't regret buying
I agree with the other reviews. These aren't the same quality as the other clear tumblers. I will say that once the candles are poured I don't see much of a difference between these and the other tumblers except for a lump in some of the rims. This isn't something that really bothers me, but if you want them perfect don't buy these. Thank you so much Candle Science for informing us that these have been throughly safety tested bc that was the only thing that I'm worried about as I'm selling these.
Yes, these are not good jars. And, I find it interesting that they are "imported" and the side of the box says MADE IN CHINA...
I don't mind the bumps (there aren't that many) around the rim because to me, that makes them look a bit hand blown as opposed to
irregular. They are very thin but I just poured 200 of them. I wasn't worried about them as candle vessels because CS had their name
behind them but now I am concerned about delivering them in the morning. I do not need a law suit. Has anyone used them without issue?
I see that they are 15% off now..... so glad I paid full price for 20 boxes. UGH.
These containers are horrible. They have bumps on the top rim of the glass, the bottom of them are not even. I tried to use these but I cannot sell these to my customers. This was a waste. Very disappointed in these jars.
Hi! A member of our team will be reaching out to you via email to help!
These jars not only are cheap looking but they are not even usable. The wick stickers that I have always used to not adhere to this glass which totally baffles me. As soon as I pulled the wick around wick guide it detached from the bottom. I literally can't use these jars. And I paid full price before they were discounted. Extremely disappointed and stress going into the holiday season.
Hi Lauren! Thank you for leaving a review. A member of our Support team has reached out to you via email to assist!
As everyone has pointed out, the quality of these jars are not up to standards. And since they were at the same price point and were advertised as comparable as the Libbey's, that's what I was expecting. Well, upon opening the box I was instantaneously disappointed. These are very light, with a weird curve on the bottom, thin glass, lumpy, with a weird film on them. It's sad because I trust candle science as a company but I feel like I was fooled...:(
Hi Aly! Thank you for leaving a review. A member of our Support team has reached out to you via email to assist!
Of course all candle makers are freaking out they can't get jars and holiday is approaching. All distributors and manufacturers are on back order and it is making our lives challenging. Although I know candle science is committed to supplying some of the best products out there these glasses arrived almost all broken and also sliced up one of my friends hands opening the box ( IM NOT A HAPPY CAMPER ABOUT THAT). Now if it was just the glasses broken I wouldn't leave a bad review but the few that were not broken are bumpy, uneven, lopsided, thin and deff subpar quality for almost the same price as their libbey jars. That appears SNEAKY AND DISHONEST. Stop selling these garbage glasses ! Candle science should be ashamed selling these wether they were trying to help candle makers between a rock and a hard place with out of stock products. BAD BAD BAD BAD!
Hi! Thanks for reaching out so we could assist!
Like everyone else, I ordered these because Libbeys were out of stock and the restock date kept changing and changing...These are FILTHY when they get out of the box it is unbelievable. As a loyal candle science customer I cannot believe that we are being charged the same price for these jars when they are not even half the quality as the Libbey. I will need to start looking for a new wholesaler.
Hi! A member of our team will be reaching out shortly!
I figured I could use these jars in the interim, but they are such poor quality. All cases came in broken or bad quality ( uneven tops/bumps). DO NOT BUY THESE!
Thank you for giving us the opportunity to get this taken care of for you!
Overall, I'm glad CandleScience had replacements ready to go for the Libbey jar shortage. But they are of a far lower quality. Will make it work, but I would recommend if you're shopping around for jars stick with Libbey.
I second the other reviewers on here saying that the jars should not be priced the same as the Libbey jars because they are NOT the same quality at all. A lot of the jars I received had uneven edges, bottoms, and overall just looked foggy? I ordered 10 cases to stay ahead of the holiday rush and I'm worried I won't be able to sell these - especially not next to the actual Libbey jars.
The glass itself has a fluorescent clear hue to it if that makes sense? Side by side with the other jars in my inventory they look so shabby and I'm worried my customers will not be happy.
CS - these cannot be priced the same as the Libbey jars. They just can't be. I'll make due for now, but if you're selling a lower quality jar please lower the price. I am disappointed :(
In stock, but several differences than libbey
It is helpful that these are in stock, but they should not be sold as direct replacements for the Libbey jar. They should also not be as expensive as the Libby is a premium, made in the USA product.
1. The rims are uneven and folded out
2. The base and thickness of the jar is noticeably different
3. The height difference is noticeable when placed next to a finished libbey jar. This impacts business when it comes to customers who have reordered and are shelving the imported jar next to the libbey jar
4. the dimple in the bottom leads to a less refined look with the warning label and affects the fill level of wax when filling by weight.
5. Part of our marketing is that our glass ware and soy is produced in the USA which we will now have to amend.
Overall, I am thankful that this is an option during this busy time and I can fulfill orders, but not without some explanation and credits to retailers stocking our products. We already run a tight margin with wholesale so this not a comfortable situation. It seems like this shortage of libby jars might be a long standing, so perhaps these jars could be offered at a lower price point as they really do not compare to the quality of libby.
These are not as nice as the Libbey glasses. The same lids do seem to fit just fine, and they are only a very unnoticeable bit smaller than the Libbeys ones. Which is good. however they arrive not clean out of the box, a weird dirty opaque film on them which requires the extra step of handwashing each one. And the quality of the glass is thinner and cheaper looking with lots more imperfections. Especially on the rims which is the part a customer will notice the most. I ordered 20 cases and not sure what to do with them now.
The jars are lighter, cheaper feeling. Comes kind of discolored and some of the rims are bent. I ordered five cases and I most say I'm quite disappointed.
Hi! A member of our support team will be reaching out shortly!
Purchased these jars because the libbey 8.5oz are sold out. The shipping time was great but almost all of my glasses came with the rim of the glass all jagged and lumpy I cannot sell these to customers.
Hi! A member of our team will be reaching out shortly!
I had purchased 2 cases because Libby's were out of stock. Opening the box, the very first one was taller on one side than the other, and many others had small lumps and bumps around the ridges which just made me not want to use them for candles. Not sure what I will do with them now, I might be able to use a few but I will not purchase them again. I will wait for Libby's next time. Love their jars.
Hi! A member of our team will be reaching out shortly!
Straight side tumbler (import)
I ordered 10 cases of these because the Libbey ones were out of stock. They were in perfect condition. I am always so impressed CS shipping. I received a total of 18 boxes of glass jars (not just these jars) NOT one was broken!! Your shipping dept is #1!!!