Product Update: April 8, 2020
Due to sustainability concerns about Cargill's sourcing practices, we have made the difficult decision to discontinue Cargill waxes from our product line. The Cargill NatureWax C-6 Soy/Coconut Wax will be discontinued once current stock is sold out. For more information click here.
OUR PROCESS
We divided our testing into three parts:
Aesthetics: We test for adhesion, frosting, and color retention.
Fragrance Performance: We look at solubility, retention, and cold and hot throw performance.
Burn Performance: We test several wick series to find the best burn.
For our fragrance tests, we used White Tea, Sandalwood, and Very Vanilla fragrance oils. They each have very different densities, viscosities, and ingredients; the variation helps to reveal potential solubility and burn issues.
GENERAL OVERVIEW
Application: Container candles and tealights
Recommended Fragrance Load: 6-10%
Nature Wax C-6 is a proprietary blend of soy wax and coconut wax. The addition of coconut creates a slightly whiter natural wax than pure soy, and can potentially reduce the amount of frosting while improving glass adhesion.
This wax comes in slab form. We found the slabs to be firm but easily cut with a knife or metal spatula. The wax feels slightly dry, but you may find your hands have a light residue after handling the wax. We recommend wearing latex or nitrile gloves while working with C-6 for a faster clean up and to avoid transferring the residue to other materials.
We did notice significant frosting through the center of the slabs we tested. This is normal and to be expected from a soy product. This frosting will not affect the finished look or performance of your candles.
AESTHETICS
Surface and Glass Adhesion
We found that pouring at a high temperature, 175º +/- 5º, resulted in the smoothest tops. Different containers had different results relating to the smoothness of the tops. Wider jars, like our Straight Sided Tumblers and Apothecary Jars, had the smoothest tops at this pour temperature, while more narrow containers like Jelly Jars and Mason Jars tended to have slight pitting on the surface. Higher fragrance loads also led to more pitting and holes on the surface. You may find it helpful to reserve some wax after pouring so that, if needed, you are able to do a second pour to cover any imperfections.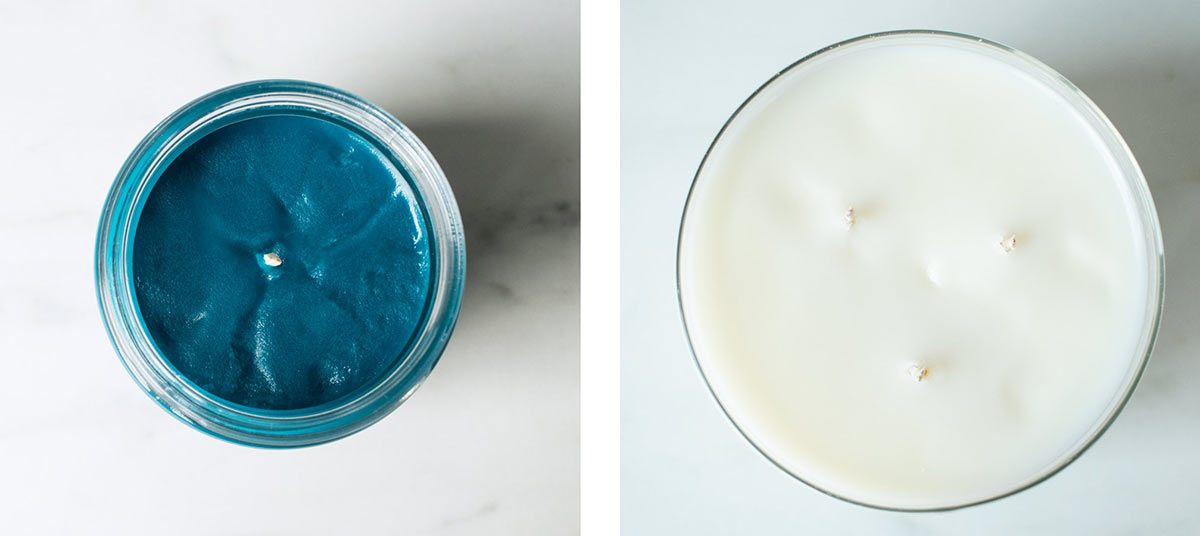 The glass adhesion of C-6 is stellar at any pour temperature. Test candles we poured 12 months ago and exposed to a variety of temperatures still have excellent glass adhesion. Working in a cold area may cause some issues with adhesion, but if your workspace stays above 70ºF, adhesion problems will be minimal to none.
Frosting
Like with all natural wax blends, frosting can occur, but we found that high pour temperatures drastically reduced the likeliness of it appearing. Candles poured at 175º had almost no frosting and those that did were in inconspicuous areas like the bottom of the container where it could easily be covered by a label. We found the lower the pour temperature, the worse the frosting became. Candles poured at 150º or lower had 75%+ frosting covering the sides of the candle. This wax is slightly whiter than most natural waxes, so leaving the wax uncolored will help hide the frosting if this is a major concern for your candle line.

Coloring
This wax takes color very well, especially for natural wax. We believe the addition of coconut wax helps produce more vivid colors compared to pure soy wax. We tested our Summer Breeze and Purple liquid dyes at a rate of 6 drops per pound. The color was much darker and brighter than the same amount in the AAK 464 soy wax. Some fragrance oils may cause a slight color change, brightening or lightening the wax color, but we expect that the natural color of the wax will not cause a drastic shift in colors (ie. blue dye finishing with a green hue).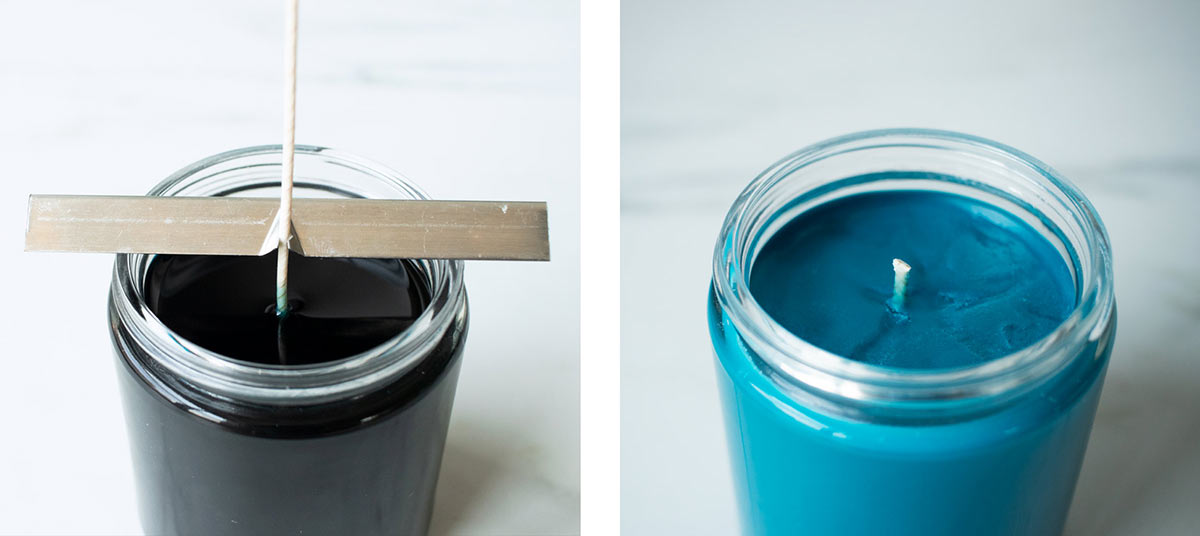 FRAGRANCE PERFORMANCE
Solubility
This wax will hold up to 10% (1 ⅔ oz fragrance to 1 lb of wax) fragrance oil, and we found that 6 - 10% fragrance was acceptable for a good hot throw. We always like to see how much we can add to the wax before it starts to cause a problem, like separation or sweating. We decided to add 12% of one of our densest fragrances, Very Vanilla, and one of our lightest fragrances, Sandalwood, to see the outcome. After 24 hours, the candles fragranced with Very Vanilla had really rough tops, a very large sinkhole, and had frosted quite heavily, even with the higher pouring temperature. The candles fragranced with Sandalwood had a similar outcome, but the wax also looked and felt very soft. We noted uneven color in the Very Vanilla candle, indicating that the fragrance was not able to fully incorporate into the wax.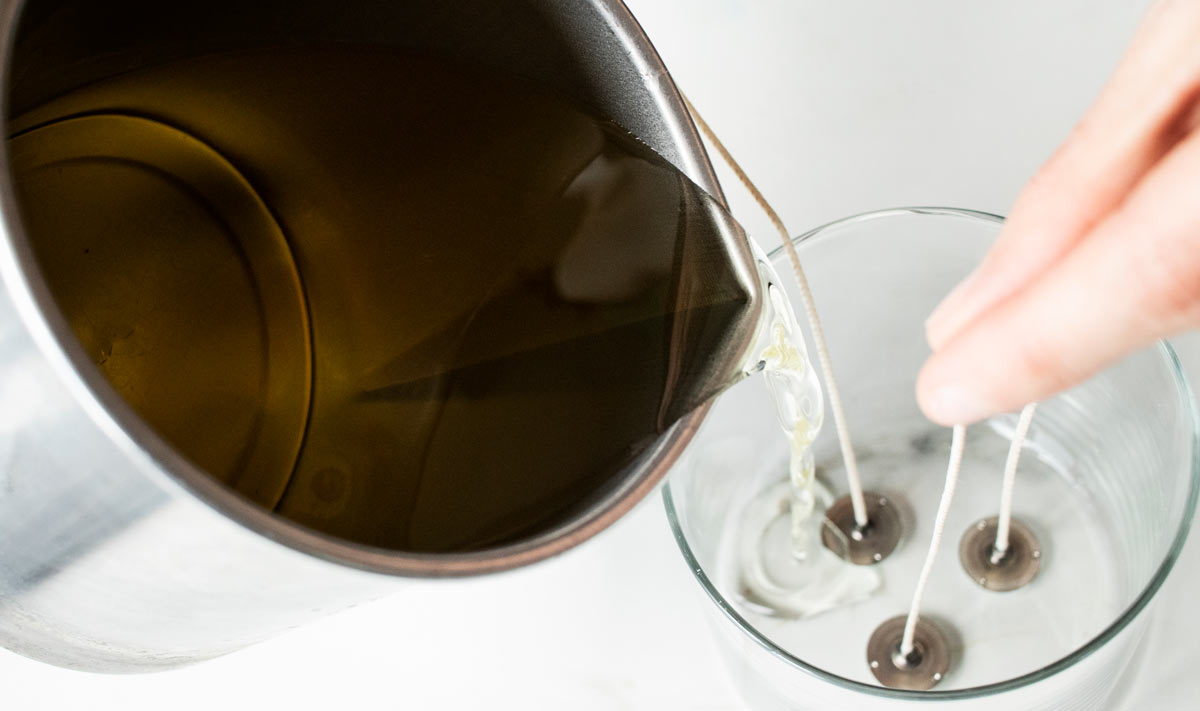 Hot and Cold Throw
We made test candles with 6% White Tea and 6% Very Vanilla fragrances. We checked for cold throw performance after 24 hours and the scents were very strong. Just for fun, several members of our staff tried different fragrances of their choice and every candle we made had an amazing cold throw after 24 hours!
After 7 days, we tested for hot throw and these definitely ranked a 3/3 on our scale! We also tested a White Tea scented candle with 7.5% fragrance and it was incredibly strong. Even though the wax can easily hold 10% fragrance, you may find you get excellent hot throw with lower percentages.
BURN PERFORMANCE
Wicking
C-6 was the first soy/coconut blend we tested so we weren't sure what the best wick series would be for the blend. Most vegetable waxes perform well with wicks that have paper or cotton fibers woven into them, such as the CD, ECO, or HTP series. We did an initial test with all 5 of our wick series. Overall, this wax performed best with the Eco and CD wick series, but we prefer the CD for the variety of sizes the series offers. We found that most containers over 3.5" in diameter need to be double wicked to get a good melt pool and hot throw.
We consider this wax to be a more difficult wax to burn, meaning it generally requires a larger wick than other similar waxes. Wick testing will be crucial for any changes in fragrance or dye combinations. Even when we found a great wick size for our test container, we saw wax left on the sides of the container. As the candle burned down the wax clinging to the sides did melt away fully, so we would not recommend wicking up to correct this. Going up a wick size, in this case, will produce larger flames, more soot, and potentially overheat the container. Visit our wick guide for suggestions on where to start your testing based on your particular container diameter.
Similar to what we experience after burning soy candles, the surface of the candle will be quite bumpy. Unfortunately, this is not something that can be prevented in natural waxes. This may be good information to share with your customers, especially if they are not familiar with burning natural wax candles.