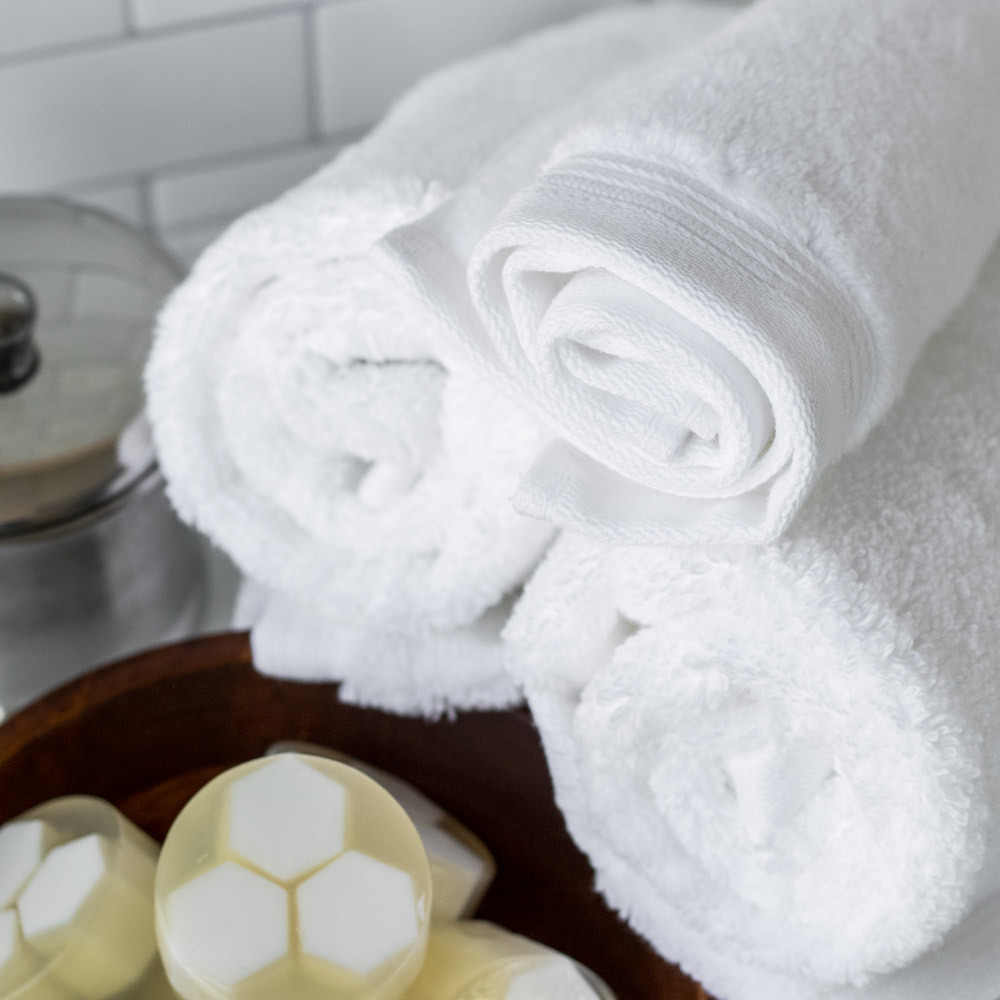 Ready to Order?
6+ 5lb Jugs
$84.84
$1.06 /oz
Safer Scents For The Home
CandleScience Clean Scents™ are free from carcinogens, reproductive toxins, and other potentially hazardous chemicals often found in fragrance. Choose Clean Scents and create safer home fragrance products you and your customers can enjoy with confidence.
Read More >
Details
Unpleasant smells meet their match: the Fresh Linen Odor Eliminator. Powered by a patented olfactory technology, this fragrance oil captures and eliminates bad odors and leaves behind a clean, fresh linen scent. A bright lemon top note uplifts the airy ozone, green floral, and linen heart, while a touch of powdery light musk wraps up this clean scent. The Fresh Linen Odor Eliminator has a place in any home fragrance line. Candles and melts refresh stale spaces and bring a breath of fresh air anywhere that's needed.
This fragrance oil is infused with natural essential oils including patchouli, geranium bourbon, and coriander seed.
Note Profile:
Top: Lemon
Middle: Ozone, Linen, Green Floral
Base: Light Musk

Suggested Colors: Ivory, Blue
See our complete list of candle making dyes and soap colorants.
Note: Bottles filled by weight, levels may vary.
Properties
Candle Safe

Yes

Usage: 3-10%
Soap Safe

Yes

Usage: 3-6%
Vanillin Content
More than 5%
Soy Performance
Flashpoint
203 °F
Phthalate Free
Yes
Prop 65 Warning Required
No
Diffuser Base Compatible
No
*Usage amounts are recommendations only. Individual usage amounts can vary based on your desired fragrance strength, wax type, soap base, or lotion base. See IFRA certificate for max usage levels.
Documents


Cold Process Soap Performance
| Acceleration | Discoloration | Separation |
| --- | --- | --- |
| Moderate | Dark Tan | Slight |
Lye Water Temperature 116ºF
Oil temperature 112ºF
We did experience a moderate amount of acceleration and saw some signs of ricing. The lye and oils quickly came to an emulsion and turned grainy as we brought it to a light trace. We continued stick blending to smooth out the texture but that also brought it to a very thick trace quickly. The batter did not seize, we were able to easily hand stir but it had to be plopped into the mold more so than poured. After 24 hours the scent was strong and the soap had discolored to a light tan. We did observe the interior area of the soap was very rough, almost as if it had overheated, but it had only reached a partial gel. The other thought was that maybe it had formed glycerin rivers. After 30 days the scent is still incredibly strong and the bars had discolored to a dark tan shade. It does appear that the soap started to form glycerin rivers and did not overheat in the mold.
Reviews
I love the smell of this one! someone described it as a dryer sheet and that is what it reminds me of as well! it seems like it will definitely make your house smell clean! i love this scent alot!
Simple, Clean, and it really does eliminate odors. I use this scent for one of my main everyday fragrances and it sells pretty well. I use GB 464 Wax and 10% FO. It has a really good HT and CT to it.
I bought a sample of this fragrance. I made a room spray with it and use 5% FO and OMG! This scent is amazing!! I could still smell it hours later!!! I'm back to buy a larger bottle.
We have tested this in soy/paraffin candles in different situations and have gotten amazing feedback from pet fosters (kittens and adult cats), gas stations where they still allow cigarette smoking, and a seafood chef. A very small candle kills odor in a medium size room. It's not just a scent masking, it actually leaves the space fresh. I was not happy that the original smoke and odor eliminator was replaced with this fragrance but now I am very pleased with the feedback!
I purchased this scent a while ago and I honestly did not like the CT and when mixing it with my wax over the heat it had a fairly odd aroma. After letting this scent over a period of time I grew to love it the HT is amazing the longer it cures over time..
Love this fragrance! It reminds me of a dryer sheet. I got this not knowing what it would smell like and I'm really pleased! I made wax melts with this fragrance and put them in my guest bathroom, and it helps with odors and makes the bathroom smell fresh and clean! Also there was a problem with my original order, I emailed/called and this company fixed it immediately and I was very satisfied!
I did a test burn after candle (464 wax) cured for 5 days. Scent is strong and works great! I tested in my teenagers dirty room. Very happy with this scent.
Love this one! It's now my flagship scent for my candleline! It really does remove odors from the air.
This scent is so perfect, not too strong not weak, absolutely love it!
This is one of my favorite scents! It is strong and smells like freshly washed clothes out from the line. It is an indescribable scent . But it smells great and it is hard to find.
This is a hit you in the face laundry scent. I also tried Cotton and Iris and could barely smell it hot. This one you know it's in the room if it's cold, and when lit it fills the entire house. It's not for the faint of heart. It definitely smells like laundry day, with a high soap quality. But I love it.
I lit a candle with this fragrance in a smelly bedroom, and...
Boom. The odor was gone within half an hour. This is a great fragrance. Just keep in mind that this is a strong fragrance. I use parasoy blend wax, and I wouldn't recommend going over 6% fragrance load.
Just a quick story. My daughter let the dog out, when it came back in it had been sprayed by a skunk. After much cleaning ,the house still stunk. This fragrance took the smell out...it works
Upon first sniffing this, I was reminded of clean cotton. However, after pouring it, I can smell the linen and musk, with just a hint of floral. I performed a litlte test myself by pouring this scent right after I poured the hemp fragrance, and this did a great job at eliminating the odor of the hemp candle, which says a lot.
Owner Potterwyx Candles & Soaps
IT has a nice fragrance but does not compare to the Original Smoke & Odor Eliminator. the privious one was one of my best selling Fragrances for 10 years. I have had several people tell me for odors Like Skunk, Glue, Burnt Beans and Dirty Diaper odors there has been nothing better..
This aroma smells exactly like their clean cotton, which I absolutely hate.
Im glad I only ordered a sample.
I tried this in candle & melt form- both were so overpowering & strong.
It's a breath of fresh air with my customers they definitely love it
This is the best fresh clean scent Ive been able to find lately! Im sold and will never change. Please dont discontinue!
This fragrance smells nice, but it is not as effective as the previous Odor Eliminator. That one worked with wet dog (I sold them at my pet groomer's salon), musty odors, and the mac-daddy of all tests - frying fish indoors!
I sincerely hope that you can quickly work on the previous spicy fragrance and bring it back in an effective, Phthalate-free formula (or the other one because no one cared since it worked!). I have customers asking for it!
Thank you!
This is such a clean and fresh scent! Love it!!
One of the best lines scents
This is very, very strong - which I love. I use this in a mixture of water to rinse y vacuum's sponge filter in. I let the filter dry and then when I use my vacuum, I get a lovely room fragrance at the same time. I have also used this with water and a little alcohol in a spray bottle to freshen the air.
This is not a scent you have to use much of to get a great effect.
Keep in mind that I'm a novice & don't use my oils to make products for others. I only use oils in a wax warmer pot, or as a room fragrance, or as personal fragrance (mixed with a lotion).
I get why you did it but i'm not happy about it. You just broke my customer's heart. I gave a 5 start rating because it was an excellent product.
Love this! Fresh, clean and crisp without being overwhelming.
Smells like Fresh Linen, but I still would prefer the old Smoke & Odor Eliminator. That was one of my popular selling scents.
This is really disappointing after selling your original Smoke & Odor Eliminator for yours. This has been in our top 5 sellers for all time. Smells just like Clean Cotton and you already sale that fragrance. Bring the original back, PLEASE!!!!
I bought this scent specifically for eliminating odors around my kids diaper trash can. It does an excellent job and has a very fresh clean scent