candle wick
Whether you're wick testing, looking for wholesale candle wicks, or searching for the perfect pillar wick, we have the answer to your "which wick" query. Our high-quality, lead-free candle wicks for paraffin wax, and soy, coconut and other natural wax blends, are ideal for beginners and seasoned chandlers alike.

All-natural candle wicks for soy, paraffin, and natural wax blends
Our candle wicks are constructed from all-natural, ring-spun cotton and are metal free. Pretabbed candle wicks come in standard lengths, are primed with a wax coating, and have a metal tab at the wick base, making them easy to use in container candles. Spooled candle wicks are uncoated and can be cut to your desired length when crafting pillar candles. View the product detail page for each wick to see bulk quantities and wholesale pricing. 
Carousel with 4 Products shown at the same time. Use the Previous and Next Button to Navigate.
Carousel with 4 Products shown at the same time. Use the Previous and Next Button to Navigate.
Carousel with 4 Products shown at the same time. Use the Previous and Next Button to Navigate.
Carousel with 4 Products shown at the same time. Use the Previous and Next Button to Navigate.
How to choose the right candle wick
Selecting the best wick to use for your candles is one of the most important aspects of candle making! The choice of wick affects how the candle burns, the strength of the hot throw, and more.
Because of the many available wick options, it can feel daunting to know where to begin. But we've got you covered with all the information you need to pick the right candle wicks!
A general rule of thumb
To make properly wicked candles, you need to know two main things:
Wax type
Diameter of the candle
Start by determining the type of wax you're using and the diameter of your container or pillar mold. The wax indicates which wick series to use (ECO, CD, or LX), while the diameter of your container or mold indicates which size to use.
After gathering this info, use our Candle Wick Guide below to see the wick we recommend based on your wax and diameter. 
All recommendations in the Candle Wick Guide are based on a 7.5% fragrance oil load and no dyes. Dyed or heavily fragranced candles may require a larger wick size than the guide recommends.
Always conduct a burn test to determine the right wick size for the combination of wax, container, fragrance and dye being used! Recommendations from the guide are a starting point for your own testing.
Why is choosing the right wick so important?
Now that you know how to select candle wicks, let's go a bit deeper about why it's crucial to use the correct wicks for your candles.
The proper wick size is essential for:
hot throw
safety
performance
The correct wick selection will result in a candle that achieves a full melt pool, throws fragrance well (hello, hot throw!), doesn't produce excess soot, and has a nice, steady flame. 
A wick that's too small for your candle may leave some wax unmelted and make it difficult to achieve a full melt pool; too large, and you'll likely notice excess soot, flame movement, and risk the container becoming too hot. 
What kinds of wicks do you carry?
We offer metal-free wicks designed for:
paraffin wax
soy wax
coconut wax
other natural wax blends
container candles
pillar candles
votive candles
tealight candles 
The wicks are all made of cotton and many include paper threads too. Some wicks are cut to specific lengths and come pretabbed for easy use. And others come on spools so you can cut them to custom heights for your unique candle projects.
Common Questions and Answers about Candle Wicks
Still have burning questions? Get your answers here!
What are your pretabbed candle wicks made from?
How do I get my wicks to stay centered and in place while the wax is cooling?
Which wick should I use for beeswax?
What's a spooled candle wick, and how do I use it?
Do you offer organic wicks?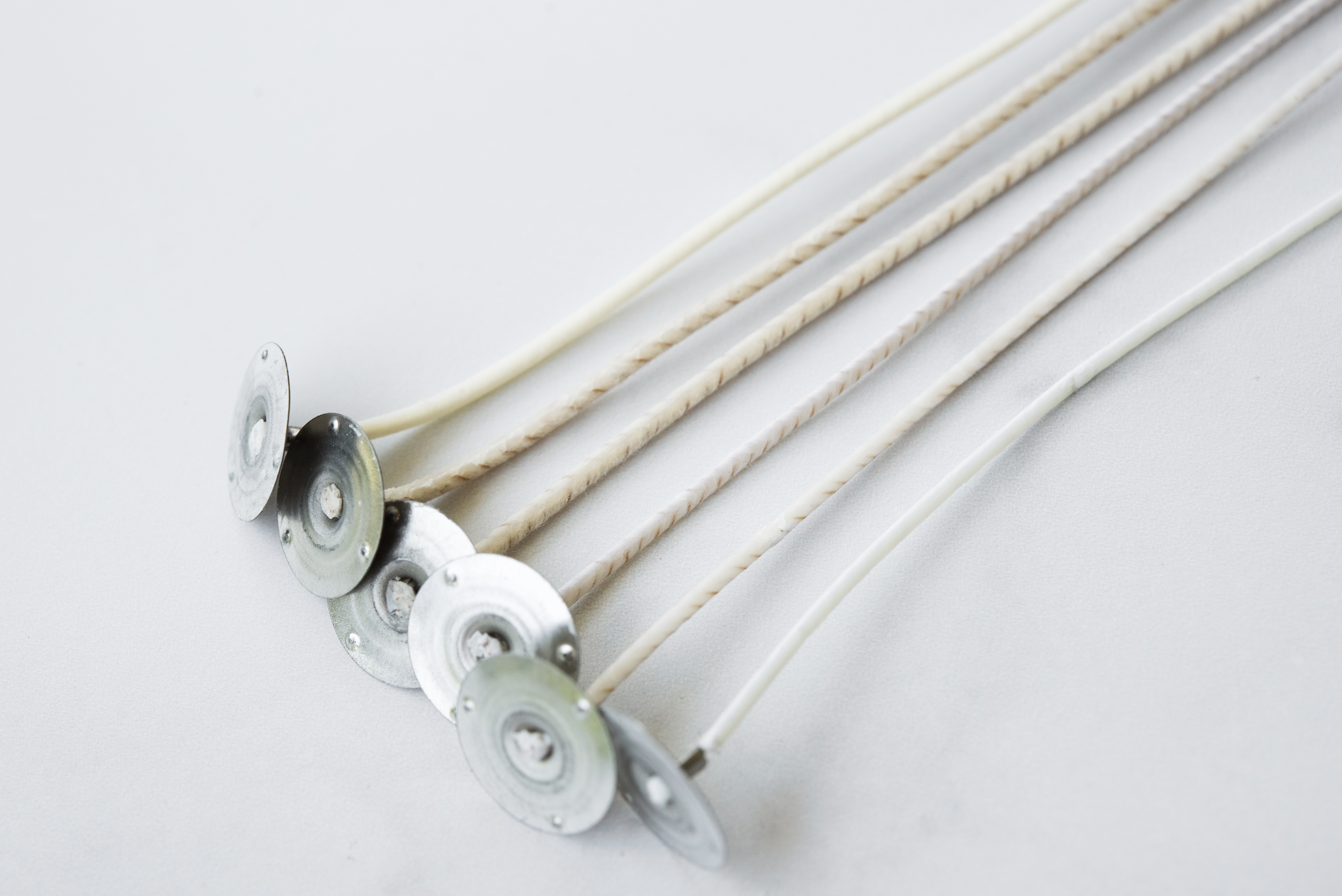 Choosing the right wick size
Learn how to find the proper sized wick for your candles.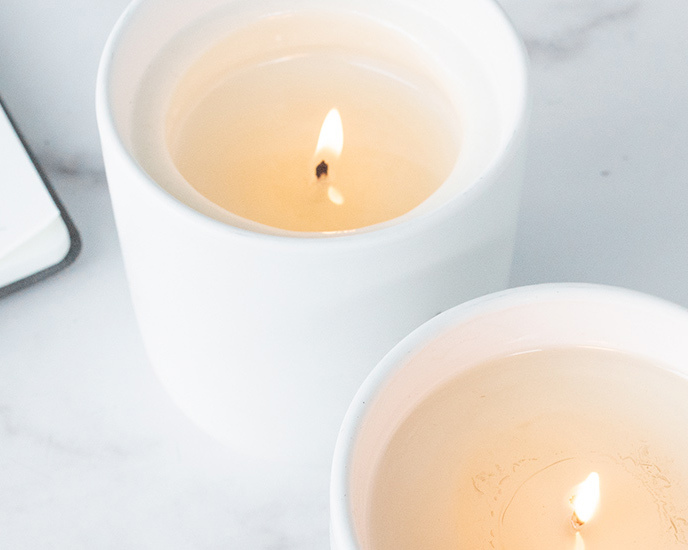 How to conduct a burn test
Conducting a burn test help you find to right type of candle wick and size for your candle application.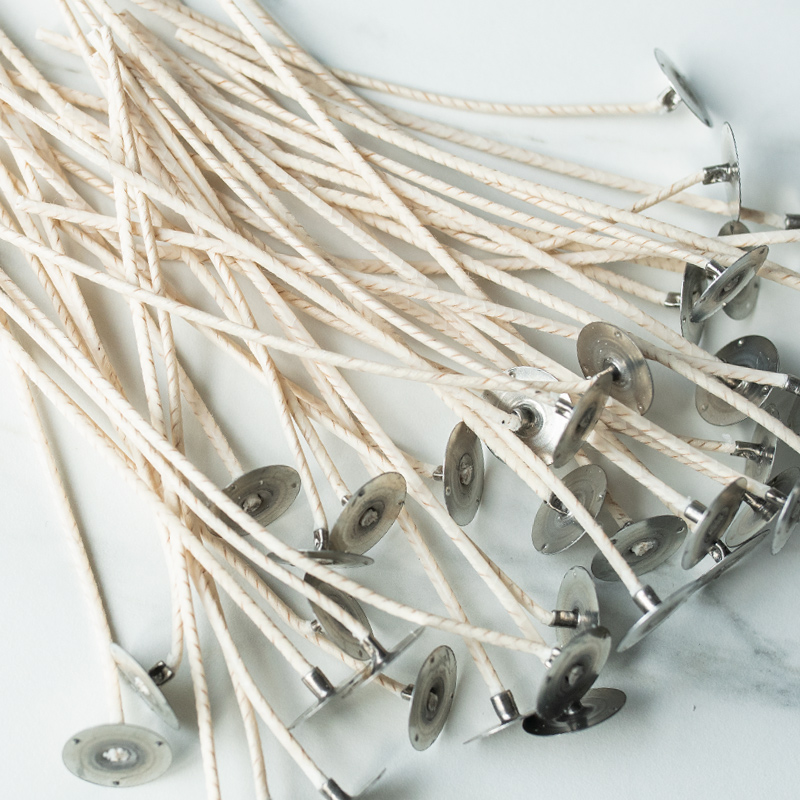 What are pretabbed wick assemblies?
Learn more about what a wick assembly is, how it's made, and what each component does.