Guide to selling candles at markets and craft shows
tips for selecting events, display ideas, considerations and marketing strategies for your small candle business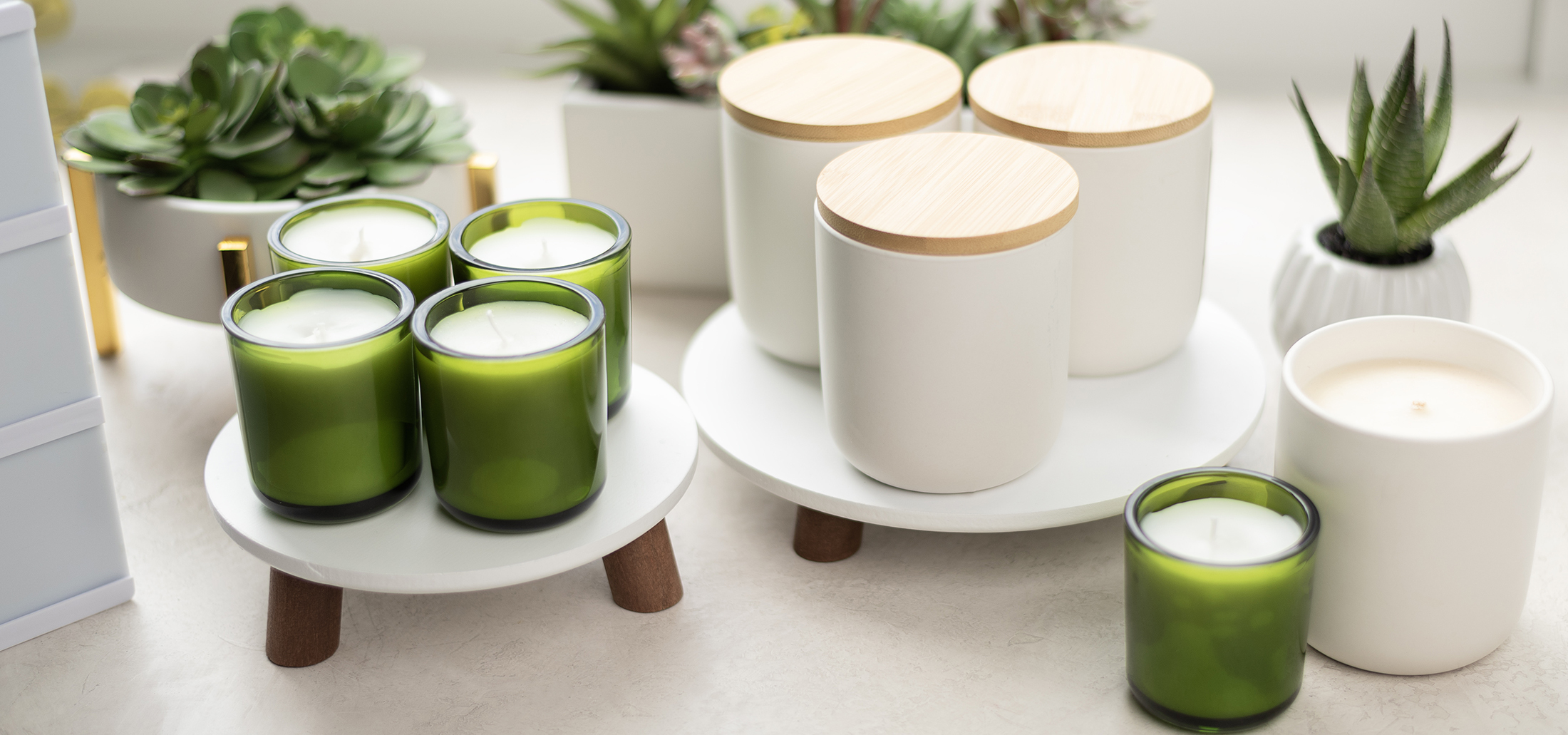 Selling your handmade candles at in-person events like craft shows and markets is an enjoyable and profitable part of running a candle business. Sharing your candle creations, connecting with customers face-to-face, meeting other makers, and helping people choose a gift are just some of the gratifying parts of the experience.
If you're new to this aspect of selling candles, use this comprehensive guide to help you think through the many considerations involved. And even if you already have show experience, we hope you'll be able to glean even more tips from the in-depth insights below!
Why sell your candles at craft shows and markets?
Before we get into the specifics of selling at shows, let's highlight some of the reasons why you might want to offer your candles through this particular sales channel. Like so many facets of having a small business, there are both advantages and challenges to consider; and it's often better to go in with eyes wide open!
You're in front of a buying audience
The opportunity to build brand awareness
Meeting customers face-to-face and receiving helpful, direct feedback
Future marketing opportunities by collecting email addresses
Time and energy requirements
Possibilities of inclement weather
Potentially unpredictable sales
Cost of fees and additional equipment
Pro Tip!
Some makers prefer indoor events because inclement weather and extreme temperatures are less of a factor. Depending on where you live, you may choose to only participate in outdoor markets certain times of the year. Check out our tips for summer markets!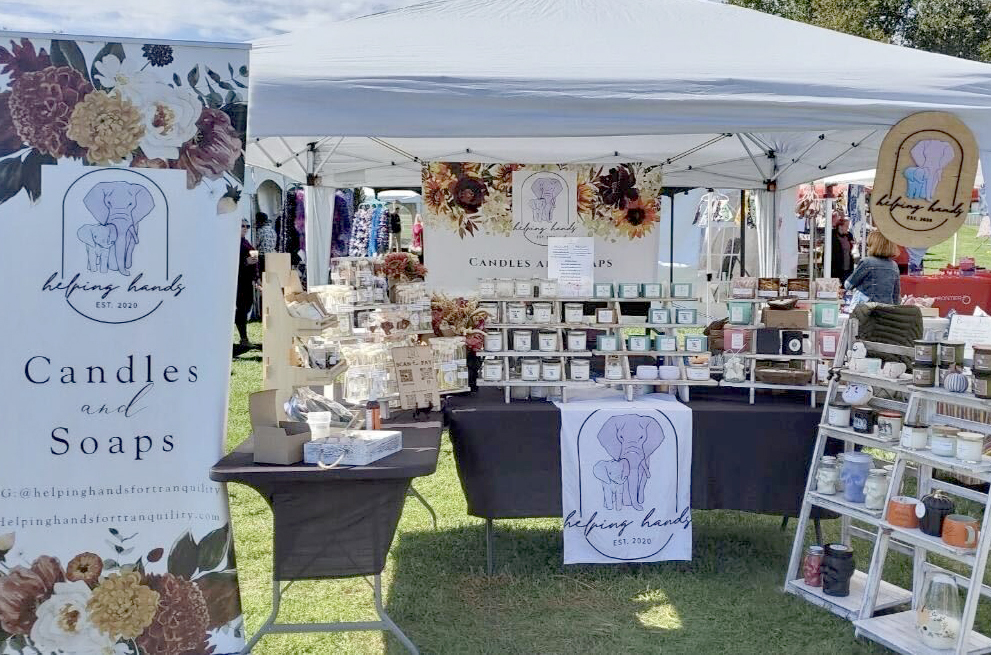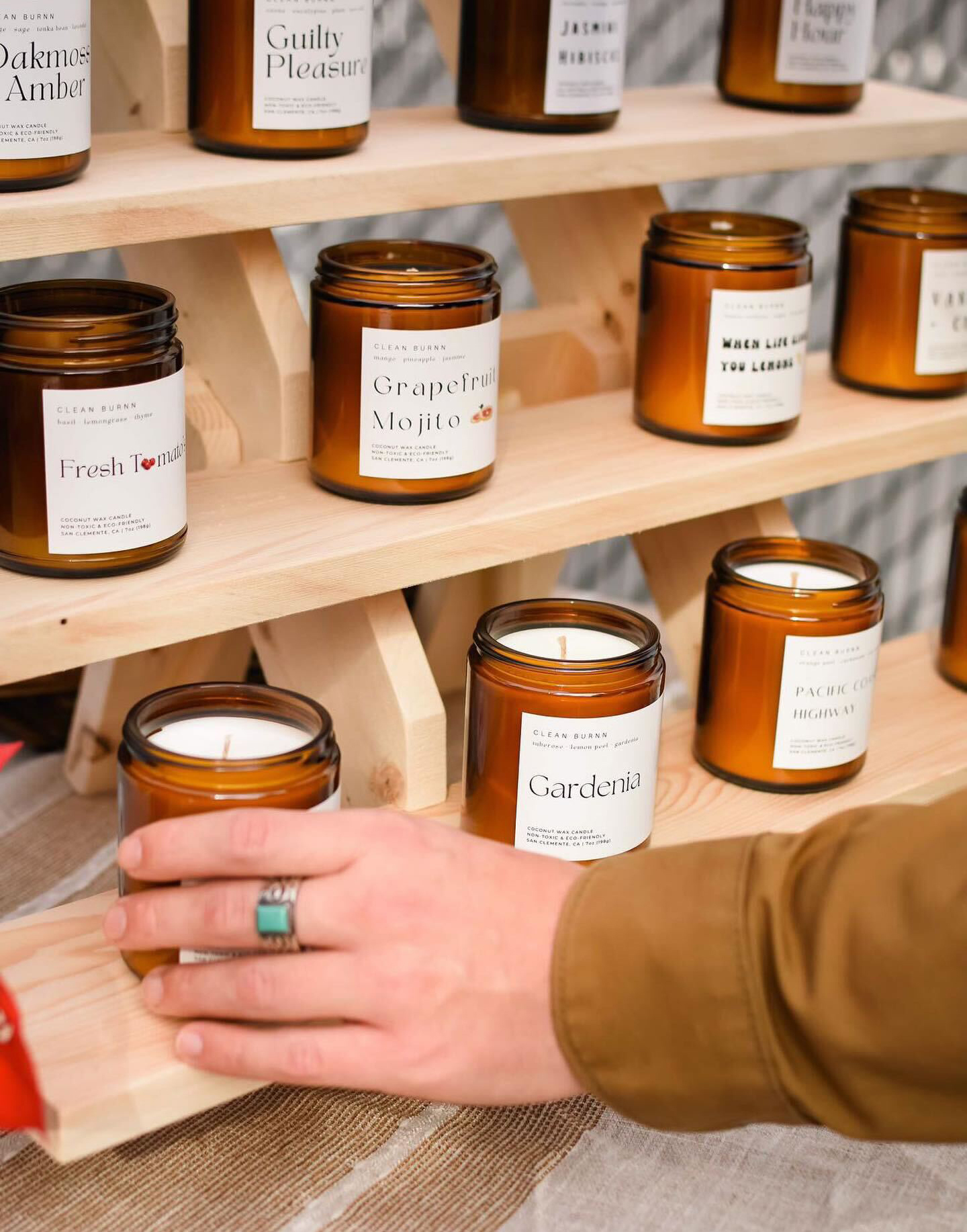 Where to sell your candles
There's a good chance you're already familiar with markets and events local to your area. When researching places to sell your candles, keep these types of events in mind:
Farmer's markets
Local and regional markets/festivals
Craft shows
Conventions
Handmade shows/fairs
Pop-up events at retail shops
How to find and select markets for your candle business
In addition to noticing events on Facebook, through local media, and even from old-fashioned posters around town, here are some more ways to find potential shows:
Google your location and vendor events. (ex: "Durham, NC + vendor events")
If it's too late to join an event, see if they have an email list where you can sign up to be notified of future opportunities.
Know other makers? Ask them for recommendations of worthwhile events they've successfully participated in.
Already identified some markets with an Instagram presence? Tap the person icon with the plus sign on their Instagram profile; this icon shows accounts similar to theirs, which may give you leads on other markets to consider.
If your brand has a unique focus, find events that align. For example, if your candles take inspiration from a particular fandom, look to sell at a convention connected to that fandom. 
What to know about a market before you sign up
Congratulations, you've found a market that seems to be a good match for you and your candle business! Before you apply, confirm these elements of the show:
Location
Is this an indoor or outdoor event? If outdoors, are tents required and what is the inclement weather policy?
Times
Not only do you want to know the start and end times of the show, but also when set-up begins and how long you have to break down at the end of the event.
Expected attendance
This information may not always be publicized or available, but it's helpful to know the expected traffic at an event because it influences how much inventory you bring.

Ask the show organizers for past attendance figures if they're not posted online. It's a metric that well-organized and professional events typically track.
Vending space details
What are the available options? Some shows utilize tables of six to eight feet, while others might only have booth spaces, ranging from 8'x8' to 10'x15' and larger. Fees often correlate to the vending space size, with smaller options costing less.

When researching markets, you may notice a wide variance of fees. This often depends on how established an event is, its duration, the expected attendance, and other factors. Consider what fits your budget and if a particular fee feels like a stretch, it's okay to keep looking.
Insurance and license requirements
Many events require vendors to carry insurance, so read the fine print of the show  terms and conditions. Some municipalities also mandate business or selling licenses.
What the event provides and what you need to bring
The items that market organizers provide to participants vary. Some events provide tables, shelter, and even electrical hookups. Others provide only the space and expect vendors to come fully prepared.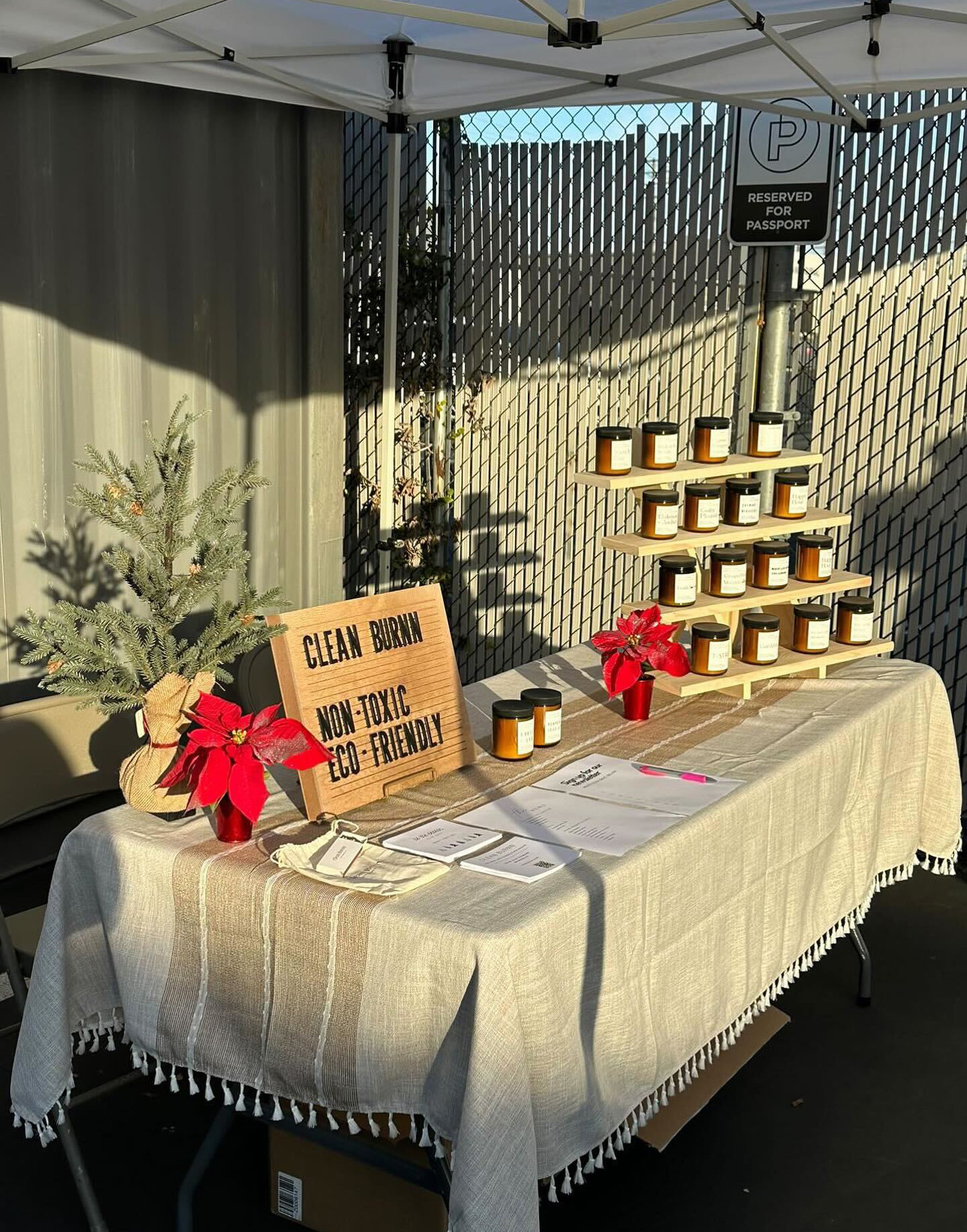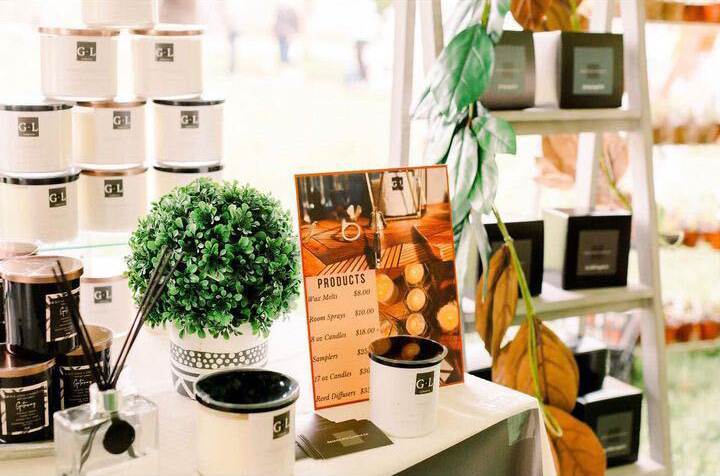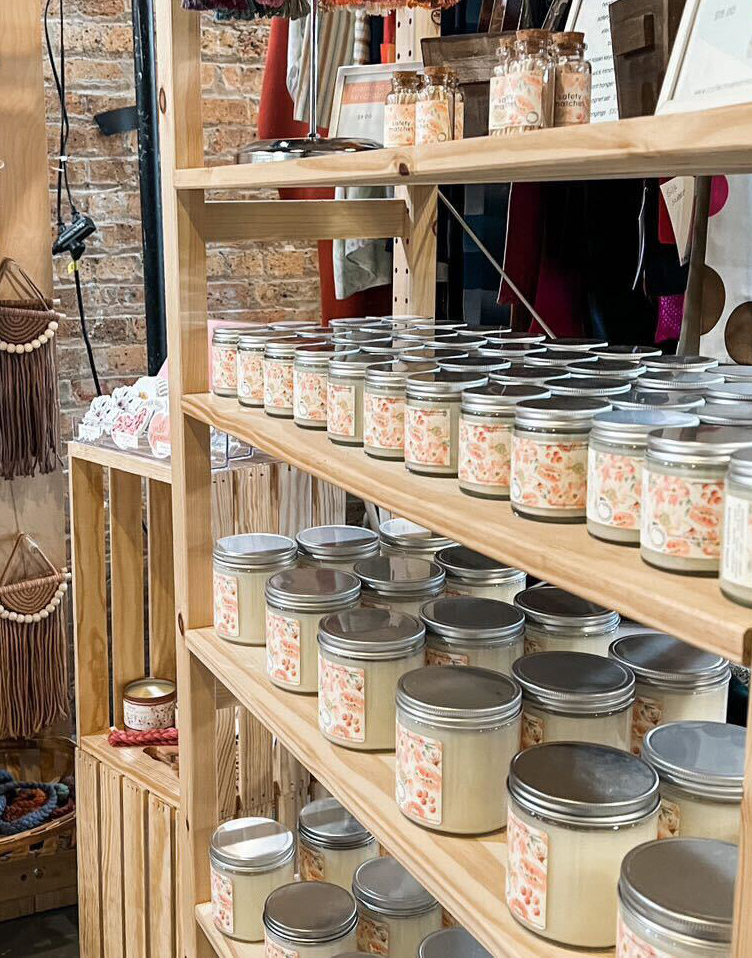 Table, booth, and display ideas for your candle business
When you think of doing a market, your display is likely the first thing that comes to mind! It creates a first impression for shoppers and visually communicates the vibe of your brand, sparking their curiosity and drawing them over to explore your space.
Market displays typically include:
Table(s)

Usually six- or eight-foot folding tables with carrying handles.

Table coverings

Tablecloths and table wraps that complement your business's branding— ensure they extend to the floor or ground to conceal anything stored under the table!

Shelves or risers

Elevating products makes it easier for customers to view and interact with them.
Try situating your candles at various heights; avoid displaying any products below table height.

Signage

Start with these essential kinds of signage for your market display:



A large sign with your business name.
Banners (made of fabric or vinyl) hung across the front of a table, or suspended between tent legs, are popular choices.
Some makers also have custom wooden signs made or use lightweight foam board signs printed in full color.
Table top signs for product prices, accepted forms of payment, and product benefits and features. Let your creativity loose here! We've seen makers use chalkboards, letter boards, acrylic signs and sign holders, counter cards, picture frames, and more.

Tent or canopy

This applies to outside events, but a tent or canopy is your friend—on sunny and rainy days alike! It protects you and your candles from some of the elements and adds even more visual structure to your display.
Some tents are made to be set up by one person while others require at least two people. Consider if you'll be working solo and let that lead which type of tent you choose.

Complementary decor

Decor in your display can add more personality and memorability. Consider seasonal items or props that reinforce your brand's aesthetic. 
Remember, markets may have different vending space allotments. You might contemplate having more than one set-up to meet the requirements of various shows. This could look like one set-up that fits on top of a six- or eight-foot table, and another that involves a 10'x10' tent and multiple tables.
Three display tips from CandleScience customer, Red's Apothecary:
Use a counter height table so people don't need to bend.

Leave space for eyes to rest and also for you to bag purchases and take payment.

Select a high point and waterfall product and props towards bottom; use props to indicate scent types.
How to display your handmade candles
Your display decisions are chiefly dictated by the amount of space you have to present your candles. There are a few different approaches to examine:
One of each item on display with extras under the table
Multiples of each product on the table top
Shelves stocked with candles to replicate a store shopping experience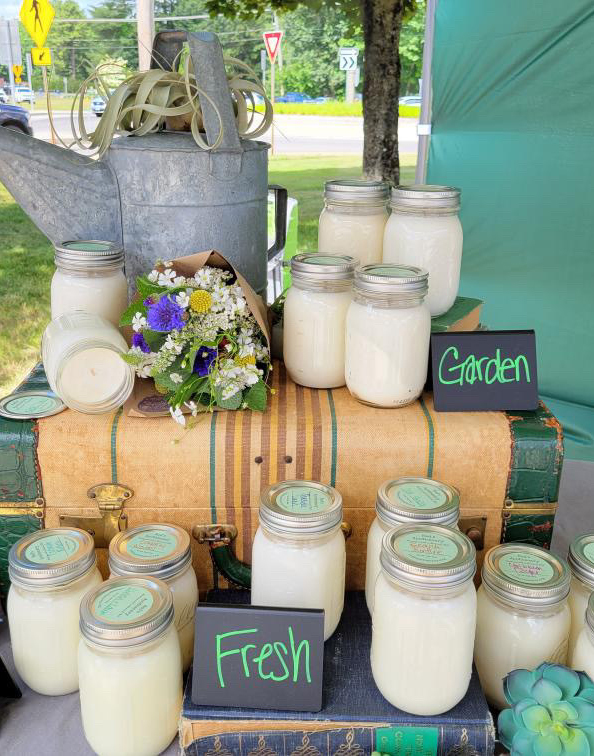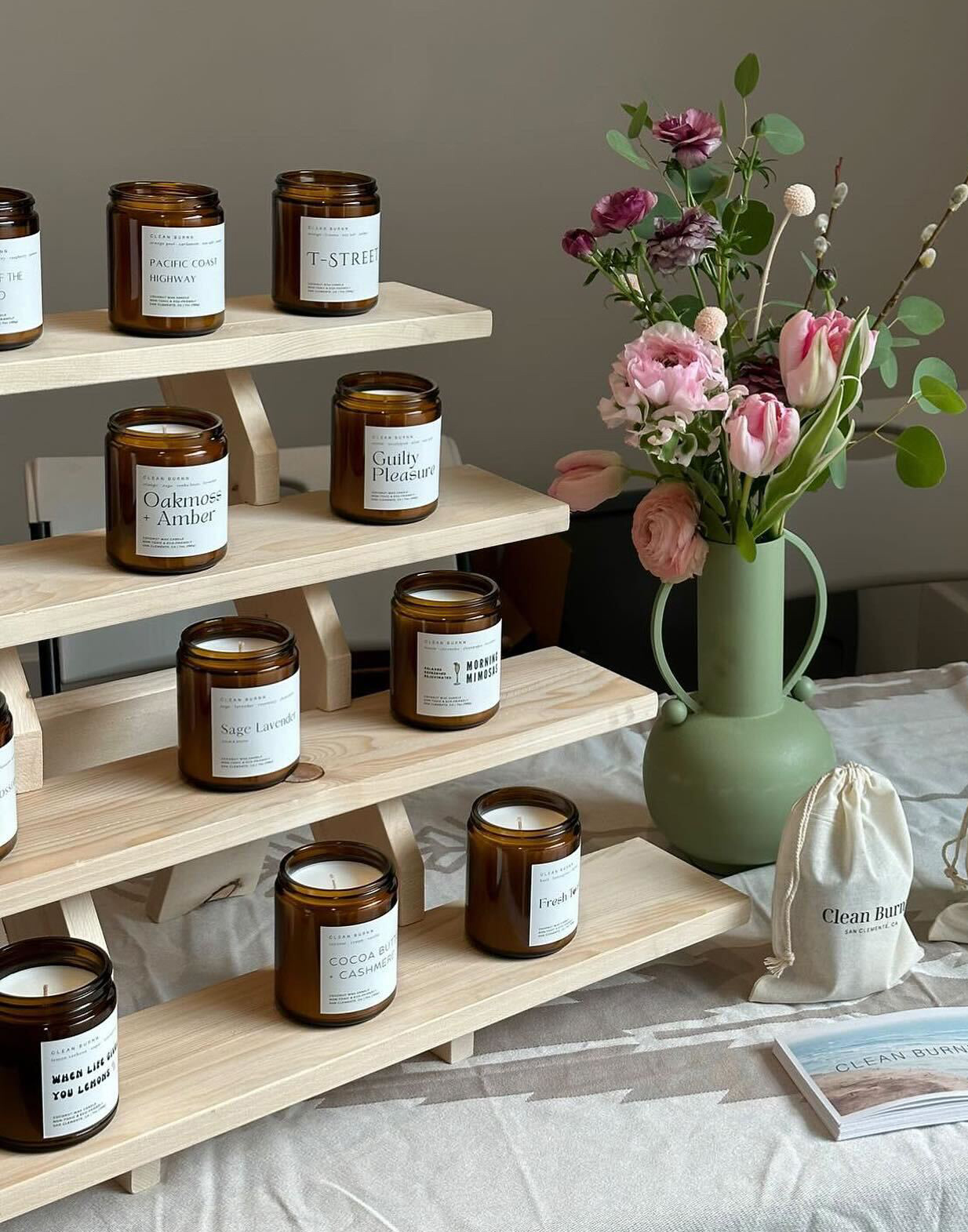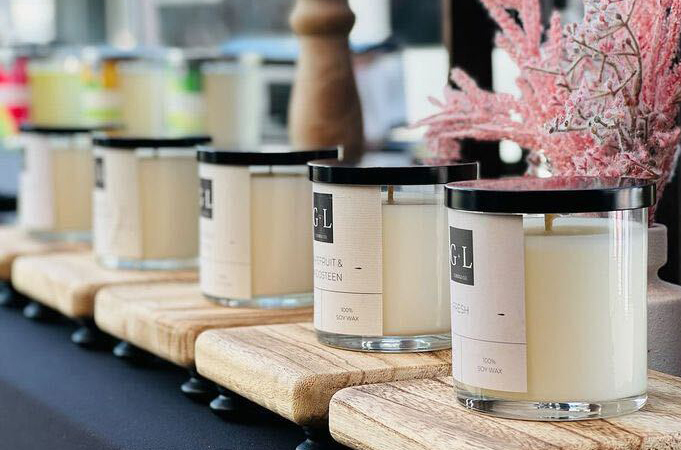 Pro Tip
No matter how you ultimately decide to display your products, it's essential to include unlidded candles for shoppers to smell.
How to prepare for a market
The big day is nearing! Making certain decisions ahead of time, and taking steps to prepare, makes your experience at the event more easeful. Here are some of the most important components to know or do in advance as you get ready for your market.
To prevent forgetting anything you'll need, make checklists for:
Inventory that needs to be made for the market
It's helpful to think about this several weeks in advance so you can order any supplies and have time to make the candles.

It can be a challenge to know how much stock to bring to a show. If you have an idea of the expected traffic, research suggests that you can anticipate approximately 5-10% of attendees making a purchase with you.


Supplies you'll bring 
From inventory to all the elements of your display, there's a lot to keep track of! We've created this free, printable checklist for you to use and customize:
If this is your very first market, or you're trying a new set up, minimize stress and the possibility of unpleasant surprises with these two test runs:
Pack your vehicle. There's nothing worse than scrambling at the last minute to cram all of your candles and supplies into a too-small space. Seeing if, and how, everything fits ensures you'll be able to make adjustments and have what you need the day of the show.


Fully set up your display. Before the market, put up your display to figure out how long the process takes and to be sure everything looks how you envisioned it.
Tips for packing your candles and market supplies
There are a number of ways to safely transport your candles and supplies.
For candles, some folks like to wrap and pack them in plastic tote bins. (Just be careful that the bins aren't too heavy to pick up!) Others save the cardboard boxes the containers came in and repack the finished candles into them.
For display supplies, a combination of plastic bins, boxes, and tote bags will give you the flexibility to gather, and then easily carry, these items.
Pro Tip
Collapsible utility wagons are very helpful to transport boxes, candles, and supplies. They're lightweight, fold up neatly, and take up a small amount of space in a vehicle.
Determine the payment methods you'll accept
There are many ways for shoppers to pay for their purchases these days. That freedom is fantastic and yet the plethora of choices can also seem overwhelming. It's okay to decide what works best for you—that's one of the beauties of having your own business! 
Popular payment types include: 
Cash: During the pandemic, some makers moved away from cash to make transactions lower touch. If you want to accept cash, bring a cash box or pouch, and change.
Credit and debit cards: This option requires a card reader connected with your phone to either swipe or tap the customer's card. Providers like Square, Paypal, and Shopify offer mobile readers.
Peer-to-peer apps: Use a QR code, either printed or on your phone's screen, to accept payments via services like Venmo, CashApp, and Zelle.
Tracking sales and sales tax
Related to payments, work out in advance how you would like to track sales and sales tax at markets.
Some candle makers simply compare their inventory counts before and after to note what sold.
If you're primarily using a card reader that's synced to a point-of-sale system like Square, you can add all of your candles to a product library. During checkout, you can select each item being purchased and generate a report after the market.
Also decide if you'll collect sales tax on top of the candle price, or back the sales tax out of it. Adding on sales tax typically means you're collecting odd amounts from customers. Some makers prefer to back out the sales tax from the selling price because they can collect whole denominations and provide change more easily for cash transactions.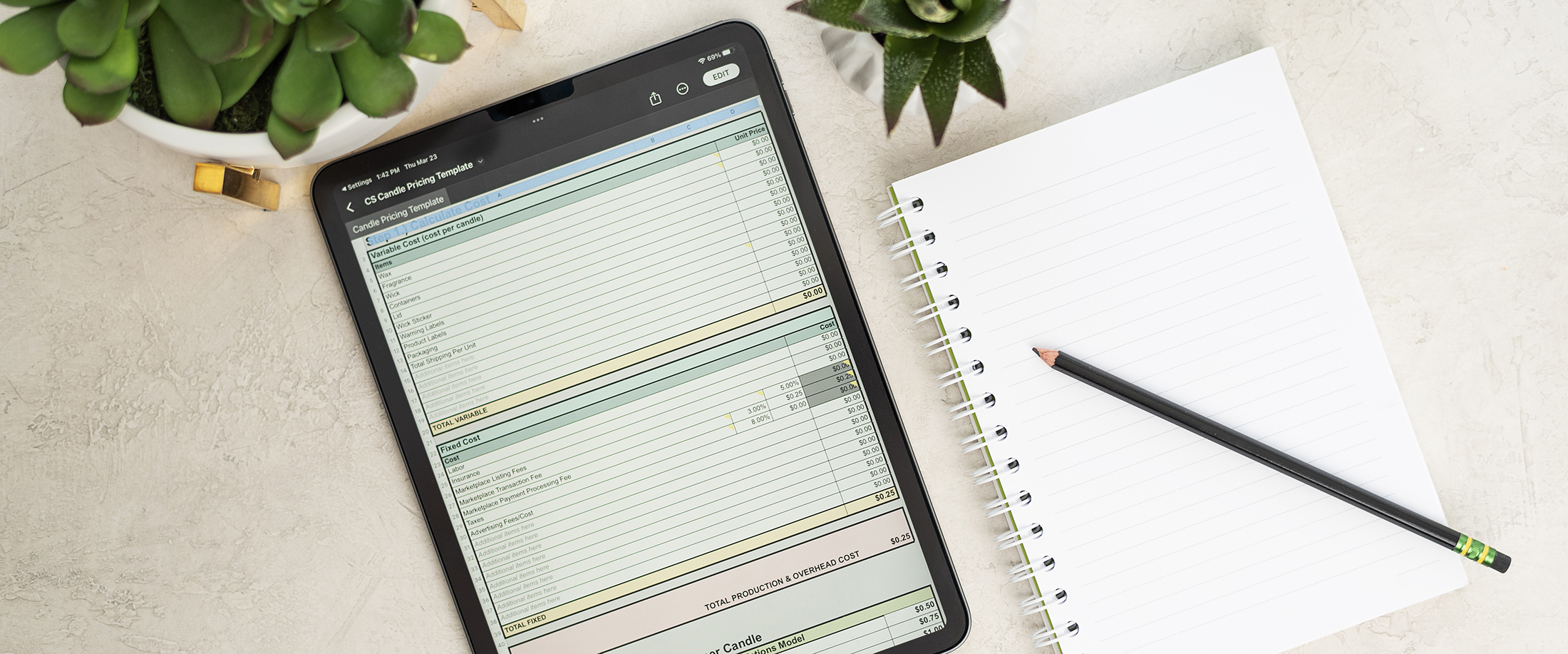 Show specials, bundle offers, and samples
Though not a requirement, offering specials at shows will entice purchases. Any offers you choose should be guided by your prices, available inventory, and profit margins. Crunch the numbers to determine what works best for your business. Here are some ideas to get you started:
Buy X get X free: increase your average order value with this strategy without offering a blanket discount on all products (ex: buy 3 candles, get 1 free)
Bundles: this can look like offering a certain number of candles for a price that's less than if the candles were purchased individually. Alternatively, offer two different products–like a candle and wax melt–again for a price that saves the customer money. (ex: 3 small candles for $30)
Spend $X get X free: similar to the first two ideas, this approach rewards customers for shopping when they reach a certain threshold (ex: spend $50, get a free small candle)
Limited edition products: rather than providing a discount or free item with purchase, offer a product either for a limited time or in a limited quantity to motivate people to buy.
Free samples with purchase: this feel-good approach demonstrates generosity and plants seeds for future purchases. Often, candle makers use tea lights or individually packaged wax melts as samples.
Promote your participation
In advance of the market, share the event details with your social media followers, email subscribers, friends, and family. Give folks a chance to support your business!  
Lastly, gather the goodies you'll use to package up purchases! This is a fun part of selling at markets because you can show off your brand's personality and include distinctive touches for customers. Items you may want to include:
Bags
Tissue paper
Business card
Candle care card
Stickers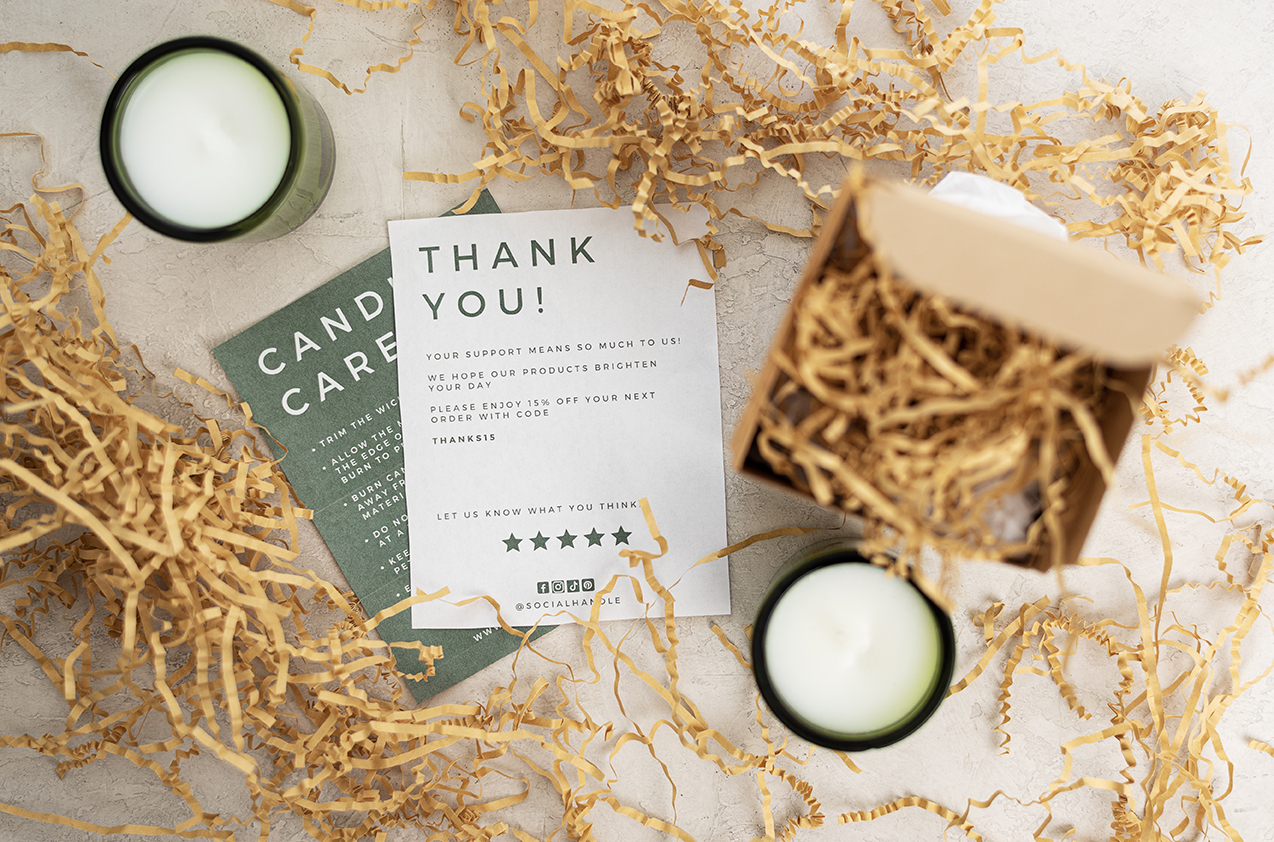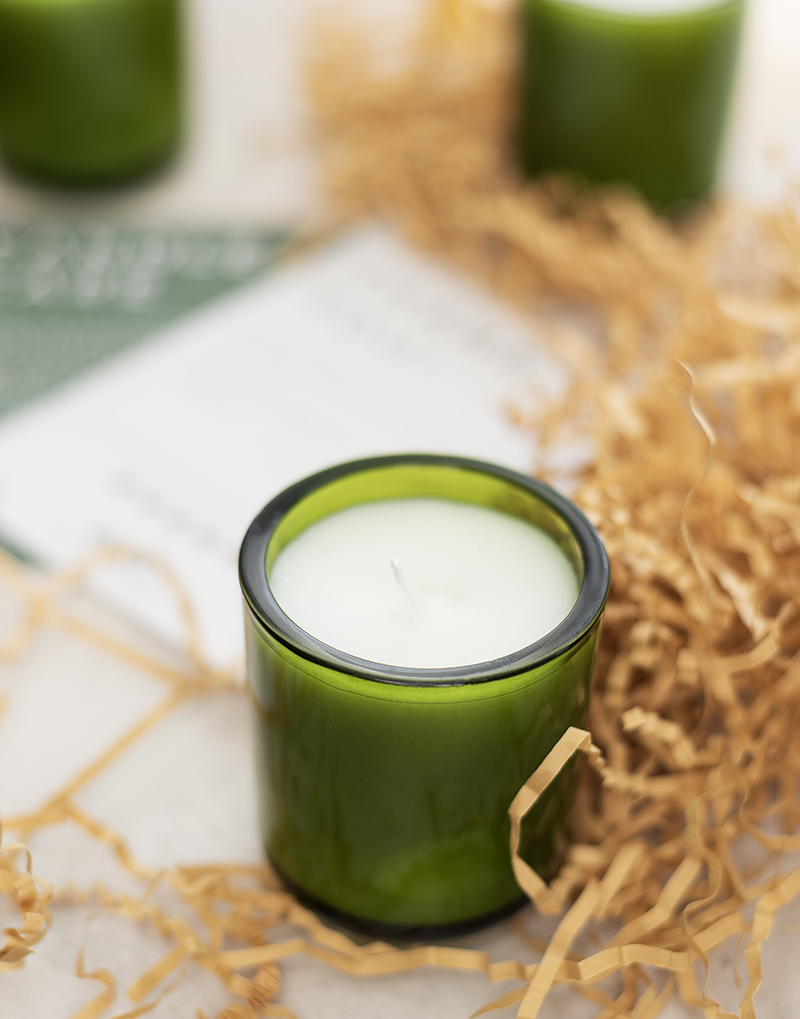 Now that you've done all this thoughtful prep work, it's showtime! If possible, leave a few minutes early to account for traffic or unplanned stops. Though you're familiar with how long it takes to set up, it also never hurts to build in extra time for unloading your vehicle once at the market. 
Share your space on social media
In addition to promoting your participation in the market, sharing photos and videos of your set-up on the day-of is engaging and easy content. This gives customers who can't be there a peek into the day, and reminds them of all the wonderful products you make! Instagram Reels, Stories, or even a brief live are a few ways to share.
Be sure to also use geotags in your posts. People often looking for things to do search these tags to discover events in their area.
Once the market is underway, you'll have a variety of interactions with potential customers. Some people will be 'window shopping' while others will excitedly make a beeline for your table.
Initially engaging with customers to greet them, answer questions, and highlight product benefits is important. Equally needed? Space for them to pick up and smell the candles, and shop at the pace that suits them. Try to find a balance that honors both.
Consider standing if it's physically possible when you're working at a market. Naturally, take seated breaks, especially if there are lulls. However, sitting excessively, especially when there are several people visiting your space, can signal disengagement that may be perceived as unwelcoming.
Get those email addresses!
While many makers like to promote their social media accounts at events–and it's absolutely worth doing–email marketing is another avenue to consider.
Whether or not visitors are ready to purchase, invite them to leave their email address. Collecting emails is a proactive approach that allows you to get in touch after the market.
Keep yourself comfortable
From start to finish, selling at a market is a significant investment of your energy! Take care to provide yourself the support to feel good while working. 
Wear comfortable shoes and weather-appropriate clothes.
Pack food and drinks to sustain yourself.
Have a helper if possible. During busy times, the both of you can tag-team to assist customers and complete checkouts. In quiet moments, you can step away briefly for snack and bathroom breaks without leaving your space unattended. No helper? See if one of your market neighbors can keep an eye on your table when you step away.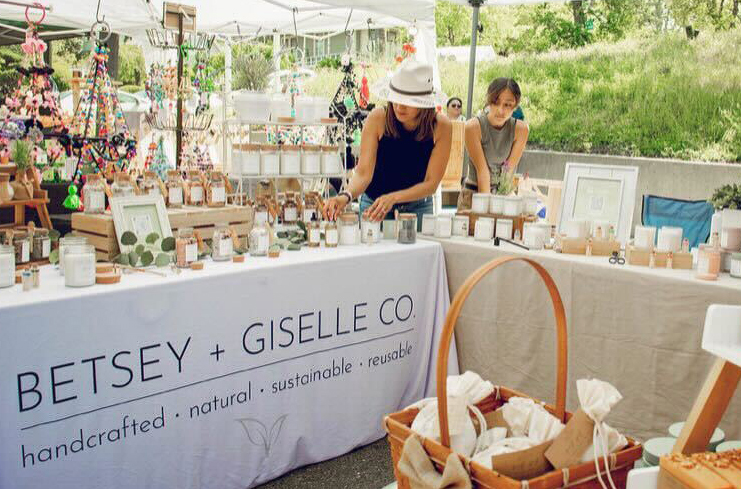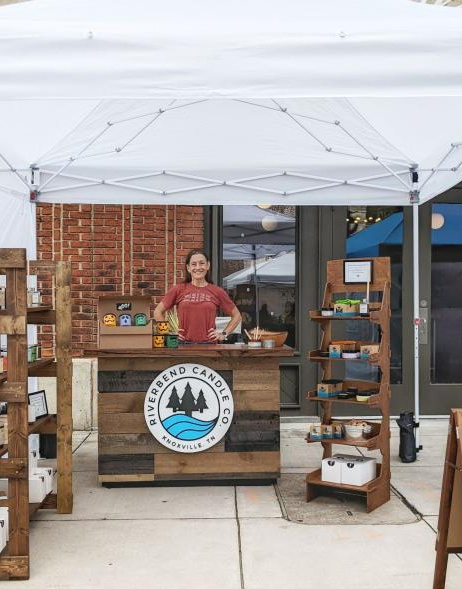 Pat yourself on the back for a job well done! You may feel a combination of elation and exhaustion, and that's very normal. Take the time you need to rest and recover.
Once you're ready, unpack and log the sales. Reflect on what worked well and what could be improved for the next market. Update your checklists if you realize there's something you need in the future. And if you collected emails, add them to your subscriber list. 
After participating in a few markets, you'll likely find these details and activities come more easily to you. As with many things in life, the more you practice, the better you get! And selling at markets and craft shows is no different.
We hope this deep dive helps you get going in this part of your business, or provides new insights to how you might approach selling at markets.
Let us know in the comments if we can answer any questions related to selling at craft shows and markets. Do you think any of the topics within this guide merit their own article? We'd be happy to delve in further if you have a suggestion!
And a big thanks to the wonderful candle businesses who shared their market photos!

Featured in this article are Betsey + Giselle Co., Clean Burnn, Collective Harmony Co., Grace + Love Candle Co., Helping Hands for Tranquility, Little Bison Co., Red's Apothecary, and Riverbend Candle Co. 

We wish we could have included all of the submissions. We love seeing the creative ways you showcase your candles!