Note: You can conveniently order the supplies used in this guide by clicking "Add Items to Cart" below the 'Materials Needed' list. If you have any questions regarding the directions please comment below or send us an email to support@candlescience.com, we will get back to you as soon as possible.
Golden Brands 464 Soy Wax 10 lb Bag (Qty: 1)
Wick Stickers (large) 100 pc Roll (Qty: 1)
Wick Bar 12 pc Bag (Qty: 1)
Honeysuckle Jasmine 1 oz Bottle (Qty: 1)
8 Inch Glass Thermometer 1 pc Thermometer (Qty: 1)
Small Pouring Pitcher 1 pc Pitcher (Qty: 1)
CD 8 6" Pretabbed Wick 12 pc Bag (Qty: 1)
8 oz. Jelly Jar 12 pc Case (Qty: 1)
Canary Yellow Dye Blocks 10 pc Bag (Qty: 1)
STEPS:
1. Melt 1 lb of GB 464 (16 oz.) using a double boiler. Heat wax to 185 F. (It is also a good idea to pre-heat the glass jelly jars to about 125 F to avoid "pull away.")

2. Break the canary yellow dye block in half, add to melted wax, and stir. If you ever see little specks of solid color in the bottom of your candles, try adding the dye block at a slightly higher temperature.

3. Add fragrance. We're using 1 oz. of Honeysuckle Jasmine fragrance oil. When adding fragrance, stir well and remove from heat. Do not let fragranced wax continue to heat as the fragrance will evaporate out of the wax.

4. While the wax is cooling, place a wick stickum on the bottom of the pretabbed CD 8 wick and center the wick inside the 8 oz Jelly Jar. Repeat this step for your second jar. Note: You will have some leftover wax. You can use it in smaller containers such as tealights or save it for your next batch. 

5. When the wax cools to 135 F, carefully pour the wax evenly into the 2 jars.
6. Place the wick bar with the center peak facing up on top of your jar. Pull wick taut and gently press wick into the opening of the wick bar. This will keep the wick straight and centered while the candle is cooling.

7. For best results, let the candles cool at room temperature overnight.

8. Trim wick to 1/4 in. before lighting (do this each time you light it) and enjoy your candle.

Voila!
Congratulations, you just made your first soy candle!
When you sit back and light it for the first time take pride in the fact that you just made an eco-friendly candle from an American grown, renewable product. If it's just for your personal use tell your friends about it. If you are selling your candles make sure you really market it as an environmentally responsible product.
Note: You can top your soy candles with any of our threaded jelly jar lids.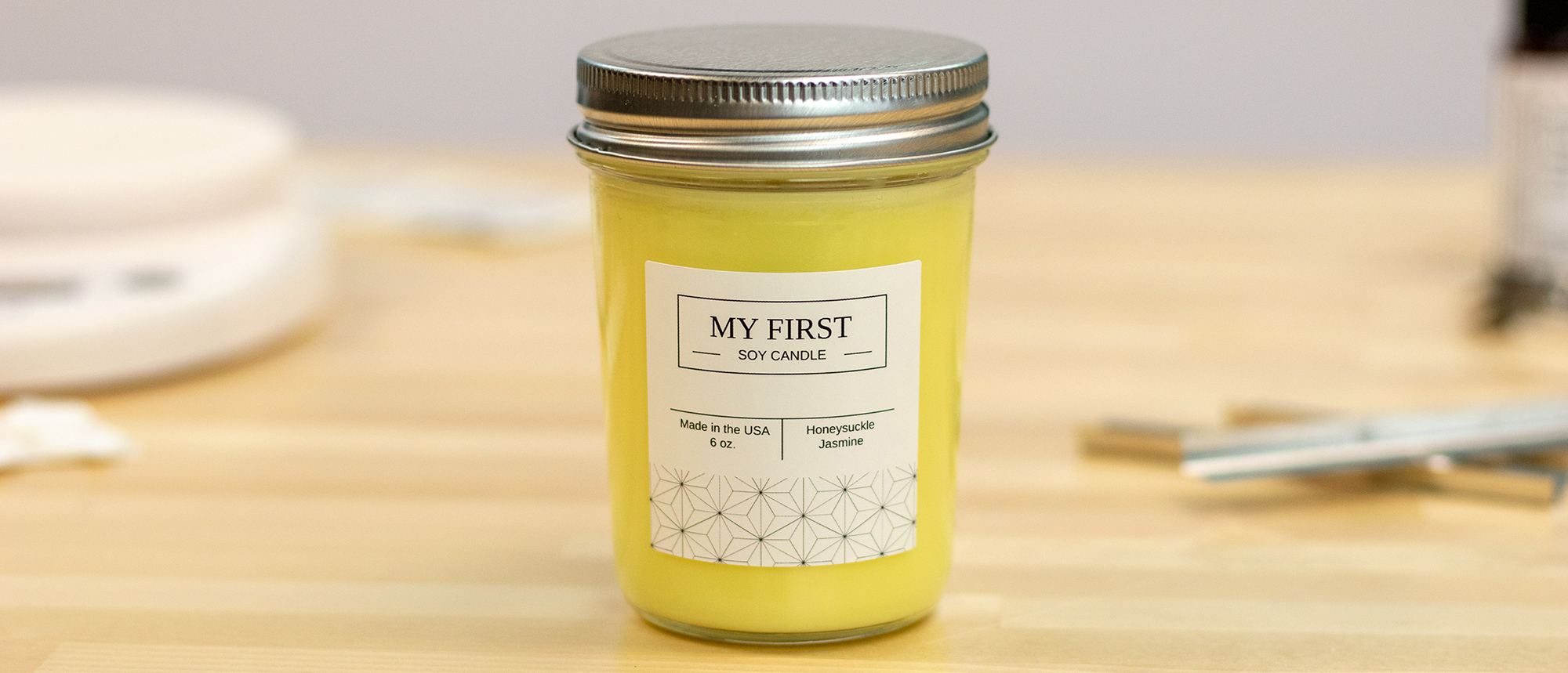 Take it a step further by putting your own unique stamp on your finished candles with custom labeling. This kind of personal touch transforms your creations into gifts your friends and family will be delighted to receive and display in their homes. If you decide to venture forth and start your own candle business, labels are must for promoting and showcasing your brand.

We recommend Avery WePrint™ for all your label design and printing needs. They make it easy to create eye-catching custom labels that perfectly fit your needs. Just select the size, shape, material and finish you want, personalize, and order in sheets or rolls. Order a few sheets or thousands of labels depending on the quantity you need. And as a special bonus, all CandleScience customers receive an exclusive discount on all Avery WePrint™ label orders!