How to make soy tealight candles
result:
32 tealight candles
Learn how to make soy tealights in a breeze! If you're new to candle making, tealight candles are a great place to begin. They're easy, can be colored or fragranced for any season, and add a lovely, flickering ambiance to any space or special occasion.
This project will make 32 tealight candles. You can adjust the amount of materials according to how many tealights you want to make.
EO Notes: You can also use candle-approved essential oils for this project. Check the recommended usage percentage on the essential oil product page and start with low percentages. How to Make Soy Candles with Essential Oils
Step 1: Weigh and melt the soy wax
Place the metal Pouring Pitcher on your scale and tare the weight. Weigh out 1 lb (454 g) of GB 464 soy wax. Using a double boiler or hot plate, heat the wax to 185ºF (85°C).

Step 2: Center wicks in tealight cups
While the wax melts, prepare your tealight cups. Attach a wick sticker to the tab of each of your ECO 0.75 pretabbed wicks. Place a wick in each tealight cup, using the 4 plastic prongs on the bottom of the cup to help you center each one.

When the wax reaches 185ºF (85°C), add 4 drops of Summer Breeze Liquid Dye and stir gently for about 2 minutes until the dye is fully incorporated with the wax.

Step 4: Add fragrance oil and stir
Add 1 oz (28 g) of Ocean Breeze fragrance oil and remove from the heat. Stir gently for 2 minutes.

Step 5: Pour wax into tealight cups
When the wax has cooled to 135ºF (57.2°C), pour from the metal pitcher into the funnel plastic pitcher. This step is optional, but makes it much easier to pour the small quantities of wax needed to fill the tealight cups. Working carefully and slowly, pour from the funnel pitcher into the prepared tealight cups.

Check to be sure the wicks are completely straight and centered in each cup for safe burning. Readjust as needed while the wax is still liquid.

Step 7: Cure tealight candles overnight
Allow the tealights to cure overnight before burning them.
 Note: Leftover wax? Label a paper cup with the fragrance name and the date, then pour the wax into the cup and let cool. When you need it, just tear and discard the paper and place the solid wax into your melter for a no-hassle wax melt!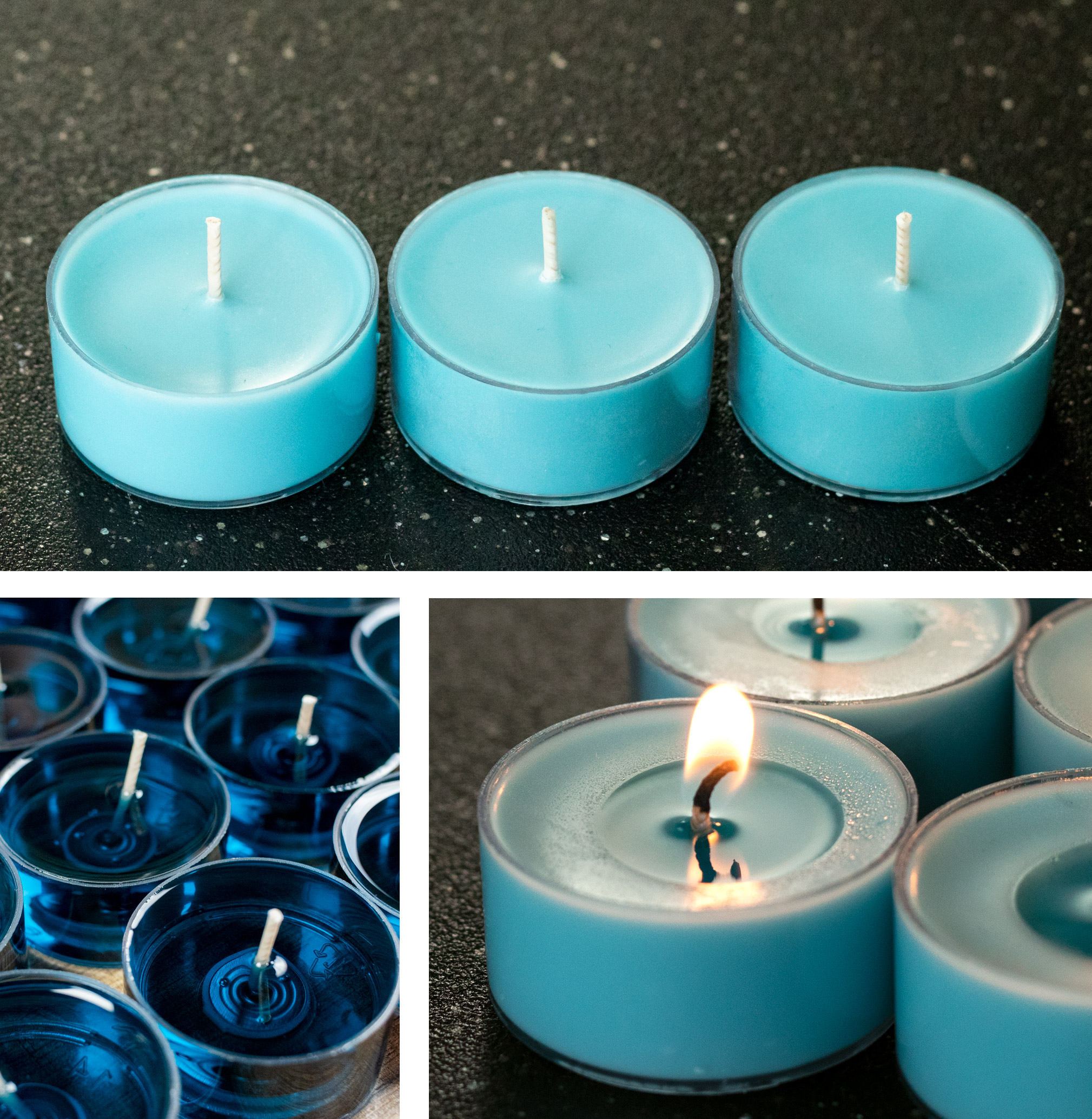 Don't Forget!
Remember to always follow all candle burning safety rules.
---