Selling online: tips and resources to get started
The impacts of COVID-19 have been far-reaching. With the necessary closure of brick and mortar stores, craft fairs, and markets around the country, those of us in the business of selling our candles and other handmade products in person have been hit especially hard.
But don't throw in the towel—call on that can-do spirit that empowers all crafters and makers. We're an adaptable bunch! There's never been a better time for small businesses that formerly relied on wholesale and/or in-person sales to make the pivot towards e-commerce. With some shifts in your strategy, you can keep your business alive. To help, we're curating some resources to guide and inspire you.
Now, let's roll up our sleeves and get to work!
Get your online store up and running
Establishing and maintaining a web presence for your business is something we'd recommend anytime, but is especially important now. Having an online site can help your business: 
Build credibility and trust
Your website is where your existing and potential customers go to find you. It gives your business an identity. Visitors can learn about you, your products, and your company values. Think of it as the digital "face" of your company. A friendly, well-designed website indicates a well-designed business and adds credibility to your brand.
Reach new customers
Stay at home orders mean consumers are spending more time online and are making more purchases online. When someone sees your products online or hears about your brand through word of mouth and wants to learn more, the first thing they'll do is search for your website. A site that's easy to navigate and shows.
Grow your brand
Your website tells the story of your business, from the copy on your About Us page to your product photos. When you deliver that story in a memorable, relatable way, you're making connections with an audience of potential customers.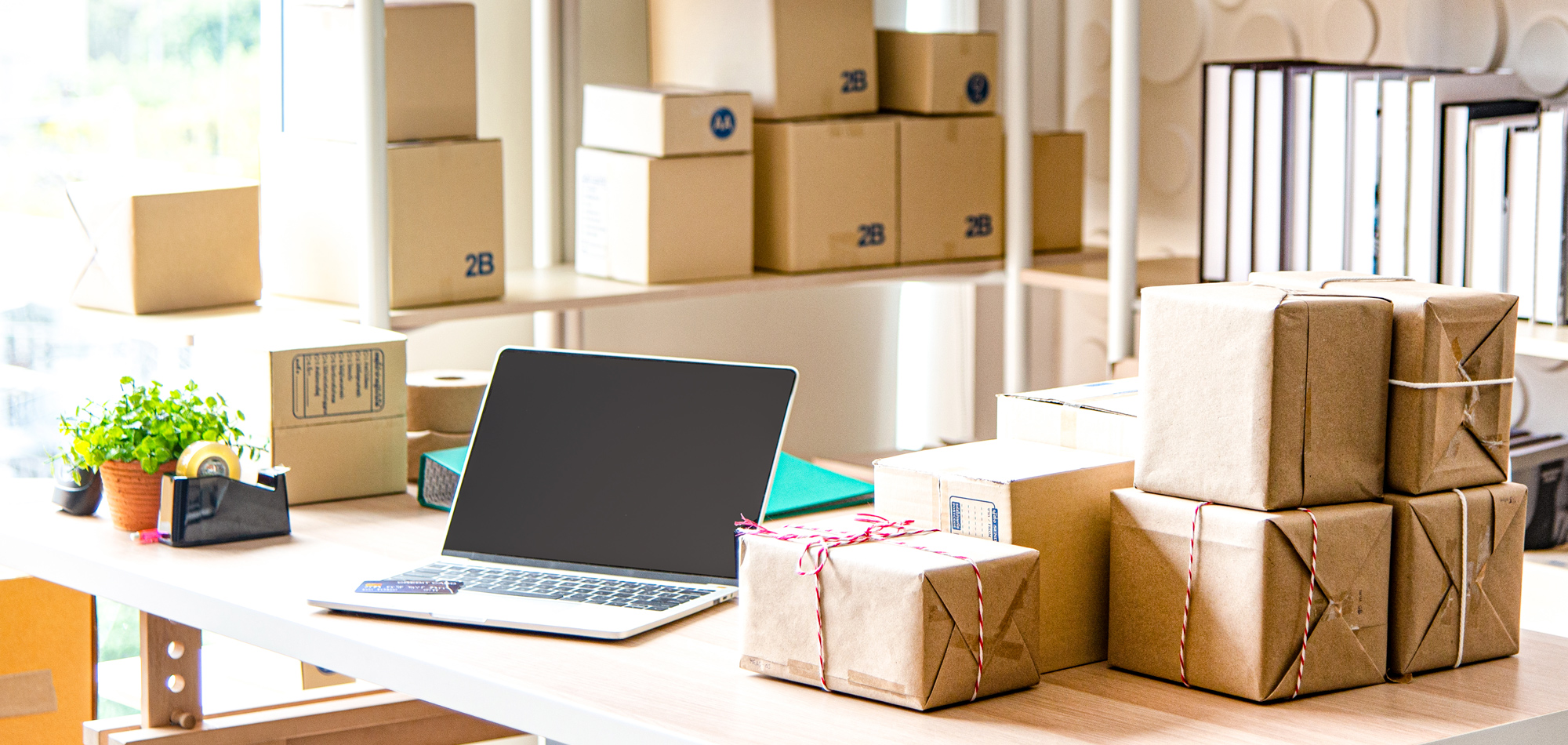 There are considerations aplenty when you're taking your business online. One of the first and most important questions to answer is:
Which platform will you use to create and host your website?
Let's take a look at a few of the different options and some of the pros and cons of each, from very basic ways to connect with your customers to more advanced e-commerce sites
Quick and basic online shops
A minimal web presence is better than no web presence at all! Maybe you are busy juggling work, family, and your small business and learning how to set up a website isn't in the cards for you right now. Maybe you're keeping a close eye on your budget during this uncertain time. You can still move your business online, keep your existing customers engaged, and grow your audience while you're at it. Here are a few options to consider.
Google sites are free to create if you have a Google account and fairly easy to build. This is a great option if you already have, say, a list of your customers and their contact info from sign-ups at craft shows. Your setup could be as simple as adding your business name and logo to the site and information about how to place an order. Ordering could be as simple as a customer emailing you their order and paying with PayPal. PayPal makes it easy to accept payment and create invoices, so that is a good choice for getting your business open for orders on the fly.
If you have a little more time to spend, add in some product photos and a little information about your business. Now you have a landing page for your existing customers to continue purchasing the items they love, and a way for potential customers to discover you. 

Sell on your social media
While it does involve a bit of digital legwork, some crafters and entrepreneurs do sell successfully just on Instagram or Facebook. Facebook does have a Commerce Manager for business pages—while the features are limited, it does provide a way to sell your products.  
Instagram also has commerce capabilities. You can even convert an existing account into a Business account. You'll be able to make your Instagram shoppable with links out to a website, advertise, and more. Instagram is currently in the process of rolling out even more commerce features that make it possible to shop and check out without leaving the app. 

All-in-one websites
Build your store with ease.
Squarespace is an all-in-one platform for the visually inclined, with lots of beautiful templates and a drag-and-drop editor. It allows anyone to create a professional-looking site with all the tools you need to start selling and shipping your products.
PROS: A very aesthetically minded platform with great templates. Easy and quick for beginners to get started. Includes all of the essential web tools and integrates with some other extensions to help you market and manage your store. Great support team. Tiered pricing and plans to match your needs and budget. Ability to modify your plan at any time as your business needs grow.
CONS: The minimalist, all-in-one platform may be a pro for some and a con for others. If you're looking for more features or access to 3rd party apps, consider an alternative.  Abandoned Cart feature only available with the highest-priced plan.
OUR THOUGHTS: Several CandleScience team members use or have used Squarespace for personal sites due to the ease of use and great themes. If you have a narrow product line or limited experience setting up a website, Squarespace is a good choice for creating an attractive site quickly.
Additional resources: How to create a Squarespace website for your candle business 

Wix is an all-in-one website builder similar to Squarespace with a focus on attractive templates and design. Unlike Squarespace, Wix Stores allows for more freedom to customize.
PROS: Wix offers a larger selection of templates to choose from and the unstructured drag-and-drop editor allows for more flexibility than Squarespace. Wix includes more features in their basic plans compared to Squarespace. Tiered pricing and feature plans so you can choose what you need.
CONS: The more unstructured editor can lead to a frustrating design experience. Cannot change your template once selected. The most inexpensive plan only includes limited bandwidth.
OUR THOUGHTS: Both Wix and Squarespace are great options for creating a website without a large investment of time or money. In many ways we feel Squarespace has a bit of an edge thanks to the ease of using their editor, their beautiful templates, and their slightly lower prices.
Additional Resources: TUTORIAL: How to Create a Wix Store Step-By-Step

WordPress is an open-source content management system. If neither Wix nor Squarespace fits what you're looking for, consider doing a little research on using WordPress to set up your store.

Pro Tip!
All of the above platforms let you purchase a domain name through them, but we recommend using Hover to purchase your domain. We're fans of their easy to navigate interface and great customer support!
Create a shopping experience
Curate a custom shopping journey.
If you want to spend a little more time and money creating an exciting, browsable shopping experience, a platform like Shopify, BigCommerce, or a similarly-scaled alternative is the way to go.
Shopify is one of the most popular platforms for e-commerce, and for good reason.
PROS: Lots of functionality and integrations. Easy to set up. Relatively minimal cost to get started. Plenty of available template designs. Scales very well as your business grows. Lots of resources to help as you run and grow your business. Good customer support. A large community of users for tips, ideas, and inspiration. Great shipping rates. 
CONS: The pricing structure can be a little confusing and costs can add up quickly. Platform transaction fees, credit card fees, and optional plugin/add-on fees in addition to the monthly price.
OUR THOUGHTS: Shopify is the go-to option if you have a large product line or are thinking of expanding. It's also great if you want to immerse yourself into the e-commerce world and take advantage of the many digital marketing integrations that are available to you.
Learn more from Shopify:

If Shopify doesn't quite meet your needs, consider an alternative like BigCommerce for your small business. With more advanced features and the ability to sell on multiple marketplaces, along with a higher cost, this could be a good choice for a rapidly growing business.
A quick note on Magento Commerce
Another popular eCommerce platform that you may discover if you do additional research is Magento Commerce. This highly customizable platform is geared towards entrepreneurs who are focusing on accelerating the scale of their business. If you're just starting out, Magento is likely not the best fit for your needs and budget. But it does offer lots of features to take advantage of if your business expands on a national scale.
Already have an online store? Take the time to optimize it!
Take an SEO pass. SEO is Search engine optimization--at a very basic level, it helps your site be more easily discoverable for consumers. There are lots of resources and info on improving your site with SEO, whether you're a beginner or want to dive into the nitty-gritty. Here are a few we recommend:
Moz. Moz offers lots of free resources for getting up to speed with SEO and helping you with keyword research and website performance and analysis. It also offers a paid Pro plan if you want to really focus on improving this aspect of your online business.
Answer the Public. This is a free tool that lets you search for keywords and see what people are searching for related to those keywords.
Update your branding and website copy. An SEO tool like the one mentioned above can help you see what might need a little updating on your site. Including commonly searched terms in your website copy where it makes sense to do so can help increase your visibility and reach potential customers.
Update your product photos. An appealing product photo goes a long way! They're especially important for those of us selling home fragrance and body care products since our customers can't smell or feel these items before making a purchase. A product photo that accurately conveys the experience a customer will have using your products is crucial.
Photo Tips Series
Written with the beginner in mind, in this ongoing series of articles on product photography, you'll learn the ins and outs of taking product photos specifically for home fragrance and personal care products.
Additional ideas to help your business
Look to expand your product line for things in need. Like soap! We're all doing more hand washing than usual, so some beautifully scented soaps in your customers' favorite candle fragrances are definitely something to think about.
Get social and connect!
Stay in touch while social distancing on social media and via email. This is a great time to start getting active on social media if you aren't already. 
Need ideas for things to post? Document what you're working on, share your quarantine experience, ask questions. This is a fantastic way to hear directly from your audience and connect with them on a personal level. 
Build your email list. Encourage followers to sign up so that they can stay in touch and get the word about new launches and sales.