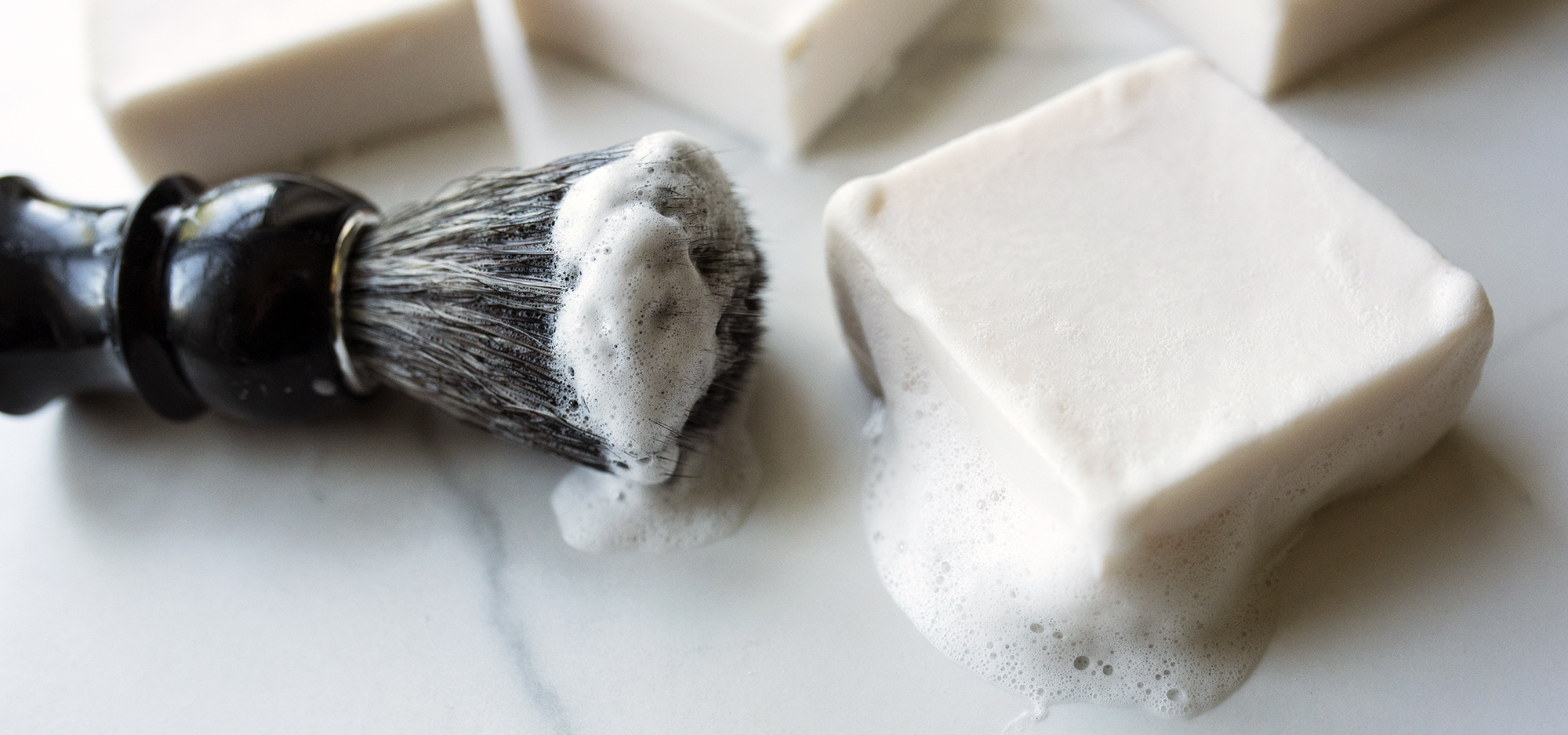 The Syndopour base is a great option for almost all rinse-off applications, but shave bars are one of our favorites! In this tutorial, we'll teach you how to make foaming shave bars and go over additive options. DIY shave bars are eco-friendly, convenient, and perfect for traveling. These customizable shaving bars are gentle and provide a nice, slippery lather that helps razors glide seamlessly over skin.
EO Notes: You can also use soap-safe essential oils for this project. When using essential oils, be sure to check your essential oil's recommended usage percentage and IFRA Certificate. How to Make Melt and Pour Soap with Essential Oils.
Additional items needed:
Olive oil
Glass container for measuring oil
Paper towel
Latex gloves
Plastic wrap
Rubbing alcohol
Pipette
Double boiler setup
Note: There are a lot of different additives you can use in your bars. Try aloe, shea butter, or coconut oil! 
This base can accommodate a maximum of 3% additive ingredients, including fragrance oil. You may use a maximum of 2% fragrance oil, but we recommend starting with 1% and working your way up if desired. Using heavy oils and butters, such as olive oil or shea butter, will reduce the lather of the final product; we suggest using heavy oils and butters sparingly. 
Step 1: Prepare your supplies and work space
Wash your equipment, soap mold, and utensils in warm soapy water and dry thoroughly. Don't forget your workspace! Avoid any cross-contamination by spraying the area with rubbing alcohol or a 5% bleach solution, then wipe dry with a clean paper towel.
Step 2: Weigh your additives and fragrance oil
Place a small container on scale and tare the weight. Weigh 1g (.035 oz), approximately .25% of olive oil. Place a second small glass container on the scale and tare the weight again. Weigh .15 oz of the Beachwood fragrance oil (or the skin-safe fragrance of your choice), approximately 1%.
You want to have your fragrance and any additives prepared ahead of time so the base does not start to cool and harden as you work.
Note: It is important to only use glass for this step. The fragrance can damage certain types of plastic and paper if it sits for long periods of time.
Pro Tip!
When weighing out small quantities of fragrance oil, use pipettes to make it a little easier on yourself.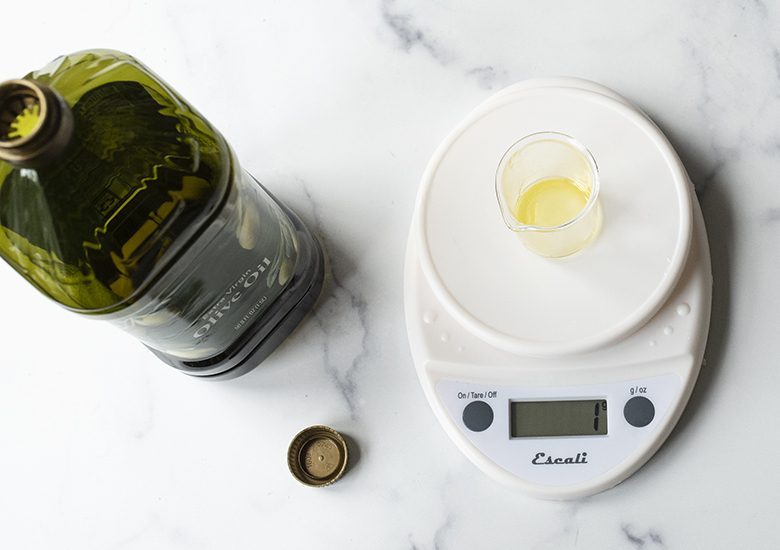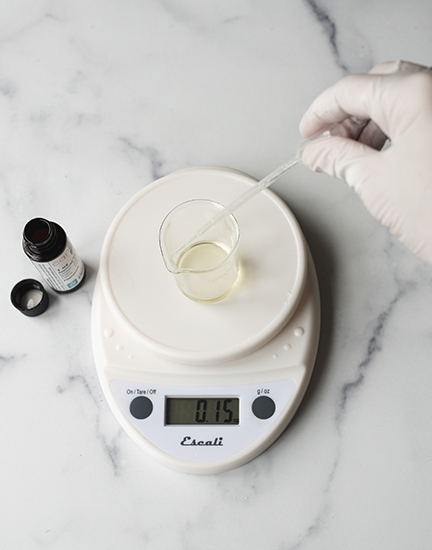 Remove the Sydopour from the container and cut off half of the block. Cut this piece down into 1" cubes.
Note: This base is soft and a bit mushy, but once it is melted and processed, it will harden. It will become clear when it melts, but will return to the opaque color when it cools.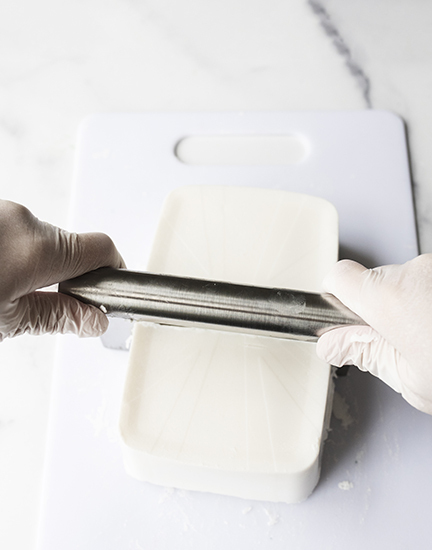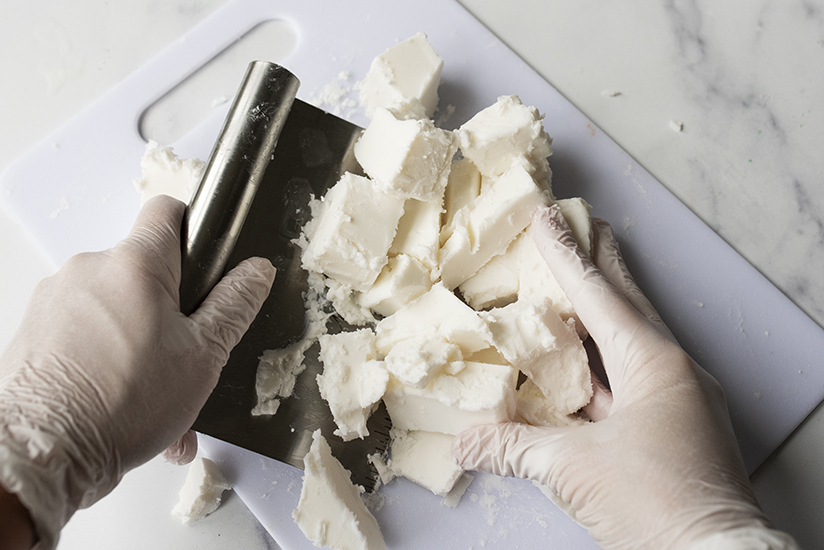 Step 4: Weigh and melt the base
Place the pouring pitcher on the scale and tare the weight. Weigh 16 oz of the cubed base.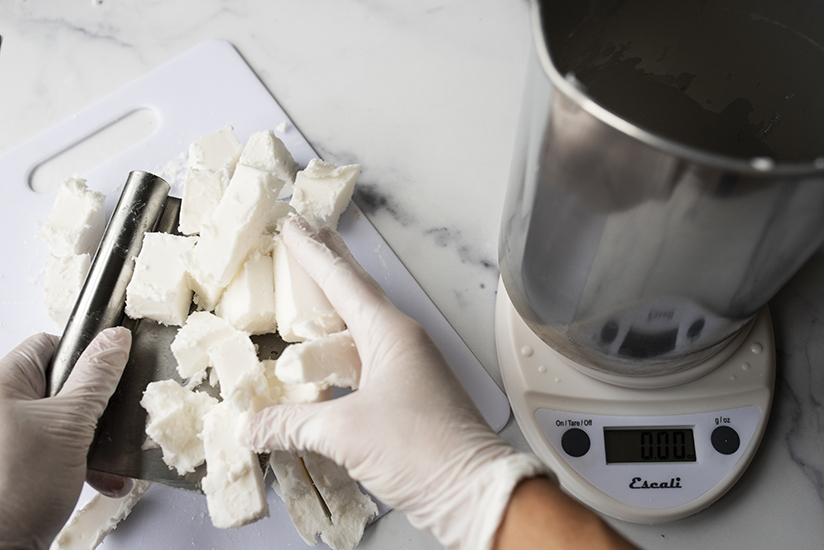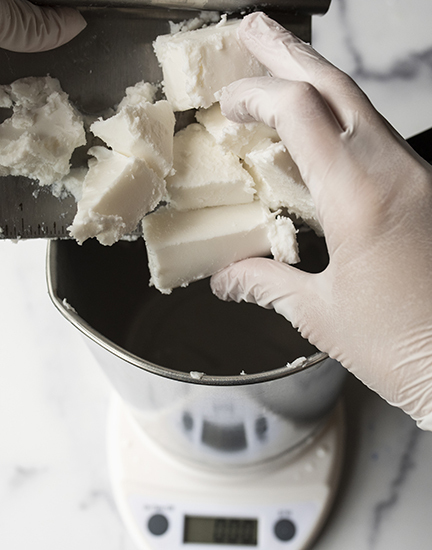 Cover the pitcher with a lid or plastic wrap. Begin to melt the base with a double boiler or hot plate. Melt until the base is completely melted and reaches 185°F.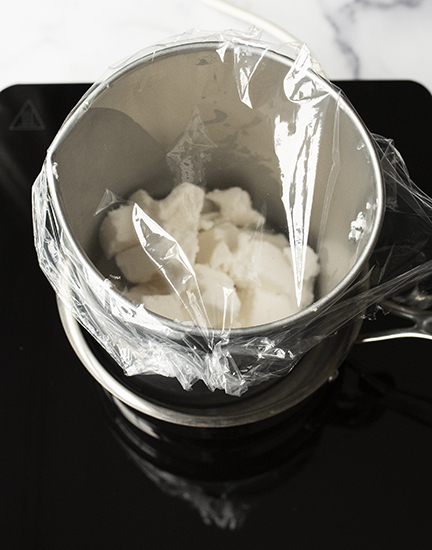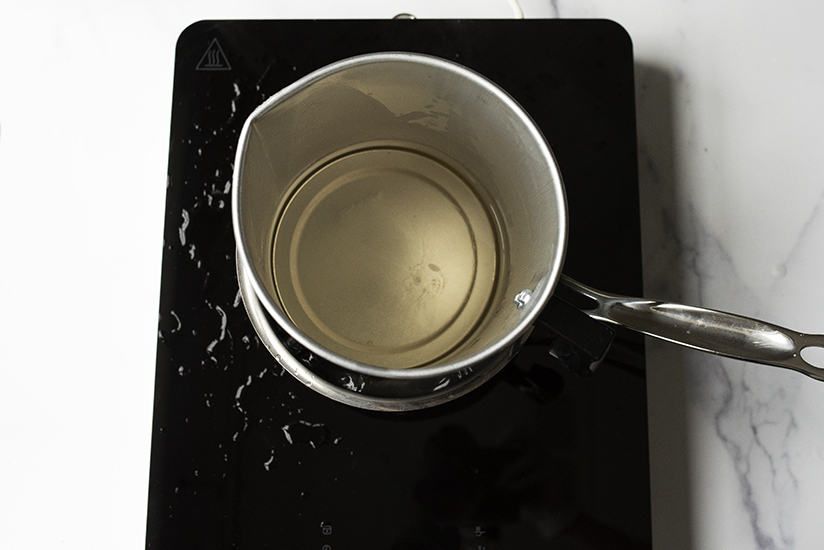 Add your measured fragrance oil and olive oil and stir gently until the oils are thoroughly mixed in. 
Note: This base will cool very quickly so be sure to work at a fast pace.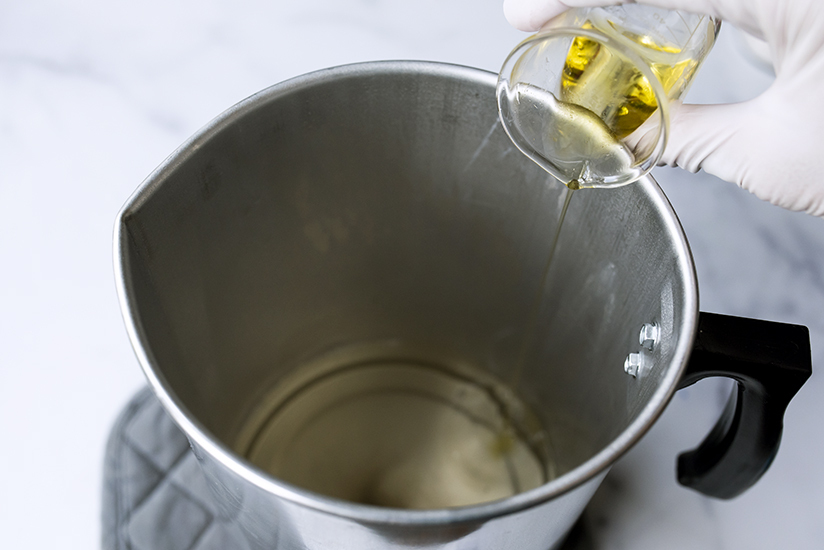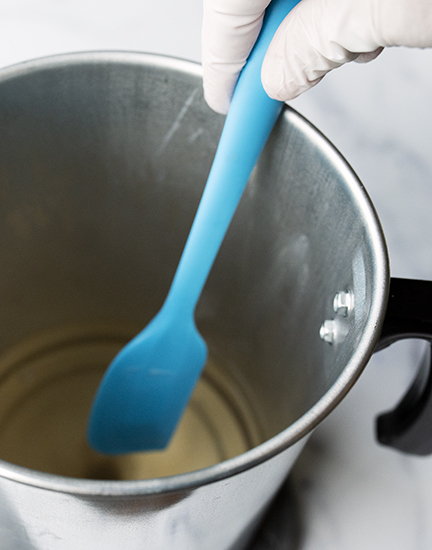 Step 5: Pour base into mold
Pour the base into the Square Silicone Soap Mold.
Note: You can also use a mug or another wide mouth container if you don't want it as a bar.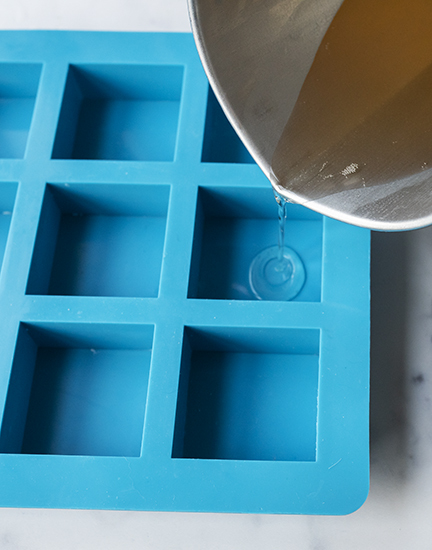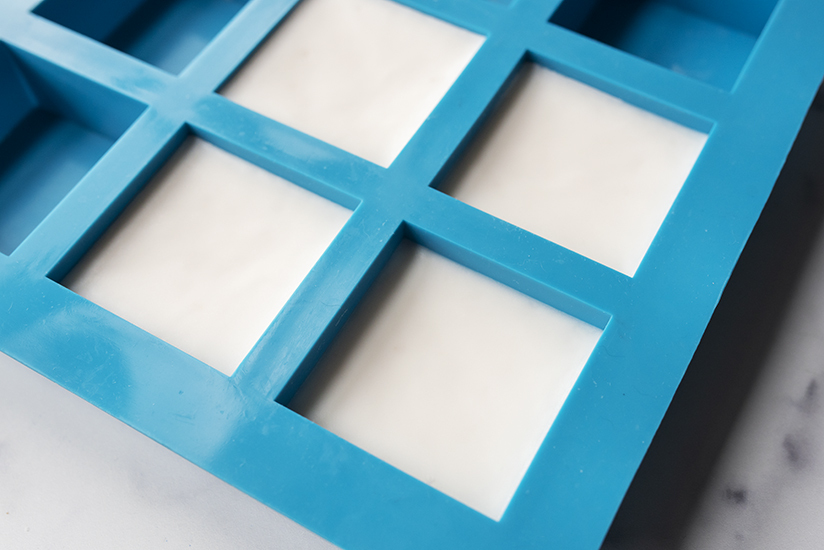 They should be cooled after about three hours. Once the bars are completely cooled, remove them from mold and place on a flat surface.
Allow the bars to cure for 24 hours before using and packaging.
Note: The bars will continue to firm up in the 24 hour curing process.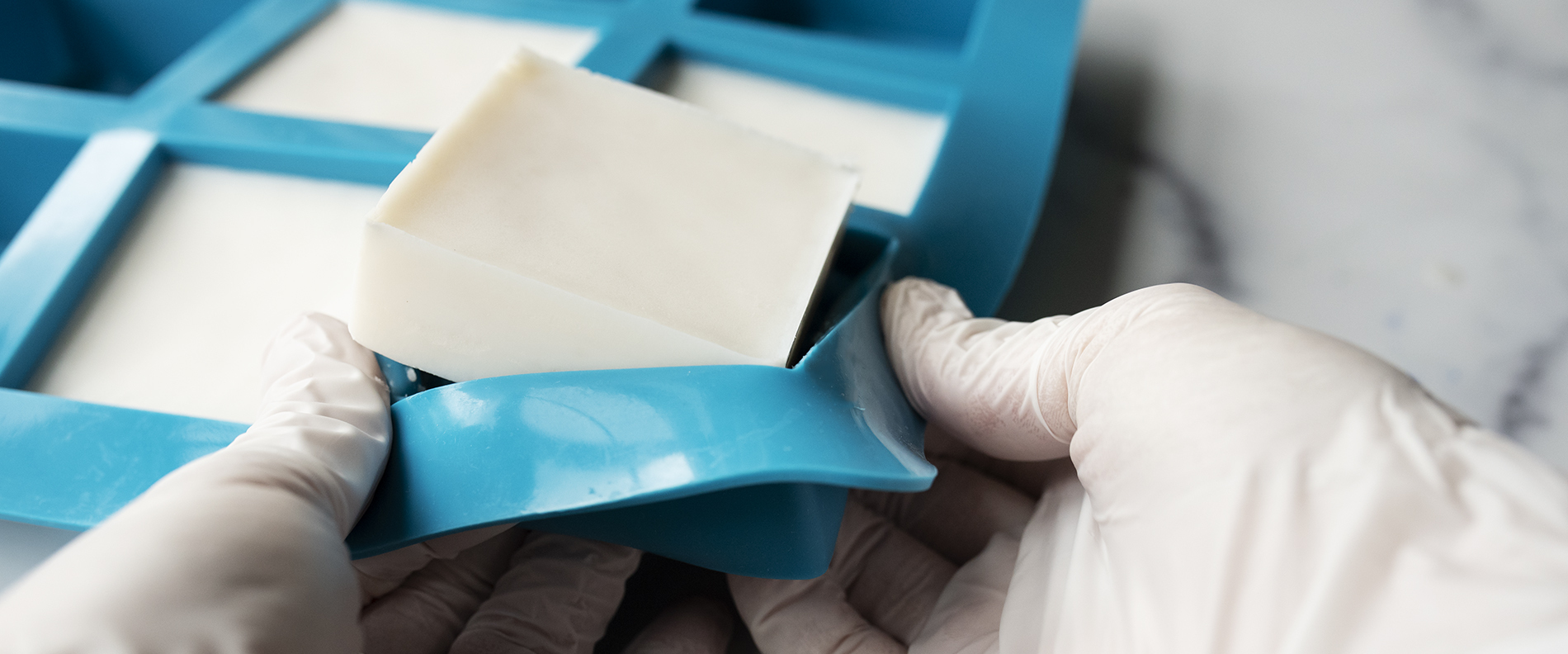 Get creative with your packaging! Try paper wrapping, bag, a box—there are endless possibilites. If you live in an area with high humidity, we do suggest packaging your all-in-one body and shampoo bars in plastic to help reduce sweating, but it does not to be airtight. 
DID YOU MAKE IT?
Show off your take on the shave bars and all your handmade creations, with the CandleScience community by tagging us @CandleScience and using the #CandleScientist hashtag on Facebook, Twitter, and Instagram. We may feature you in our Stories or on our website!