Promoting your brand: Get started on social media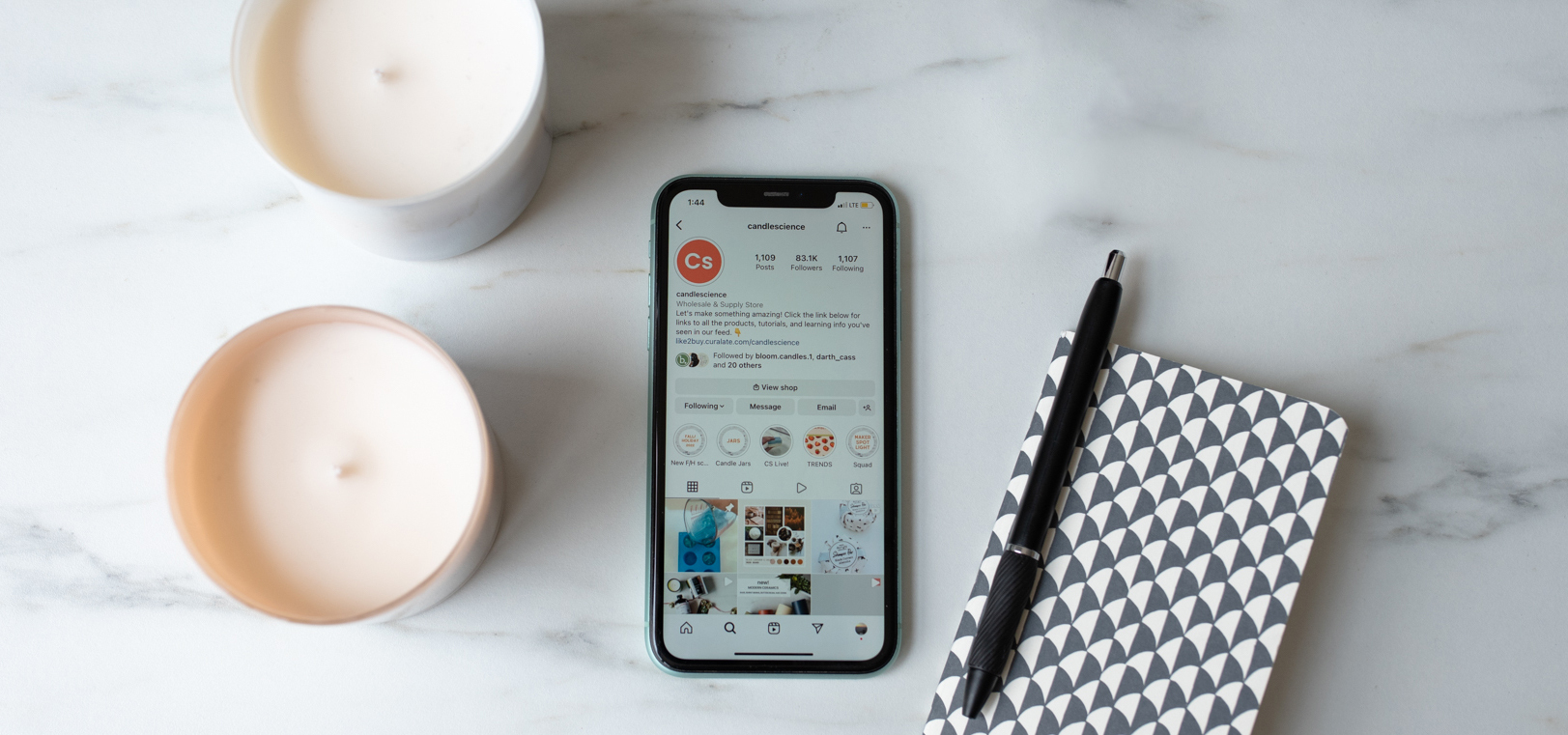 Part 1: Develop your strategy
Social media is an important marketing tool for small businesses. It's a way to connect with current and potential customers and increase your brand awareness, and ultimately, your sales. But there's more to building a successful social media presence than just creating your account and posting a few pictures of your products. 
Your social media strategy is the actions you will take to achieve your goals. This is the stage where many people get stuck. You know what you want to achieve, but you're not sure how to achieve it. 
There is A LOT of information out there on running social media for your small business–it can be hard to wade through and figure out any actionable steps! This article is written with the small candle or soap business owner in mind, but can be applied to any small product-based business. 
When you're working on your social media strategy, it's helpful to begin by defining your goals. What do you want your social media accounts to achieve? Increasing sales is a good goal to have; but, it's important to remember that the path of follower → customer is often not a straight line, so you may not begin seeing a significant increase in sales right away. Don't get discouraged!
Pro tip!
Expect your strategy will change over time as you grow your audience. You'll learn what works and what doesn't, and your strategy should change to reflect that.
Set achievable targets for yourself. As you hit (or don't hit) goals in the timeframe you set, you'll be able to adjust and set new targets. You can think about your own specific goals, but here are some to get you started:
Grow your brand awareness. This can be measured in followers, reach, and engagement (all of which a social media management tool will be able to help you track, see more on management tools further in the article). Start with small goals, such as "Increase engagement by 10% in three months." 
Increase website traffic. For example, "Increase website traffic from social media by 8%."
Garner positive reviews. Maybe you want to gain 3 new positive reviews per month.
Pro tip!
Don't get caught up on follower counts. For small businesses especially, the quality of those followers is more important. An account that has a decent number of followers does convey a sense of legitimacy, but large followings don't necessarily translate into large sales.
When you have a few goals in mind, you can move on to planning how you will actually run and manage the account.
One thing you'll probably find helpful at this stage is looking at different social media management tools. Not only are they great for your day-to-day management and scheduling, most of them also offer solid learning advice, tutorials, etc. 
Scheduling your social media in advance saves you time. Dedicate a few hours to scheduling posts for the week or at the very least, drafting them out to finish later. You can still do impromptu posts of course, this just helps ensure you always have some content ready to go! 
Choose a tool that will work for you and that you'll use. You want something that allows you to schedule your social content, manage comments and messages, and that provides analytics.  Many of these tools offer free options or at the least, free trials. There are lots out there, but here are a few we like:
What should you post?
This is a very common question, so you're not alone if you're unsure what to post on your own accounts. 
Start jotting down the different types of posts you might make. Look at what other accounts you admire are posting and note the ones that resonate with you. 
Pro tip!
You've probably bought something online from an ad. Go and check out that brand's social media and see if you can pinpoint what it is that sparked YOU to make a purchase. Was it testimonials from happy customers? Great photos of the product being used by a real person? If something resonated with you enough to make a purchase, surely it will resonate with one of your potential customers as well. 
Here's a short list of some ideas to help get you started:
Photos of your candles in a real world setting. Show your customers the experience they can expect when burning your candle!
Information about your candles and what makes them so amazing. Maybe you only use phthalate free fragrances, or a custom blended wax. 
Reels using trending audios. If you're not camera shy, this is a great way to create some quick content. 
Your story. Show your audience the person behind the product. 
Behind the scenes footage of you making your candles. 
Glowing product reviews.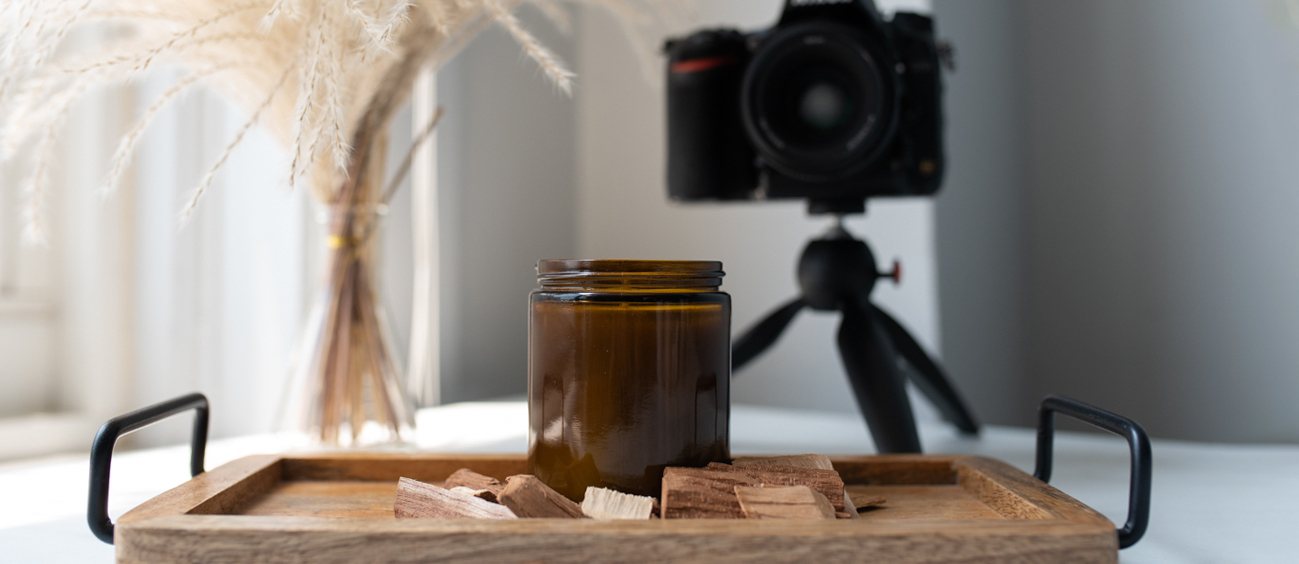 How often should you post?
This will change over time and varies platform to platform, but when you're getting started, a good rule of thumb is to have at least 1 post each day or each weekday. For Instagram and Facebook users, incorporating Stories and Reels is also recommended. Don't stress if that sounds like a lot of content to create–it is! The most important thing is that you're posting at all, and as you continue to grow your accounts, it will get easier.
The management tools we listed above all include analytics. Use them! They'll help you gauge the best times to post, how often, what to post, etc.
Your brand's voice is the overall "vibe" you want to convey. It's the personality of your business and what sets you apart. This is something you'll develop and solidify as you go.
For example, if your brand has a cheeky, whimsical vibe, the tone of your social media posts should reflect that. You'll probably use irreverent humor, slang, and memes in your posts and interact in a fairly personal way with your audience. 
Think about how you would talk about your business with a friend. What kind of words would you use to describe it? How would you talk about the experience of burning one of your candles? How would you describe your typical customer or target market?
Much of this really boils down to: be yourself. Write your captions like you're speaking, not like you're writing a thesis (unless, of course, you do actually speak that way!) If playful humor doesn't come naturally to you, that's ok–that's not your voice. Authenticity resonates. 
Here are some writing resources and books we've found helpful over the years:
On Writing by Stephen King
The Copywriter's Handbook by Robert W. Bly
Everybody Writes by Ann Handley
Master Content Marketing by Pamela Wilson
It's important to set realistic expectations for yourself. A successful social media account that drives web traffic and sales doesn't happen overnight. It's an entire job all on its own! It also requires some trial and error–it may take you a while to land on a strategy that works, so don't get discouraged if your account doesn't blow up right away. They rarely do!
We hope this was helpful and gave you a few actionable ideas. We'll continue with this series, so if there are specific topics related to social media you'd like to see us cover, please drop a comment below!