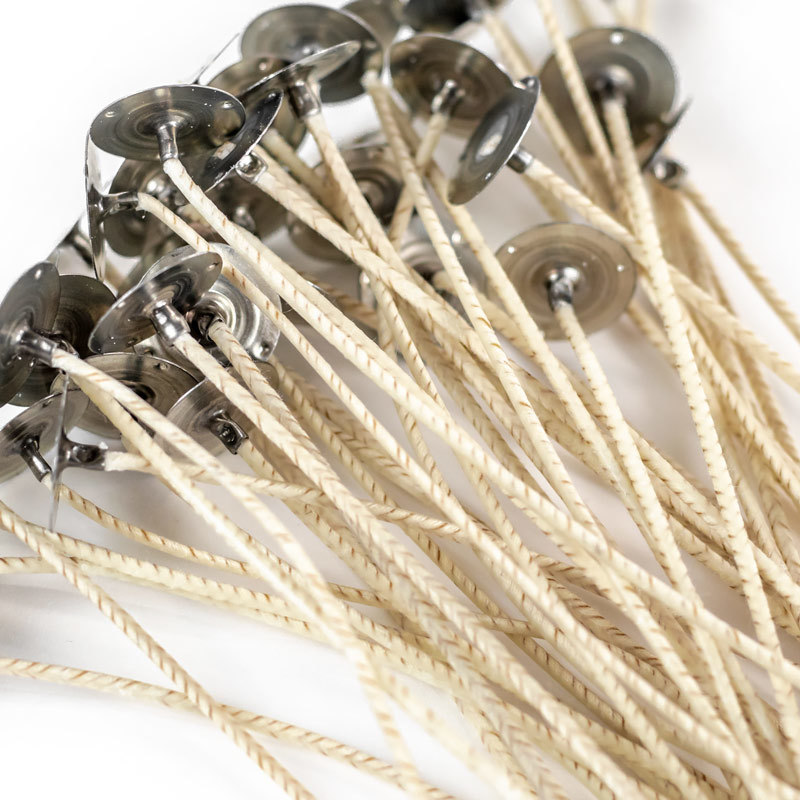 Ready to Order?
Ships from West Coast. Estimated: East Coast 12/17
Details
Product Update:
You may see some variation in the wax coating on the wick due to different coating processes. The variance of the wax coating on the wick has no impact on the burn of the candle.
About the CD Series
CD (Stabilo) wick is a flat braided cotton wick with paper threads woven into the cotton. The reinforced construction of the wick is designed to ensure a consistent burn with higher fragrance loads, especially with softer, more viscous natural waxes. The superior rigidity of CD wick allows the wick to stand up straighter for easier pours and keeps the wick upright in a deep melt pool. Note: Any carbon buildup should be removed once the wick is extinguished. CD wicks are lead and zinc free.
For help choosing the right wick for your candle, visit our wick guide.
Properties
| | |
| --- | --- |
| Length | 6" |
| Tab Size | 20 x 6 mm |
| Wax Coating | Natural |
| Prop 65 Warning Required | No |
Reviews
Great wicks! Candlescience never disappoints!
Uneven/inconsistent wicks
Unfortunately, like the other reviews, these wicks burn unevenly and inconsistently.
Hi! Thank you for reaching out to our Support Team so we could assist with this.
Inconsistent wicks repeatedly from CANDLE SCIENCE. We have been ordering from them for months and all of a sudden, the 100 bags have been ALL DIFFERENT sizes. When we brought this to CS attention, they insisted the wicks were the same, that some just had more wax coating then others. BUT we scraped all of the coating off and they were ALL way off. So much so that one could have easily been a 22 while the other was a 6. That's how dramatic the difference was. We wasted thousands of dollars because of this. So disappointing. The wicks are the most important part of the candle, you would think more quality control would go into this.
Perfect for the large salsa jar!
These are perfect for the large salsa jars from Candle Science, but make sure you're double wicking it, as that particular jar is a bit wider at the top! But, (2) CD 4's provide a nice even melt pool, little to no soot, and a wonderful hot throw!
I'm not sure what's going on....
I've bought from Candlescience for years. The last FOUR (100) packs of wicks that I've bought have had different sizes mixed in. I thought I was crazy at first until I started selling in a 3 wick size. Two will be the proper wick and the other seems at least two sizes larger (in wick thickness and flame). Has anyone else had this problem? or am I just so incredibly lucky that I've had this happen on four separate occasions? Quality control needs to improve during packaging. How can I do burn tests if I don't know what wick I'm using!? Have always loved candlescience, but I may have to start getting my wicks elsewhere.
I have gone through 12 8oz jar before i found the correct wick. I'm so happy that I found the correct wick for my 8oz jar.
Founder and Chief Executive
It took me a while, but I found it, how wonderful!
This is the perfect wick for my 9 oz straight sided amber jars using IGI 6006 wax. It burns perfectly with light to mid weight fragrance oils. Great option when the CD 6 is too much.