Cold Process Soap Fragrance Testing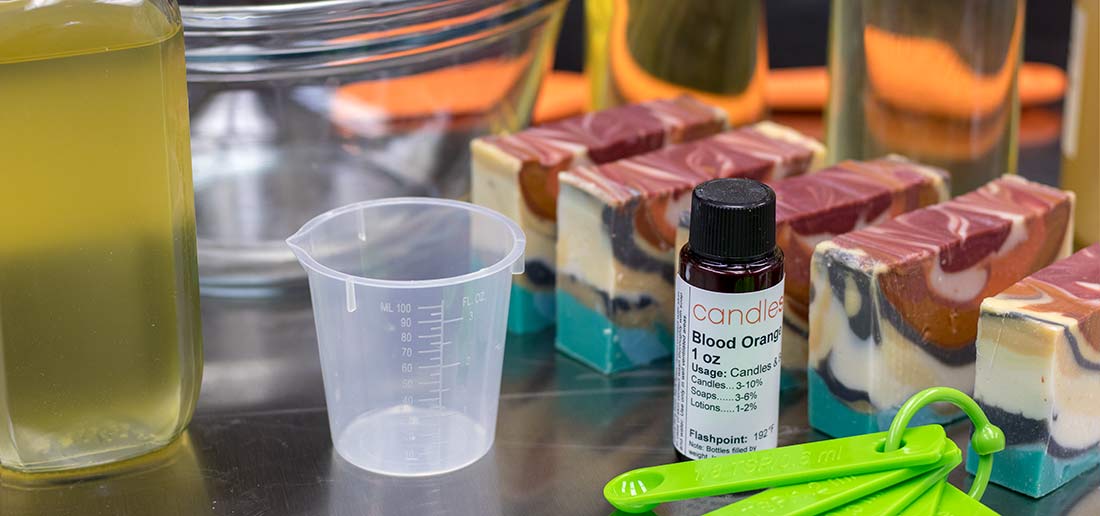 There are many variables that can affect the performance of fragrances in cold process soaps. To help out our soap makers, we've begun testing our soap-safe fragrances and reporting results on each individual fragrance page. Below, we've shared our process for testing the fragrances. Please use our results as a baseline for your own testing, as your results might differ.
Our Recipe:
5% Castor Oil
25% Coconut Oil (92° Melt Point)
50% Olive Oil
10% Rice Bran Oil (Refined)
10% Shea Butter
Our Process
Added 5% fragrance to the oils before the lye water.
Blended the oils and lye water at 120ºF or lower.
Used silicone molds and only covered the mold with plastic wrap to help minimize soda ash.
Used minimal insulation, typically only two to three molds sitting side by side on a wire rack. This helped us test for overheating and observe if gelling occurred.
We unmolded the soap between 24-72 hours, then cut them. We documented scent strength, changes in odor, and any discoloration. We allowed the bars to cure on a wire rack for four weeks and then checked for scent strength, discoloration, and changes in scent profile.
We only tested fragrances that are allowed by IFRA in Category 9 at 5% or higher. Before running your own tests, be sure to review the IFRA certificate for maximum usage levels on the product page. Using more or less fragrance may produce different results in your final product.
Once the soaps cured, we saved one bar for reference and donated the others to Urban Ministries of Durham.
Fragrance oils tested as of February 23 2023:
Essential oils tested as of February 9, 2023:
Essential oils tested at 5% unless otherwise noted.
Have a question?
If you have additional questions please reach out to us at [email protected].