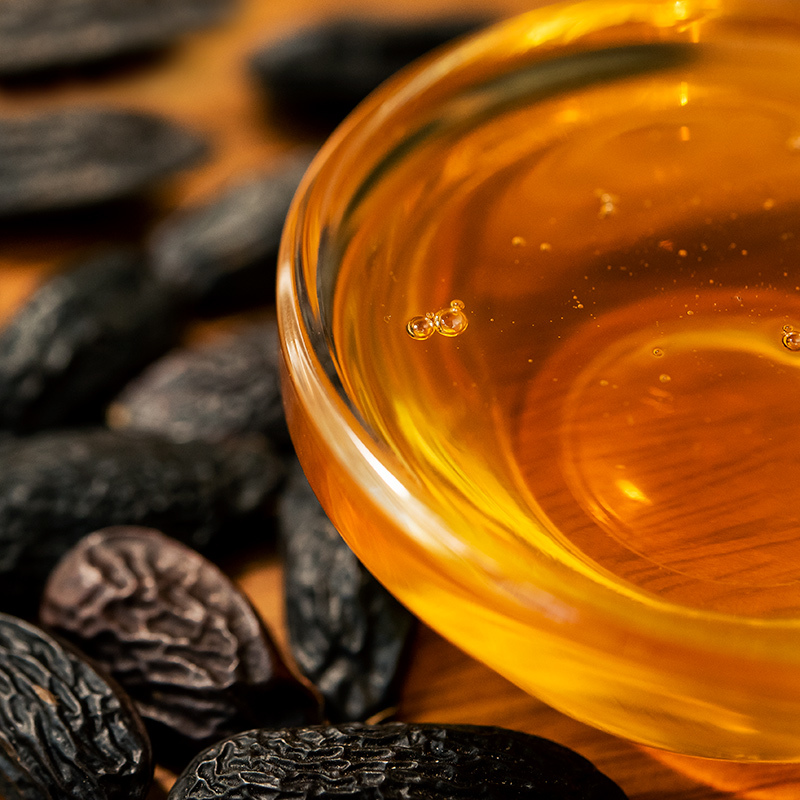 Ready to Order?
6+ 5lb Jugs
$84.84
$1.06 /oz
12+ 5lb Jugs
$76.36
$0.95 /oz
Safer Scents For The Home
CandleScience Clean Scents™ are free from carcinogens, reproductive toxins, and other potentially hazardous chemicals often found in fragrance. Choose Clean Scents and create safer home fragrance products you and your customers can enjoy with confidence.
Read More >
Details
Spiced Honey and Tonka fragrance oil is a captivating blend of honey, spices, and tobacco leaves, with a smooth woody base. Hints of bergamot and herbal coriander give way to honey and amber. Tonka bean adds a touch of vanilla that complements the bold honey. Resinous oud wood, musk, and tobacco leaf ground this fragrance with an earthy base. This cozy fragrance has a rich sweetness that can summon memories of fragrant honey or dried pipe tobacco. Handmade candles and wax melts made with Spiced Honey and Tonka are warm and comforting any time of year. Add a little mystery to your soaps and body care creations with this unique scent that might become a new favorite.
This fragrance is infused with natural essential oils, including lemon peel and coriander.
Blends well with: Lemon Pound Cake, Whiskey, Very Vanilla
Alternative branding ideas: Honeyed Amber, Caramel Tobacco, Vanilla Humidor, Coriander and Tonka, Spiced Amber and Maple
Note Profile:
Top: Bergamot
Middle: Honey, Amber, Coriander
Base: Tonka, Musk, Tobacco Leaves, Oud

Suggested Colors: Brown, Ivory
See our complete list of candle making dyes and soap colorants.
Note: Bottles filled by weight, levels may vary.
Properties
Candle Safe

Yes

Usage: 3-10%
Soap Safe

Yes

Usage: 3-6%
Vanillin Content
2.01% - 5%
Soy Performance
Flashpoint
212 °F
Phthalate Free
Yes
Prop 65 Warning Required
No
Diffuser Base Compatible
No
*Usage amounts are recommendations only. Individual usage amounts can vary based on your desired fragrance strength, wax type, soap base, or lotion base. See IFRA certificate for max usage levels.
Documents


Cold Process Soap Performance
| Acceleration | Discoloration | Separation |
| --- | --- | --- |
| None | Dark Brown | None |
Lye Water Temperature 118ºF
Oil temperature 112ºF
We did not experience any acceleration or separation. Approximately one minute after the batter reaching a light trace it became a bright, mustard yellow color. After 24 hours, we observed the soap bars had a dark tan color around the edges while the inside area remained yellow. The scent was very strong. The soap reached a partial gel with no insulation. After 30 days, the soap had discolored to a dark brown color and the scent was pleasantly strong. Due to the discoloration, a dark color palette would be ideal or reserve some soap batter before adding fragrance to incorporate lighter color swirls.
Reviews
This smells just like Fallen Leaves, which I don't care for.
unfortunately too sweet and sickly smelling
I was very excited to add this scent to my holiday collection but right out of the bottle it smelled so overwhelmingly artificial and sickly sweet. I love sweeter, deep scents but this one had to go in the trash immediately.
Scents I've loved from Candle Science:
-Blood Orange
-Cashmere Plum
-White sage and lavender

After being a little skeptical about this scent, we tried it on our New Black Honey Soap 8 weeks ago. We sold introduced it to the public 2 weeks ago, and we are sold out today. Highly recommend, great scent retention on CP, and a must manly scent all around.
I call this candle Winnie's Honeypot. I added this to my fall collection but am returning to buy another 16oz bottle for my black friday restock! This FO truly smells exactly like the description. The tonka bean is so beautiful and BOY THE HONEY !!! i love love love this FO & hope to be selling this candle all the way until Feb. YES its just that good ! if your wondering I use 464 wax with 9% FO in the 8oz sliver tins & another jar i cant spell but starts with an A haha !
Holy smoke this is the best smell fall candle I have smelled I am definitely using this for the man candles that I'm launching.
Used CCW 12 wax - 8% FO - Cured for 5 days
15 mins after lighting, I could smell it across the room!
Not too sweet, not cloying. I could smell this all day.
Great Fall Scent!
Perfect for my fall line, transitioning into the fall season!!
This starts out with a nice Tobacco Vanilla fragrance, almost similar to a Captain Black Tobacco blend. The Longer the fragrance lingers The toasted Almond scent from the Tonka comes through giving almost a bourbon like appeal. A personal favorite, and getting good feed back from my testers as well
Such a different and good scent!
I add this to my Cashmere and Tobacco candle to add a little sweetness. The tonka is a great add with the honey,,, much different than other samples ive tried!
I thought it would smell differently then it did. The honey was too much and it reminds me of Anaseed - sadly a no from me. I didn't even make it.
All Maple - No Spice or Tonka
Wow this was disappointing. I mixed this with bonfire (only 30%) and ALL I can smell is maple. Way too sweet and overpowering so I can't smell any other notes.
OBSESSED great year round appeal to male and females. Soy 444 very good HT & CT. Very mixable as well
After reading the review and reading the note, I don't know what I was expecting. It isn't that bad but it just too strong for my taste. I couldn't smell much of tobacco since the smell of honey seems to overpower me. I know that this is subjective. I brought 4 oz of a bottle but I already figure out about blending other FO to help tone it down. It was much better. I used more of 60% of other FO and 40% of this one since I like to tone it down. A notch... or few. My parents weren't too keen as stand-alone but found it better to blend.
This fragrance is unlike anything I've ever smelled before in such a good way. It is a STAPLE mixer across the board in all of the products I make! I find myself reaching for it whenever I'm in the mood to create a new scent and it's great because it pairs well with so many different scents without smelling exactly alike. Whatever product I put this in, it always flies right off the shelf. Love it!
Love love this scent! Perfect. Warm and a little sweet. A lot of men that purchase candles from me absolutely love it.
It's a good fragrance if you like very sweet aromas, it smell just like maple syrup, but I don't get the smell of Tonka or Tobacco.
Customers LOVE this! I kinda understand the maple syrup that others smell but I also get honey and the spices. This was an attempt at finding a masculine scent (5 orders in still can't find one!) I'll have to keep this one in stock for sure
I had really high hopes for this since the reviews are so good but honestly all I got out of it was thick buttery maple syrup with a hint of spice. It would be perfect for a fall candle or to mix for fall fragrances but I was hoping for something more complex, warm, and less sweet. My husband thought it smelled kinda like Cinnabon.
We tested it on a tester strip since smelling things straight out of the bottle can be misleading but still found that this one wasn't for us.
I ordered on the 19th and received on the 22nd. Very fast shipping I love Candlescience BUT I just don't see the hype with this fragrance oil. Personally I thought it smelled nasty. Then when my husband got home and I had him smell the fragrance.... he thought it was nasty as well. I hope maybe once mixed with MP the smell isn't as strong? I'm going to try and make one bar, really hope I'm wrong about this fragrance.
This is my favorite Scent by CandleScience so far!! Sweet, warm, complex, and slightly musky. I think it's gender neutral. I do smell the tobacco but it's not overpowering.
I used this in a blend for my fall line and it was one of my top sellers. I blended this with two other smoky and masculine FOs, with spiced honey and tonka being the highest amount in the blend, and it turned out absolutely lovely. I'll definitely be bringing back this blend for next fall!! I love how sweet this is and it also has such a nice depth to it that I don't find in many other FOs.
One of my wax melts on my shelves broke apart the other day when I was rearranging my products so I decided... why not melt this for myself since it had been many months since testing this blend out and oh my lord within minutes my home was filled with my blend. Never discontinue this scent!!!
This scent on its own is very strong. To me, I don't know if I could smell a candle burning with this fragrance for long. It does have an excellent HT and CT - I would even say the best I've come across yet. The honey smell is on point, but it is very much a spiced honey scent. It's sweet and warm without smelling like I'm baking something.
I mixed .5 oz of this FO with .5 oz of another FO also from Candlescience in 444 soy wax to make a 12 oz candle. I've gotta say, I am absolutely blown away by how amazing the two FOs smell together. If you like honey fragrances, I don't think this one will disappoint. I'm actually buying more right now!
You can't go wrong with this scent. The HT is absolutely amazing in all spaces. This will for sure be one of my chosen fragrances for my candle launch. I prefer this one to the Wooden Wick "Honey + Bourbon" scent. You definitely need to try this one out!!!!
If you like the smell of honey, you will love this scent. For me, it was a little too sweet smelling. I was hoping for more of a tobacco scent
This is my first time making soaps and I'm a smell snob. If I love it I absolutely love it and I will be honest. This fragrance is phenomenal! I can't stop smelling the tester soap I cut from the loaf! It's an addicting smell. The fragrance is so potent that after washing my hands with it there is a sweet lingering smell for a while. I'm getting the 5lb just I love it that much! Always keep this gravy! I have a feeling this will be one of our top sellers!
THE GUYS LOVE THIS SCENT!
This smells soooo good! The guys LOVE it, and the ladies too :)
This fragrance is soooo good!! One of my personal favorites and I cant wait to share it with others!
Tonka beans smell (and are used) much like vanilla beans. This combo is spicy without being TOO spice-focused. It's a nice winter scent that I think will go from fall through the holidays and into February.
This wonderful combination of a warm, spicy, honey fragrance is by far my Autumn best seller! The cold and hot throw is spot on and my customers love it! Thank you Candlescience for another winner!!
I love this fragrance, I used this as a mixer with some Brandied Pear and what a wonderful fragrance for my upscale candle line!
This fragrance is absolutely wonderful! I use it to make hot process soap, sugar scrub, and body butter. Smelling the bottle I was not a big fan, but once in finished product I love it. My personal opinion of this fragrance is a little different than others. I think it smells alot like something you would use for a baby wash/shampoo, but also perfetct for any age. Great vanilla/honey scent!
This fragrance smells so yummy, sweet and familiar! If you have ever smelled tobacco caramel, caramel pipe tobacco, or some version of the fragrance from other suppliers, this is very, very similar! It's warm, sweet and very pleasing. I haven't tried this in an application yet, and even though I probably shouldn't judge oob, it smells great!
Tricky Fragrance in Cold Process
I liked the fragrance once received and was excited to try it out in my cold process soap. The fragrance behaved as described on the product page, but what was not mentioned was the fact that the fragrance disappeared while going through saponification. I kept trying to smell the fragrance, but it was overpowered by the scent of the natural soap. ( I soap around 90F degrees) When I cut the bars two days later, I was excited to find that the fragrance was still there and quite strong. I'm not sure what exactly happened, but I'm glad I have these lovely bars. They definitely darkened significantly, but the yellows I used stayed true to their variying degrees of color within the discoloration.
I wasn't sure what to expect from this. I use this in 6006 and it has a great HT. Great smell!
This is exactly what I wanted honey to smell like. I've been through 16 bottles of honey scents from multiple companies and this is what I want. There is no turning back.. like ever
excellent hot throw smells like brown sugar butter aunt jemima with a kick to it 😍😍😍😍 Love it!!!!!
This is exactly what I have been looking for. Honey with a kick.Allowed me to add an extra hint of fragrance to beeswax without it being overwhelming. Love it
I am sensitive to sweet smells and tastes and prefer more musky scents, but the "tonka" part drew me to this scent. I personally strongly dislike this scent as to me it's overwhelmingly sweet. It's sort of like a graham cracker in your face. But I will say that it has a strong hot throw (464 and 10% FO) and if you do like sweet scents then I'm sure it's a wonderful purchase.
Owner, Southern Skye Beauty
Wowowowowowow! This scent is so not what I expected. I bought it on a whim ans let me tell you...this smells incredible. It smells like actual honey without being sickly sweet. Its warm and inviting! I just poured a test candle with this and cannot wait to see how it throws. I've smelled a LOT of scents since I've been in this industry and this is one of the most unique scents I can recall.
I just made CP soap with this and I know it will turn brown, but I did some unscented drop swirls of white and a rich golden orange. This scent smells sooooo good!!! I want to make wax brittle with it too. Almost has a mild incense scent to it, but in a good way. Great scent for the fall. I'm glad I purchased a large bottle.
I just made CP soap with this and I know it will turn brown, but I did some unscented drop swirls of white and a rich golden orange. This scent smells sooooo good!!! I want to make wax brittle with it too. Almost has a mild incense scent to it, but in a good way. Great scent for the fall. I'm glad I purchased a large bottle.
Great Hot Throw- Sweet and Spicy
I'm a huge fan of this scent. It is sweet, but with a hint of smoky pizazz! I have paired it with Lemon Pound Cake and it was an incredible hot throw, as well as a unique refreshing sweet and spicy lemon fragrance. I plan to use this as a mixer with other fragrances, something a bit more smokey than CS Fireside, which I find a bit too "colongne" like. The fragrance is also delicious smelling by itself. I've tried it in soy 444 wax, but plan to use it in soy 464!
Cloudy Day Candle Company- Owner and Creator
I'm a huge fan of this scent. It is sweet, but with a hint of smoky pizazz! I have paired it with Lemon Pound Cake and it was an incredible hot throw, as well as a unique refreshing sweet and spicy lemon fragrance. I plan to use this as a mixer with other fragrances, something a bit more smokey than CS Fireside, which I find a bit too "colongue" like. The fragrance is also delicious smelling by itself. I've tried it in soy 444 wax, but plan to use it in soy 464!
I bought this for a new summer scent I'm doing, and it is ridiculously perfect. I was nervous I would get a honey scent that's similar to the "honey" fragrance in shampoos- this is nothing like that. This smells like real honey out of a raw jar, mixed with some spice that makes it DELECTABLE. Hot throw in 464 at 10% was phenomenal. The only hot throws that have this beat at the mentioned concentration is tomato leaf and Pineapple sage. But this is great! Please hold on to this scent!
I haven't had one person that didn't say they love this yet. The cold through has a slight tobacco smell to it but the hot throw is amazzzzing! I love this. I did testers with 8%, 10% and 12% and decided the 12% was the one to go with. One of my fav scents ever!
I am in love with this scent! I actually use it primarily for anything I need a tobacco scent in. I found I preferred this one to other tobacco types. Great CT and HT. Will be a staple for me for sure!
This fragrance smells great, I love the scent but it is very very light. I can't use it in candles since it is so faint, but maybe in wax melts. Likely won't purchase again.
Excellent replacement for Coriander and Tonka. Love it!!!!
This is a new favorite! Hope it's back in stock soon! 🙏
This is such a great mixer fragrance that is sure to add depth and spice to anything you pair it with. The candle that I use this in is one of my best sellers! I have the coriander and tonka as well and I prefer the spiced honey over the coriander.
I need this scent to restock! Love how it blends. It is subtle so I was using about 12% to get a strong scent from it in candles.People love it though, highly in demand!
I got spiced honey and tonka from a sample and had to buy a big bottle. Absolutely fantastic in melts and soy. so warm and cosy. The honey spice is subtle and just blended beautifully together with the tonka bean. A true high-end fragrance for candles. Throw is great too.
I am curious how this compares to Coriander and Tonka since it replaced it.
This smell is amazing and super strong out of the package. This smell almost has a cherry tobacco smell. I love it!
Right OOB you know this is going to be sweet and delicious. I poured a candle using just Spiced Honey and Tonka and it was yummy. The HT was extremely strong in IGI6006 wax at 8%FO. I never max out the amount of FO my wax can hold, I find that using less FO achieves a greater HT than over burdening the wax with too much FO. A high quality candle is a perfect marriage between wax, wicks, FO % and dye counts. I blended Spiced Honey and Tonka with Brown Sugar and Fig (also by CS) and created Honey Cream Taffy!
This smells absolutely amazing!
This is a lightly spicy, deliciously rich fall scent. I absolutely love it.
This smells amazing. It is my new favorite!