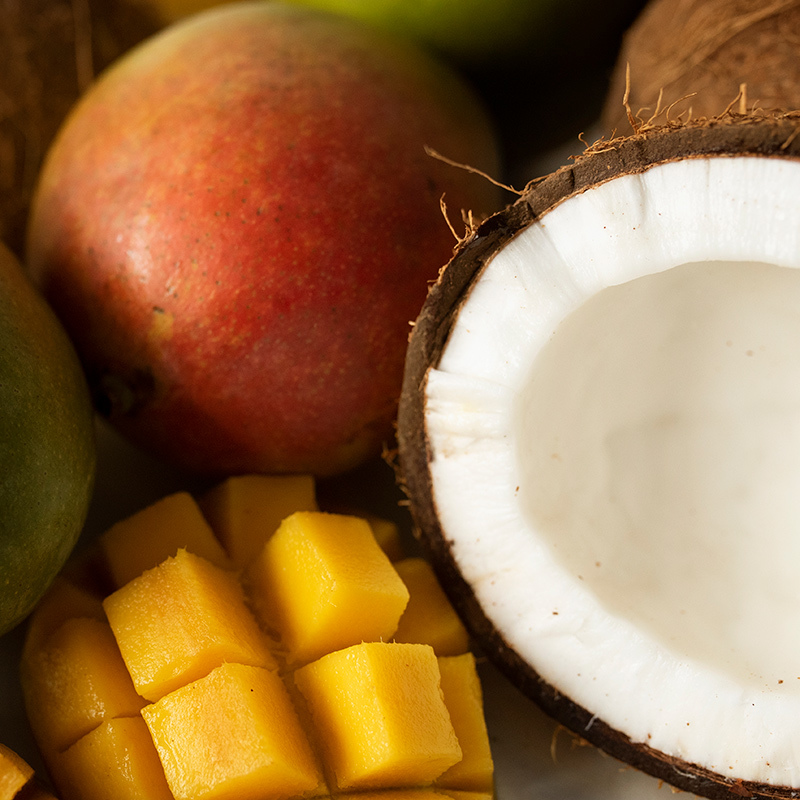 Ready to Order?
6+ 5lb Jugs
$84.84
$1.06 /oz
12+ 5lb Jugs
$76.36
$0.95 /oz
Safer Scents For The Home
CandleScience Clean Scents™ are free from carcinogens, reproductive toxins, and other potentially hazardous chemicals often found in fragrance. Choose Clean Scents and create safer home fragrance products you and your customers can enjoy with confidence.
Read More >
Details
Our Mango and Coconut Milk fragrance oil is a modern tropical fusion of fresh mango and creamy coconut milk. Pineapple and orange top notes meld with ripe mango and a hint of peach. Coconut milk and sugar base notes round out this lush, luxurious fruit medley. Mango and Coconut Milk candles, reed diffusers, and melts bring a burst of summer to any room. This scent is especially luscious in body scrubs, bath butters, lotions, and soaps.
Blends well with: Mahogany Shea, Santal and Coconut
Alternative branding ideas: Mango Lassi, Island Escape, Beach Bum
Note Profile:
Top: Pineapple, Orange
Middle: Mango, Peach
Base: Coconut Milk, Sugar

Suggested Colors: Orange
See our complete list of candle making dyes and soap colorants.
Note: Bottles filled by weight, levels may vary.
Properties
Candle Safe

Yes

Usage: 3-10%
Soap Safe

Yes

Usage: 3-6%
Vanillin Content
More than 5%
Soy Performance
Flashpoint
169 °F
Phthalate Free
Yes
Prop 65 Warning Required
No
Diffuser Base Compatible
Yes; Up to 25%
*Usage amounts are recommendations only. Individual usage amounts can vary based on your desired fragrance strength, wax type, soap base, or lotion base. See IFRA certificate for max usage levels.
Documents


Cold Process Soap Performance
| Acceleration | Discoloration | Separation |
| --- | --- | --- |
| Moderate | Dark Brown | None |
Lye Water Temperature 102ºF
Oil temperature 100ºF
We experienced a moderate amount of acceleration but no separation. Within 30 seconds of pulsing the stick blender we had a medium trace. After 24 hours, we observed the soap had a dark tan color around the edges while the center remained a light cream color. The soap almost reached a full gel with no insulation. Initially, the scent was a little weak and not very pleasant. However, after 30 days the fragrance was stronger and had a wonderful tropical mango and sweet coconut smell. Unfortunately, this fragrance does have quite a high amount of vanillin which causes the brown discoloration and our final bars came out a dark brown color. Be creative with your colors on this one, you may want to leave some of your batter unfragranced to avoid the discoloration.
Reviews
It smells so good it's a perfect blend of the two smells i love it so much!!
I've used it with success in 464 and in a parasoy blend and both had great CT and HT. This one is a keeper!
Absolutely love this scent. One of my best sellers.
this scent it pretty good. I mixed it with another fruity scent that was over powering and this gave a good balance to my melts. Also has good HT.
very tasty aroma, I think it will be suitable for any season!
This Fragrance is my top #1 best seller, since I bought the sample bottle. I knew that it would be a nice summer fragrance. it smells like a nice Pina colada drink. I use FO 8% In my 464 wax and the CT And HT is really good.
This scent is all there will ever be. It's a family favorite and I don't think I'll ever get tired of the smell! It is very strong, but personally I like it.
Received my 1st package today! I ordered a 10 lb bag of 464 GB soy candle wax, this mango and coconut milk, and cinnamon candies fragrances. I love them so much. I will be ordering again. Thank you CandleScience!!!
this is an update on my last review after using this fragrance oil in my candles. SO insanely strong, but not in a good way. The smell is the most overpowering liquor scent that I ended up scraping out my candles because this scent is nauseating to me. Really disappointed because it has some great reviews.
This scent has me in a whirlwind. CS absolutely rocked the accuracy of this fragrance, seriously smells like mango and coconut (The mango is the most prominent profile that comes through)! however, the fragrance smells identical to Malibu rum and that's why I'm giving it a 3 star rating. I've yet to make a candle with it but I'll still give it a try and see how the HT smells. I'm mostly off-put by the liquor fragrance that comes through. Honestly I feel like it should be named mango daiquiri or Malibu LOL! It's not bad though, and if you're looking for a fruity, sweet fragrance... this is the one for you!
I LOVE this scent!! #oneofmyfavorites!!! (:
I love this one. I can smell the difference between the other coconut scents
Frangrance review and question
I bought this fragrance and loved it immediately it was a huge hit in my candles which I make in 464 GB and also in soap I would like to make some sugar scrubs with this fragrance I'm curious how I can find the fragrance load to make in bulk for sugar scrubs?
Hi there! A member of our support team has reached out via email to assist further to help with your question!
This scent has one of the strongest HT I've worked with so far. I use 464 wax in 8oz and 4oz tins.
I love this fragrance oil, it is a best seller for me. I have a tropical line so I hope this one is not discontinued.
I didn't like the smell out of the bottle (but that's terrible practice!!) so I tested it on a blotter strip and in a 4oz tester candle. The hot throw is as strong as I expected it to be after a two week cure in 464, so that is a plus! It does smell very tropical, the coconut is stronger than the mango out of the bottle but it switches on the blotter strip and in the candle (both in the CT and HT). I rated it four stars because it does perform well but I personally can't do the Malibu Rum "after taste". My partner loves this however and it is also a perfect tropical, bar, poolside fragrance!! To me, it's like a mix of mango sticky rice (I LOVE mango sticky rice) with a shot of Malibu.
This smells SO GOOD!! OOB fresh mango along with other fruits and I could smell the notes of creamy coconut. It is so pretty! I made melts, candles, and room sprays immediately. Took them to an event today, it was one of my most popular sellers. Everyone who smelled a product made with this was thrilled with the smell! I use 464 for my candles blended this at 9% fragrance load and I use a soy blend for my melts at a 10% fragrance load. BEAUTIFUL!!!
All of these great reviews and I'm so disappointed. Im using GB 464 and the recommended CD12 wick with 8oz jar. My entire batch had no hot throw even after 14-20 days of curing!! I just bought a few other fragrances and I'm now regretting it!!
Hi There! Hot throw issues are quite common in candle making but typically a few adjustments can really help increase the throw of your finished product. A member of our Support Team will be reaching out shortly to help troubleshoot this issue with you!
The reviews made me buy it. But I didn't like it at all :( When you smell it from the bottle you get a very low smell of mango. When you make it, the CT smells really sweet like vanilla and Coconut. I'm not a sweet scent person (might have to mix it with something more fresh.)
Absolutely love this scent. Will be purchasing more. If a fragrance oil says it's soap safe, is it also safe to use in body butter?
The coconut is most definitely there lol but i like it I'd buy a bigger size .
Most amazing scent EVER!!
I pick this as a free sample to one of my orders and when I tell you I couldn't get to the computer fast enough to order a bigger bottle BELIEVE IT!!! My customers love it, all my products made with it sell out as soon as I stock them.
makes you consider flying to the bahamas, right. now. smells amazing.
Very sweet and juicy smelling, I really like it.
Are there any essential oils in this fragrance???
With the orange scents, I would think there would be but there are none listed in the description.
Hi there! There are no essential oils in this particular fragrance. If there are essential oils included in a fragrance oil, they will be included in the 'Details' section on each product page!
Very nice FO. Great balance of fruits. Would recommend trying it. Also blends well.
This scent is VERY strong.
I usually love these smells together, but this is a little bit too strong for my liking, but I don't hate it, hopefully it'll tone down when I put it in some candles!
Not only a great seller in candles, but also in soap despite the dark brown color.
I used this in soy wax melts. It has a pretty good cold and hot throw. It reminds me of a tropical morning smoothie. I really like it.
Consumer here. I diffused this oil in the main areas of the house yesterday. My mother LOVED it. She came in and announced, "It sure smells good in here." She asked me what it was and I told her. Not really my personal favorite from CS, but I still like it. It will make your home smell very juicy and tropical. The scent throw is a 10.
Love this scent! I used 7% FO in my c6 wax. In less than 24 hrs I burned it as a test and had great HT already!!
One of my fav fav fav scents. I will be ordering more.
My entire house smelt like mangos! I used a canary yellow with it and I really love the way it turned out!
I love this scent! I made wax melts using BW-921. I'll be buying again.
It's a smell everyone loves . Ct great and ht is subtle and wonderful with soy 464 at 6 % . I started making them stronger because I want my candles to be noticed the minute you walk in a room !
LOVE this scent! I use this for my handcrafted coconut shell candles and it's my top seller! This is an all season scent and has an amazing hot and cold throw. Would recommend to anyone starting a candle business!
WOW, this fragrance is so AWEMAZING and strong. I used it to create a new Miami line in my shop, mixed it with lime and OMG, let me just tell you it has become my personal favorite as well as a customer favorite. The cold throw is wonderful and strong, and the hot throw is even better. As soon as I light up the candle, it doesn't take even a minute for it to start throwing the sent. I made a 14oz candle and the entire one story building at my job smelled like this. PLEASE never remove this from your line of FO.
I'm new to this, so I might've just done something wrong, but the hot throw was not strong at all. It was there, but not as strong as I wanted. I also don't really get the coconut smell. Overall good, but I don't know that I'd buy it again.
Used this fragrance in soap and it's delectable! Love this one!
Strong throw! And the smell is delightful! My customers love this one.
Omg, I ordered several 1oz bottles to sample which fragrance I want to use in my candles. I must say this scent is by far my favorite!! A must try!
Not as strong a fragrance as the Mango and Tangerine but still a fan favorite of my customers.
If you are looking for a candle fragrance I would recommend the the Mango and Tangerine. Although this has a nice Mango fragrance, it is much milder than the Mango and Tangerine.
For Body Products, I have used in CP and MP Soaps, Body Wash, Lotions, Bath Bombs, Sugar and Salt Scrubs, and Body Butters
This fragrance smells subtle in the bottle but to my surprise, has a great cold and hot throw.
This scent is so intoxicating ever since i launched it has been our top seller for 5 months straight, my customers love it so much
I want to simultaneously devour and cover myself in this scent it is so good! I'm trying to get my customers to see this as a year round scent so I can keep smelling it but I don't think they're falling for it lol.
This smells like a vacation. It's strong and sweet. It may be overpowering for some but not for me or anyone who has purchased it. It's fantastic. I use 10% fragrance in GB464. 11/10
Absolutely Amazing!!!!!!!!!!!!!!!!!!!
I this my favorite fragrance of all times....I've sold out of every product mixed with this awesome fragrance-TOP SELLER FOR 3 MONTHS!
It's a pretty sweet fragrance as you would imagine! When I smelled it out of the bottle I got a bit of a headache but I was glad it was strong. It has an great CT! HT was as strong in comparison but still good. Overall I like this smell for Spring.
Just received my order (Super fast by the way) and this is one of the FO I got and it smells amazing!!!! I can't wait to use it and see how it throws so excited!
This is another favorite, probably because I love Mango! It's a wonderful blend of fruit and coconut. I close my eyes and feel like I'm back in Madagascar photographing lemurs. Thus, the name of our candle is "Mango Madagascar."
This smells amazing and is my favorite thus far.
This is one of my favorite scents that I've used for my candles so far!
This one was a surprise. The candles I made with this were a top seller so i'll def be keeping this one in rotation.
My new favorite! I use this is in 444 using the low temp method, cured two days. Wonderful HT and CT!
I'm a newbie at candlemaking, but I have bought probably 50 fragrance oils from different companies to try. This is absolutely my favorite scent so far, it's very strong and has GREAT hot throw. I made a 4 oz candle and could smell it across my apartment when I tested it the first time. Gorgeous tropical scent, it's very fresh and summery. If you can imagine a creamy mango smoothie, that's how this smells. LOVE IT!
This smells so good!!! One of my top sellers! Please restock
I used the in my soy 464 and soy 494, the HT is wonderful in both. This is one of my top sellers! I really hope it's restocked soon.
This is a fan favorite. Please restock ASAP! This is great for everything- candles, room sprays, diffusers, lotions, soaps, you name it!
I will admit, straight out the bottle it was not my favorite. Once it's in a candle and burning, WOW. Perfect amount of sweetness that my customers can't get enough of!
Moonlight Handcrafted Candle and Soap Co.
This is my first review, I just started my candle business and my Mango and Coconut Milk candles flew off the shelf!!! I have customers asking for this fragrance, please bring it back!
I had to break down and buy the 5lb jug. My customers love this candle scents, and was not trying to wait on the restock of smaller oz
An absolutely amazing scent, and goes great as a candle in my summer bundle. Please bring this back!
Loved this fragrance. I can't wait for it to be restocked.
I absolutely love this scent.. I totally regret not getting the 16 oz bottle!! When will this be restocked again??
When will this be in stock again??
When I first opened the bottle I thought I got straight pina colada syrup. Love the scent
This scent in my candles was a number one seller. Please put back in stock
I sold out on the first day available for sale. My customers loved this, please bring it back so I can restock
Do NOT ever get rid of this one
This is one of my new favorites! Please keep this one forever.
This fragrance oil smells amazing, the only issue was it turned my soaps dark brown. I guess it was ok because coconut shells are brown and I didn't check to see how much vanillin was in it. It also work nicely in my recipe.
One of my candle testers said she thought this was the best candle she had ever had! Great hot throw in 464 at 10%. A keeper!
I love this alone and with something else! Very very nice. I used it with 444.
Absolutely beautiful fragrance. Works.great in body.butter.and.candles alike. Ordering more soon :)
No soy muy amante a los olores frutales, pero este aceite es totalmente delicioso, con una fragancia duradera. Lo utilicé para mi colección de velas aromáticas de verano. Lo volveré a comprar!!!
Love this scent! It's my new summer scent. Great throw and makes a great diffuser, too!
This fragrance is so rich! I love it and my customers love it too! Definitely a favorite!
It actually smells like pina colada
I love this fragrance I see why its such a popular item everytime ive come to buy it its been sold out but I finally got my hands on a 4oz bottle and im so glad I did this is a hit in body butters I haven't tried it im a candle yet but that'll be next
Such a great scent. Great summer time scent. I ordered a sample first and loved it along with my customers so just bought a big bottle of it. Thanks!
This scent is everything.... My new fav fragrance! Top seller💕
I purchased the 1oz size to try out and made candle tins with it. Love the cold through and can't wait till NV has it back in their warehouse so I can grab up a larger bottle. Absolutely yummy!
Smells very good. strong cold throw and excellent hot throw. came to buy a bigger bottle but its sold out.
Good cold throw but Amazing Hot throw.
I haven't even use the fragrance yet but let me tell you, I love it out of the bottle.
oh goodness is this one GOOOOD! Hands down one of my favorite scents ever! Perfect for the warmer months yet has a cozy undertone to it as well!
This is by far my favorite scent! I'm so bummed that I only ordered a 4 ounce bottle to try, now its sold out. I will definitely purchase more when it's available.
This scent is so amazing. I ordered the 4oz bottle to test on a few candles. Hopefully they'll restock soon.
Absolutely amazing scent for summer. It's only spring and it's already my best seller! Smells just like sun tan oil and makes you feel like you're sitting on the beach.
Owner - Alchemist Soaps Etc
OMG, I have fallen in love with this fragrance oil!!! I hate I only brought a 1 oz bottle to try out. I will definitely be purchasing a large bottle when its back in stock. This will be a staple in my store!! Great job on this one CandleScience
Absolutely love this scent. I got It as a sample and then immediately ordered a full bottle. Then another the next week. The smell is so beautiful and perfect for Spring Summer collections. It did great in my 464 wax at 10% and even after 24 hours I could smell the CT, I cured for a little over a week and the HT is perfect!
I thought this one smelled very artificial out of the bottle but once it cured, it got soooo much better. As in I keep coming back just to smell it some more. It smells just like the name implies. I was trying to decide between this one and coconut lime - this one is a bit stronger than the coconut lime and has a more citrus kick to it. I love them both.
Mango & Coconut milk is my favorite scent, plus its my best selling .
Light yet powerful scent. Used it at 9% with 444 wax. Allowed to cure for 24 hours. Small candle 6ounce filled bedroom.
Oh my goodness.. this scent is HEAVENLY!!!! I am new to making candles, and have made maybe 5 scents or so so far and this one is the winner to date (apple maple bourbon is second)!!! Wow, just wow. It smells kind of like a pina colada but then when it's burning it has a slightly more "coconut" tropical scent. I loved it so much that I came back to the page to buy the jug and it's ALL SOLD OUT :(!!! No wonder.. it's freaking amazing!!!!
The HT on this FO is really good. Normally I pour 3-wick candles in 6006 wax @ 9.2%; however, to test the FO I poured a single wick in a glass tumbler and the HT was incredible. My entire 1,600 sq. ft. condo was full of fragrance. It was a warm, breeze spring day it was absolutely wonderful. Also, I blend many of my FOs and in this case it is just perfect the way it is.
This scent is by far my best seller!! The fragrance alone is a bit too sweet for me. It actually reminds me of a really fruity drink, but when cured it smells amazing! I can barley keep this candle on the shelf! Good job with this scent!
This does smell a little bit artificial out of the bottle, i must admit... but I used 6% in IGI 6006 parasoy wax, and it smells awesome. This is a great, fun fragrance!
Previously I commented that it smelled great in the bottle. A lot of pineapple but now I've burned almost the entire candle and it smells so good! I use C3 wax and CD wicks and this scent fills the entire room and it smells so good! Not too sweet. Just perfect. I love it so much!!!
I just came back to purchase a bigger bottle of this and it's gone. I seriously need more of this in my life. The description does this scent no justice. It's simply amazing in wax. I'm anxiously awaiting the restock so I can test it in other products. HT and CT is awesome at 1ozPP in 464 using CD wicks.
Our clients love this scent, we call it Beach Bum & it's a huge hit! We've used it in our tarts & candles & we can't keep it in stock.
Great cold & hot throw, I'm burning it now in my office and you can smell it as soon as you walk through the front door of my home which is located on the other side of the house.
The scent from the bottle was just ok for me. It was not bad, but my for my personal scent preferences, I did not enjoy it. However, I cannot deny that you can truly smell the mango, so the scent description is accurate. The Cold Throw was also great on this scent. The reason the review is so low for this one is because I was really disappointed in the Hot Throw. It was just way to soft for my preference. Even when I got closer to the candle, it was very soft. I am fairly new to candle-making, so this may be improved with altering the pour temperature.
9% or 10% will give your candle an AMAZING CT & HT!!!! This has been my top seller, even had people pre ordering.
This is an amazing tropical fragrance!
Smells good! But out of the bottle all I smell is pineapple. Maybe it'll smell more like mango and coconut when made in a candle.
I really LOVE this FO it's light and powerful and the same time. My customers and family member brought all my melts and candles. Thanks my LOVES!!!
I LOVE THIS SCENT!! I put it into a palm wax votive and it freshened the my living room. I'm coming back for a bigger bottle. My family loves it, they smelled it when I poured and wanted to know what it was!! All I can say is WOW!! :)
I'm still new to candle making. This is only my second order but I had to review this scent! I used 1lb of 464 and 1oz FO, from the time I poured my candles my whole house smelled like mango and coconut milk! The smell even traveled outside! After 24 hours I used one of the melts I made and again my whole house smelled amazing! I can't wait to make more!
Smells artificial out of the bottle.. disappointing.
Amazing OOB. Smelled like true coconut and mango, without the sunscreen smell. It smelled wonderful when I poured the candle, but it turned a bit after curing, losing some awesomeness. I haven't burned it yet, so still may be wonderful, but given a lot of people will purchase based on how this smells in a cold candle, I'm not sure it will draw interest.
it has an amazing smell that i can't quite pinpoint but i've smelled before. it is a very spring/fresh smell. used in the house it gives off a very clean feeling. definitely one of my favorites.
The smell was great in the bottle. However I used to make melts in pillar bliss wax and smelled great after pour. But curing for few days it now has rancid smell. Not sure I'm going to be able to sell. Very disappointed. Was really hoping that lovely coconut was going to stay strong.
I adore this new fragrance. I took another new spring fragrance and did an 80/20% blend. Have to say, I am elated with the result. Loving all the new springs scents!
This is a wonderful fragrance oob! The mango is very sweet and fruity and it's complemented beautifully by the creamy coconut milk. I'll be using this in my Summer collection
This fragrance is so delicious and perfect for a summer candle! It smells so good straight out of the bottle. I have 444 wax I will be using! Thank you for making this delicious fragrance!
Delicious!!!! Mango, pineapple and a hint of coconut.