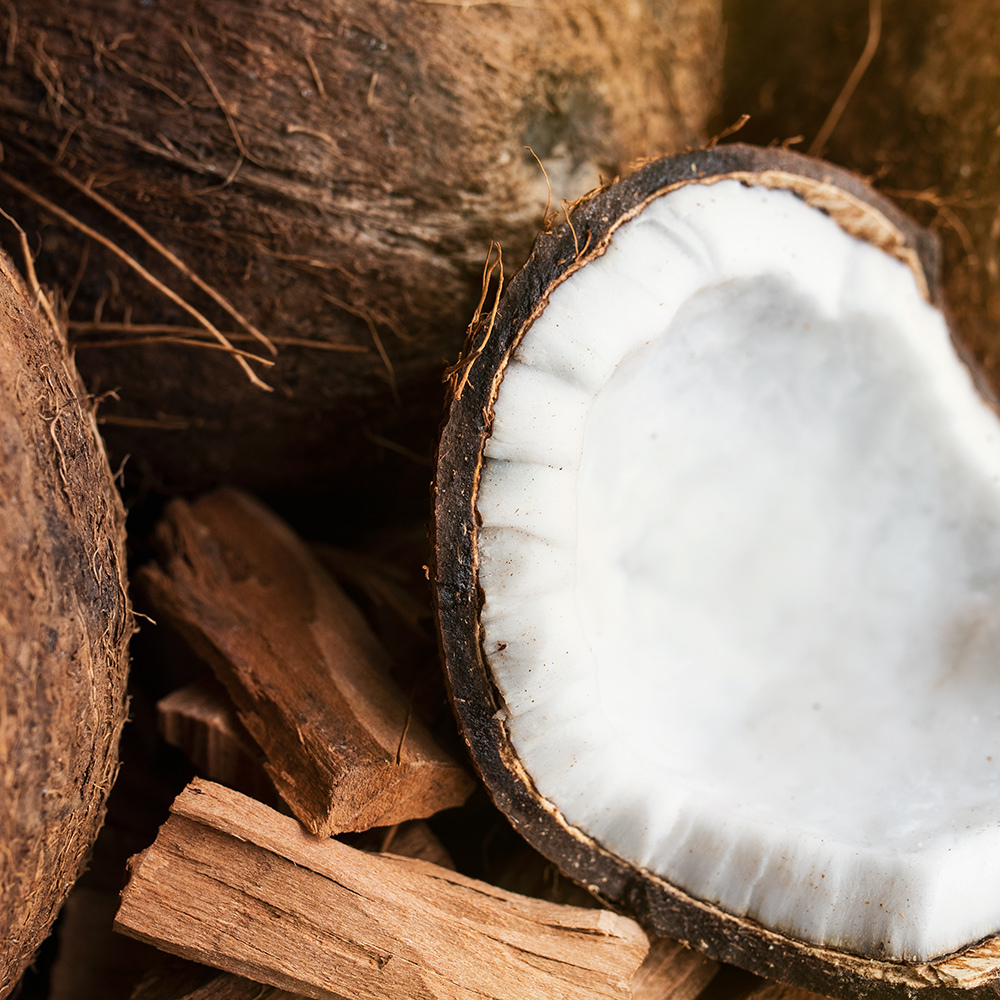 Ready to Order?
6+ 5lb Jugs
$103.41
$1.29 /oz
12+ 5lb Jugs
$99.05
$1.24 /oz
Safer Scents For The Home
CandleScience Clean Scents™ are free from carcinogens, reproductive toxins, and other potentially hazardous chemicals often found in fragrance. Choose Clean Scents and create safer home fragrance products you and your customers can enjoy with confidence.
Read More >
Details
Sit back, relax, and drift away to a warm, sunny beach edged by turquoise blue water and the gentle rush of waves. Santal and Coconut fragrance oil is the essence of a luxe tropical escape. While many coconut fragrances are on the sweet side, this scent instead leans on woody notes of sandalwood, cedar, and amyris.
Santal and Coconut is quite versatile for a tropical, beachy fragrance. When summer is over, rebrand it as a spa fragrance or even incorporate it as a staple part of your collection--chances are, you'll have fans asking for it all year round!
This fragrance is infused with natural essential oils including cedarwood, orange, and patchouli.
Blends well with: Mango and Coconut Milk, Jamaica Me Crazy, Coconut Lime Verbena, Sandalwood, Amber and Driftwood
Alternative branding ideas: Beach Santal, Sweet Amber and Coconut, Coconut and Blonde Woods
Note Profile
Top: Benzoin, Coconut Milk
Middle: Coconut, Sandalwood
Base: Cedar, Tonka, Amyris
Suggested colors: natural, tan
See our complete list of candle making dyes and soap colorants.
Note: Bottles filled by weight, levels may vary.
Properties
Candle Safe

Yes

Usage: 3-10%
Soap Safe

Yes

Usage: 2-6%
Vanillin Content
0.01% - 2%
Soy Performance
Flashpoint
> 225 °F
Phthalate Free
Yes
Prop 65 Warning Required
No
Diffuser Base Compatible
No
*Usage amounts are recommendations only. Individual usage amounts can vary based on your desired fragrance strength, wax type, soap base, or lotion base. See IFRA certificate for max usage levels.
Documents


Cold Process Soap Performance
| Acceleration | Discoloration | Separation |
| --- | --- | --- |
| None | Dark Tan | None |
Lye Water Temperature 112ºF
Oil temperature 106ºF
We did not experience any acceleration or separation. The oils and water emulsified easily but the batter took a while to come to a light trace and remained there even with additional stick blending. After 24 hours we observed the soap had almost reached a full gel. Once the soap was cut into bars we found the outer edges discolored to a tan shade while the center remained a pale yellow. The scent was very light but we could still pick out notes of coconut and some woodiness. After 30 days, the soap discolored to a dark tan and the scent remained true and mild.
Reviews
Scent is amazing and I would LOVE to use it for my businesses, but I find it too light. Even with 6006 wax. I'd be worried customers would think it's underwhelming.
Great hot and cold throw in 444 soy wax. Also blends well!
absolutely amazing!!! we use a 10% load in our 464 for this candle and oh my god is it beautiful!! this is a must to add to your line, the hot throw is insane compared to most of the scents I purchase from here- this is definitely going into our luxury line!
This is by far my favorite candlescience scent! It smells very high end and has a good cold and warm throw !
I have nothing bad to say about this scent. Seriously my new favorite... even over Jamaica Me Crazy. So so good. It's like a soft coconut, it SMELLS smooth, I don't know how else to describe it. I will be ordering more!
This is a MUST have!!!! I could burn this FO ALL year long!!! MY ABSOLUTE FAVORITE
By far my Favorite scent! I don't think I could ever get tired of this FO ❤️
I absolutely love this fragrance but it seems that the longer it cures, the less prominent the HT. It becomes very faint and almost unnoticeable. I also noticed that with the coconut lime. Maybe it's something with the coconut? Please figure this out, I love this fragrance!
Depends what you use it for
This is a five-star. I love, love, love this scent. The bummer for me is that it is completely lost in soy wax. It becomes a very light coconut smell and loses its santal edge. It will be great in shower gels.
P.S. Dear Candlescience: Just wanted to let you know that your QR codes on the 1 oz FO bottles don't scan (because there is a number below them). Thanks for all you do!
Hi there! Thank you so much for your review. The QR codes on our fragrance bottles are currently for our Warehouse Team's use, but we greatly appreciate your feedback and have been sure to pass it along to the rest of our team!
I absolutely LOVE Santal and coconut, I've been using it for a few months and I've had nothing but great reviews. Its smell is subtle, sweet, and creamy. It's one of those fragrances that I seriously could burn every day and never get sick of. It's one of my top 3 favorite scents.
OMG! This is the best coconut fragrance ever! It's not overly sweet or fake smelling. It has a rich depth and full body. It soaped like a dream. I used a vanilla stabilizer and after almost 4 weeks, it still is a creamy ivory color and the scent is still strong and true. It makes me swoon when I pass the curing rack! I'm ordering more today!
This is my ultimate favorite CS FO. It's warm but earthy and tropical all at the same time! This smells like a very high end fragrance and everybody I made this candle for absolutely loves it!
This is a lovely scent, but there is barely a hot throw. I cranked up the fragrance to 12% and it was still too soft for me. If you like light scents, then this could work.
Stunning, but a little too subtle
Beautiful fragrance but soft hot throw! Any tips to improve this?
Hello! Fragrances can be more subtle than others and some fragrances can smell stronger than others. A member of our support team has reached out to you to provide some tips to improve the hot throw for your candles. Thank you for allowing us to help!
Please don't ever discontinue this or change it.
This scent is amazing. No need to add anything to it. Period. It is luxurious, warm, inviting and still carries a fruity note of coconut. This is a wonderful unisex or nonbinary blend. The richness of this fragrance is perfect for candles or body products. LOVE IT. Balanced so well.
I didn't get a strong HT from this one. OOB it smells really nice and coconut like with shea but I think this may make a better wax melt or spray. As a candle it didn't give me much. I really like the fragrance itself though.
Needs to be stronger..too faint
I loved this at first and was all set to market it. 1-2 days of curing, smells so nice! But after 1 week of curing, I thought I must have made a mistake, I could now barely smell it, and what I could smell didn't smell great! Very very light scent on cold throw, hot throw smells better but remains too faint. Made another batch...same issue. I'm not giving up. Going to let cure longer. I really want to like this one! First glance, smells like suntan lotion (but soft). Now, I'm getting more of a mild plastics scent that I can't shake. May make some and see what a few customers think...to be continued!
Christa
Mississippi Moon Candle Co.
This scent is amazing and I had high hopes. It's one of the "lighter" fragrances I have ever bought from CS. Very light scent throw.
Love this scent! It reminds me of sitting out on the beach...it has a nice coconut scent blended with a woodsy yet tropical scent like being by the seashore! Please dont discontinue this one!!!
This quickly became my favorite FO. I ordered a sample and immediately went for a 16 oz. It's amazing. The HT is amazing as well. When this scent was restocked I ordered 3 extra bottles. I am definitely keeping this scent around all year. It has a luxury feel to it and is definitely not a familiar scent. I have also experimented with mixing this and it has the potential to compliment so many fragrances for a custom blend. Definitely recommend and worth of me writing my first review. lol
Purchase this new scent and it sold out immediately I will be buying the 5 lb jug this is a sensual scent unisex I love it. Please don't discontinue this item.
We absolutely love the smell of this fragrance! We order all of our scents from candle science. For some reason this is the only scent that created sinkholes in our finished candles. All of the other scents we have, turned out perfect. It could've been because the flashpoint is so high for this scent, but we're not sure. Please help!
Way too sweet and not at all woody. Smells almost like coconut caramel - which is unfortunate because from the description I really thought this would suit my more sophisticated market. Almost nauseating. I will have to blend this with something else to offset the sweetness. 8% FO in my own coconut wax blend, cured for a week.
Burned again by 'out of stock' items (pun intended). I love candle science and their quality of products but their inability to keep materials in stock is KILLING me and my small business. I specialize in Private Label candles and just landed a big account a week ago and this is the scent they chose, and of course- it's out of stock, until mid May! A few days ago Candle Science had it listed that Santal & Coconut would be back in stock on 3/31 and now all of the sudden it's mid May?! Same with the Libby containers I use- out of stock! My accounts are getting tired of my delays and the same ol story about my materials being currently unavailble. It is now nearly impossible for me to make a consistent product and deliver something on time. I've been a Candle Science user for over 8 years and I think it's finally time to look elsewhere. If anyone has a similar story and has found decent materials out there elsewhere, please let me know!
Please hurry and get this back! I sold one from samples and now I have a huge order to fill!!! Its sooooooooo good!!! Please hurry and inbox me please.
Cheers!!!!
Hi! A member of our Support Team has reached out to assist.
I *finally* got around to testing my 1oz sample of Santal and Coconut and WOW it is incredible. The HT is so strong and I love how coconut-y it is without being too sweet or artificial. My only regret is waiting so long to make a tester and now it's sold out until May! I'll be counting down the days until I can buy a larger quantity of it!
Sometimes it's hard to get a good throw in 464 but this scent is AWESOME! I ordered the sample and made a candle and when I went back to buy the larger size, it's sold out. Everyone knows the secret now! Haha.. Waiting for it to come back in so I can get the five pounds. I love this scent.. it's such a nice beachy scent and it's STRONG! :)
Great scent, brought to a few shows and been a success. Will be offering this year round, fragrance smells as described and it's has a nice cold throw but HT is strong!
Amazing but NOT diffuser compatible
I love this fragrance oil so much! However, I am extremely disappointed that it's not compatible with the reed diffuser base. So many of the best oils aren't. I only use your oils, PLEASE make them all compatible.
I recently purchased this scent as a small sample and OMGGGGG this smell is fabulous, nice for body products as the season changes coconut is a huge hit. Definitely recommend this
again, this was a requested fragrance from a customer. Actually, she only requested something coconut, but i landed on this, and decided to give it a try. I am NOT a fan of coconut fragrances myself, but I love this one. The description does say, that it's not the typical sweet smell, rather a bit more woodsy, and I do believe they have captured a beautiful, tropical, and relaxing scent. My youngest son who is 18, actually has a wax melter in his bedroom, and he even requested a wax melt, because he loved it so much. So, this is definitely a scent that both genders can enjoy!
I took a leap of faith & bought a 16 oz bottle based off the reviews and I'm so happy I did because I love it!! Literally one of my favorite scents. It's a very complex & sensual scent. It's perfect for my luxury candles!
It's amazing, like a coconut grew up and is going out on a date.
It smells amazing but my soap turned dark tan after 2 weeks. I can't sell that.
I bought a sample based off of reviews and now I can't stop sniffing the bottle. I haven't tried it in wax as I can't decide if I want to use it alone or as a mixer. This is the perfect creamy coconut scent I've been looking for, it makes me feels as if I'm pool side in Tennessee.
Smell really good, I made a coconut soap
The f.o behave really good, did not accelerate trace at all.
The only problem was the discoloration, my white base turn yellow, when I cut my soap was tan inside with yellow edges, but it wax expecting that, as described.
A Sensual Fragrance. A Winner For Certain!
I cannot say enough good things about this fragrance! The creamy authentic coconut note is perfectly balanced with the sensual nuances of Santal. I've used this by itself and in blends, and it combined effortlessly with everything I threw at it. It's a sexy fragrance that is unisex. I cannot imagine anyone not liking this, and the other reviews seem to reflect my sentiments. This one was a home run. The CT and HT were 10/10 for me, and it was easy to wick.
This is gonna be another 1 seller amazing scent as well as the black coral and the sirracha please don't discontinue these I need them in my life.
Thank you keep up the good work.
This is the best summer scent I've tried and I love it!
Love is an understatement.
I cannot express how much I love this scent. I'm so glad I ordered it. I can't wait to try it out in my candles. I'll leave another review once I light my candle. This is exactly the type of Summer scent I love. I can't wait to offer it!
Santal & Coconut is hands-down my favorite fragrance you've ever released. I'm loving the way it performs in our candles!
I was soooooo happy with this coconut scent!!! It smells soooooo good and luscious. Kinda like sexy coconut but not too much coconut. cant wait to make my testers with it :)
Okay, I absolutely looove this one! Soi excited to add this to my line ❤️ The coconut gives it the perfect offset
This is an absolute winner for me! Very luxurious scent - woodsy rounded out with a hint of sweetness from the coconut.
This scent is definitely one of my faves from CS. It gives you luxury vibes. They market it as a beach scent & spa scent which I can see. I'd also label it as a masculine scent as well. Great job CS this will def be a scent that will fly off the shelf over and over again.
This is definitely going to be a #1 seller. It's not quite LE LABO Santal 33 ( the most famous Santal fragrance ) But it is really nice and gives more of a premium high end scent that separates it from most of the other CS scents. Great work with this one CS.
- Josh
fave of the spring 2021! the cedarwood and sandalwood in this is spot on, so earthy but the coconut makes it sweet, but not fake or too suntan lotioney sweet! will be ordering pounds. obsessed.
This reminds me so much of a fragrance I used to wear and I couldn't understand why it smelled so familiar. It is beautiful. The depth of the sandalwood and cedar round out the sweetness of coconut and tonka. I will be ordering a full size of this for sure. Great job, CS.
another great scent from candle science. this one reminds me of ariana grande's REM perfume. coconutty but soft and sweet. 10/10