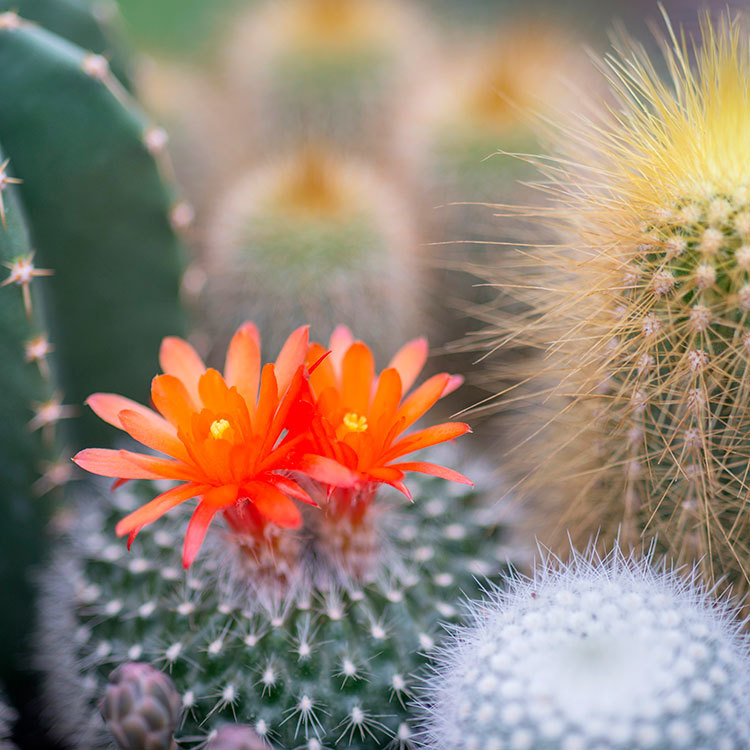 Ready to Order?
6+ 5lb Jugs
$97.97
$1.22 /oz
12+ 5lb Jugs
$88.17
$1.10 /oz
Safer Scents For The Home
CandleScience Clean Scents™ are free from carcinogens, reproductive toxins, and other potentially hazardous chemicals often found in fragrance. Choose Clean Scents and create safer home fragrance products you and your customers can enjoy with confidence.
Read More >
Details
Cactus Flower and Jade is a bright, lively fragrance, succulent as the first tender buds of spring emerging from their winter sleep. Sweet agave and watery aloe enhance the fresh-cut green leaves and chrysanthemum petals, while base notes of patchouli ground it with a pleasing earthiness.
This green and floral fragrance would make a vibrant addition to any candle and wax melt line, and bring a bit of botanical complexity to body care products. Cactus Flower and Jade reed diffusers emit a blossoming freshness that's fitting for any room.
This fragrance oil is infused with natural essential oils including orange and fir.
Note Profile:
Top: Agave, Aloe
Middle: Chrysanthemum, Green Floral, Green Leaves
Base: Patchouli
Suggested Colors: Green, Magenta
See our complete list of candle making dyes and soap colorants.
Note: Bottles filled by weight, levels may vary.
Properties
Candle Safe

Yes

Usage: 3-10%
Soap Safe

Yes

Usage: 3-6%
Lotion Safe

Yes

Usage: 1-2%
Vanillin Content
0.01% - 2%
Soy Performance
Flashpoint
207 °F
Phthalate Free
Yes
Prop 65 Warning Required
No
Diffuser Base Compatible
Yes; Up to 25%
*Usage amounts are recommendations only. Individual usage amounts can vary based on your desired fragrance strength, wax type, soap base, or lotion base. See IFRA certificate for max usage levels.
Documents


Cold Process Soap Performance
| Acceleration | Discoloration | Separation |
| --- | --- | --- |
| Moderate | Light Tan | None |
Lye Water Temperature 118ºF
Oil temperature 109ºF
We did experience a moderate amount of acceleration but no separation. The batter was at a medium trace within seconds of stick blending. It remained workable enough to get into the mold with ease, and gentle tapping of the mold on the table easily smoothed the surface. Be prepared to work quickly once your fragrance has been added. After 24 hours the soap discolored to a dark yellow and almost reached a full gel with no insulation. The scent was strong and very true to the out-of-bottle character. After 30 days the soap discolored to a light tan shade. The scent remained pleasantly strong and kept the fresh watery character of the fragrance. Due to the discoloration, a darker color palette would be ideal.
Reviews
Super delicious and strong scent throw
About a month or two ago, I made a few candles using this fragrance oil in 464 wax because I couldn't get enough of it out of the bottle. I forgot about them for quite some time before I decided to light one up to test since I want to put this into a themed candle collection. Within MINUTES!!! the scent filled the entire room. I didn't think the scent throw would be that strong in such a large living room using a small container (I was using the 4oz mason jar) but boy, was I wrong. This turned out way better than I expected and smells even better in the candle than OOTB. I might just have to let my candles cure for more than my normal cure time if waiting some time to burn it really made that much of a difference.
This scent isn't my personal favorite, but it is exactly what they say it is. Smells like taking a sniff of a stargazer lily. If you love floral scents this one is for you! Cold and Hot throw are great.
I absolutely love this fragrance! I smells like a desert exhibit we have at our local botanical garden and it brings back great memories from visits. This is definitely going to be a permeant scent in our collection! Thanks Candlescience!!
flower shop in a fragrance
This one surprised me because it smells just like a flower shop. There's a nice balance of greenery and floral like someone just put together a bouquet but it's not overpowering at all. I hope to introduce this in the spring but I definitely think it could work year-round depending on your customer base!
I got the sample size 1oz.... but there was only 0.78oz in the bottle
Could barely get it in the mood.
I actually liked the smell of this fragrance oil but I won't be using it for soap again. It accelerated my batter so bad that I had to scoop it into my soap mold. I've had fragrance oils that accelerated before but not as bad as this one.
This reminds me of cheap funeral home flowers. Sadly won't be using it.
One of my favorites right now. It's so clean and fresh. Reminds me of walking into a floral shop. It's not overbearing but it permeates well. I went outside for something and came back in and my apartment hallway smelled of it. Floral without being too specific.
Strong HT but smells like bug spray
Cactus Jade has a great CT and HT- even in all soy...but to me and husband, it smells like the bug spray we use sometimes. Maybe it's just the bug spray that smells like this..either way, it's all we can think of now. It's too bad because it does have a very good HT which is important, so it gets 2 stars for that.
Really I don't have anything better than this...
That's all. Guaranteed sales all year long to men and women.
One of my best sellers and one of the most potent scents from this company, fills any room easily with a great hot throw.
I really love this fragrance and so does my family and friends. Does great in paraffin with a great hot and cold throw. This is a keeper.
This is a hit in my candles it definitely smells like aloe and cactus with the balance of earthiness wonderful cold throw and great hot throw
It is normal that this essence smells of grass, but I particularly do not like my husband, the charm but it disgusts me
This fragrance smells great out of the bottle and lends to an excellent cold throw in candles and wax melts at 8% in coconut/paraffin wax blend. The hot throw is divine. Cactus Flower & Jade is vibrant, green, floral scent. It's lovely for the springtime. I'm not sure how I feel about it as a summertime fragrance. In light of stay-at-home orders, this fragrance brings a little of a beautiful outdoor garden, inside. I plan to buy again and would recommend to others!
This is a good scent, but it does have a musty tinge to it. It definitely smells floral, though it isn't exactly a traditional floral scent.
I got a sample of this fragrance and it smells lovely. I cannot wait to try it in my products. I will be back to order a larger bottle.
I opened up my Etsy shop and all 10 of my CF&J sold out within 7 hours!! This is my all time favorite!!!!
Very strong (not too strong though) in the 8 oz Libbey using IGI 6006 and CD10. 10% FO. Amazing. This scent will not disappoint you. This will be a staple in my shop!
I purchased this scent a few months ago after seeing the rave reviews and I was not disappointed. This scent is gorgeous and my clients love it.
I absolutely love this fragrance! It is a complex floral and I would be so happy to find a perfume of this scent. I made cold process soap and did experience moderate acceleration as expected from the description. However, I still had time to work with it and the fragrance remained strong. Discoloration is minimal. I will definitely buy this fragrance again.
One of our first scents to purchase & use & our clients love it! We have to make double products due to us loving it quite as well. Very floral, lasts a long time, I've had a couple of clients that felt it was more on the perfume side than floral, but overall it's a huge hit with our clients. We use it in our Tarts, Candles, Sachets & Aroma Ornaments!
My folks used to have a small window greenhouse that contained, among other things, a huge wandering aloe plant, a Christmas cactus we'd had for probably fifteen years, a leggy ancient jade plant and every now and then, one of Dad's orchids. This smells exactly like that window greenhouse circa 1978; cactus flower and jade plant or aloe or other succulent green. The floral notes come up more as it develops, but it's very lovely. The combination of floral and succulent green is really stunningly realistic.
Smells good, but not what I expected. Smells like walking into a flower shop
Very strong a little goes a long way couldn't agree more with other reviewer !
This fragrance is potent -- a little goes a long way! I wouldn't call it a personal favorite, but my roommate loves it.
Love this scent. Great hot and cold throw. I use 1 ounce FO per pound C3 wax. Can't get enough of it!
I will definitely be buying more , I am not usually a fan of floral scents but this one had bot myself & my husband in awe! I have to say it reminds me more of lilacs then cactus flower and jade ,but nonetheless I love lilacs ! This was a huge hit for my shop, will definitely be ordering more !
Smells like cheap perfume a grandmother would wear
I used this fragrance for my reed diffuser and the throw is absolutely amazing! My bedroom smells floral and fresh! 10/10
I absolutely love this fragrance. I can walk by it when it's not lit and stop and inhale that soft floral scent. The Ct and Ht are a winner in my book.
I hate it, but ppl love it
Honestly, I think this absolutely stinks, I hate it..it makes me gag..when I have to make batches of it, I make my husband do it...but people absolutely love it so I keep making it.
Great hot and cold throw you should feel confident in buying this one. 72oz(6-12oz jars) 464 wax I use 6oz fragrance One week cure time...no issues.
I've experienced no discoloration so far with this fragrance and it's been a month. It smells nice and fresh. However, we experienced extreme acceleration in our batter even at low temps.
This scent was good but not as light as I would like. Very floral sweet smelling, with undertones of fresh light green. the jade is strong not delicate.
Well this one should win an award, it's truly beautiful. I have never really liked floral fragrances before, but this one has converted me to become a new fan of florals. Probably my all time favourite fragrance ever.
I honestly thought it smelled pretty good but I have had a hard time selling this one. I carry 15 scents right now and this one sells the least.
I only bought a sample size and finally made a batch of scent shots made with a parasoy blend last night. Today I put one in my warmer at work and within a half hour sold the batch to two different people and both want a candle also. So, here I am ordering a bigger bottle!
I just love this scent. I also made a candle for my bff and she loved it. I will definitely be buying a bigger jug of this.
I love this one! It smells so good, fresh and clean. Coworkers loved it when I burned it in my office. I used it at a 1:1 ratio, and have had wonderful CT & HT. Highly recommend!
Getting into creating my own candle business and I was ambitious and ordered a 4 oz bottle. This is such an amazing scent! Provides an awesome cold throw and the most delicious hot throw. (I used 1.2 oz in 1 lb of 464 wax in a 4oz mason jar.) I'm so excited to getting all of my shop running because I know this will be a best seller! It's not too perfumey, but very earthy and floral smelling. I can't get enough of it! My test burns were phenomenal.
Cactus Flower & Jade has become my TOP Spring/Summer fragrance. It's light, but that is what customers want in a floral fragrance! Light, not heavy perfume-y smell. You nailed it CS!
May have to keep this around all year!
Thank you!!!
My favorite! Everyone loves this scent!
Worked perfect in my CP Soap no problems at all even used three colors to do swirls
This scent is as described. Floral and lovely! My customers really like this scent. I do have to add more fragrance oil to my mixture than usual though because it is a bit light.
I put off buying this scent for a while. I really did not think I would like it at all, but much to my surprise I think this is my new favorite fragrance!
This has quickly become a favorite of mine and a best seller! I'm not usually big on floral scents but there's just something so good about this one. The fresh green scent truly makes it!
I love this and so do my customers
This FO is amazing! Fabulous is soy wax for candles and even more fabulous as a reed diffuser! I can't keep this in stock for my people!!
This is a great scent! It's clean and floral.
This is a great smelling fragrance. It is very green smelling and slightly floral. I made cold process soap and it soaped beautifully! No ricing, no seizing, it came out beautiful and really holds its scent!
Became my bestseller overnight!
My customers LOVE this scent. I can't keep it in stock!
Great hot and cold throw but REALLY strong floral scent. I'm not a fan personally and no one has bought one after a cold sniff test. I may be sitting on the few I made of this scent for a while... maybe someday someone will like it and buy one lol
I've been making candles for 2 years and I'm serious when I say this is my favorite scent to date. I can't stop burning it! It smells very high end and it has this perfect balance of green and floral.
You can see why it's a top seller, this scent is amazing! I love the floral notes with a sweet twist.
I really enjoy this scent. I just started making candles and out of all 4 scents I bought, this one is a hit! It has a nice floral scent to it. Not too strong. I will be purchasing this scent again
I just got this today and I could smell it outside of the box! You know when you smell a freshly cut bouquet of flowers? This is the exact scent. I'm very excited to work with this scent and it is the most reasonable price for the amount and quality.
OMG !!! Not only does this smell amazing, but the HT is no joke!! I lit one 9 oz candle to test in my bedroom (which is pretty big)..no only did it fill the entire room but it went down the hall to the guest bathroom!! I use 464 with a 12% fragrance load. Will definitely be buying more and making lotions and sprays with it as well.
I'm personally falling in love with this surprising floral. I use it in 464 wax and the scent is amazing. It seems to be a hit or miss with the customers in my area though, they seem to lean away from florals in general.
Better than the scent I planned to order
I got a sample of this scent it sounded nice, it's one of the best scents I've ever had in a candle. I am actually being offered a little but of pocket change from friends who smell these candles with this scent. Never happened for me before, I'll probably be buying a larger amount soon.
One of our favorites in our candles !!! Absolutely love this. It smells like if you walk into a greenhouse honestly, and everyone who has smelled it loves it. Super happy with this fragrance.
Absolutely loveeee this fragrance!
Amazing hot and cold throw. Earthy yet still sweet and summery. I'm SO excited to add this to my line. So far everyone LOVES it.
This is my favorite scent so far! Very fresh and clean
wow this a clean scent that opens up your passages
LOVE IT! this WONDERFUL in my candles. I will totally add this to my line.
Oh my word, I am completely OBSESSED with this scent. It has such an amazingly clean and floral scent. It's strong but that's quite alright as I am absolutely in love with this fragrance! Please CS, do NOT change a THING with this scent!
Pleasantly surprised by this new fragrance! I initially disliked the fragrance, it reminded me of a bouquet of roses, lilac and something else I can't quite put my finger on. Anyways, I proceeded to make my candles and test the new fragrance out. To my shock, I really like this fragrance. It's intriguing!!!!
It's a nice strong interesting scent. If you like eucalyptus and spearmint, or rose garden or greenhouse you'll like this one. I personally won't make a candle for me in this but I knoowww my clean and floral smell customers will like it!
Got this as a sample and after testing, Will absolutely be purchasing at least 16oz of this for myself and sales. Smells just like fresh flowers. And like another review stated, the scent lingered well after we blew out the candle.
I introduced this scent to my customers at the market and sold out within an hour!
The absolutely loved the scent and gave many compliments! I will definitely keep this in stock for my Spring/Summer line.
Couldn't have described it better!
The one review mentioned the fragrance of a florist's fridge without the roses! LOL So accurate! Nice and strong, too!
Out of the bottle, it smells like dead flowers to me. I decided to do a burn test using a soy/veggie blend wax and cured for 5 days. This scent performs exceptionally well and easily fills a large room pretty good at 6% FO load!! I blew the candle out and was gone for more than 5 hours and came back to a completely filled home, I even checked to make sure I did blow out the candle prior to leaving, it's that strong. I will definitely order more and up the FO load, 8% should be perfect.
It reminds me of going to the florist fridge and taking a big ole whiff! It smells like heavy floral scent without the roses. Love it !