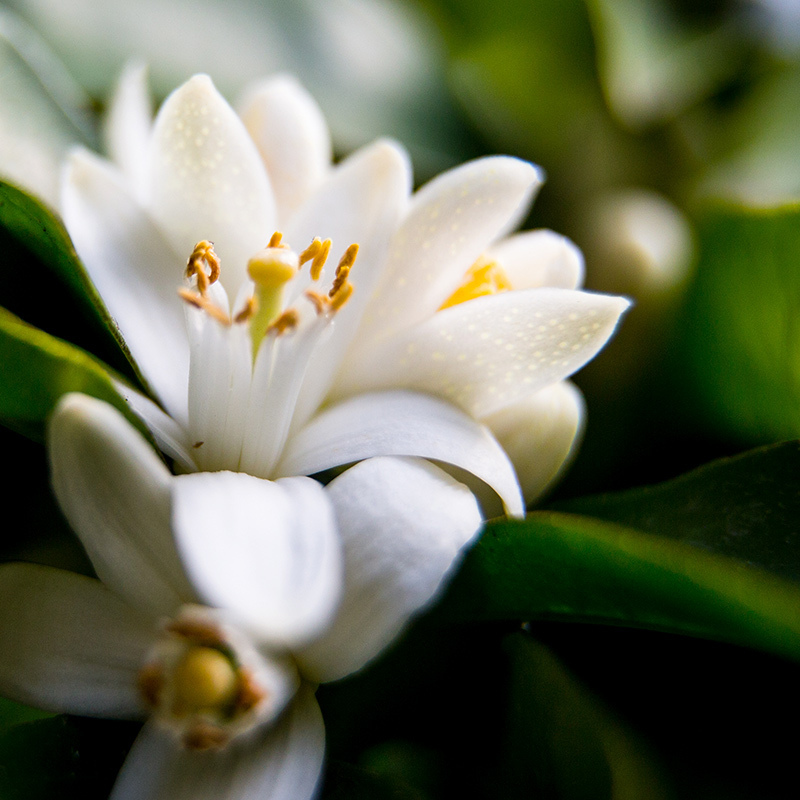 Ready to Order?
6+ 5lb Jugs
$86.60
$1.08 /oz
12+ 5lb Jugs
$82.16
$1.03 /oz
Safer Scents For The Home
CandleScience Clean Scents™ are free from carcinogens, reproductive toxins, and other potentially hazardous chemicals often found in fragrance. Choose Clean Scents and create safer home fragrance products you and your customers can enjoy with confidence.
Read More >
Details
Surround yourself in the heady, mysterious aroma of Neroli and White Jasmine. This fragrance oil is a luxurious blend of deep, rich florals bolstered by hints of green leaves, citrus, and petitgrain.
Neroli and White Jasmine is a beautiful choice for luxury home fragrance lines, as a signature wedding fragrance, or as a special offering for spring collections.
This fragrance is infused with natural essential oils including eucalyptus.
Blends well with: Rose Petals, English Garden, Rain Water, Lush Linen, Gardenia Tuberose
Alternative branding ideas: Night Blooming Jasmine, Neroli and Sweet Jasmine, White Neroli, Cape Jasmine
Note Profile
Top: Green Leaves, Petitgrain, Citrus
Middle: Neroli, Jasmine, Orange Blossom
Base: Powder, Patchouli
Suggested colors: natural, light peach
See our complete list of candle making dyes and soap colorants.
Note: Bottles filled by weight, levels may vary.
Properties
Candle Safe

Yes

Usage: 3-10%
Soap Safe

Yes

Usage: 2-6%
Vanillin Content
0%
Soy Performance
Flashpoint
190 °F
Phthalate Free
Yes
Prop 65 Warning Required
No
Diffuser Base Compatible
No
*Usage amounts are recommendations only. Individual usage amounts can vary based on your desired fragrance strength, wax type, soap base, or lotion base. See IFRA certificate for max usage levels.
Documents


Cold Process Soap Performance
| Acceleration | Discoloration | Separation |
| --- | --- | --- |
| None | Light Yellow | None |
Lye Water Temperature 115ºF
Oil temperature 100ºF
We did not experience any acceleration or separation. After we added the lye water to the oils, we gently hand stirred with our stick blender which appeared to create a fairly stable emulsion. After stick blending for an extended period of time we had to give the stick blender a break and we still only had an emulsion, no sign of trace. Finally when we thought we had a light trace, we made sure to triple check before pouring into the mold. After 24 hours the soap was still very soft and needed more time to set up in the mold. After an additional 4 days, we were able to get the soap out of the mold but it was still very soft. We observed the soap had only reached a partial gel and there was no discoloration. The scent was strong and true. After 30 days the soap had discolored slightly to a pale yellow. The scent was strong but the jasmine notes were more prominent compared to the initial aroma. This fragrance would be ideal for colorful designs that require a light trace for an extended amount of time.
Reviews
This scent just stinks to me.
I love CandleScience and recommend them to everyone but this is a big no. First it smells like bug spray. I get no jasmine at all just chemical. Second it turned my wax a weird lemon yellow color. I am currently using BW-910 and none of the other 12 candles (in 11 different scents) I poured yesterday came out yellow. This is my first disappointing purchase made from CandleScience
Thanks for your review! A member of our Customer Support Team will be reaching out shortly.
I absolutely love this aroma!!!
Not sure what other reviewers are talking about - this smells EXACTLY like jasmine. By far one of my favorite fragrances I've purchased from Candlescience, and on it's way to being a best seller with my customers.
Don't smell like jasmine at all. heavy and burn smell
It smells NOTHING like Jasmine and even less like Neroli. It literally smells like burning DMT, if you know what it smells like then you know you don't want this. If not, it smells slightly floral with a heavy VM&P Namptha smell. Basically floral chemicals. It's just gross and headache inducing.
I don't like this fragrance. I am sure it is the Neroli.
I am not a big fan of Jasmine. It sometimes hits a nerve and just dances on it. This fragrance is strong but the Neroli balances out the pungent Jasmine. I have ordered again as it is a good spring fragrance.
Extreme Floral Awesomeness in Progress Here
I really don't get the negative vibes on this scent, but I'm guessing people are basing their opinions off bottle sniffing (BS) alone rather than performance in the product (PIP) as they should be. I too wasn't entirely sure about the scent out of the bottle, but as always I ran a quick test of my sample at 10% in my 10oz soy candle wax, and things quickly smoothed out. This fragrance is bursting with overwhelming floral tones throughout the profile, so much so that it drowns out some of more subtle tones that I think they were shooting for. I guess you COULD see that as a downside, but the final product's CT and HT, in candles at least, is spectacular for anyone who enjoys a solid, clean, floral bouquet. I could easily see this fragrance becoming the front-runner in one's floral scent line given the chance.
It smells like moth balls
If you live in the south, this smells like summer. I don't get any of the neroli OOB but the jasmine scent is perfect.
Smells kind of like OFF! bug spray
Lol my husband said it smelled like his grandfather. I can smell the jasmine. But I think the neroli is a little too strong which is why I think it smells a little like mosquito repellent !
Ok I really do not know where to start with this fragrance, like another reviewer said this one smells like grandma it's not me I'm sorry.
I love this fragrance, it smells like a slow morning in the botanic garden. AMAZING!
Candle Science is my go to place for FO !! When I got this as a simple I accidentally spilled tiny bit on my sleeve and OMG 😳 this scent is amazing!!! Smells just like one of very,very expensive perfumes!! The CT is amazing in both GB464 and IGI6006 but for some reason when lit it smells little bit like fuel !! Not sure what am I doing wrong 😑
This is such an amazing fragrance and I am not usually a fan of florals. It is fresh and sexy at the same time! I can't wait to create magic with this FO!
Ok so I may be the lone one out here. You have to take into consideration that while I love earthy, forest scents I am not a floral fan. This one yo me smells like a grandmother or my 75 year old mother in law. People who love floral will probably like this and it could probably make a good wedding scent. Love love candle science but this one is just not for me.
B E A U T I F U L SPRING Fragrance
This is the honeysuckle + jasmine + neroli we have been wanting for. Don't miss out on this FO. It is really well engineered. Our test candles came out beautifully!
Maybe I'm just crazy for anything orange blossom but I can't get enough of this on the blotter strip and OOTB!! I can't wait to see how it performs in a candle!!
I like this neroli & white jasmine better than honeysuckle jasmine. I will be back for this one. Thank you!
neroli is hit or miss with me, sometimes too strong. candlescience has knocked this blend out of the park by choosing to blend it with white jasmine. lovey out of the bottle. can't report on throw as I just got the oil today.
HOW DO YOU DO IT!? Spot on.
I want to preface with...I really dislike ANY Jasmine fragrance or candle I've ever smelled. Candlescience continues to exceed my expectations. This fragrance is a refreshing floral, beautifully done, and smells just like true Jasmine. Elegant, bright, true to real jasmine- dang it, you've done it again.