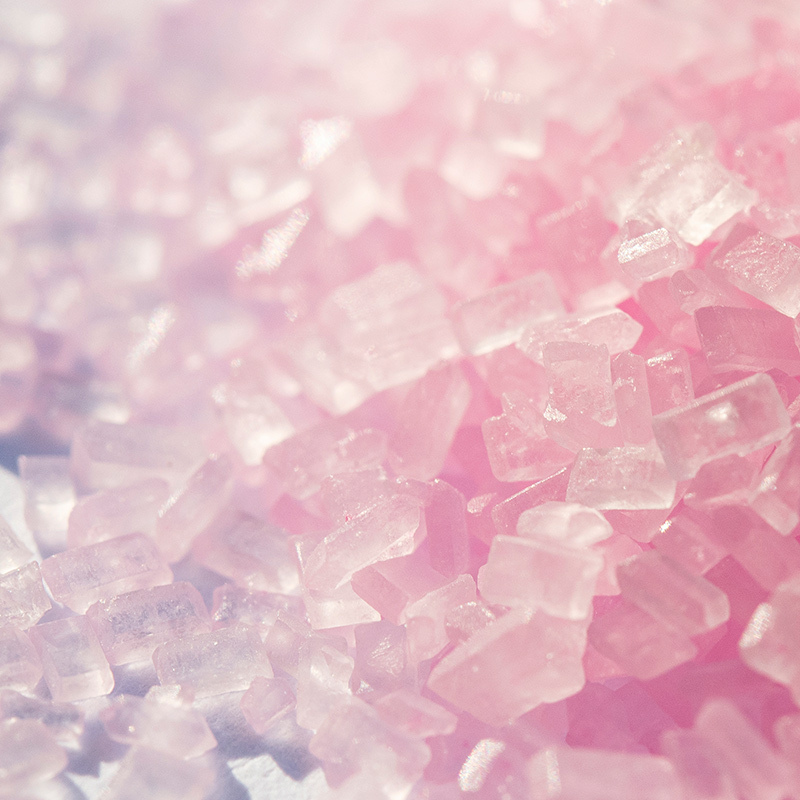 Ready to Order?
6+ 5lb Jugs
$86.60
$1.08 /oz
12+ 5lb Jugs
$82.16
$1.03 /oz
Details
Product Update July 28, 2021:
In 2020, we launched CandleScience Clean Scents™, a fragrance oil line we developed according to our own rigorous, industry-leading safety standards. As regulations evolve and new research becomes available, the criteria a fragrance must meet to be a Clean Scent evolves, too. Unfortunately, this fragrance no longer meets our strict requirement to be labeled a CandleScience Clean Scent™. At this time, we have no plans to discontinue this product until we have a replacement Clean Scent fragrance.
Pink Sugar Crystals is a sweetly sophisticated take on a cotton candy fragrance. This sugary scent is enhanced by fruity notes of strawberry, raspberry, and black currant, while base notes of tonka, vanilla, and a hint of light musk keep this ultra sweet scent grounded.
Create whimsical candles and body care products with Pink Sugar Crystals. It's a natural choice for novelty candles and wax melts, as well as fun, eye-catching creations like whipped soaps and body butters.
This fragrance is infused with natural essential oils including orange sweet and lemon.
Blends well with: Creme Brulee, Strawberry Guava, Peach Nectar, Ocean Rose, Candied Apple
Alternative branding ideas: Sugared Petals, Pink Spun Sugar, Sugared Berry
Note Profile
Top: Black Currant, Strawberry, Raspberry
Middle: Sugar, Freesia
Base: Tonka, Vanilla, Light Musk
Suggested colors: light pink, natural
See our complete list of candle making dyes and soap colorants.
Note: Bottles filled by weight, levels may vary.
Properties
Candle Safe

Yes

Usage: 3-10%
Soap Safe

Yes

Usage: 2-6%
Vanillin Content
0.01% - 2%
Soy Performance
Flashpoint
188 °F
Phthalate Free
Yes
Prop 65 Warning Required
No
Diffuser Base Compatible
Yes; Up to 25%
*Usage amounts are recommendations only. Individual usage amounts can vary based on your desired fragrance strength, wax type, soap base, or lotion base. See IFRA certificate for max usage levels.
Documents


Cold Process Soap Performance
| Acceleration | Discoloration | Separation |
| --- | --- | --- |
| Slight | Dark Tan | None |
Lye Water Temperature 115ºF
Oil temperature 111ºF
We experienced slight acceleration but no separation. As soon as we added the lye water to the fragranced oils, lots of bubbles formed. We slowly pour the lye water down the stick blender and don't just dump it in all at once, so we thought this was worth mentioning, although it did not seem to impact the outcome for us. We reached an emulsion easily and then as we saw a thin trace form we paused blending and did a quick hand stir. With just one more pulse of the stick blender we had a medium-thick trace. We quickly began to pour into the mold, it was fluid enough to get into the mold but the last bits we scraped out of the pot were starting to stiffen. The batter turned bright yellow once at trace. About 30 minutes after we put the mold up on our rack, we noticed the soap was almost in a full gel and the top had a crack down the center. After 24 hours, we found the soap gelled all the way and the crack was barely visible. The color was a bright, dark yellow shade and the scent was very strong. After 30 days, the soap had discolored to a dark tan and the scent remained strong. Expect this to move quickly and plan a simple design to avoid any surprises from acceleration.
Reviews
This fragrance has great throw and smells freaking amazing!! Love it and definitely recommend.
This scent is absolutely fantastic, you don't even need to mix it with anything it has amazing HT. This candle smelled up my whole bathroom and living room. Great scent definitely recommend =)
My customers love this scent in my Whipped Body Butters, Linen / Room Spray and Candles.
This usually isn't a type I'd gravitate to. But I used it anyway for my customers who do. I actually fell in love with it. It soaped well in CP. didn't accelerate though there was a small hint of discoloration though it was easy to mask.
Scent is beautiful, I can understand why its named pink sugar crystals. However, it's not working in candles for me :( Theres no hot throw @ 9%..I'm using Eco Soy Adv wax and following all parameters while making.
I personally don't smell the cotton candy and I'm glad! Got this as a tester and I get lots of strawberry and fresh notes with a light perfumey base. Great 'fruity' fragrance for a luxe line. Also, it blends very well with a number of things like cotton.
i used this fragrance in my whipped shea butter cream... definitely a favorite!!! very pretty scent!
I like to smell blind so I have no preconceived notions. This was very nice but not quite as expected. I don't smell cotton candy. It smells just sort of a like a basic good fruity scent not too complex, unique or intriguing IMO but still nice. Their is a mild note in the background that is a little off putting to me. This review is OOB. haven't tested in products.
I love this fragrance so much, everyone who smelled my candles loved it too !
This FO remind of strawberry daiquiri the lotion I use to buy from bath and body it was discontinued I made candles from the sample it smell so good I'm making soap for the first time best Fo I've purchased
I love this fragrance oil a lot
Pink Sugar. Crystals is amazinggggggg!
The hot throw is great! 10/10
I'm not getting any HT, I used 12% FO. Would that be the reason or should I just leave it to cure some more ?
Hi! Thanks for reaching out to our Support Team so we could help with this!
I received this scent as a free sample to try it out. I liked it but wanted to combine it with another scent. I had the Honeydew scent from CS as well and tested this fragrance with the Honeydew and WOW!!! It is so awesome combined with Honeydew!!! It really brings out the Honeydew scent and adds a touch of sugar making it more like a watermelon combo. I love your fragrances so much CS :)!!!
Nothing like Cotton Candy
Though CS suggests this is a good substitute for their discontinued cotton candy it is not. Very different and not as good.
Love the sweet smell from my wax warmer. One of my first projects and the melts turned out well with this fragrance.
I got a one ounce tester of this scent, I've yet to burn it because my candle is curing but the cold throw is great. I keep sniffing the candle, it smells too good! I love this new scent so much.
Myself and my customers are obsessed with this oil!!!!!! It smells soooooooo good in soy bliss and 444!!! I love it! Please hurry up and restock this oil. I had to purchase from another company as a backup and I'm wishing I had stocked up on this one.
This is a classic example of not judging it OOB. We could not stand it as we poured it and put it away while we plugged our noses. WOW - were we WRONG! It is gorgeous and rich and settled into the wax in a way we have not experienced in the past. We found that we needed to wick this one up though so keep that in mind. We put 10% in 464 and wicked up in each vessel. It flies off the table at the market and we are getting repeat requests.
This scent is nostalgic to me and takes me back to high school where I would literally apply juicey sweet lip gloss ALL DAY LONG! Thank you Candle Science!!!! 💕
I was so excited to see that Candle Science was making a 'clean' cotton candy scent, unfortunately I don't get cotton candy from this at all. It smells like walking into a Victoria's Secret. Cloyingly sweet with no depth. It's all berry. I should have guessed that from the scent profile, but I was fooled by the first line that described it as a 'sophisticated take on cotton candy'. It's a hard pass for my candle line, but if your demographic skews younger or intensely sweet scents are a top seller for you, this may be your jam. For reference, I used it with 464 soy wax at 10% - color was a light creamy white.
This is an update from my previous review. I made this into a 464 tester candle at a 9% fragrance load (my usual is 8-9%) and let it cure for about a month before lighting. I was fairly excited about this fragrance given my glowing review previously but I feel it fell short on my expectations. It smells absolutely wonderful. It is a bit perfumey, but fruity and sweet, so it's still a hit. Sadly, the hot throw is just not there. I was really only able to smell it sitting close to the candle. The good news is that the fragrance lingers around for a bit after snuffing the candle. Oh well.
Thanks for leaving a review! We're sorry to hear you're having issues with your candles. A member of our support team has reached out to you to better assist you
Just started my candle journey and this is one of the first scents I made and I couldnt be happier with how it turned out.
Truly one of a kind, it's floral, sweet and elegant.
The smell is definitely sweet and pink. I love, love, love, it I'm sorry I didn't buy more. Smells like a fragrance from BBW. Really Really sweet. Can't wait to do Amazing things with this one🤣
Okay, so I have had the Pink sugar from Flaming candle and Candle science. Both great fragrances! With this particular one, I don't pick up as much cotton candy, as the flaming candle fragrance, but it is still a phenomenal scent, nonetheless! If I had both oils in stock, I would definitely give them different names though, as they are distinctly different scents, to me. Having said that, they are both sweet and lovely! This one is more of a sweet berry/sugar scent, and flaming candle is more of a sweet/cotton candy scent, if that makes any sense. I love both! I have not tested a candle yet, but the wax melts are absolutely great!!! Very strong scent, but not over powering! Fills the room up with a sweet smell!
This scent is amazing. It's not over powering but it's nice and strong. Even hubby and dad like it a lot. I know my customers will love it too.
This is a great, girly fragrance!! It's definitely pink, my impression of it is soapy cotton candy. Kinda reminiscent of a bubble bath mix that was popular back in the 90's. This would mix well with any fruity smell, but I plan on blending mine with Rose Petals to make a sweet floral. Can't wait for a west coast restock!
Just received this in the mail and I'm upset that I only ordered it to be a sample! This smells AMAZING. I will be ordering more! It smells sweet but not too fruity. Victoria Secret Pink store had a scent that this reminds me of! It's amazing. I can't wait to make a full batch.
This scent is truly amazminnnnnnnnnnnnnnnnnnnnnnnnnnnnnnnnnnnng. Would be ordering more
This fragrance oil smells great and the throw is strong.
Not what I expected as this was suggested as a Cotton Candy replacement. Definitely does not smell like it and actually the raspberry scent was the strongest note so I wouldn't say it was pink sugar either. Sadly disappointed. 😞
OOTB, this smells absolutely amazing! I can't wait to pour a few candles to get the true nature of this fragrance! I'm very excited for this one!
-Jenn-
I really like this sweet fragrance. I'm getting a lot of creamy berry notes with a base of vanilla and sugar...just a hint of floral. I'm planning on using this for pink favor soaps for a baby shower. This would also make a lovely layered soap with the strawberry guava fragrance.
I really like this fragrance! I can't stop smelling it on the blotter strip so I'm really looking forward to how this performs in wax. It sort of reminds me of Pink Chiffon from BBW but I could be wrong... I can't put my finger on exactly what it smells like but it's really good nonetheless!
OOTB it reminds me of going to Victoria's Secret in high school circa 2003. very sweet and nostalgic, would be a nice blender.