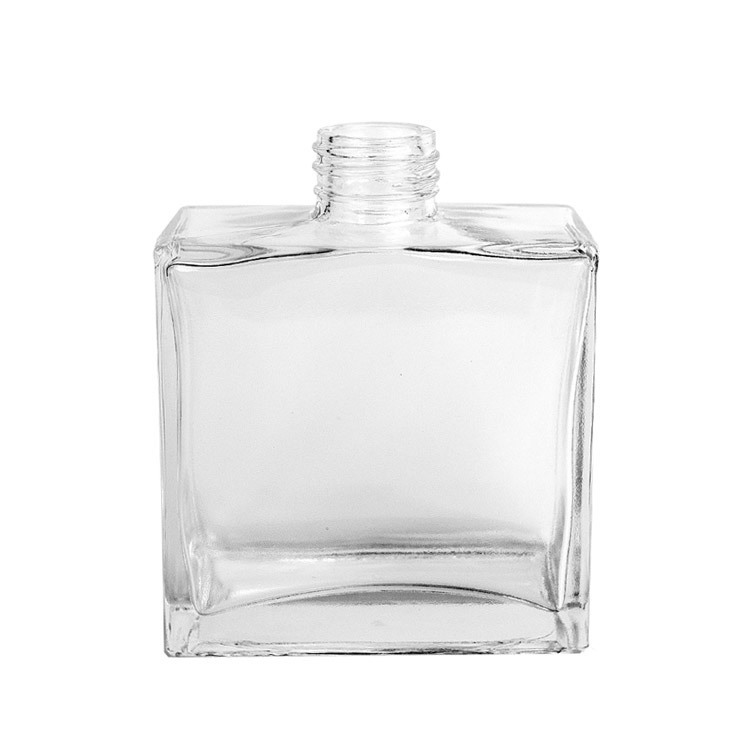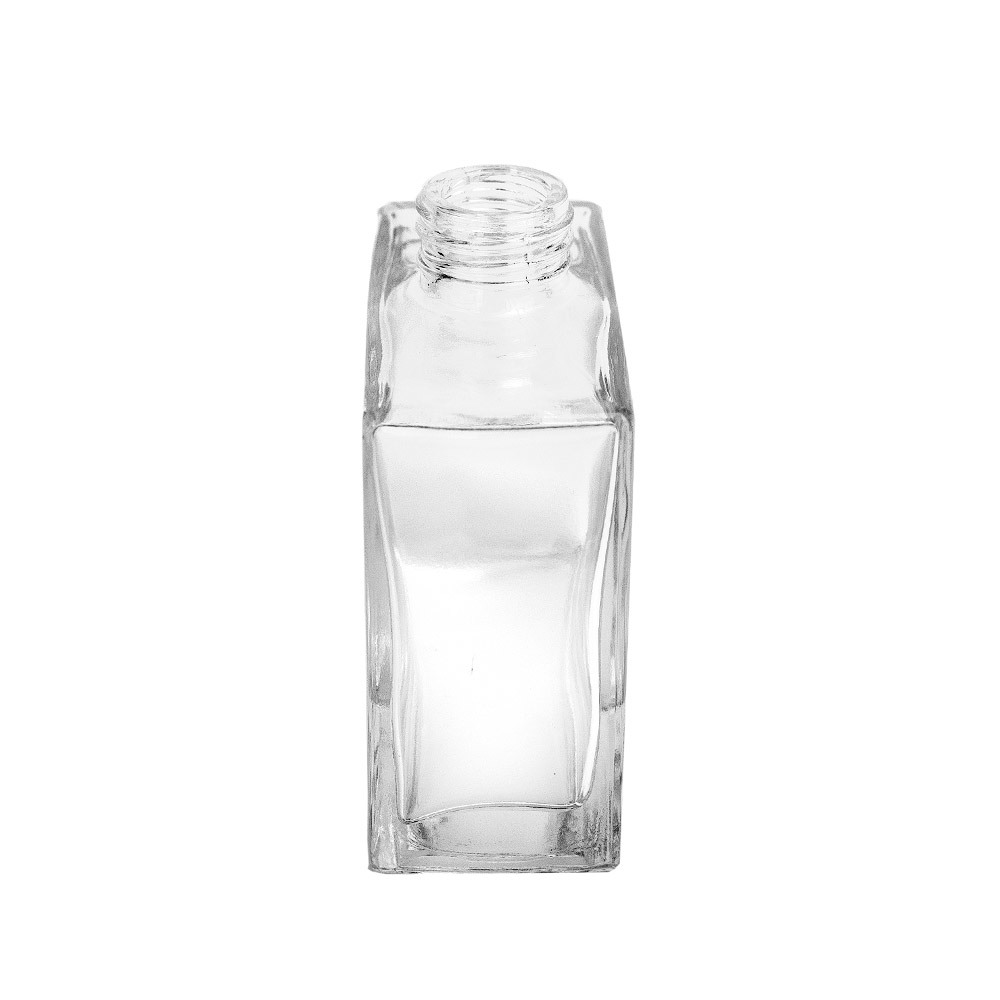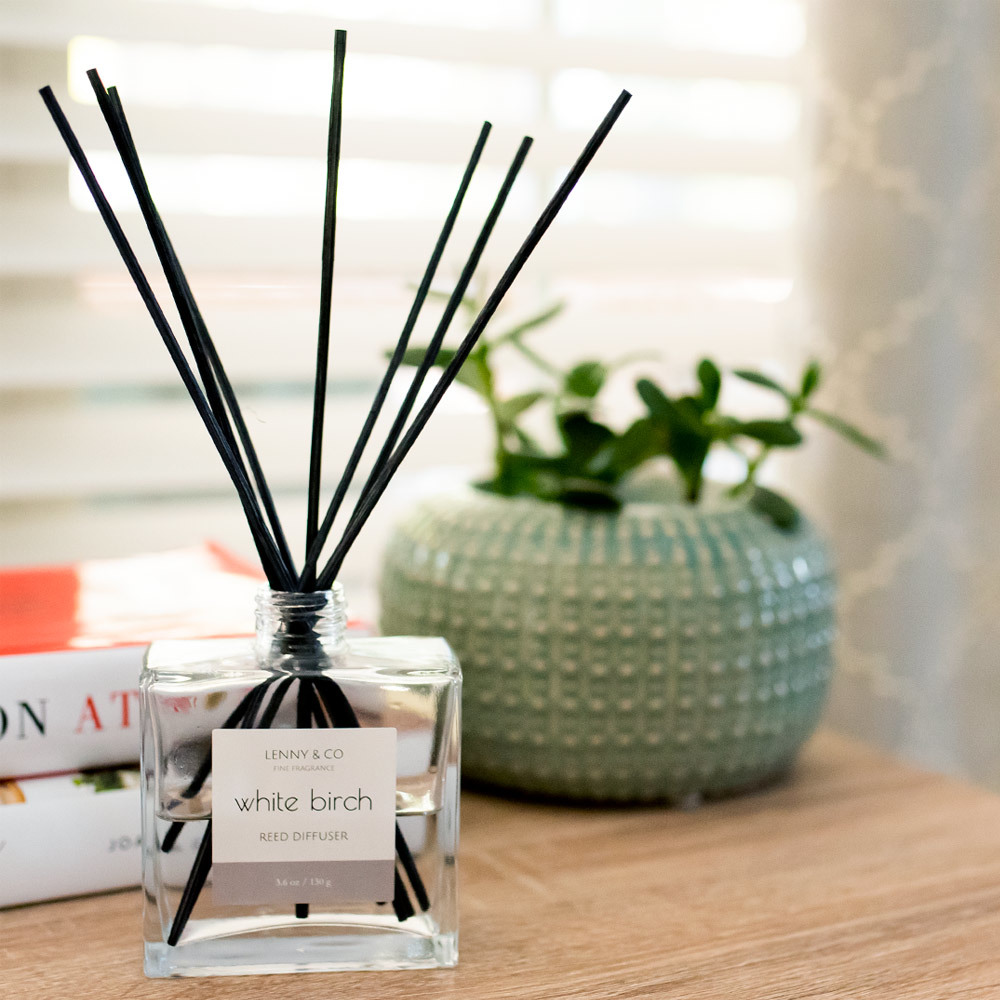 Ready to Order?
5 - 79 Cases
$21.09
$1.76 /pc
80 - 143 Cases
$20.42
$1.70 /pc
144+ Cases
$19.76
$1.65 /pc
Details
This clear, square reed diffuser bottle is a classic and graceful shape, allowing it to fit in with a wide range of branding aesthetics.
Reed diffusers are a simple, low maintenance, and flame-free way to fill a space continuously with fragrance. They are easy to make and are an elegant complement to candle and personal care lines. Just mix reed diffuser base with fragrance and pour it into a bottle, then add diffuser reeds. For best results, fill this bottle with a maximum of 5 weighted oz of reed diffuser mixture. Complete the look of your Square Reed Diffuser Bottles with a Reed Diffuser Bottle Collar in Gold or Silver. The collar comes with a plastic plug that seals the bottle, then the collar screws onto the threaded bottle neck for a secure way to transport your filled reed diffuser bottles. Pair some diffuser reeds with the filled and sealed bottles for a beautiful finished product.

Tops are sold separately.
The Square Reed Diffuser Bottle (Clear) works with the:
Reed Diffuser Bottle Collar (Gold)
Reed Diffuser Bottle Collar (Silver)
Looking for labels?
Put the finishing touch on your bottles with the perfect product label from Avery WePrint. Browse designs, create your own, and take 10% off all label orders! Head to
avery.com
to get started.

How much will it hold?
Volume (to Overflow) - 7 fl. oz.
Manufacturer Spec. - 180 ml

Wholesale Ordering
Check out our wholesale page for more information on ordering reed diffuser supplies in bulk or by the pallet.


Imported
Properties
| | |
| --- | --- |
| Height | 4.27" |
| Width | 3.56" |
| Depth | 1.7" |
| Prop 65 Warning Required | No |
| Max Labeling Area | 3.25" x 3.25" |
Reviews
Love love love but can't find packaging to put it in to sell.
I love this product. I did my testing and it works well. Came back to place my larger order and now you are sold out. :-(. This is quite disappointing.
I love these too, but am also having trouble finding packaging. Searched high and low. Candle Science any advise?
Hi! A member of our team will be reaching out to you!
Love the bottles but need packaging for it!
I absolutely love these bottles but am having difficulty finding packaging to fit it. Anyone know of anywhere I can purchase boxes for this?
Grin-N-Bare it Essentials
I absolutely love these bottles but unfortunately I can't resale due to no lids came with it. Will repurchase if lids came with.
Mindy
We love the vessel and they give our product a high end look! We decided to use cotton drawstring pouches to package them in, but we also did find a very nice two piece rigid telescoping box from US Box Corp (10 x 4 x 2) Item # 29-B that fits both the vessel and the reeds, for those who have asked this question in the reviews.
We love - love these bottles!! But, unfortunately, we haven't been able to find packaging for them anywhere!! Until we do, we will not be able to order any more of them. And this makes me sad :(
I bought all kit to make the reed diffuser and work perfectly, I try with bamboo, coconut 3/1 with 8 reeds, I placed in a medium-size bathroom and the aroma release is so pleasant and constantly, also is a Deco and glam piece for any area. I love it!
We absolutely love these bottles!! But we haven't been able to find a box to package them that will work anywhere!! Does anyone have any suggestions or recommendations?
Thank you so much for allowing us to help answer your question!
The diffuser items sold are excellent. The person who tested with Lavender and couldn't smell it is because the lavender doesn't really work well for diffusers. When I tested my lavender for the diffuser I couldn't smell it either but lavender is excellent for candles.
I don't know how to rate this because I bought products from CS before and was pleased. When I find out my solution, I will come back to rate my review again. I bought all my products (base, FO, glass jars, reed sticks) from CS. I used 3oz of the base and 1oz FO (lavender). I added 6 reeds to the bottle. I've tested it 3 days ago and I can't smell anything. What are your suggestions?
These are lovely vessels for diffusing, and they are packaged well. I've been using the collars/plugs, not the stoppers (I bought both at first, but you just need one or the other). I've been generally happy with the look of them in my line. The only aesthetic issue with a glass diffuser is you see dramatic color differences between fragrance oils. Some remain relatively clear (like water) over time, and others turn bright yellow (not terribly appealing). Many scents with high vanilla and cinnamon content are yellow OOB, and the color continues to amplify over time. Because that's happening with so many scents, I may end up changing these out to a more opaque or colored vessel.
This vessel checks a lot of boxes, elegant yet modern... holds a good amount of diffuser mix which I think is a major plus! My testers and I are getting a solid 3 months out of the mix. What a great way to fragrance your home or apartment and makes a fabulous gift - catches people's eyes!
No really a fan favorite. I have a candle business, wanted to add something for fire haters.. Other than melts and wala! Great addition to an already busy candle line. Keep, please!
Love these glasses! They are very clean and with the collars they give an even better elegant look. The square shape is classy and makes for great decor. However I am having trouble finding a box that will fit these and the reeds. I have been searching for months and can not find one, I would love it if you guys had box options for the diffusers as well, that would make life so much easier.
I love the new reed diffuser bottles! Great size, great shape and I love that I can mix and match the collars to create my own look. Needs a box though. Will you be offering any packaging options soon?
I'm so excited that this company decided to start selling these bottles, after searching many companies I did not find the bottles that I liked and looked good. These bottles are the perfect size, they are heavy duty. Very much worth the money, which is a reasonable price. One more thing I have to say about the bottles is just wash them before you use them.
A year into our candle business and we are looking to expand our line of home fragrance with reed diffusers. This is exactly the product I am looking for. The clean lines of the base are a casually elegant touch to any home and the perfect way to expand our collection! I also like the additional color option in reed sticks. Many of my customers prefer the natural colored reed sticks; however, I am seeing a trend of customers who prefer black reed sticks. It is nice to be able to give my customers an option. Thanks Candle Science!!