IFRA 49: What Candle and Soap Makers Need to Know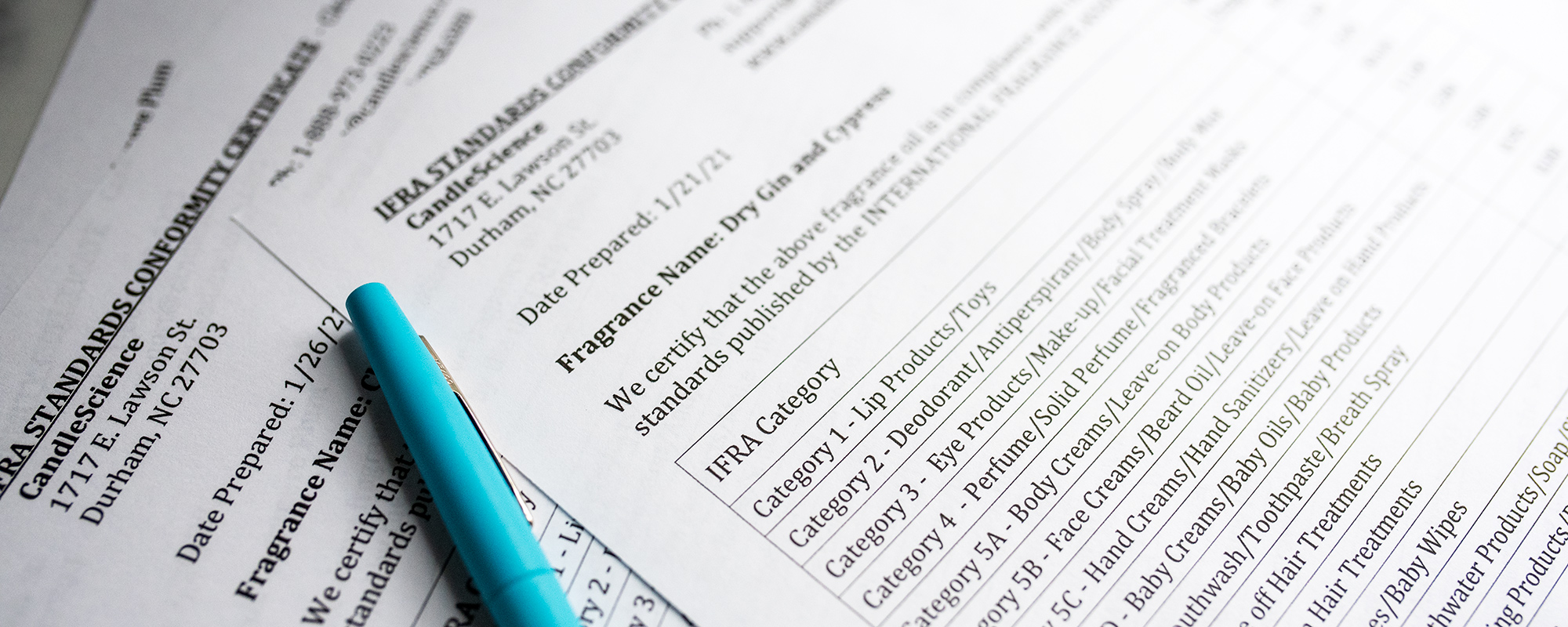 IFRA, or the International Fragrance Association, sets the standards for how much fragrance may be used in a particular application, like soap or candles. The IFRA Standards are a set of rules and regulations for the use of fragrance materials, and a baseline for the industry.
On Jan 10, 2020 IFRA issued its most recent guidance with the 49th amendment. IFRA periodically makes changes to its standards and regulations to reflect new understandings of the different ingredients that make up fragrances. Typically, these changes don't necessitate much action by fragrance companies and makers of home fragrance and body care products; the 49th amendment to the IFRA Standards, however, does. 
The biggest impact to our industry is in the categories we reference for soaps, bathwater products, lotions, reed diffusers, and candles. These changes do not only impact CandleScience, they affect the fragrance industry as a whole. Let's look at what all of this means for you as a maker and small business owner. 
Before we get into the details of the changes brought by IFRA 49, here's a quick summary of the action, if any, you need to take.
Cross-reference categories and/or products from the previous IFRA categories to the new IFRA 49. View category changes for soap here, and for reed diffusers here.
Review the IFRA certificates for the fragrances you currently use. Confirm if the IFRA 49 changes impact any of these fragrances.
For any affected fragrances, you have until May 10, 2022 to make any necessary changes to your product line. Products currently in production​ and on the shelf have 12 months from the date of notification, May 10, 2021, to reformulate the product to be in compliance with IFRA standards.
Again, the deadline for IFRA 49 compliance for existing products is May 10, 2022.

Make sure to review the changes we outline here and determine which fragrances you currently use that may be impacted. Remember that you have a year to test out new usage rates and other necessary changes. Anything you make and sell on or after May 10, 2022, must be made in accordance with the IFRA 49 guidelines to be compliant. 
Category Changes
IFRA organizes the different applications in which a fragrance may be used into distinct categories and lists the maximum usage percentage of a specific fragrance for each category. You can find more details about each specific category on the IFRA website, and learn more about how to use the IFRA certificate here.
It is important to remember that the maximum allowable amounts are not intended as usage recommendations; they are the maximum amount of fragrance that can be used in each application and still be IFRA-compliant. 
The IFRA 49 introduces two major category changes that makers of home fragrance and body care products need to familiarize themselves with. 
Do you make lotions, body butters, or other products intended to be rubbed into and left on the skin? Here's what you need to know. 
Previously, you knew that these products fell under a few different categories. With the introduction of the IFRA 49, makers of these products now need to look at Category 5 and its subcategories to identify which one their specific lotion product falls under. 
CATEGORY 5: Products applied to the face and body using the hands, primarily leave-on
5A: Body lotion products applied to the body using the hands, primarily leave-on
5B: Face lotion products applied to the face using the hands, primarily leave-on
5C: Hand lotion products applied to the hands using the hands, primarily leave-on
5D: Baby lotion, baby oils, and baby talc
With this change, it's extremely important to take the intended use of the lotion into account when determining the fragrance usage rate. Some fragrances may have the same max allowable percentages across the different subcategories, but others may have different allowable percentages.
Because lotions now fall into these different subcategories, we are no longer including usage recommendations for lotions on fragrance oil bottles. Make sure to reference the IFRA certificate and the new subcategory for your specific lotion product to determine the usage recommendations.
Do you make soap, bath bombs, or bath salts? Here's what you need to know.
Good news! Soap remains in Category 9, which also includes products intended to be mixed into bath water, like bath bombs and bath salts. Please view this list to see the fragrance oils affected by the new IFRA 49 amendment. In some cases, you may even be able to use more of a certain fragrance in your product while still being IFRA compliant, so make sure to take a look. View new usage recommendations 〉
Do you make reed diffusers? Here's what you need to know. 
Reed diffusers were previously categorized as incidental contact under Category 11, just like candles and other home fragrancing products. Under IFRA 49, reed diffusers fall under Category 10A and come with much stricter usage guidelines. Unfortunately, this change means that many fragrances previously approved for use in reed diffusers now have very low allowable usage rates.
We have updated our usage recommendations for reed diffusers to reflect this change. While this, unfortunately, means that some fragrances we now recommended at 0% for reed diffusers, refer to the IFRA certificates and decide if the allowable amount is right for your product. For example, you might notice in the IFRA certificate for a specific fragrance that the maximum allowable usage in diffusers is 10%. You can certainly test that percentage out, and may find that it fits your expectations for your reed diffusers just fine. Because of this, we do recommend taking a look at the IFRA certificate, even if the CandleScience usage recommendation is 0%. 
Do you make candles? Here's what you need to know.
Candles and other home fragrance products, like wax melts, have moved from Category 11 to Category 12. In most cases, these categories have a maximum allowable usage of 100%, meaning there is not a restriction on the amount of fragrance that may be used; the appropriate amount of fragrance to use depends on the application, such as 6-10% in candles.
All of our current fragrances still fall within the recommended 6-10% usage rate in candles; however, we recommend checking the IFRA certificate for each fragrance you use for an update to the maximum allowable usage rate under IFRA 49. We are working with our perfumers to ensure that these fragrances will not fall below a 12% usage rate.
We hope this helps shed some light on the changes brought about by the IFRA 49. We know this information can be a little overwhelming if you're new to working with IFRA certificates, so please don't hesitate to reach out to us if you have any questions.