Behind the Scents:
2020 Fall and Holiday Fragrances
Peel back the curtain and go behind the scents for an insider look at our six new fragrances for the fall and holiday 2020 season. 
We pour love and care into every one of our fragrance launches, but this group feels particularly special. These are the first to launch as CandleScience Clean Scents™️, a new initiative focused on clean ingredients and transparent safety standards. While the concepts for these fragrances were established well before "social distancing" was part of our everyday vocabulary, it turns out that they fit pretty well with the shift in trends we're seeing during this pandemic. Trends that look towards the familiar, the comforting, and that harken back to days long past. 
One of the things that makes working with fragrance so exciting and special is the way a single scent can be so many different things to different people. Let our ideas and suggestions for each fragrance inspire you to create your own unique experience. Ready?
TRENDSPOTTING
A fresh, woodsy tree fragrance is an obvious inclusion for any new fall/holiday collection. We already have a diverse line of pine scents, so we wanted to include something a little more unique for this launch. Dry Gin and Cypress combines the familiar notes of balsam, oak, and cypress with the fresh, herbal bite of gin for a result that's anything but ordinary. Perfect for any line of beverage scents or as a punchier version of a winter pine scent, Dry Gin and Cypress has lots of possibilities. Capitalize on the resurgent popularity of riffs on the classic gin and tonic, or use it as a blender for creating other custom cocktail fragrances.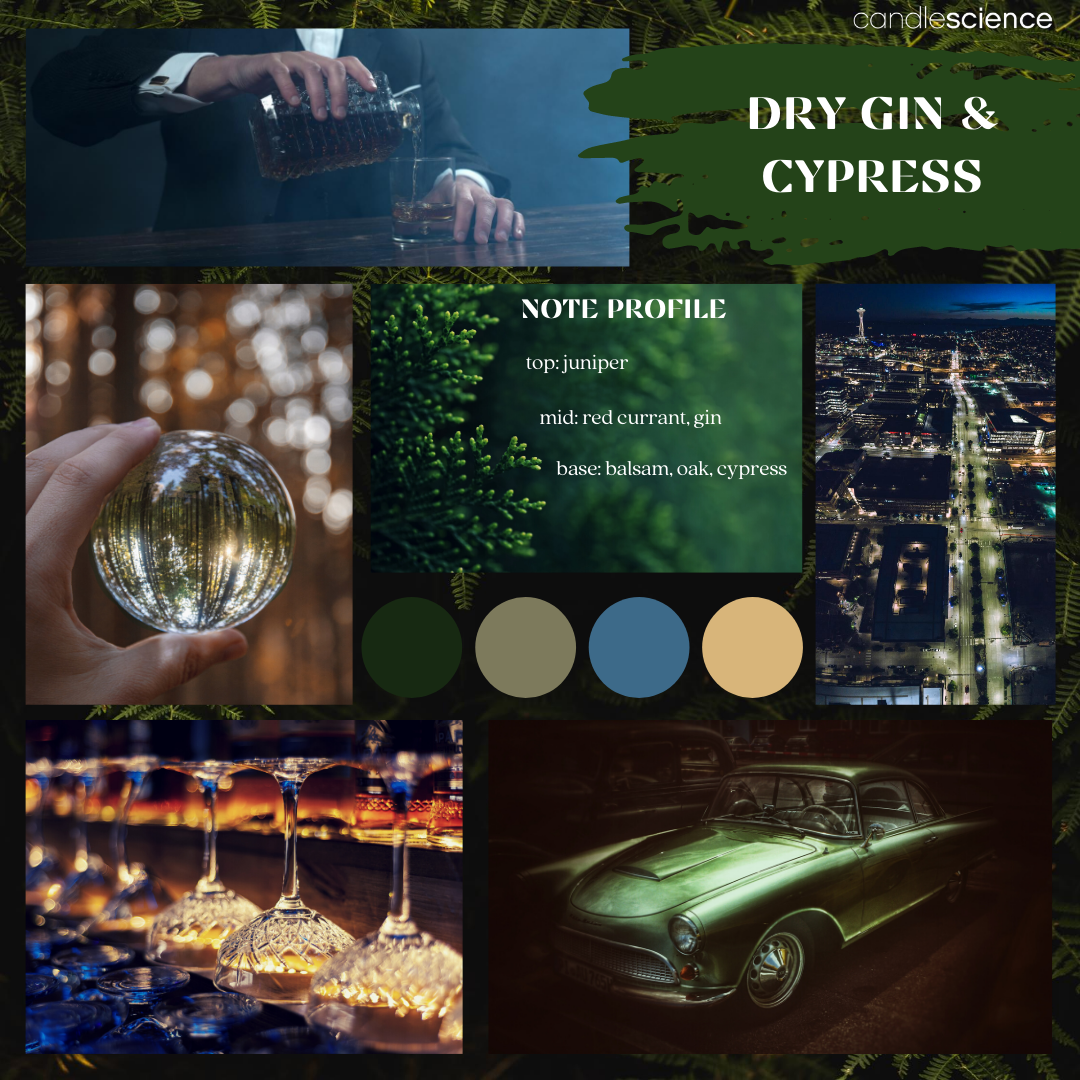 BRANDING INSPIRATION
Out of the six label designs we created for this fragrance launch, this one might be the favorite. Minimalist containers and label designs are a desirable choice because they fit beautifully into any style of home decor. When you're thinking about different scent names, this fragrance presents a great opportunity to have a little fun. Think names like Speakeasy or Shaken Not Stirred.
Alternative scent name ideas: Gin Martini, Shaken Not Stirred, Speakeasy, Cedar and Cypress
Love this label? Create your own with
Avery WePrint
! 
Size
: 5/8" x 3" rectangle
Material:
matte white paper