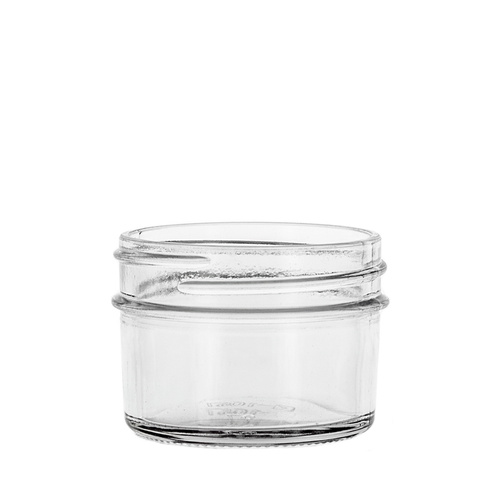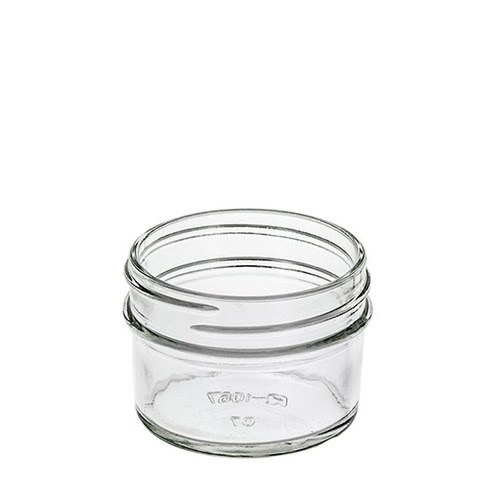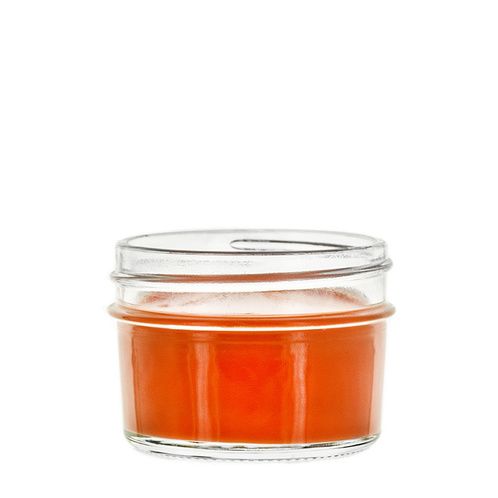 Ready to Order?
13 - 152 cases
$3.87
$0.32 /pc
153 - 306 cases
$3.71
$0.31 /pc
306 + [pallet]
$3.61
$0.30 /pc
Details
The 4 oz. jelly jars are great for making samples or party favors.
The 4 oz. is the smallest in our Jelly line. We also carry an
8 oz. Jelly Jar.
Tops are sold separately.
The 4 oz. Jelly Jar works with any of the #70 G Threaded lids;
antique gold
,
black
,
gold
,
silver
,
pewter
,
rustic
,
white
,
gold daisy
, or
pewter daisy
.
How much will it hold?
Wax Weight (to Fill Line)
- 3.2 oz.
Volume (to Overflow)
- 4.2 fl. oz.
Looking for a wick suggestion?
GB 464 -
CD 8
IGI 4630 -
LX 14
IGI 6006 -
ECO 2
Check out our
wick guide
to see recommendations for other waxes!
Our recommendations are estimates
and should be used as a starting point for your own burn testing. >
Looking for labels?
Put the finishing touch on your candles with the perfect product label from Avery WePrint. Browse designs, create your own, and take 10% off all label orders! Head to
avery.com
to get started.
Wholesale Ordering
Check out our
wholesale page
for more information on ordering candle supplies in bulk or by the pallet.
Imported
Properties
| | |
| --- | --- |
| Height | 2" |
| Diameter | 2.59" |
| Max Labeling Area | 8 1/4" x 1" |
| Prop 65 Warning Required | No |
Reviews
Perfect for my candles! I LOVE this jar! Super cute!
These jars seem to be doing very well for me. I continue to use the same size wick as I do in the 8 ounce tins. The scent and the wax burns well. I have no problem with it. If I should change the wick to another size please CandleScience let me know. But right now I have not seen any problems
These worked perfect as favors! I was worried about too much wax being left over so, I tested with wick stickers and with RTV and both worked with almost no wax left. I would say if you have too much wax left your using the wrong wick size.
While these are super cute and candles look great, they only burn halfway due to the concave bottom on the jar. For such a small jar, they really need a flat base in order to not waste the wax.
I love this jar! My clients love them and it serves it's purpose for what I do and the market I target.
would love to know how to get a stonger scent throw with these 4 oz jelly jars; I use a 10 eco wic; as cs suggest ; I melt gb464 to 185 then add 1oz to 1.5 fragrance oil; stir for 2 minutes then pour at around 130-135 ; if I pour at 120 I get a better finish on the wax real smooth top; just not strong enough on scent throw if anyone has any info please share
These jars are amazing. The price is ridiculously low if you are in the candle industry. Love them, just wish they came with lids.
I really want to love these but I don't
I love the idea of this jar. I wanted something that my customers could reuse or give back to me so I could reuse it and give them a slight credit. These jars seemed perfect for all of this. The fatal flaw is that the bottom of this jar isn't flat. The center is slightly higher than the outside edges on the inside of the jar. This results in far too much wasted wax after the wick that is set up higher burns out. I honestly think that about 1/4 of the wax is still in some of these. So sad! I have switched to the 4oz tins and love these though they aren't as reusable as I had hoped the jars to be.
I am a new candlemaker and would like to use gb 464 with an eco wick, which size do you reccomend? The wick guide recommends Eco 10 is that what others are using? I think it's odd that it recommended I use that same wick size for a recycled wine glass as well as the 4oz. Jelly jars. I won't be adding any color to the candles. Someone please help!
Quick question! Will "Ball" canning mason jar lids fit these jars?
After many orders of these 4 oz. jars, I finally received 1 jar chattered during shipment. Still love them and the price. Will continue to order more!
Used these jelly jars for a bridal shower favor and they were adorable. The perfect size for a either a bridal or wedding shower favor!
Couldn't be more happier to find these jars here. Love them.
I love these jars. They are light weight and easy to use. I love making my small candles with these jars!! Can't wait to order more!!
NEED ASAP! Too long of backorder!
I love these 4oz. jars and have needed them for over a month and CS keeps upping the date of when they'll be in stock. Anyone know where I can get some ASAP?
These jars worked perfectly to make my small soy candles. I love the size of them. Will definitely order again.
I love this jar, we used it before CS got it and was so happy when they finally did get it! This is the perfect size, great thick glass!! Never had a prob yet!!