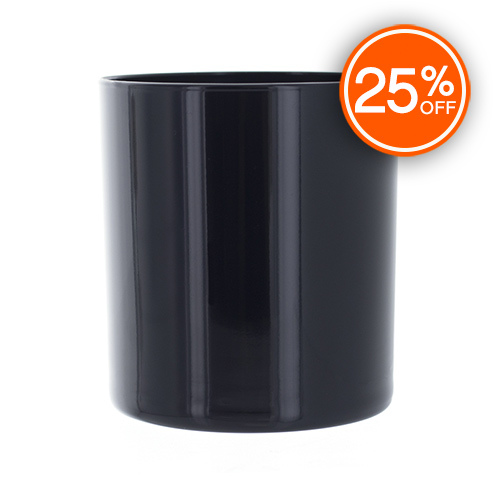 As of 01/06/2021:
This product is discontinued and no longer available.
Details
We added this imported Black Straight Sided Tumbler Jar to help compensate for the inconsistent availability of the Black Straight Sided Tumbler Jar from Libbey. We have seen some quality issues with this initial shipment, particularly variation in the tumbler's rim and base, and so are offering them at a discounted rate. Please note that these issues are limited to the appearance of the jars—they are still safe for use in candle making and have passed both thermal shock and annealing tests. These containers will be available until stock runs out. We are working with our manufacturers to improve stock availability, quality, and consistency
Clean and sleek, our Black Straight Sided Tumbler Jars have a glossy outer coating that diffuses candlelight for a softer glow.
We also carry the straight sided tumbler jar in additional colors and sizes.
Looking for a lid? Try our silver, bronze, and black metal flat lids.

How much wax will it hold?
Wax Weight (to fill line) - 8.5 oz.
Volume (to overflow) - 11.9 fl. oz.

Looking for a wick suggestion?
GB 464 - CD 18
IGI 4630 - LX 22
IGI 6006 - ECO 8
Check out our wick guide to see recommendations for other waxes! Our recommendations are estimates and should be used as a starting point for your own burn testing.

Looking for labels? Put the finishing touch on your candles with the perfect product label from Avery WePrint. Browse designs, create your own, and take 10% off all label orders! Head to avery.com to get started.


Need packaging for this jar?
Try our kraft and white straight sided tumbler boxes!
We recommend using either a lid, OR a tumbler box, not both.

Wholesale Ordering
View our wholesale page for more information on ordering in bulk.


Imported
Properties
| | |
| --- | --- |
| Height | 3.46" (+/- 0.06") |
| Diameter | 3" |
| Max Labeling Area | 10" x 3" |
| Prop 65 Warning Required | No |
Reviews
Ordered these hot 48 and they are fantastic! I couldn't be more happy with them!
Uneven glass and shatters easy.
I just purchased these several weeks ago for my candle business and after reading reviews on the lids for them I hesitated to get them until later on. Well, I ordered them and received. What I'm confused about is how are these lids not fitting on the jars, when the ones I received fits perfectly fine and snug on the jar? 🤔 Looking forward in getting more jars and lids in the very near future!
My first order came broken and was quickly replaced so customer service gets 5 stars. Sadly I don't know if I'll be able to sell these. I shouldn't have gone for the cheaper option because these jars are just poor quality. There are lumps around the rim, scratches, top is uneven, etc...