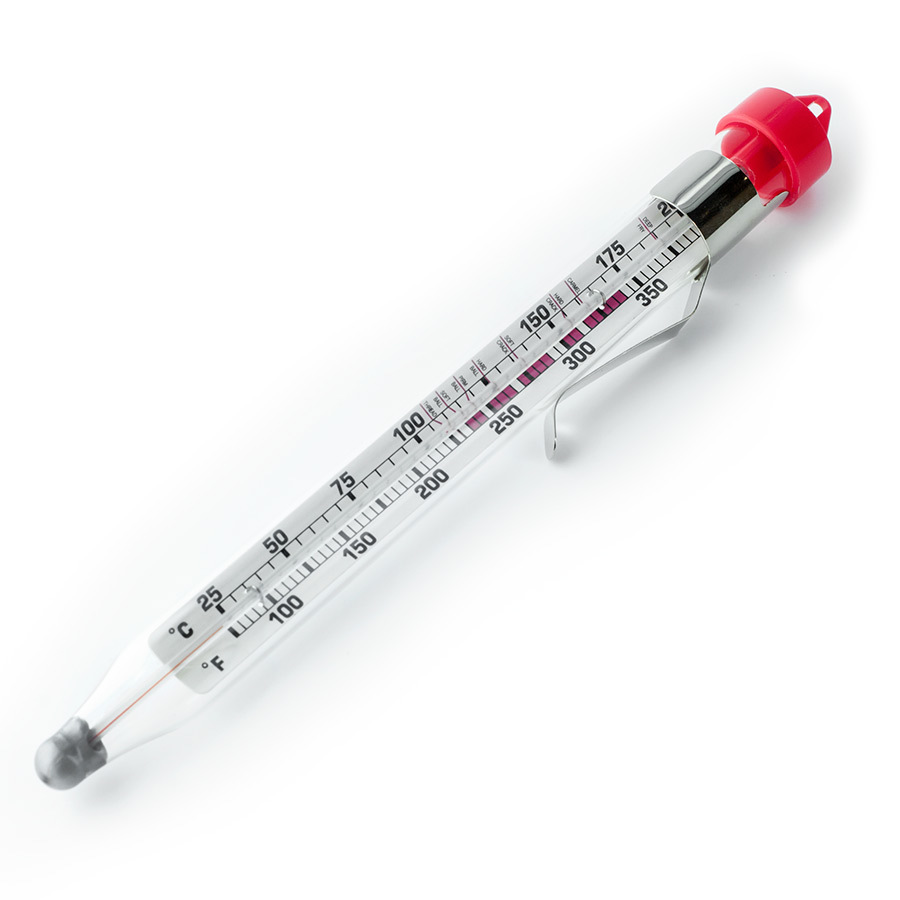 Details
Our basic thermometer. Easy-to-read temperature zones. Temperature range 100°F to 400°F. Glass construction with adjustable pan clip. 8" long. Note: Thermometer can vary from what is pictured.

Made in China
Properties
| | |
| --- | --- |
| Length | 8" |
| Range | 100° to 400°F / 50° to 200°C |
| Prop 65 Warning Required | No |
Reviews
These thermometers are great!
I had a great deal of product wasted because of this thermometer. It gave an incorrect reading and it ruined 20 candles for me. My thermometer is new so it shouldn't have been an issue. Totally disappointed
As one other reviewer mentioned here, I have a problem with liquid/steam getting inside of the thermometer so that I can't read the temperature. I have tried 2 of these now, with the same results. I also found the metal clip to be too loose/flimsy so I can't clip it to my double boiler, the thermometer just falls to the side. But for the price, you get what you pay for I guess.
This was super affordable and did the job great! :)
no issues with mine really, reading correctly. love that it is super easy to wipe clean with paper towel even when i use it with beeswax.
price is super great, do have minor issue with clip being so stiff/tight that i can't clip it to pitcher.
only problem with this glass thermometer and guessing all others like it too, is that the heat from double boiler steam the glass and obscure the readings so you have to pull it out and wipe it quickly to see the temp. perhaps a top reading thermometer would be best in the end.
I purchased three of these and all three malfunctioned. Two of them allowed steam to get inside of the glass so it blocked your ability to read the temperature, and the ruler in the other one warped so it became an inaccurate measuring tool, too.
Great price and get the job done
For $4.99 you really can't go wrong with these. The one negative I'll say is that when I first got them the metal clip is SO tight, I had to use a knife to attach it to my pouring pitcher. Now one of them has loosened so I can easily clip it to the pitcher. Another slight negative is that they're hard to read when they're in the pitcher, so you just have to take them out, read, and clip back on. I just rinse them with HOT water when I'm done and the soy wax comes right off. For $4.99 it's worth way more than the cons.