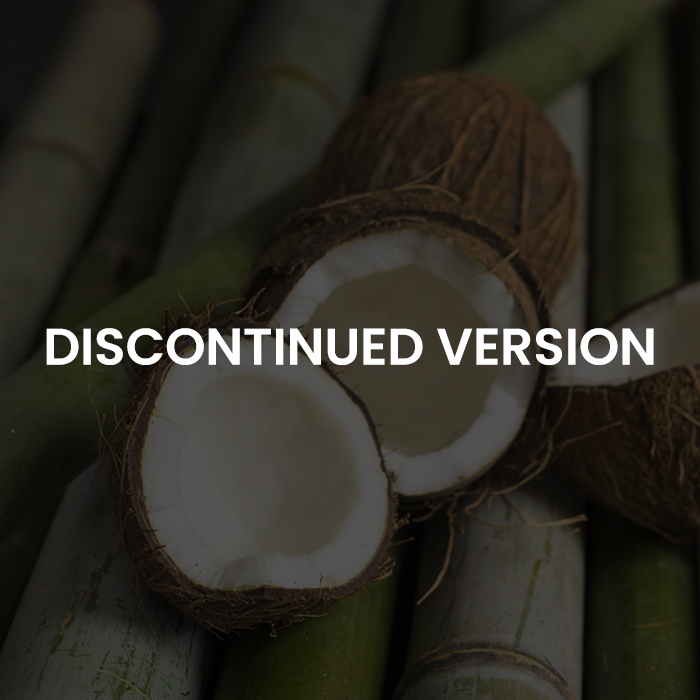 As of 03/24/2021:
This version of Bamboo and Coconut (Discontinued) has been discontinued and replaced with the new Bamboo and Coconut.
Details
Bamboo and Coconut overflows with the lushness of green coconut, fresh leaves, and tender fruit notes. This soothing blend has a luxurious softness that's reminiscent of a spa, or a tranquil bamboo forest. Bright top notes of green florals and crisp, green leaves blend into this airy, ozonic escape. The fragrance is beautifully grounded by touches of wood and vanilla. Lemon, eucalyptus, and cedarwood essential oils add layers of depth to this complex fragrance. Bamboo and Coconut is a prestigious, year-round fragrance with a broad appeal. It works just as well in communal areas as it does for intimate or private settings. Candles, melts, and reed diffusers permeate spaces with this intriguing fusion. Transform a washroom into a waterfall oasis with soaps and other bath and body care creations. Bamboo and Coconut is a peaceful, captivating fragrance that is a must for upscale candle and body care lines. This fragrance oil is infused with natural essential oils, including lemon, cedarwood, eucalyptus, lavandin, patchouli, and spearmint. Note Profile:
Top: Ozone, Green Floral
Middle: Coconut, Pineapple, Green Leaves
Base: Wood, Vanilla, Powder



Suggested Colors: Green
See our complete list of candle making dyes and soap colorants.
Note: Bottles filled by weight, levels may vary.
Properties
Candle Safe

Yes

Usage: 3-10%
Soap Safe

Yes

Usage: 3-6%
Vanillin Content
0.01% - 2%
Soy Performance
Flashpoint
181 °F
Phthalate Free
Yes
Prop 65 Warning Required
No
Diffuser Base Compatible
Yes; Up to 25%
*Usage amounts are recommendations only. Individual usage amounts can vary based on your desired fragrance strength, wax type, soap base, or lotion base. See IFRA certificate for max usage levels.
Documents


Cold Process Soap Performance
| Acceleration | Discoloration | Separation |
| --- | --- | --- |
| None | Brown | None |
Oil temperature 119ºF
Lye Water temp 113ºF
We did not experience acceleration or separation. After 24 hours the soap was a tan color and the scent strong. After 30 days the soap was brown with a strong scent. The batter was very workable and took a while to come to a light trace. This fragrance would work well for swirling.
Reviews
this is my most top seller and my fav! please bring it back!
Disappointed to see it go !!
this scent was for sure a top seller for my business .. cant believe its being discontinued. I hope something extremely similar is taking its place .
Please bring Bamboo and Coconut back!!!! It is my top seller.
Without a doubt BAMBOO COCONUT stands strong both in CT & HT it never disappoints I am definitely looking forward to the new version because this scent is a KEEPER. I respect the transition process of the FOs to clean scents (PINEAPPLE SAGE is my second best seller and still performs great in the clean scent revision) I pray BAMBOO COCONUT still lives up to its reputation even as a cleaner scent CS don't let us down !
Terrible! Amazing Scent is Being Discontinued!
I came on here literally to order tons of this fragrance and found out it's being discontinued. As a candle business owner it's such a tedious process narrowing down scents for your customers and you feel so accomplished just buy finalizing which fragrance oils you'll use. It is very disappointing and unfortunate that I depended on CS. This is one of the worst things to happen.
Bamboo Coconut is one of BEST SELLERS! I can't believe it's discontinued. I am very disappointed.
Not one of my sellers , y'all have discontinued so many scents that have been my top sellers . I might have to change to a different company I can't keep changing my core scents
MEET THE SAFETY STANDARDS AND BRING IT BACK!
"Bamboo and Coconut is in the process of being revised to meet CS new stringent safety standards to remove ingredients with similar characteristics to phthalates"..... Ok Fine! Do whatever you gotta do and bring this insanely delightful scent back to me! One of the best scents in my collection. A really strong hot and cold throw. Gets better the longer it cures. Absolutely love it!
I have been eyeing this one for a long time and finally received a free sample! While I am excited for the revision of this fragrance I will be getting my hands on this version before it is gone! Super fresh and green, a nice clean scent. I don't know why I waited so long!
Do not discontinue this scent!!! It is really fresh, you can feel de mix of green leaves and bamboo. Would like more protagonism of the coconut tho
I love this fragrance! I have a few bottles of this for an upcoming candle line and it really just rounds out hot throw. I'm really looking forward to the revised, cleaner version of this one!
I don't usually leave reviews or anything but I felt like I had to for this because it is SO AMAZING! The smell out of the bottle is a bit strong but I added 10% FO and cured it for only 5 days and the HT is just wow! If you want to try it but weren't sure, this is your sign to just go for it!
I made several candles to send to a online magazine to let them review each one and give a unbias opinion. This fragrance won a editors choice award.
Ct and Ht are excellent in 464
Customers cannot get enough
For whatever reason, this is NOT one of MY favorite scents, however, my customers keep coming back for more. As a business we give the customers what they want. I use 6006 with a fantastic CT and HT (for them of course!), in my diffusers for car and home AND in my melts.
This has been my best seller candle fragrance since I started my candle business. It's not my personal favorite but something about this FO captivates my costumers!! Always the first scent to Sold out. Both CT and HT are great!
Fabulous clean & relaxing
I love this scent. It has such beautiful notes to it. I regret not buying a larger bottle but will. It is like a spa day or a relaxing at home with a book scent. If you like clean and soft this is for you with a hint of tropical. I just can't describe enough about this one. A fave of mine.
Vibe Beautiful Soaps and Beauty
I am so in love with F/O! It just makes me smile! Clean, refreshing, and just makes me smile. It has a "bright" note. I love it!
Owner of Peace & Light Candle Co
LOVE this scent! One of my TOP SELLERS! Fresh and clean scent.
This doesn't really have a coconut smell to me, but it does have a bright fresh scent to it. I made 4 tester candles to try in the pool store I work part time at, the hot throw for 8oz of wax was strong and pleasant it covered up the chlorine smell of my 1,500sqf building. Customers coming into the shop were pleasantly surprised.
I love breathing and capture all of the fragrance. I am getting a lot of depth and layers. It is on the same spa type level as Sea Salt Orchid to my senses.
Not a fan! Wish I could return
I dislike the smell. It smells like a dry bamboo no coconut Notes at all. If you add coconut fragrance oil I'm sure it would improve the scent however, I completely dislike it. A little upset I read reviews and bought a larger bottle when I was going to just try out a 1oz. Not using for my candle business. This will not sell for me. A waste of money.
I'm not a huge fan but my candle customers seem to love it.
The description of this FO is way off.. Not only is this fragrance ALL BAMBOO and NO COCONUT, (I mean not even a hint of coconut.) but it does NOT remind you of a luxury spa scent, which is what I was looking for. Sadly disappointed because I purchased the 4oz container and can't see myself using it. If you're looking for a green leafy scent, almost like freshly cut grass this is for you.
This fragrance is everything. The smell is very close to cypress and balsam with a touch coconut. It is the perfect blend.
Odd "Burning Buttery/Spoiled" Scent mixed in with the freshness???
I made a few candles with this and did 7% with the IGI 1239 A PARAFFIN WAX. did my usual, and this scent is great on cold throw and hot, but I keep getting a buttery smell it literally smells like warm/burning butter in the middle of these very clean notes when it's heated up in melt form or candle form. I'm wondering if there might have been not so good of a batch, since one of the reviewers mentioned a sour or gone bad sort of smell, which is sort of what this smells like. Since I'm not seeing this in the other reviews I'm assuming my sample of it was not good. I would love the chance to smell it a second time, but my experience with this scent isn't good at all as it stands.
My customers absolutely loveeee this smell I can not keep it in stock!
Has a great scent throw and a really fresh smell! Works great in 464!
This has easily become one of my favorite scents in shampoo bars! I haven't tried it in CP soaps yet, but that's on my to do list!
This fragrance is my top seller!
Made tarts and cp soap with it and it's absolutely gorgeous! The bamboo is fresh and green, the coconut thick and luscious. Great blend!
I was really disappointed with this FO.
The scent was lovely but it was horrible to work with (I made CP soap). As soon as I added my Mica in to the mix it started to separate and rice-up. I had to stick-blend it really hard to get it smooth again. Then as it was setting in the mold, beads of the FO came up to the surface of the soap. I kept having to pat them off and hoped they would re-absorb in to the soap.
It took a good 36 hours for the soap to set enough to be able to cut it and even then it was really soft, it probably could have done with 48 hours to be honest but I was tired of seeing it "sweat". And then after I cut it, it started to turn brown.
What a disappointment because the scent itself is really nice. I think I will use the rest of it in lotions or shower gel, not worth struggling with cold process.
Love this can't keep In stock
So very disappointed. I initially made alot of candles using the "Grapefruit and Mint" scent and I and everyone I gave a candle to was blown away. I then bought the "Bamboo and Coconut" and I can barely smell the scent. I used the same ratios for both scents and the former was SO much stronger and better. Unfortunately I purchased the 16 oz bottle and am stuck with it. For this scent I am giving it only 1 star.

I am in LOVE with this scent!! Excellent hot throw in 464 at 10%. I will be ordering this as soon as I get through some of my other fragrance stock. Hopefully by May because this will be a perfect summer scent!!
LOVE LOVE LOVE this fragrance. It's everything. Used with 464 soy wax. No Problems whatsoever. My customers love it
This FO smells so lovely! Was not expecting it to be this good.
One of my favorites! I usually make candles with it. This one definitely draws people in with the complex scent. Recently made a batch of soap with it and OMG! Refreshing! I added 3% to my batch. Will use less next time for sure. This scent is lingering
I absolutely love this that it's so sweet and sassy I love it it is so fragrant definitely one of my faves
I made a few samples and everyone loved it. I enjoyed the fresh and humbling scent in the air. It can be mistaken for honeydew as one customer with the sampler mentioned to me. Overall great smell.
I love this scent. It's literally my new fav for my bedroom. It gives off suck a nice scent thats not overbearing and I love it.
This is one of my favorite scents so far. It's such a clean smell, and I find it very refreshing. I've had great CT & HT at a 1:1 ratio. I can't wait to make more candles with this fragrance!
Sold out Sold Out Sold Out in Soap!
It's all gone from all of my stores, all the soap I scented with this fragrance sold out! I just bought more! Customers love it! A++!
This is one of my top favorites out of all of CS's fragrances. It is the perfect hot weather candle, and it is also wonderful as a spa or bedroom scent, well, really any room. A very delicious, smooth, both light and at the same time earthy, warm fragrance. It is the best coconut fragrance I have tried, but also has a wonderful pineapple and woody note that gives it depth and complexity. Definitely has that addictive quality I look for in a fragrance, and I can see this doing well for body products.
I was hesitant because I don't know what Bamboo was supposed to smell like but this was just a lovely fresh fragrance!! A little goes a long way. I'm new to diffuser crafting but IMO, your products are top of the line. Fast processing and delivery (2days!). CS, you have a new customer for life!!
I really loved the scent in the bottle. Its great. I love coconut scent
Bamboo Coconut is a customer favorite! I use it with soy wax and it has amazing cold and hot throws!
Cold throw and OOB are so wonderful, I love this scent. When burning, though, it smells so different to me. Almost sour, like it's gone bad. I've tried it in 464 at 8.5% and 10%, I've tried different wick sizes and cure times, and I tried it in a blend of 415 and 464, but it always has that strange smell when burning. Wish it smelled how it does cold, because it's amazing.
I can't say I love this but customers sure do, Really the coconut needs to be a little bit stronger. This worked well with the candle and soap line we carry.
I love the scent and although it does have strong perfume smell, the earthy, somewhat musky scent is very nice. I can't detect any coconut in it however. I did my first test run to experiment with the volume of scent throw, I use C3 soy wax for my candles and melts, and added 11% of the fragrance oil. Whoa, it's really strong even the cold throw is strong, I will adjust down from there, 9% would probably be best.
I wasnt sure about this one when i ordered it but it turned out really nice in my candles. I personally like it but will wait to see how it does with my customers before deciding to make it a year round scent.
I LOVE LOVE LOVE this scent. I chose this as a free sample, and from the first candle, it was love at first scent. Now I order this 5lbs at a time. Keep up the good work Candlescience and please don't change this one.
I really wanted to love it... I should've known from when I smelled the oil in the bottle. But it's way too perfumey... it has a very harsh lingering end note that almost feels like it's burning or irritating your nostrils. When you first smell it it's a very warm and light fruity coconut vanilla smell. It should be a good safe scent but I don't know. I used the suggested usage rate... 1 tsp to 8 oz. anyone can let me know if I messed up? Because I do like it but I don't think I can actually use it.
LOVE LOVE LOVE this fragrance oil. The HT and CT is amazing , the smell will fill your entire house and hallway if you have one.
Very perfumey/fruity not a fan
My customers LOVE this scent in my soy candles and wax. It's perfect for a bathroom - so fresh, clean and inviting. I even added a little to a solid perfume and had amazing results. Its a personal favorite of mine. The hot throw is not as strong as I'd like but I still give it 5 stars because it smells so amazing. I made reed diffusers with it as well and the throw was spectacular.
My favorite new scent fresh and tropical strong out of bottle soaped with no issues strong in soap
This scent has one of the most powerful throws in my line, and it is very clean. I thought this was going to be earthy with a hint of sweet coconut, but the very faint coconut in it is not sweet. The scent is mostly earthy. While some of my customers liked it, I found it to be a challenging fragrance to sell.
Candle Science has hit a home run with this fragrance. Very nice with my loofah soap line. Next will be making soy wax candles & melts.

Very clean smell it is awesome
making tarts for wax warmer
this was not what i expected the scent is not for me , if it was not mixed with the coconut could have liked it the bamboo had a clean musk scent.
Top seller in soap! Stores are asking for mote, customers are grabbing soap as fast as I can make it at the farmers market!
One of the best FO's I've tried.
Used this in c3 soy... wow! It's amazing and the coconut notes really come out when it's hot. I LOVE it... I want to make lotions, solid perfumes... EVERYTHING with it. I never want to stop sniffing it and my customers love it too.
Customers are obsessed with this scent. Can't keep it in stock. LOVE.
I am obsessed with this fragrance! I ordered a free sample simply based on the previous reviews as it didn't sound like a fragrance I would typically like. It is amazing! Very strong hot & cold throw in soy wax. It seems to develop as it cures and become a bit more complex and interesting. I don't feel there is anything else like it on the market. It is unique, but not overly complicated. Nice job candlescience!
Smells very nice and not overpowering. The bamboo and coconut complements each other.
Too much Bamboo. Where's the COCONUT? I tried this one as a sample first and I'm almost certain there was more coconut fragrance in it. The two would blend nicely if they were even amounts. So keep working on this one😊
This has become my favorite new fragrance. Must be a lot of other's as well as it is sold out. A very nice, clean, refreshing scent definitely smell coconut.
This fragrance became my top selling scent from the moment I made it. I went on to purchase a 5 lb jug to keep up with demand. Great scent!
This is a keeper! The hot and cold throw is out of this world. A must try. I used 464 soy wax, 1oz FO to 1 lb wax.
Wow!! Very strong cold throw. Love this fragrance. Popular among customers.
I haven't even lit the candle and just smelling it in the jar is making me excited.
I love it used with 464 soy wax definitely a winner both men and women love this new scent
Love this....use it as a AROMA FRAGRANCES
Scent is excellent add a little more coconut milk for an awesome Chunk Candle
I brought this in a sample bottle when it was first released and I am happy to say I love it and so does everyone else. Can we say a hit. Reordering a bigger bottle.
I made my husband a liquid hand soap using this fragrance and he's in love with it! It's a classic scent that has the perfect amount of coconut without it being too "tropical". It smells very fresh and clean and the green notes have a bit of masculinity to it so it's a great unisex scent. Will definitely be purchasing a bigger bottle
This scent is absolutely intoxicating to me!! It's fresh, it's sweet, it's clean, it's coconut & vanilla, all at the same time!!! It smells identical to Bath & Body works, Live Fresh-Seaside Breeze!! This just became one of my top favorites! I'm coming back for the big bottle!!
Very nice green and coconut scent. Pleased.
Nice Twist on Coconut and Bamboo
I tried all of the new samples and this is another favorite. A light coconut for a spa feeling.
Intoxicating, Complex, Fresh
Oh Candle Science, you have done it again. I am in loooooove. You can def. Pick up that bamboo, its fresh, green, clean, creamy, and warm all at the same time. My whole kitchen smells amazing. It's one of those fragrances that will appeal to everyone. I can not stop smelling it. This is going in the permanent line up. I used Coconut Soy wax @ 10% 9oz of wax.
So far my test candle has great cold throw. Can't wait to test burn
I tried this scent expecting more of a sweet, tropical scent because of the coconut but the smell is so soothing. It's a very smooth and silky. This will definitely go into the classic scent line. Plus it's already mixed really well with 2 other scents. Love this!