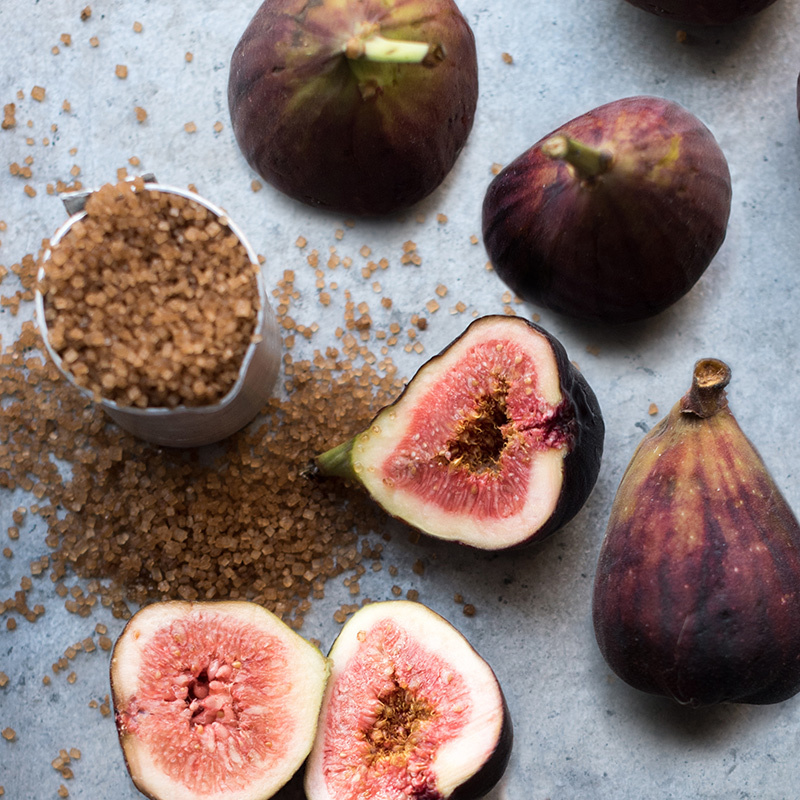 Ready to Order?
Ships from East Coast. Expected: West Coast 3/12
6+ 5lb Jugs
$84.84
$1.06 /oz
12+ 5lb Jugs
$76.36
$0.95 /oz
Safer Scents For The Home
CandleScience Clean Scents™ are free from carcinogens, reproductive toxins, and other potentially hazardous chemicals often found in fragrance. Choose Clean Scents and create safer home fragrance products you and your customers can enjoy with confidence.
Read More >
Details
REVISION NOTICE:
It is our policy to notify customers if any part of a fragrance was changed for any reason. As of
June 19, 2019
our Brown Sugar and Fig was revised to meet our stringent safety standards to remove ingredients on the Prop 65 list. The original fragrance characteristics have been preserved. To see details of the previous version,
click here
.
Romantic and luxurious, Brown Sugar and Fig is a warm embrace for your senses. Top notes of ripe fig, caramelized sugar, and a touch of sea salt come through right away, while deep brown sugar makes up the heart of this fragrance. Dark musk and amber in the base reinforce the richness of this enticing scent. Brown Sugar and Fig is a classic scent for bath and body care products and is sure to be a bestseller all year long. Candles and melts made with this fragrance infuse elegance into spaces large and small. This fragrance oil is infused with natural essential oils including lemon.
Note Profile:
Top: Fig, Caramelized Sugar, Sea Salt
Middle: Brown Sugar, Green Floral
Base: Amber, Dark Musk

Suggested Colors: Brown, Pink
See our complete list of candle making dyes and soap colorants.
Note: Bottles filled by weight, levels may vary.
Properties
Candle Safe

Yes

Usage: 3-10%
Soap Safe

Yes

Usage: 3-6%
Vanillin Content
0.01% - 2%
Soy Performance
Flashpoint
> 225 °F
Phthalate Free
Yes
Prop 65 Warning Required
No
Diffuser Base Compatible
No
*Usage amounts are recommendations only. Individual usage amounts can vary based on your desired fragrance strength, wax type, soap base, or lotion base. See IFRA certificate for max usage levels.
Documents


Cold Process Soap Performance
| Acceleration | Discoloration | Separation |
| --- | --- | --- |
| Moderate | Tan | None |
Lye Water Temperature 118ºF
Oil temperature 118ºF
We did not experience any separation but there was some acceleration. Initially, the mixture was not creating an emulsion—we used the stick blender and stirred by hand quite a bit longer than usual just to create an emulsion. Once we had an emulsion, it came almost immediately to a medium trace. As we poured into the mold there were some areas that had come to a thick trace before the rest of the batter. After 24 hours, the soap was a bit soft but still unmolded easily. The bars discolored to a gold shade and were very strong and sweet smelling. We did observe that the soap reached a partial gel through the center. After 30 days the soap discolored to a tan shade and the scent was more balanced and very strong. Overall the batter stayed workable, just plan to work quickly and create a simple design. This would also be a good choice to do some piping on top if using a loaf mold.
Reviews
Smells great, everyone who smells this fragrance fall in love.
I don't like giving a star rating because this is purely subjective but this scent is very, very sickening sweet. If you want something that smells like butter, sugar, and more sugar then this would be the perfect scent for you! I was hoping for something a bit more subtle but this is hit-you-over-the-head strong.
Maybe a new personal fave!
I ordered a sample of this scent with a previous order. When I smelled it from the bottle, I thought it was a nice scent but that was about the end of it. Throughout that evening though, I kept getting a hint of a smell that was fabulous, and i kept wondering what it was. Then I realized I had gotten some of the FO on my hands, and I LOVED the scent. I ordered right away and even though some are saying it's a fall scent (which it probably is) it reminds me of the coziness of snuggling into your home mid-winter, and I'm releasing it as a January scent. I have been burning it the last few evenings as a tester, and I LOVE it! It's a bit heady, but I mean that in a good way. It's like a warm and cozy blanket.
I love this scent! My clients do too. I've been selling out of it all season. Going to reorder now to make more. I'm not typically a fan of food smell candles but this one isn't too "sweet".
I'm not pleased with this scent. I wish I had the opportunity to smell the old version but this isn't it.
I don't know what the previous version smelled like, but I am not a fan of this one. I doubt I will be reordering this fragrance again. There isn't even a hint of fig or brown sugar. I'm not quite sure what it smells like.
I love this scent but i am having a hard time getting a strong HT using 464 and a 10% FO. can you give me any suggestions please?
Hi! Thanks for reaching out to the Support Team so we could assist!
I am so sad you guys changed the scent so dramatically. It was loved by so many of my clients, now its said to be way to sweet and strong. Hoping that you will consider bringing back the original scent.
This is one of my favorite scents. I disagree with the 3 stars. My customers LOVE it! Great winter scent.
I almost didn't get this because of the reviews. I'm SO glad I gave it a shot. This scent is delicious! I've been looking for a fig scent for a long time and I finally found one I love! I tried another suppliers version of this and it was too perfumey. This one is sweet and perfection in wax. Thank you Candlescience!
I disagree with the negative reviews. Okay, the new version may not be a clone of the old version- but giving just one star, saying it smells like vinegar, acting like your business is about to shut down... That goes a bit too far! Guys, get real! Yes, there's a change and it was done so we can sell our products with a clear conscience. By no means whatsoever does this version stink and I bet my life we'll all still be able to sell our products just fine. Such negative reviews are unfair and misleading other customers to believe CS is selling garbage and no matter if I personally like one of their FOs or hate another.... I have yet to come across a bad one. The throw in Wax with CS FOs is always strong, in my opinion, you can't go wrong buying from this company. I just feel if we submit reviews, we have the responsibility to be as objective as possible. I HATE all florals but judge by quality and strength,if it's smelling like whatever it's supposed to be, so you won't see me giving one star just because I dislike the smell or because I "expected" it to be different. Again, I don't smell anything resending vinegar- I believe that's just some people being overly dramatic and I'm not trying to be a jerk, I just find it totally unfair because I am a person who reads reviews and oftentimes base my decisions off of reviews when I don't know a certain scent and had I not known this scent beforehand, I would have passed and missed out. This still is a beautiful and clean, strong scent of the typical great quality CS is known for. If you are new to crafting, CS is most definitely one of the superior suppliers !
This stuff smells DELICIOUS! My customers love it too!
Did anybody else use the brown sugar & fig body spray from bath and body works about 15 years ago?? Cuz this smells exactly like it, and it made me so happy lol
Love this scent! It doesn't punch you in the face with spices like some other fall scents do. It fits very nicely with my pecan, pumpkin spice, and apple fragrances as a more subtle option for this fall!
Miss the previous version. Hoping more changes come to improve this scent. I have a hard time selling it.
I have not tried the original version of this scent, but I am very happy with this new version that I received a sample of. It is a clean Fall scent and will fit right in with Pumpkin Spice and the Creme Brulee. I have a trunk show this weekend and will be testing it out. I can see how some reviews say it is more Brown Sugar than Fig, but I expect this to be a popular scent overall.
EVERYONE LOVES THIS SCENT!
I burned this scent at my job and my male coworkers were absolutely obsessed! It has a strong HT and really fills the room.
I had a great candle that was a favorite of my clients that used the Brown Sugar and Fig Type. Unfortunately, I will have to discontinue the candle. I have had people try the new scent and compare that to the Bath and Body Work smell. I can't stand it. I have to blow it out. The fig is overwhelming, stuffy, and too strong.
I had bought the candle science starter kit. Instead of using the blue spruce, I used this FO instead. I'm shocked at all the bad reviews on it. It has a great heat throw and cold throw! To me it smells like bath and body wall flower plug in fragrance. It is a sweet smell and I really like this one.
How can the lovely and strong Brown Sugar and Fig have so many bad reviews? This versatile must-have smells just like delicious brown sugar! It mixes beautifully with many scent combinations from bakery to earthy. Please don't discontinue it because of the reviews!
Very different from the original
I sadly agree with everyone else. The original brown sugar and fig was truly one of my favorites from candle science. I do not care For the reformulation at all. It's very different. The original was warm and intoxicating. The new one is syrupy sweet👎🏻
Please be bring the original sent back🙏🏻
I understand you have to reformulate and I appreciate you providing us with clean ingredients. It's always hard when something you really enjoy is gone. I Still love candle science, and I always look forward to the new products.
XOM
So, I have a wholesale order for Brown Sugar Fig and had a partial bottle left. I came online to purchase more and was reading the reviews on the NEW improved scent. I decided to order a sample and glad I did. This is no longer Brown Sugar Fig as we knew it. It's so different? I will have to purchase it from another vendor. I have noticed a few of the scents you improved on are less than an improvement and far more disappointing.
I have lost some of my favorites like Pink magnolia blossoms, watermelon (no more tangy elements) and a few others. I have noticed also something in the Fig Tree as well. It smells the same but with a little added something I can't put my finger on. It doesn't smell as smooth? or is it just me?
Revision is a horrible let down!
Bring back our original Brown Sugar & Fig (or at least the same fragrance notes)!!! I made the mistake of buying 32 ounces of this stuff under the promise that it would be 'the same or better'.. It is neither of those things. The old version smelled perfect, it was a customer favorite. This new version smells like balsamic vinegar and old cinnamon.. JUST WEIRD. Gunna lose some die hard repeat customers over this one.
I was just in love with this scent, now it isn't the same at all. Any chance you'll revise the revision? Please? I want my brown sugar and fig!
Brown sugar & fig used to be a favorite. Had so many requests. Used to smell just like the BBW fragrance. Since they changed it, it smells terrible - like wine that's gone bad. It smells nothing like it used to before. So disappointed. If changing something doesn't make it better, leave it alone.
I like, for health and safety reasons, that this has been revised to meet standards, yet I am not a fan of the scent after the revision. I loved the warmth and subtleness of the original scent. It now has an oddness to it that I'm not certain how to explain. It almost smells like the scent has gone bad. I am definitely missing the old scent!
The new scent recipe smells NOTHING like the previous. Totally screwed me on holiday orders. Not a fan at all.
I'm new to the whole making my own stuff so I'm new to your site this was one of the first fragrances I tried and I love it even my girls love it. I dont know what it used to smell like but we love the way it smells now.
Brown sugar & Fig ( discontinue version)
I brought this fragrance based on the reviews. I must say am quiet disapointed. I cant smell anything at all, neither sugar nor fig.
I brought 2 bottles of 80oz. Am wondering if i increase the scent pour from 6% to 10 % if that would be better. Until i try that quite disapointed especially with this quantity.
Liked the previous version better
This no longer smells like a dupe of the BBW scent. It's completely different now. No longer my favorite :/
I'm addicted and obsessed! Brown Sugar and Fig is a sophisticated combination of delectable and earthy scents! It smells just like the description to me. The fragrance is perfect on its own and magical mixed with other scents! I can't understand why anyone would think otherwise. It performs beautifully in candles, soaps and sprays.
Well I'm surprised by the bad reviews, I have the old version and the new version of Brown Sugar & Fig and I like the new one way better, I know it doesn't smell like BBW anymore, but it is a good scent. The sad part is I came back to Candle Science to order some wax tart soy wax (which is being discontinued), now I can't count on consistency for my product line and the SHIPPING HAS TRIPLED!!! Sorry CS you have lost a customer for life.
Hi! Thank you so much for the feedback. We are so sorry for the frustration of one of your waxes not being available. Sadly, EcoSoya closed their operations earlier this year so their waxes are no longer available. Our support team has reached out to you via email with some additional information. Please feel free to follow-up if we can assist further.
Not what it used to be at all. A considerable shift from the previous version. Happy it's safer/cleaner, but definitely not one I would continue to carry in my collection.
This scent has been DRASTICALLY changed. It no longer smells like the B&BW scent. It smells like brandy and fruit. I am SUPER disappointed. This was my best selling scent and I bought a 16 oz bottle of this to restock products. Can't use it.
Well, we lost Brown Sugar Fig
Brown Sugar Fig was my favorite scent, soaring over all others; really. I make a ton of these candles and I really didn't expect that it would change this much. I mean we're talking; I had found my happy place for aroma therapy. The throw was so perfect. I need to find a replacement if possible, but part of me says, screw it. I'm so tired of these changes that mess everything up. All the time and money wasted doing more research and testing. Someone said to me, why don't you do it then. And I'm thinking to myself, I'm not mafia enough to be in the candle or fragrance supply business. I'd change the name to Brown Sugar. It smells nothing like the 'toxic' version. I'm so sad/mad. I'd like know where to get the other, original scent. What was I thinking? My mind! It must be going south or something. Buttered Brown Sugar maybe. I have NOT read any reviews, another mistake I've made lately. I'll read them now. Rant complete.
This is so luxurious. I love it and so do our customers. I'm shocked by the other reviews. It's amazing!!
I was hoping to smell more brown sugar than fig. I did not like this scent at all, but for those looking for Fig and sweetness scent I would recommend this FO.
The discontinued Brown Sugar and Fig was one of my very favorite scent CS sold. This new version isn't even close. It smells mainly like artificial caramel and no trace of fig.
Disappointed with the revised scent, it's not nearly identical to the old fragrance. It's smells more chocolatey.
Received this fragrance as a free sample, made goat's milk soap with it... Wowsers it smells amazing, difficulty on my re-order list 🥰.