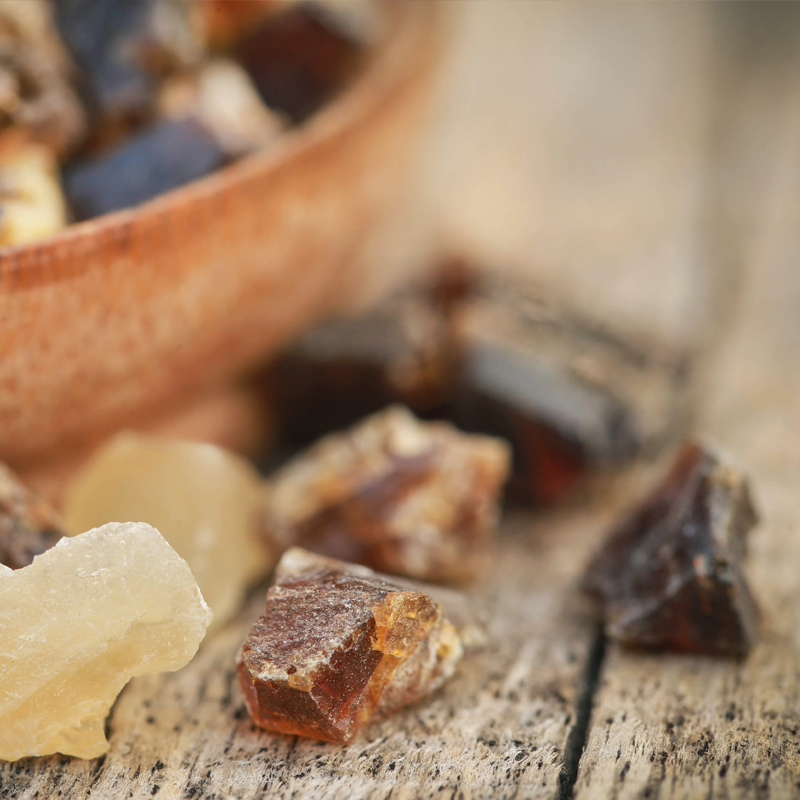 Ready to Order?
Ships from East Coast. Expected: West Coast 6/17
Ships from East Coast. Expected: West Coast 6/17
Ships from East Coast. Expected: West Coast 5/19
6+ 5lb Jugs
$84.84
$1.06 /oz
12+ 5lb Jugs
$76.36
$0.95 /oz
Safer Scents For The Home
CandleScience Clean Scents™ are free from carcinogens, reproductive toxins, and other potentially hazardous chemicals often found in fragrance. Choose Clean Scents and create safer home fragrance products you and your customers can enjoy with confidence.
Read More >
Details
REVISION NOTICE:
It is our policy to notify customers if any part of a fragrance was changed for any reason. As of
April 21, 2020
our Frankincense and Myrrh was revised to meet our stringent safety standards to remove ingredients on the Prop 65 list. The original strength and fragrance characteristics have been preserved. To see details of the previous version,
click here
.
Derived from tree sap, frankincense and myrrh are fragrant resins highly valued for incense and perfumes. Our Frankincense and Myrrh fragrance oil captures the essence of these enduring scents used for millennia. Hints of citrusy bergamot and amber open up to a heart of resinous myrrh and frankincense. The wood and incense notes are softened by powder and oud in the base. Olibanum, patchouli, and coriander seed essential oils reinforce the earthiness of Frankincense and Myrrh in candles and melts. Body scrubs, lotions, and soap made with this scent give an elegant and unique twist to your handmade creations.
This fragrance is infused with natural essential oils, including coriander seed, cumin, lemon, orange, patchouli, and olibanum.
Note Profile:
Top: Bergamot
Middle: Amber
Base: Frankincense, Myrrh, Oud, Powder

Suggested Colors: Brown, Gold, Ivory
See our complete list of candle making dyes and soap colorants.
Note: Bottles filled by weight, levels may vary.
Properties
Candle Safe

Yes

Usage: 3-10%
Soap Safe

Yes

Usage: 2-3%
Vanillin Content
More than 5%
Soy Performance
Flashpoint
188 °F
Phthalate Free
Yes
Prop 65 Warning Required
No
Diffuser Base Compatible
No
*Usage amounts are recommendations only. Individual usage amounts can vary based on your desired fragrance strength, wax type, soap base, or lotion base. See IFRA certificate for max usage levels.
Documents


Cold Process Soap Performance
| Acceleration | Discoloration | Separation |
| --- | --- | --- |
| Slight | Brown | None |
Lye Water Temperature 106ºF
Oil temperature 114ºF
We did experience slight acceleration but no separation. The batter came to a light trace quickly and started to thicken with some hand stirring. Overall the batter remained workable and poured smoothly into the mold. After 24 hours, the soap had discolored to a dark yellowish-brown color. The scent was light but still true to the out of bottle character. We did observe that the soap reached a partial gel. After 30 days, the soap has discolored to a brown shade and the scent was slightly stronger than after the initial cut. This fragrance would be ideal for a design technique that requires a thick trace.
*Note - This fragrance was tested at a 5% fragrance load. With the release of IFRAs 49th Amendment this fragrance can now be used at 3.54% to remain IFRA compliant.
Reviews
Not for everyone but it's special
It smells so good in my incense! Please don't discontinue.
This does not smell like the true frankincense and Myrrh to me. But, I LOVE it. I have tried many other FO's and this is the only one that works well with my Patchouli Soap. It is divine and people (men) Love it. I do not get a powder or chocolate smell at all (as noted in other reviews).
I will admit, I liked the other version better, but this is also a keeper. Don't change it!!!
I love this fragrance oil! Reminds you of a temple in the middle east! Candle Science Fos have a great hot throw! Very happy with this company!
This scent is unique and popular with my customers!
This is SO strong and unique. I sold out during the holidays and I'm contemplating carrying it year round. It smells like a memory. Everyone who smells it says the same thing. I absolutely love it. Please don't stop carrying it!
I have faithfully purchased this scent for years but actually thought that CS has bottled something else (like chocolate) when I opened my recent reformulated bottle. This is no where near the original scent, please rework this as it's a customer favorite for myself and many others.
The new Clean Scent version is not a hit with our customers. We've actually had candles returned for refund.
Me and my clients absolutely love this scent. It is one of my best sellers!
Very disappointed in this scent. The powder is so strong, I cannot smell any other notes. I think calling it frankincense and myrrh is incredibly misleading because none of those scents are distinguishable.
It's not for everyone but some of my customers are always asking for this scent.
This fragrance is subtle and just gorgeous, light but bold a fills the space where the candle is burning
Love this scent! It's not exactly Frankincense and Myrrh but they are.in there.
I have bought F&M from EVERY SINGLE major candle supply site and this is the best one.
This was a very popular scent of mine. However, with the adjustment(s) made, my customers hate this scent and I have to agree with them. The previous version was MUCH better. Will not be ordering again, and will likely be throwing out my current bottle.
Great scent throw just like an incense in a bottle 😉
Was on the fence, but it's still the same!
I originally bought a 4 ounce bottle of the original version of this scent because I was on the fence about the scent in general, well I finally used it to make some wax melts and once I used it, I was like this has to be a regular in my line up. So, I got on to order another bottle and seen that it had been updated to the cleaner scents version and I was bummed, but like any other scent and it doesn't matter what company it's from, I look at the reviews and weigh the good and the bad reviews. Well, I was really worried when all the comments were coming up with a coffee scent to the new version and it had me running all over to find a back up incase this really did smell like coffee, well I am not sure where the coffee scent everyone is coming up with for this new version, because it smells the same as the old version and I am glad I took the leap and bought another bottle! Thank you Candle Science for another well done fragrance.
Love this earthy scent by itself or mixed with others!!
This scent was a favorite to most of my customers and now it smells like burnt coffee to me. I hope I can find something similar to the original scent, i don't even want to use the one I got. :(
Hi! A member of the Support Team has reached out to assist!
This one is a quandary. It doesn't smell like Frankincense or Myrrh, but there's a certain inexplicable allure to it. The smell reminds me of being in a late-night Italian coffee shop where the patrons are drinking espressos and eating spumoni. Name/branding definitely needs to be changed. But I understand the polarizing effect .. you either love this one, or you hate it.
I love this scent. After a proper cure time it filled my home with a lovely earthy, soft but strong, powdery, incensy smell that lingered after it was extinguished. A fantastic smell that is noticed but not over powering. Just lovely. Thank you Candle Science.
Another changed oil that is not even close
I ruined a whole pitch of a blended fragrance with the F&M being added last and not realizing the change until my whole studio smelled of strong coffee. this will make for the 4th popular candle we have had to discontinue due to changes in formula or the oil being taken off the site.
The Worst Kind of Frankincense & Myrrh Scent Ever!
I'm new to CS and a huge fan of frankincense and myrrh scents. I've smelled various blends of it from other suppliers - some with powdery notes, some with vanilla notes, patchouli notes, etc. This has got to be a blend gone all wrong. It is terrible as if they purposely tried to ruin this scent. Albeit other suppliers' versions didn't smell exactly like pure frankincense & myrrh, at least they smelled good. This smells like coffee and it makes me sick to my stomach and gives me a headache. This should never be called frankincense & myrrh. I see a lot of other reviewers on here are requesting that CS change it back to the previous formula. Well, I'm looking forward to that day or when they decide to make a better version. I highly would not recommend!
This Frank and Myrrh that I ordered smells nothing like the original that I ordered last year. It smells just like the Fresh Coffee that I have ordered before from CS. I called to see if the bottle had been mislabeled and they were kind enough to send me a replacement bottle of Frank and Myrrh. The new bottle smells the same...just like the Fresh Coffee. I was so confused and then I saw on the website that CS had changed the recipe to comply with CA rules. Please tell me that this bottle has been mislabeled. I used it to make more of my Frank and Myrrh soap for Christmas. The scent does not improve in a product. I cannot use this product in my soap. I had several people test the scent and they agreed that it was not at all appealing. I may be able to use it in a candle to pass as Fresh Coffee since that is what it smells like. I just LOVED the original scent. I could understand if the scent was somewhat different but it is NOTHING like the original. Very disappointed.
Hi! We're glad to have helped troubleshoot this for you!
Love 'Frankincense and Myrrh'
I love this scent, it truly is a holiday smell, it is strong and might not be for everyone.
Really looking forward to offering it in candles this year.
We had just ordered a 16 oz of this scent. OMG I had almost passed out because it smelled like old coffee & rotten food. We were in the middle of making a batch of soap, and had to throw it out. Waste of time, money and effort. No matter what, the fragrance was terrible. We initially thought it was mislabeled and compared the fragrance with a smaller bottle of Frankincense & Myrrh. Totally different scents. Please refund or replace this bottle and do not sell this fragrance to your CS loyal customers. It is terrible. Thanks
Hi there! A member of our support team has reached out to assist further!
This is a follow up to my 10-17-20 review and I must say, CS you definitely deserve the 5 stars for frankincense and myrrh as well as your exceptional customer service. As well as writing the 1 star review on the 17th, I also sent an email. I was completely surprised today, only 3 days later, when I received a box from CS with replacement fragrance. I had'nt even checked yet to see if there was a response to my email. I sent it on friday, today is only monday, I figured I would here back from CS during the week sometime. I must say, CS response was much more than I hoped for. The icing on the cake was that the replacement smelled nothing like how I explained it in the initial review. This frankincense and myrrh is amazing, the same as it has always been. Thank you CS for continuing to produce quality fragrances and for treating me as though having my business, as small as it is, is important to you. Excellent Customer Service (CS)
I really wasn't sure what to expect from this scent. However, l was highly surprised and disappointed that it smelled horribly. I didn't pick up any of the listed notes in this scent. I ordered the same scent from a different company for comparison and it was 2 totally different scents. I love CS but I am not sure about this scent.
I have been getting products from CS for over 2 yrs now and have never had an issue. I have also purchased this fragrance before. When I opened the bottle to smell, I immediately gagged. I was taken off guard as I was expecting to smell something totally different. I actually thought they had made a mistake by putting some type of strong coffee fragrance in the bottle instead of frankincense and myrrh. I did reach out and waiting on a response. To make sure I was'nt losing it, I had a small amount left over from last year so I opened that. The two smell nothing alike. The scent from last year smells amazing. After comparing, I really thought there was a mistake made until reading other reviews. It looks like I'm not the only one smelling coffee. Hopefully CS will allow me to exchange it for a different scent.
Thank you for letting us assist with this!
I honestly don't understand the negative reviews! I get that not everyone likes the same things, but I wonder if they really gave it a chance??? ...like the right combo of fragrance load, wicking, container, TIME TO CURE and TESTING! Not sure what their expectations are but I am absolutely obsessed with this fragrance. Masculine, resinous, earthy scents are my favorite and this one is truly amazing. There is just a hint of sweetness that draws you in. It's intoxicating. I don't know what the previous version smelled like, so I have nothing to compare it to but this one is, hand's down ( or two hands up!! ), one of my top favorites that I purchased so far. Being a fairly new candle maker, I did find this one a little tricky to wick with the wax I'm currently using. However, I was determined to make it work because It. Is. That. Good!!! After a bit of testing, I finally nailed it. I'm so excited to have this one in my signature line all year long. Thank you, CS, for all of your hard work and dedication to bring us eco conscious, quality products. The majority of your customers DO CARE about Clean Scents and being able to pass that quality on to our customers. And thank you for working so hard to SAFELY keep things running. So grateful. You guys are the best! <3
I've been buying several oils from Candle science lately and this one really misses the mark. It smells nothing like frankincense or myrrh. I'm well aquatinted with both. It has a strange coffee smell and overtakes any blend you make. I reached out to CandleScience about being very confused at the scent and how it smells nothing like what they are marketing and I was just given the run around and 20 questioned. I made two candles and 4 clamshell melts with it, and it's revolting. Immediately threw it away since CS basically refused to exchange it for me. Disappointing because so far I was liking this company.
This used to be a rich, complex, spicy scent. My customers would smell these candles and immediately say "ooooo I love that". Now when they smell them they say "baby powder?" The revised scent is horrible. Going to have to discontinue from my line as it was a top seller. Booooooo Candle Science. You've got to do better when revising scents.
I got this because it's in the Bible and I tell you what, this fragrance is amazing.. Top seller of mine.. I use it in 464 and the throw is simply amazing.. Fills the WHOLE ROOM, no problem at 6% too.. Yes, I would for sure recommend this one..
Not really what I expected...
I bought this in a sample size just to try it out, as i'm fairly new to the candle making industry. Smelling the scent straight out the bottle had me mesmerized. After i made that small batch i was pretty pleased with the finished product. CT was awesome but when i burned the candle for 5 hours straight and still no HT at all. I was highly disappointed but Im definitely going to try again because i love this fragrance.
Hi! A member of our team will be reaching out shortly!
I made soap with this and candles and I'm sold out after ordering this several times. Soaps beautifully and smells so wonderful . The scent sticks great after cure!! Back for more!!
THIS IS A TOP SELELR FOR ME ORDERING MY 3RD 5LB. IT FLIES OFF THE SHELVES EVEN FOR MY WHOLESALE ACCTS. 1 OZ PER 11OZ CANDLE IS ALL YOU NEED 2 DAYS CURE AND BOOM STRONG ENOUGH TO FILL A HUGE LIVING ROOM WITH CATHEDRAL CEILINGS
I absolutely love this!! I was looking for an FO to compliment my nag champa and I got this one as a sample it smells JUST like when I freshly crush frankincense resin in my mortar and pestle. Thank you!!!
THANK YOU FOR MAKING CLEANER SCENTS
THANK YOU for making cleaner scents. Most DO want and need cleaner scents. I love this blend and use it in many different combinations that we make.
Owner of small, independent candle company
I won't even try this...the original frankincense and myrrh was a consistent seller at Christmas and a fav of a personal friend....the "re-makes" of established oils is UNNERVING. Cranberry Marmalade...Carmelized Praline...Pumpkin Souffle...Red Currant... So many beautiful fragrances, strong in soy wax.....GONE. I EMPLORE Candle Science to STOP changing all the formulations. You are NOT in CA. The majority of your customers don't care about CA rules/regulations. If you want to cater to CA -- FINE. But offer BOTH!! A win/win for everyone.
I thought it smelled very perfumey, I didn't get any of the frankincense notes, I thought it would be mote like the resins I burn, very different.
I love the scent but I didn't go for it because of the Prop 65 list. I'm glad that CS revised to meet the safety standard. But, I hope it's also available to include as a free sample. I was going to order some supply and to include this new revised scent as a free sample but it wasn't available there. Same as Calla Lily 1 oz Bottle sample. Can you please include this to the free sample list? :)
Absolutely love this scent! Great CT and HT! Also nice mixed with other scents
I love this fragrance. I can't stop smelling it. It has a very therapeutic effect to it.
Bring the Old Fragrance Back Please
Absolutely loved the former fragrance oil that CS made for their Frankincense & Myrrh. Sadly the new one is just awful. It smells like a cheap cologne from a stand in the mall. Please bring back the old formula! It was so lovely. This one is terrible and I would recommend finding a Frankincense oil elsewhere.
I bought a 1 oz bottle to make cold process soap. I fell in love with this scent . It is intoxicating, it's strong and just a wonderful winter scent! I came back and bought a 4 oz bottle. Can't wait to make more soap and candles with this in the fall!!
I love the small so much but there's not too much of a hot throw.
best seller for my chakra candles @soysoulections candle company.
The new version of this is super perfumey. will have to find a new supplier for this scent. I miss the muskiness of the scent.
This has great cold and hot throw and smells very high quality. It's an exact dupe of Diptyque's Opoponax, which isn't for everyone, but I love it — powdery, perfumey, narcotic. Will be ordering this in bulk, thanks!
This NEW version of Frankincense and Myrrh is terrible. I mean absolute garbage. It's nothing at all like the previous version. It's too subtle (meaning you can hardly smell it). Absolute garbage. I hate writing bad reviews but people need to know. CS you completely whiffed on this one. You took one of my best selling fragrances and made it obsolete. I'll have to look elsewhere now.
This fragrance oil had me sweating in my cold process soap making. I had a lot of separation, discoloration, and not so much acceleration. I will try to use again at a lower usage rate. I used it at 4%, whew chile... I was scared! I'm waiting to unmold, I'll update if everything comes out okay. Right now it looks like a gel phase of a hot process.
3 Stars because I love the smell, but not sure if I'll buy this oil again.
Great to mix with other scents
I haven't had much success with frankincense & myrrh alone in my candles, BUT it is wonderful to mix with other fragrances. It converts other fragrances into darker more sensual aromas. My favorite combination so far has been with apples & maple bourbon.
Nothing like the original
I'm so bummed. The original scent smelled more masculine like cologne and this one smells smells like black pepper upon nose testing. It's very different and I'm sure my customers are going to notice. This was for one of my best sellers and now I'm going to have to discontinue until I find the right scent.
Scent is too much different
Not a fan of the NEW SCENT. It is too much different. The old scent was in one of my best selling candles. I have been asked what I have done to my products, and I am super disappointed. They aren't the same, don't smell the same at all. I'm just hoping it doesn't affect my sales volume/ratings. :(
Spicy & Delicately Sweet with Woody Undertones
If you have burnt incense resin on charcoal you are familiar with the spicy, deep and delicately sweet with woody undertones of this ancient ritual. This FO captures the sweet, earthy and aromatic fragrance of both frankincense and myrrh and is true to its name. Poured as a stand-alone candle in IGI 6006 wax this FO performed great! I also blended this with Nag Champa + Patchouli + Frankincense and Myrrh (all three FO from CS and mixed in equal parts) = PEACE. Many of us are still under stay at home orders by our states, and this soothing blend of ethereal incense and earthly resin conjures the perfect space to escape everything that is going on in the world and just be at peace. This was a great way to reflect on the more peaceful aspects of the day. Be well and stay safe!