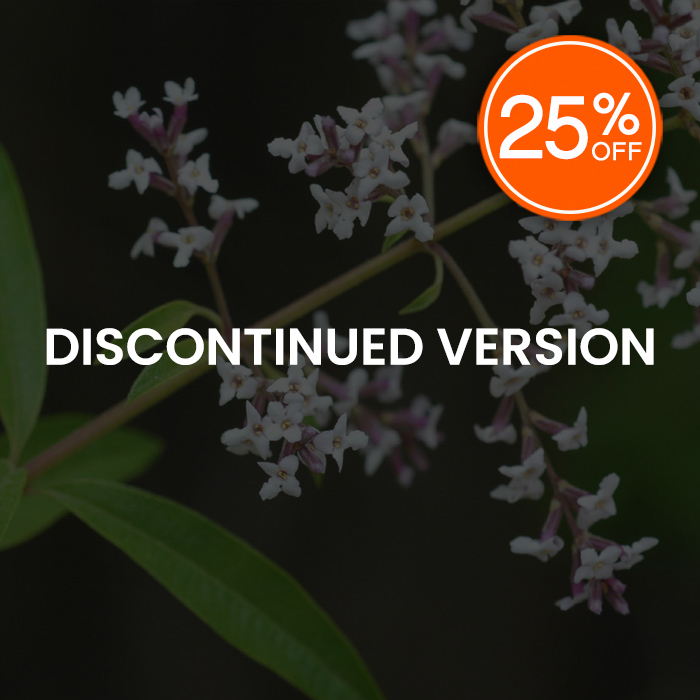 Ready to Order?
6+ 5lb Jugs
$63.63
$0.80 /oz
12+ 5lb Jugs
$57.27
$0.72 /oz

Lemon Verbena Revision: It is CandleScience policy to notify customers if any part of a fragrance has been changed for any reason...even when the revised fragrance cannot be distinguished from the old one by our fragrance testing panel.
Our Lemon Verbena has been revised to meet our new stringent safety standards to remove ingredients with similar characteristics to phthalates and those on the Prop 65 List. We will ensure that the revised fragrance maintains the original strength and fragrance characteristics, so you will be able to use the revised fragrance worry-free. The new version is available here.
Details
Spunky lemon and floral verbena combine in this uplifting citrus delight. The scent begins with bright lemon that gives way to a heart of lemon verbena and lemongrass. A vanilla base note grounds this beautiful herbal citrus fragrance.
This fragrance oil is infused with natural essential oils, including citronella, lemon and orange.
Note Profile:
Top: Lemon
Middle: Lemon Verbena, Lemongrass, Sugar
Base: Vanilla

Lemon Verbena Revision
It is Candlescience policy to notify customers if any part of a fragrance has been changed for any reason - even when the revised fragrance cannot be distinguished from the old one by our test panel. As of October 4, 2012 our Lemon Verbena Fragrance has been revised to achieve a higher flashpoint. The original strength and fragrance characteristics have been preserved, so you can continue to use this fragrance worry free.


Suggested Colors: Yellow, Gold, Ivory
See our complete list of candle making dyes.
Note: Bottles filled by weight, levels may vary.
Properties
Candle Safe

Yes

Usage: 3-10%
Soap Safe

Yes

Usage: 3-6%
Lotion Safe

Yes

Usage: 1-2%
Vanillin Content
0.01% - 2%
Soy Performance
Flashpoint
147 °F
Phthalate Free
Yes
Prop 65 Warning Required
No
Diffuser Base Compatible
Yes; Up to 25%
*Usage amounts are recommendations only. Individual usage amounts can vary based on your desired fragrance strength, wax type, soap base, or lotion base. See IFRA certificate for max usage levels.
Documents


Cold Process Soap Performance
| Acceleration | Discoloration | Separation |
| --- | --- | --- |
| Slight | Light Yellow | None |
Lye Water temperature 96ºF
Oil temperature 100ºF
We experienced slight acceleration but no separation. It appears like we experienced a false trace due to the low temperature of the oils. We continued to stick blend, and as the batter heated up it became thinner and more fluid. Expect to work fast with this fragrance, but you should have time to do some design work if needed. After 24 hours we noticed a small amount of fragrance had pooled on the surface. After the cure, the scent was strong, and the soap was a pale yellow shade.
Reviews
I love this fragrance in soap! When will it appear again?
I had hoped this would be a more complex scent w/the verbena and lemongrass showing through more. To me this is just pure sweet lemon, nice, but not my fave.
I presented this fragrance to my customers only making 6 jars and I ran out the very first day, I will be buying a larger size thanks candle science the fragrance is absolutely amazing.
This scent is a top seller for me!! It smells like lemon candy and my customers love it. It's great with lavender, my favorite so far!!
If you are a true lemon lover like me, this fragrance is for you. My 464 candles had wonderful CT and HT. Definitely one of my favorites.
Terrible smells like dirty socks. Discontinue it please.
I love, love this FO. I made a candle for my sister using this FO and she loved it also. I purchased a 1 oz, bottle and will buy a bigger bottle in the further. It's a keeper.
Smells like Lemon Bug spray?
I was super excited to try this based on previous reviews, the cold scent and out of the bottle scent was amazing. Let my batch sit for their 2 week curing process, everyone in the house would open a jar up to get a nice lemony waft of scent...
We started to burn a tester candle today;
Let me tell you -- it smells like lemon scented bug spray. I am super disappointed as now I've just lost out on 6 candles sales because I wouldn't offer this candle scent to me worst enemy.
Used in soy 464. Not great hot throw, but this smells very strange. Slight fuel and chemical burning smell, definitely off-putting and terrible.
The cold throw was just ok but there is absolutely no hot throw what so ever (6006 wax)! Very disappointed!
Hi there! Our Support Team will reach out via email shortly!
I started my candle journey and candlescience has been awesome! Every fragrance I've tried has been great. My tester candles are bringing people back so I have to stay stocked with a variety of fragrances. The quality is superb! However, this lemon verbena took the cake for me. The refreshing aroma of the lemon is delightful! This is definitely my personal favorite!
This smells absolutely amazing I loveeee the smell of lemon. CT it smells amazing can't wait to see how it smells HT...Will purchase again!!!
My son requested a lemon scented candle so I wanted to give this a try. I poured it last night and after only curing overnight I lit it this morning for my son and it's STRONG! I can smell it through the house even with his bedroom door shut, it cured a total of 10 hours before being lit so I can only imagine that if it was left to cure a full 1-2 weeks it would easily scent my entire house. If you're looking for a strong lemon fragrance this is it!
For reference: used 464 soy wax, 10% fragrance added at 160° and poured at 140°
one of my all-time favorites!!!!
WOW. I was not expecting to like this scent as much as I did. I have to stop myself from snacking on my soap!!! Made a lemon poppyseed one with this and it just smells delectable, just like lemon bars or muffins or some kind of lemony dessert! I was surprised that it's a little sweet, but it's so perfect. I was going back and forth between lemon pound cake but was worried that would be too sweet, and i'm glad i went with this. It just smells divine.
This FO is soothing and smells so good. No complaints!
I do not smell much verbena in this but it does smell like a sugary lemon candy and I love it. I've been looking for something like this for a long time and finally ordered a sample. I'll be back for a bigger bottle.
Used this in cold process soap. I soaped at room temp. There was no acceleration (I think it actually slowed down trace), no ricing and no discoloration. I really enjoy the scent. It may have a little bit of a chemical cleaner scent, but it is super faint. I already have customer anxious for it to finish curing.
So, originally i really loved this one! My husband had it burning while i wasnt home. When i walked in the door i thought he had used lemon pledge. But, no, it was my candle. :(
Great hot and cold throws! Smells like a lemon drop. 464 8% fl
It has way more of a sweet smell that what I thought it would. It smells like the lemon drop candy. Its okay, its not my favorite personally. But some people really like it.
Smells like a lemon drop. I used 464, with an 8% FL. Has a great CT, haven't burned it yet but I'm sure I'll love the HT as well.
Lovely, fresh lemon scent. It smells like a lemon skittle! The scent is strong and clean! I love it!
Personally, I think it doesn't smell like verbena, it smells like Key Lime pie. However, my customers love it.
Wonderfully true & authentic lemon verbena aroma & WOW is the scent potent in CP! Hands down, the most zesty, botanical & fresh lemon verbena fragrance I've ever smelled! Doesn't get any better than this, and in a fast-moving recipe with steep liquid discount, this FO actually thinned trace for me, giving me all the time in the world to work at my own peaceful pace! The scent survived CPOP beautifully! In every aspect, I am thoroughly impressed with this fragrance! It's truly lovely!
Smells just like lemon head candies
This is my new go to scent I LOVE IT. Customers can get enough of the smell
Love this scent, used for making candles with 464 soy wax
This is a beautiful lemon scent but I grow lemon verbena and it doesn't smell like this. This smells just like the little hard candy "Lemon drops". I hope it sells as good as I think it will. Used at 9% in para soy blend it turns the wax a yellow - gold tint and it sinks so I heat the oven to 170° and turn it off and l put the candles in the warm cooling oven to slow down the cooling process to eliminate sinking.
Chandler, L'abécédaireSTL, LLC
We fell in love with this fragrance right out of the bottle, with its fresh lemon scent...however, the warm throw is terrible. We've tried this fragrance in three different strengths thus far, all using a base of GB 464...1oz/1lb, 1.25oz/1lb, and 1.5oz/1lb...for all three batches, the throw was nearly imperceptible unless directly over the flame. We've chosen to discontinue offering this fragrance from our line.
I absolutely love this fragrance it does smell like lemon pledge; I gave one to a customer and she left it in her car with the lid off and the next day she said her whole car smelled so fresh and clean; so she bought 5 more for the house and her husbands car/ they are using them as car freshners sooo funny; really a great scent throw both hot and cold; I used them in the 4oz jelly jar and 4oz cans; soy wax gw-464 and I used the eco 10 wic size perfect flame perfect scent I would recommend
I have a lot of customers request lemon. This fragrance is amazing! Reminds me of lemon essential oil and vanilla
This definitely smells a lot like lemon Pledge, but I don't hate that smell, so I rather like it. But don't expect a true lemon smell. Performs well in GB 464.
Can someone tell me if this scent is similar to Meyer's brand Lemon Verbena scented hand soap?
Love this scent--it's cheerful and sunny with a touch of sweetness. Doesn't read as artificial to me and it's a great scent to burn during the dreary days of winter.
I'm not a fan of this at all. I love Lemon Verbena candles, and was so hopeful to find this scent to be fresh and light. Instead, it smells an awful lot like the dusting spray of my youth. It's an artificial lemon scent, not a lemon verbena scent. Very unfortunate, but glad I only bought 2oz worth. Hopefully someone finds it appealing.
Lemon Verbena is one of my favorite scents so I was really excited about this, but I just can't get it to have a hot throw at all. Cold throw is great, but when burned, nothing. I even tried adding 2x the amount (2oz/lb of soy wax) and still didn't get any hot throw at all.
I really like this scent. It's one of my first scents I used when I started making candles. My mom always requests Lemon Verbena when I'm making a new batch
I am a lover of all things lemon, and this scent was somewhat disappointing. Both out of the bottle and the cold throw smelled AMAZING, but while burning it had a strong chemical smell that reminded me of citronella. I wasn't impressed.
This scent smells great in the bottle but the hot throw is terrible. I did a test burn and it smelled like burnt lemon wax. I did 2 batches to see if one batch was bad but both smelled terrible.
I bought a lemon verbena candle a few months ago and loved it so much as a morning candle. So fresh and lovely. I had already wanted to start making candles and was worried I wouldn't be able to duplicate that smell, but this fragrance is awesome! I used 1 ounce for 1 pound of wax and it smells amazing. It's not an overpowering, sharp smell. It's very pleasant.
Recieved the Lemon Verbena loved the scent then noticed it was for candles only.I need it for soap. One of the reviews said she used it for soap.Who is correct? I have used Lemon Verbena before from another company.
Very happy with the fragrance throw.
This is a must buy scent its my personal fave out of the bunch i bought! Great fragrance throw in soy wax. Very pleased!
I ordered a 1 oz bottle to see how well it would both soap in cold process and also how well it would be received by my customers. OH BOY! Soaps great and the batch I made sold the first day at the market where I sell. Please get it back in stock ASAP!
I bought this to make a candle for my mother (who is a doll, but can be hard to please)and I am happy to say she loved it. A nice sutble scent.
This one was a bit of a miss for me. I adore CS frag this is the first I have smelled that was a bit "cheap" for me but I had a few of my testers really enjoy it so I will keep it around, but its not a personal favorite.
I absolutely love this fragrance and so do my customers. It is a fresh lemon smell with just the right amount of tartness and an slight herbal note in the background. The best part is is palm there is no fuel smell and it has a great hot throw!
This is an out of bottle review as I literally JUST got my shipment in, but wow does this smell nice! Reminds me a lot of litsea. Really excited to put this in wax!
Big fan of Verbena, and that with Lemon is an A+!
WOW!
Very pleasant Lemon Verbena!
My first order with Candlescience and I was very pleasantly surprised with this scent. Very lemony but not too tangy - I highly recommend this one. Customers love it!
I am sorry, bad review here...It smells like Pledge dusting spray to me. Not clean and fresh like I look for in a lemon scent.
I'm not a lemon fan but this is good. I gave it a 5 because its a great smell. Excellent hot and cold throw.
This one is so invigorating, it makes me want to dance! The most common remark I get on it is that it reminds people of a lemon jelly bean, it is so sweet you can almost taste it. I like it but it is a little too sweet for me.