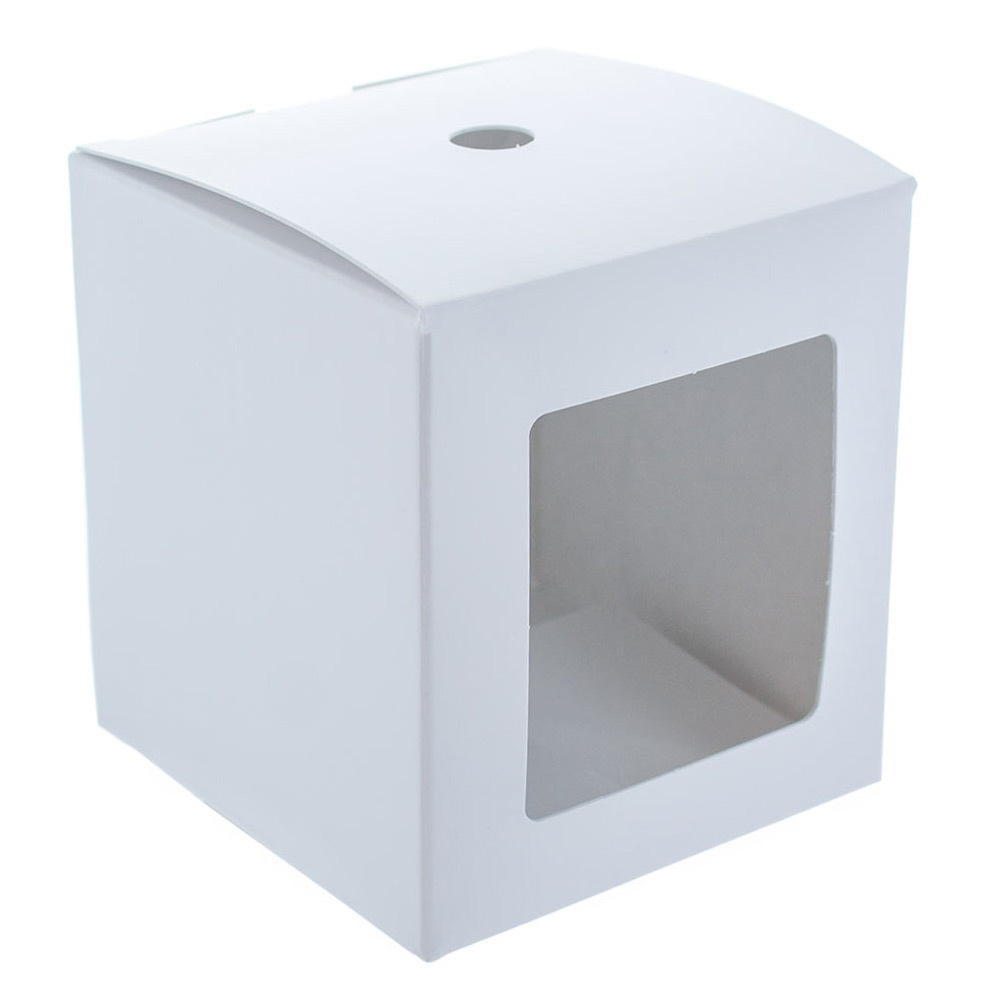 Ready to Order?
5+ Cases
$89.90
$0.62 /pc
White Tumbler Box 12 pc Box is expected back in stock at our Nevada location on Thursday, 4/2
Details
New Low Price!

Looking for professional style candle packaging that attracts customers?

Our new tumbler boxes will give your finished candles a professional look with handcrafted charm. Each box is constructed from heavy weight paper board and "pops" into shape in seconds. The custom box design securely encloses the classic tumbler and cube jar for a snug fit. Perfect for packaging your finished candles as gifts or for retail.

Boxes are packaged flat for economic shipping.

Made in the USA
Properties
| | |
| --- | --- |
| Side Panels | 3 9/16" x 3 29/32" |
| Top / Bottom | 3 17/32" x 3 17/32" |
| Front Cut Out | 2 1/4" x 2 1/2" |
| Prop 65 Warning Required | No |
Reviews
Great buy for the price. Ideal for storing and display. Fits those square libby dollar tree jars perfectly.
I use the straight sided Libby jars with a lid and the box is slightly bigger than the jar, but it's no big deal. The only reason I use this box is because the straight sided box won't allow me to have a lid on my candles because it's too sung. I love how there's a window so my label is displayed perfectly and I don't have to put put one on the box. My only complaint is the hole on top isn't a good look for my preference. If you're going to use a candle with a lid then you don't need the hole to be able to smell it since the candle is covered. I wish there was a no hole option so the box looked nicer.
Nice, but some drawbacks.
I like this box. I have purchased and used these. There are some drawbacks, though. These may only pertain to me, but I'll throw out a suggestion or two. I have a cube jar that fits this box perfectly. The product I make using my cube container has a wood wick, and this package hides that feature. A dust cover of some sort would be ideal. I've searched the market online and finding anything other than a round dust cover has proven fruitless. A squared off dust cover with either a larger hole on the lid or a clear top would work great for me.
I am very Pleased with these boxes. The only problem I found was there was a little too much room for the jar I used. This was easily fixed by adding a little tissue paper in the back so it fix snug. It looks very professional and my label fit perfectly in the window. I had no faulty boxes at all.
This box couldn't be any more perfect, or better made. I purchased them around Valentine's Day and they worked perfectly.
Box looks nice, but the bottom of the box has a spot that is glued, such that when you try to unfold it, it tears a little. I have pictures available if you want to see what I'm talking about. Is this normal?