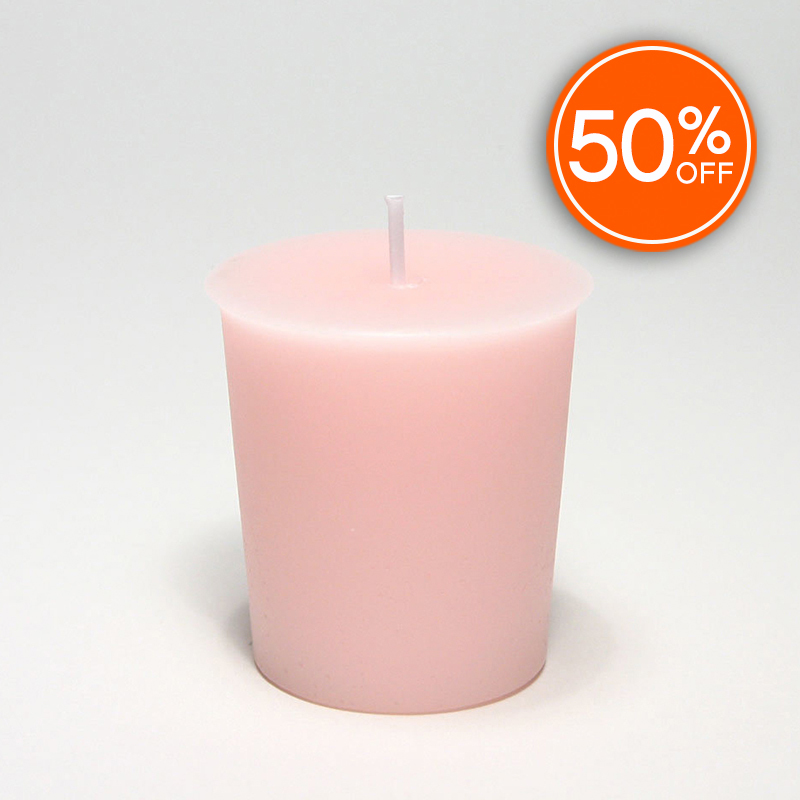 As of 12/10/2018:
This product is discontinued and no longer available.
Details
For a similar candle dye we recommend our Pale Pink Dye Blocks. It is more concentrated, so you can use less of the dye block to achieve the same color as the dye chips.

Our dye chips are packed in foil bags that virtually eliminate color from bleeding through the bag and staining other surfaces.

Fragrance Oil Recommendations: Baby Powder, Cotton Candy, Hydrangea , Japanese Cherry Blossom

Made in the USA
Directions:
The candle in the picture was made with 1 dye chip in a pound of IGI 4794 paraffin wax. For soy, parasoy, or other natural waxes you may need to use 2 or more chips to achieve a similar color.

Add dye chips to wax at 185 degrees or higher to ensure they'll dissolve completely.
Properties
| | |
| --- | --- |
| Application | Candles Only |
| Prop 65 Warning Required | No |
Reviews
Insanity weak color, I could use 5 chips in 1 pound of wax and still not see any pink.
Well, yes like other colors, you have to add a few chips according to the amount of wax I used 3 chips for 24 oz of wax and I achieve the desired color. It was for a plumeria candles.
I don't know why people are rating this high when they're clearly having to add up to 4 times the recommended amount. I added 2 chips to only 1/3 of a pound and it wasn't enough. This color is horrible, definitely not strong at all. More like "pale white". I don't even know what I'm going to do with the bags I bought.
I had to use 4 dye chips in soy wax and i still didn't achieve the color that is presented in this picture. I did not have any luck with soy wax.
Very pretty shade of pink!
When we were pouring this color it almost looked like there was no color to the wax. But as it cooled the pale pink came through perfectly. It REALLY is a pale pink. If you are wanting a dark a baby pink then this is not what you are looking for. We paired this pale pink up with the cotton candy scent and they work perfectly together. Very pretty and will be purchasing more of this color!
It's a pretty color, but after using 7 chips in 3 lbs of GB 464, it's still not as pink as the picture. I'm still happy with the outcome though.
Pretty, but use more than you think
Very pretty pink...had to use 3 dye chips in IGI4627 to achieve color. 1 chip makes the wax a pretty white color...
This pink is very pretty. I used it with my 464 blend. The only problem I found is I had to double what I would normally use in order to achieve the color shown. Rather than 1 tab...it took 2.
This is the pinkI was looking for.
Very nice color. I used this in GW464 with 3 chips per pound to get the pale pink color shown on the web page. Very nice. The perfect pink to use with Cotton Blossom fragrance.