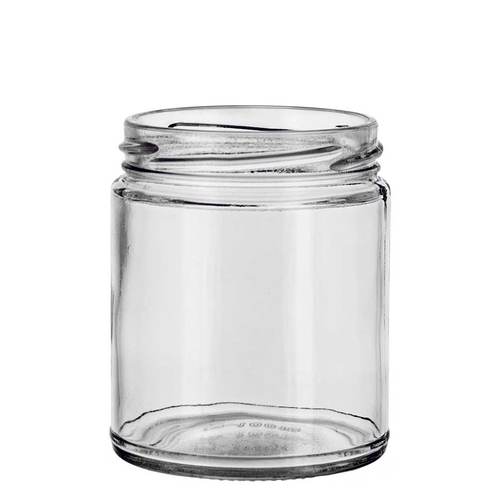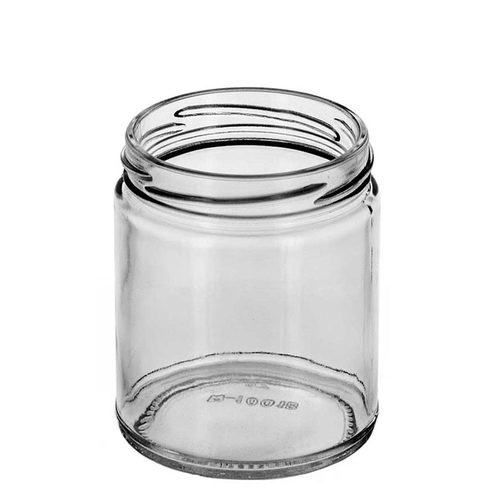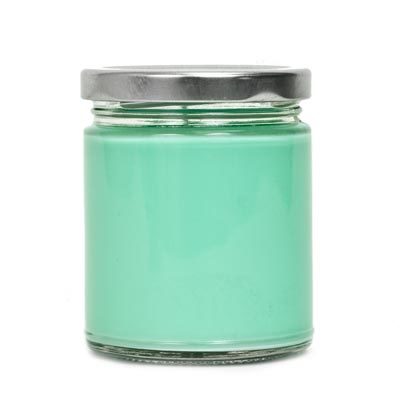 Ready to Order?
12-84 cases
$5.48
$0.46 /pc
85-152 cases
$4.73
$0.39 /pc
153+ [pallet]
$4.23
$0.35 /pc
Details
With its clean, minimalistic look, this jar is great for a wide variety of uses. It is easy to wick and a great choice for tester candles.
Tops are sold separately
The Medium Straight Sided Jar (Twist Top) works with the #70 Twist Tops in gold or silver.
Please Note:
Due to the taller neck of this jar, the #70 Twist Top lid sits higher than on other similar jars and leaves a visible gap between the shoulder and the bottom of the lid.

How much wax will it hold?
Wax Weight (to Fill Line) - 5.8 oz.
Volume (to Overflow) - 9.3 fl. oz.

Looking for a wick suggestion?
GB 464 - CD 12
IGI 4630 - LX 18
IGI 6006 - ECO 4
Check out our wick guide to see recommendations for other waxes! Our recommendations are estimates and should be used as a starting point for your own burn testing. >

Looking for labels?
Put the finishing touch on your candles with the perfect product label from Avery WePrint. Browse designs, create your own, and take 10% off all label orders! Head to
avery.com
to get started.
Wholesale Ordering
Check out our wholesale page for more information on ordering candle supplies in bulk or by the pallet.
Imported
Properties
| | |
| --- | --- |
| Height | 3.52" |
| Diameter | 2.83" |
| Max Labeling Area | 9" x 2 3/8" |
| Prop 65 Warning Required | No |
Reviews
Whiche wick burns better in this jar and with wax Igi 6006
What size are the labels being used in the community communication pictures?
Nice looking jars and gold lids fit nicely. The price is amazing and I'm happy with them. Thanks for the wick suggestion too !
No lids on earth fit correctly
I don't know why CS is selling these jars - no lid fits them properly. Now I'm stuck with well over 100 jars and nothing to do with them. Stop selling these until you get appropriate lids please. The recommended silver and gold don't fit correctly, and no other lid does either. SUCH a disappointment.
Hi! You may like our new threaded jars that are the same style. The threaded jars use a different style of lid which provides a more seamless fit. You can view them here: https://www.candlescience.com/containers/candle-jars/straight-sided-jars
Using C3 Wax, 8% FO. Would a good starting point be and ECO 10 for testing. It seems the ECO 8 is not enough. Your suggestions would appreciated.
Thanks. Noah.
Hi Noah! Typically, we would recommend testing either a CD 12 or an ECO 12 for that wax and jar combination. I hope this helps, but if you have any questions or concerns, please feel free to reach out to our support team at any time at support@candlescience.com!
The diameter of this jar is stated at 2.83". Is this outside diameter? Would I test an ECO stated in your wick guide for 2.83" jar. Such as ECO 10 or 8. Your suggestion would be appreciated.
Lewis
Has the lid issue been resolved
I would like to order these jars but based upon the reviews the lids are not a hit for this jar which is hindering m from purchasing them today. Any update? Or would anyone like to recommend a site that I can purchase the lids from if I do get them?
Thank you!
Hi! These jars are compatible with #70 Twist Top Lids, which we carry in gold and silver. They are sometimes referred to as 70mm Lug Lids. These lids are designed specifically for this style of container and fit as shown in the photo above. They are often confused with 70G Threaded Lids, which do not fit this type of jar. For those that prefer the look of 70G Lids, we recommend using Mason, Jelly, or Canning Jars.
Black Lids Purchased Elsewhere
Other users - where are you purchasing the black lids for these jars? I love the jars but would have a much better product with a black lid that fits.
These are awesome jars at a decent price problem is the lids provided by Candle Science are horribly ugly and cheap looking. I have been buying nice black lids elseware to complete our amazing high end look. Please consider giving your customers what they want and ask for Candle Science. Such a great company to only give us 75% I know your capable of 100%!
Great size Perfect for Big Labeling
These jars are my go to for my candle line. The 9oz (ish) size is perfect keeping pricing and sales moving, anything smaller didnt seem to move and anything bigger was too much.
Unfortunately my only complaint is I have to buy black lids from a different supplier. The gold or silver only options for these through candle science is sad they just make my Candles look cheap on the jars with my Labeling And since switching to the black lids sales have increased.
I Absolutely Love These Jars!!
I absolutely Love These Jars! They are 16oz jars and when I put my candles together and put the lid on them, they look just like the famous candles you see at Yankee or any other famous candle store. I love them! They are the perfect size and the lids are perfect as well! Love, Love, Love! These are the jars I'm sticking with! Thank you so much!!!
UPDATED: Recent change in color of glass
I just wanted to update my below review. Candle Science just called me to explain that the jars are made using partially recycled glass, and that sometimes depending on the recycled glass used, the tint can vary slightly. Although this isnt ideal for the look of my finished products, I was so pleased that they took the time to call and explain WHY this is happening made me want to write a second review and adjust my original rating. This is why I keep coming back to CS! I have never had a bad customer service experience.
Recent change in color of glass
I love these jars, I've been using them exclusively for about 2 years now. However, the last few dozen I ordered looked almost tinted! The class was much darker and not as clear as my previous ones. I have them side by side and the difference is really obvious. This also changes the appearance of the wax. I don't add any dye to mine, so the new jars make my wax appear to have almost a light green tint. I'm really disappointed, but I need the jars, so I don't have a choice.
I have purchased straight side jars from other vendors to go with the #70 black upscale poly lids I already have. They've all fit perfectly, with no problem. I recently purchased straight side jars from Candle Science because they could get them to me in time to meet a deadline. My lids do not fit this jar. Service was good, shipping was fast, I just cannot use these jars. It apparently is not a standard jar.
I've been using these jars for my candle business for about a year now, and I have absolutely no complaints! They're beautiful, straight jars, and even though the lids don't 'fit' perfectly, they still look quite nice. If you didn't know any better, you'd just think they were supposed to be that way. I do also wish that there were threaded lids for these, or that Candlescience would get some straight sided jars that the threaded lids worked on, but I still love these. I get compliments on my candles all the time!
Love the jars, hate the lids. What is the chance of you selling a black lid like the one that comes with the jelly jars? Three stars only because they aren't useful for me as is.
Would exclusively buy these if black lids were available
I wanted to buy these jars until I saw the ugly lids and from others' reviews, the lids also don't fit. The lids should be the same style as the mason jars and they exist in the market. Please change these lids. A small change that will for sure increase sales and customer satisfaction.
Seriously need lids to fit this
The lids are not a deal breaker, but the presentation of the candle would definitely look better if the lids fit properly.
I am not sure what fill line they are using but the candle holds 8 oz of wax to the fill line. (Which I the bottom of the ridges for the screw top). It holds the same amount as the mason jar.
i use these jars w the gold lid, so in love! sleek and modern.
We love these candles jars, size look, price, etc... The best thing about this candle is the burn quality we are getting using these containers. The dimensions of the jar are just perfect for burn and giving our customers the illusion of much larger candles even though we its close to the size of he tins and cheaper per unit.
The only con I can selfishly think of is I would love black lids, however the silver matches everything great.
Since I started making soy candles, I used this jar. I think its cute and will look elegant. Well, my expectation was right.
Cute Jars. Wish the lid fit
exactly what i was looking for to make my first candles! I read the previous reviews about the lids not quite fitting but figured id take my chances. they do technically fit. the lid goes on the container but the lid is a pop on kind of lid and the jar is meant to have a screw on lid. glad they added the disclaimer about this now so future buyers are aware of the problem but for a first timer i think theyre great! perfect size!
These jars are awesome. The lids have NO affect on how my candles turn out. They screw on and look nice! I do not regret adding these to my line!
why in the world would you show inexpensive jars with the "matching" lids that are not the right size??!?!