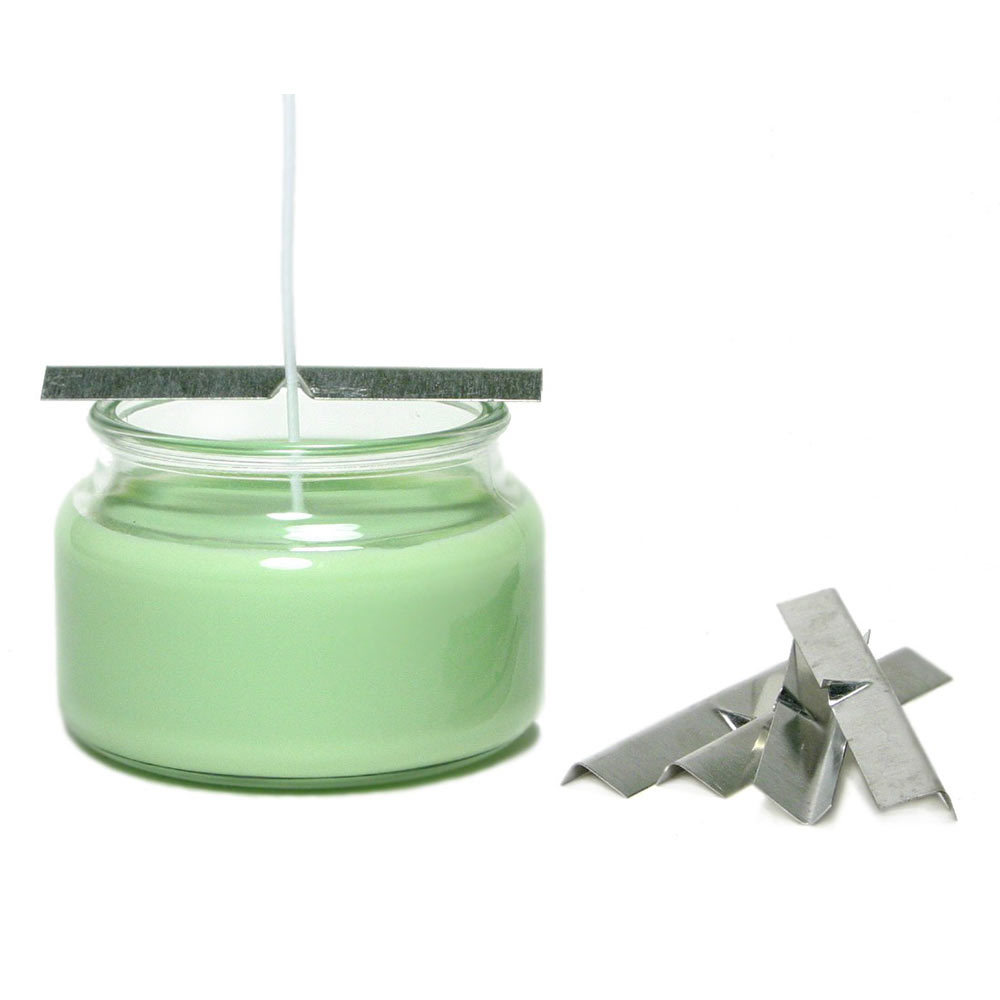 Details
Wick bars hold the wick tight while pouring a candle, and allow for easy centering of the wick in both containers and molds. Wicks bars are sold in 12 pc. bags to match standard glass case packs.
Wick bars are 4" long and 1/2" wide and feature a center wick slot.

Wholesale Ordering
Check out our wholesale page for more information on ordering candle supplies in bulk or by the pallet.

Made in the USA
Properties
| | |
| --- | --- |
| Length | 4" |
| Width | 1/2" |
| Prop 65 Warning Required | No |
Reviews
Waste of money for ECO 16 wicks
These do not fit ECO 16 wicks. Wasted my money.
I loved these! So much I ordered ten more packs. The openings weren't big enough to use this time, though so they are pretty much useless. 😭 I'm not sure what happened! I only have one size candle and one size wick too so I know that isn't it.
Loved my first order! Ordered 2 more bags of these since I loved my previous order. The new ones, however are tighter than the ones for my original order. Didn't change the wick size either, so they come to no use.
Easy to use and totally worth it
I've been using chopsticks and pencils and other items like that because I heard they were good at holding your wicks. I've always had problems with them moving but I bought a bag of these to test and, oh my, they are fantastic at holding wicks! I'm definitely buying more!
These are the best wick bars!
I have tried several different style of wick bars, and these are by far my favorite. I like that they are longer than other bars, such as the bow tie bars. The bow tie bars are too short and I always have issues with them falling in my jars. These are perfect and easy to use. I have used them with ECO 14 and CD22 and smaller wicks.
I have tried other wick bars, but these are the easiest to use, once you get the hang of them. Also, they're reasonably priced, so I like that :-)
Great purchase. Very easy to use.
These are definitely a have to have if you're making candles....... but they are extremely sharp! I have cut myself a few times just trying to get them apart. However, I love how they catch the wick tight and accurate. I just had to order 12 more.
Working on exactly how to use this. I'm visually impaired and learning a new way to pass the time in my newly darkened world loving candle science and my new joy! Thanks candle science. I'll have this wick bar figured out before you know. Just be careful the edges are quite sharp
I read the mixed reviews and assumed I would have issues with the bars slipping off my glass jars but I didn't. It works great on the aluminum tins and glass jars. It's not as easy to fit the larger wicks (ECO 16) into the slot but with a little adjusting it works just fine.
I found the Wick Bars to be helpful and easy to use. No problems whatsoever.
Good for Straight Sided Containers
These wick bars are well made from quality material, and I especially like the V-notch for holding the wick. Straight wick bars are best for straight sided containers. For containers with round openings the wick bars with the curved grooves (the ones that look like a bow tie) work better for positioning the wick and keeping it centered, as the straight bars tend to move about.
A trick I use to keep the wick tight is once the wick is in place I use a pinch type clothes pin or a pinch spring type paper clip. This lets you pull the wick tight.
I love these things, but there are a couple of tricks
I pull the wick taut and use my thumb to press the wick into the slot, center the wick, and bend the excess over the top of the wick bar. Keeping it taut, wind the remaining wick once (or twice if votive) around the wick bar outside the edge of the jar. Tuck the end into the underside of the wick bar. Takes about 3 seconds once you get a rhythm and perfectly centered wicks every time because it keeps it tight.
but they do tend to slip. I just get a little masking tape on each side to hold it in place.
I found these bars very helpful.
Not overly crazy about these...we prefer to use the round ones specially designed for jelly & mason jars...if you are not careful, these will slip and your wick will be uncentered....more of a burden than a help...