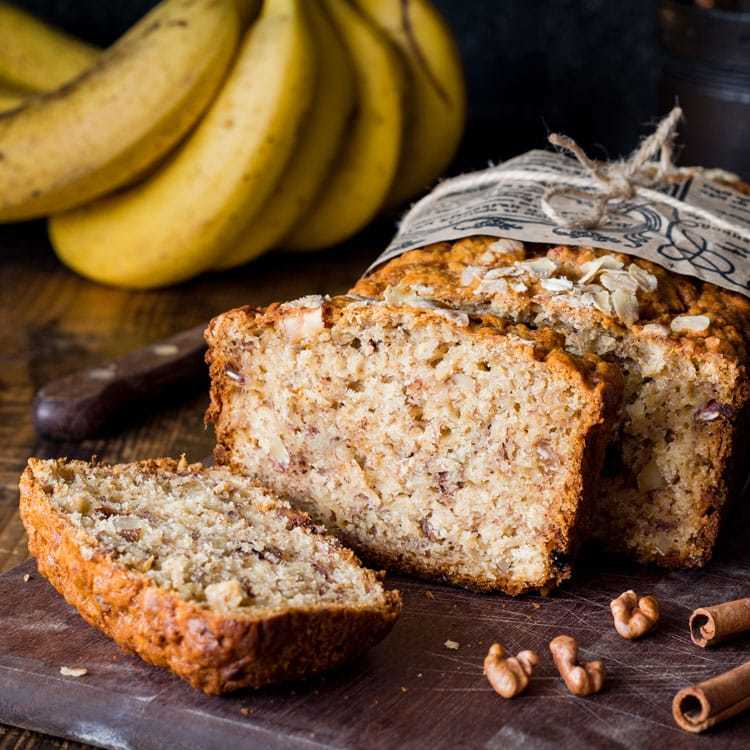 Ready to Order?
6+ 5lb Jugs
$72.42
$0.91 /oz
12+ 5lb Jugs
$65.18
$0.81 /oz
Details
Now Phthalate-Free!

REVISION NOTICE: It is our policy to notify customers if any part of a fragrance was changed for any reason.

As of January 15, 2019 our Banana Nut Bread was revised to meet our stringent safety standards of being Phthalate-free. The original strength and fragrance characteristics have been preserved. To see details of the previous version, click here.

Our nostalgic Banana Nut Bread fragrance captures the mouth-watering bakery aromas of a homemade classic. Top notes of toasted walnut and ripe banana combine with nutmeg and sugar for a blend that's perfectly nutty and sweet. Vanilla and cake base notes enrich the sweetness in this toasty scent.

Capture the aroma of freshly baked banana nut bread still warm from the oven in your handmade candles and wax melts. This gourmand fragrance makes any space feel warm and cozy. This scent can be used in lotions and melt and pour soaps for a unique twist to your handmade bath and body care products.

This fragrance oil is infused with natural essential oils, including cinnamon leaf, nutmeg, orange, and lemon.

Note Profile:
Top: Banana, Walnut, Lemon Peel
Middle: Nutmeg, Sugar
Base: Tonka Bean, Butter, Vanilla

Suggested Colors
: Brown, Ivory, Honeycomb
See our complete list of
candle making dyes
and
soap colorants
.
Note: Bottles filled by weight, levels may vary.
Properties
Candle Safe

Yes

Usage: 3-10%
Soap Safe

Yes

Usage: 2-3%
Lotion Safe

Yes

Usage: 1-2%
Vanillin Content
0%
Soy Performance
Flashpoint
160 °F
Phthalate Free
Yes
Prop 65 Warning Required
No
Diffuser Base Compatible
No
*Usage amounts are recommendations only. Individual usage amounts can vary based on your desired fragrance strength, wax type, soap base, or lotion base. See IFRA certificate for max usage levels.
Documents


Reviews
smells fantastic in my soy candles. customers love it
I used Golden 444 in the 8oz jelly jars and the Banana Nut Bread sold out on my second day of sales. I Melted at 185 added fragrance at 140 and I let cure 24 hrs, any imperfections I fix with a heat gun.
Would someone anyone PLEASE TELL ME WHAT WAX AN WICK COMBINATION WILL THROW THE BANANA NUT BREAD??? This is ticking me off big time. I'm tempted to blend the candle science and peak candle Banana Nut Bread scents to see if I can finally get a kick butt banana nut bread scent.
Smelt too much like artificial banana and nutmeg
If you have customers who love to buy foodie candles make sure you add this to your line!
This has great cold as well as hot through in 464 soy.
I bought this on a whim and made a few to try to sell to some pretty picky customers and they all loved it. Even those who did not like foodie smelling candles loved it.
Excellent stand alone fragrance oil. I use it in 444. Smells so good I will use it again.
I accidentally put 5% of fragrance and still got a great hot and cold throw, I also gave my aunt who makes banana bread every year for Christmas after her husband passed away. She has it in her room and loves the smell and look that she doesn't want to burn it . I was so satisfied with this fragrance. Very personal.
There is no mistaking this fragrance oil for anything but banana bread fresh out of the oven. Strong hot throw and amazing cold throw. Not your average middle-of-the-road indeterminate bakery scent- the banana and nut fragrances are very distinct. This is a true banana scent- it's not overly sweet or cloying.
I absolutely love this! It is a thicker oil and it blends VERY well with soy. It has such a good hot and cold throw. And it smells just like banana bread! Mine and my customers favorite by far!
This one smells just like my wife's banana bread it's awesome I think think this one is more true than the other brand I was using
I LOVE the smell!! So goooood!
I originally got this fragrance as a sample. Before I even put tags on this candle my family and neighbors bought it! I am now stocking up on this fragrance! It smells exactly as stated in the title. It is absolutely delicious smelling!
This is one of my best sellers! I love this one so much I made it for myself and have had to reorder it twice now. Need to buy bigger quantities of it now. Everyone loves it.
One of my top sellers by far.
Not Overwhelmingly Bakery
I am easily overwhelmed by scents that are supposed to be baked goods, but I really love banana nut bread and wanted to give it a try. It has a ripe banana scent (I agree that it can come off as candy-smelling) and you can tell it is a banana dessert. My brain hops from banana pudding to banana bread, and since I love both this works well for me. The HT is fabulous and the CT is just enough to scent the immediate area around the candle.
The FO smells amazing! Still testing the HT but CT is amazing!
"The original strength and fragrance characteristics have been preserved."
No. No they have not.
I absolutely love this fragrance!! I've tried banana nut bread from 2 other companies and CS has the best. I can smell my banana nut bread soy candle 2 rooms away!! Everyone wants to eat them. The cold and hot throw are both A+!! Please don't ever change this!! It's perfect!!
I wouldn't say this is banana but bread. Im getting no nutty, or bread undertones. Im definitely getting banana. I would describe it more as banana Taffy. It has a sort of artificial smell, like candy does. Not a bad scent. Just not but bread.
I enjoy it you can definitely smell the banana and it's perfectly balanced out by the nuttiness great for body products and candles
Great fragrance in my 464 soy wax!!!
Definitely one of my favorites! I make it with the Golden Wax 464 and it's smells lovely! Just like banana nut bread!