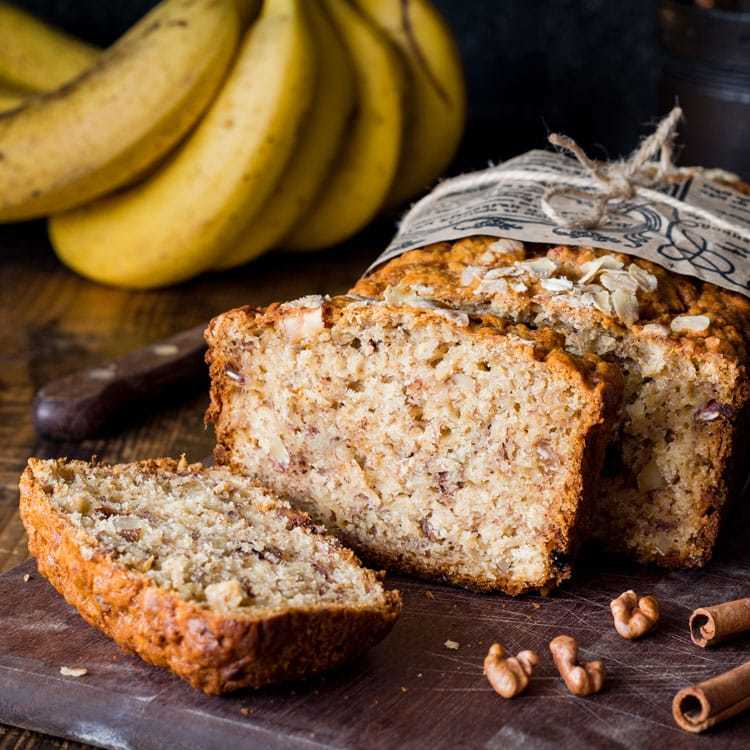 Ready to Order?
Ships from East Coast. Estimated: West Coast 10/22
Ships from East Coast. Estimated: West Coast 10/22
Out of stock. Estimated: West Coast 10/13
6+ 5lb Jugs
$72.42
$0.91 /oz
12+ 5lb Jugs
$65.18
$0.81 /oz
Safer Scents For The Home
CandleScience Clean Scents™ are free from carcinogens, reproductive toxins, and other potentially hazardous chemicals often found in fragrance. Choose Clean Scents and create safer home fragrance products you and your customers can enjoy with confidence.
Read More >
Details
Our nostalgic Banana Nut Bread fragrance oil captures the mouth-watering bakery aromas of a homemade classic. Top notes of toasted walnut and ripe banana combine with nutmeg and sugar for a blend that's perfectly nutty and sweet. Vanilla and cake base notes enrich the sweetness in this toasty scent.
Capture the aroma of freshly baked banana nut bread still warm from the oven in your handmade candles and wax melts. This gourmand fragrance makes any space feel warm and cozy. This scent can be used in lotions and melt and pour soaps for a unique twist to your handmade bath and body care products.
This fragrance oil is infused with natural essential oils, including cinnamon leaf, nutmeg, orange, and lemon.
Blends well with: Fresh Coffee
Alternative branding ideas: Grandma's Kitchen
Note Profile:
Top: Banana, Walnut, Lemon Peel
Middle: Nutmeg, Sugar
Base: Tonka Bean, Butter, Vanilla

Suggested Colors: Brown, Ivory, Honeycomb
See our complete list of candle making dyes and soap colorants.


Note: Bottles filled by weight, levels may vary.
Properties
Candle Safe

Yes

Usage: 3-10%
Soap Safe

Yes

Usage: 2-3%
Vanillin Content
More than 5%
Soy Performance
Flashpoint
160 °F
Phthalate Free
Yes
Prop 65 Warning Required
No
Diffuser Base Compatible
No
*Usage amounts are recommendations only. Individual usage amounts can vary based on your desired fragrance strength, wax type, soap base, or lotion base. See IFRA certificate for max usage levels.
Documents


Reviews
Smells Like Real Banana Bread!
Made my home smell like a bakery!! This fragrance sold out quick for me!
This smells so much like the real thing. Great cold throw also a great hot throw. I'm very excited to have this in my fall line. It Tested great
smells like the real thing!
Hot throw is amazing, and it literally smells like you have a loaf of banana bread baking in your oven! They nailed it! This was a popular one in my Etsy shop last year, and it's already been selling this year, and I've had it up for less than a week! It's going to be a Fall keeper for me!
Not nearly as strong as it use to be
This fragrance was so strong before, now it is so mild that you can smell like a milky banana frappe and this is not what I want. If a quality of the fragrance changed, customers should be informed. Another disappointment.
Hi There, While we can confirm that we have not changed the recipe for Banana Nut Bread since it was last revised on January 15, 2019, we are still so sorry to hear that your recent batch of Banana Nut Bread candles hasn't turned out as expected! Scent throw can definitely be a bit tricky since so many different elements contribute to the final product but we would love to take a look and see how we can help. One of our Support team members will be reaching out to you via email today to troubleshoot with you!
It's such a lovely scent, one of my favorites honestly. Produces a pretty strong scent after a week of curing.
Great performing FO just not for me.
Rating this FO strictly on performance this one easily gets 5 stars. Strong HT/CT after a few weeks of curing. I personally am not a fan but clearly I'm in the minority. Definitely worth getting and trying for yourself!
This was another scent I almost felt the need to add a " DO NOT EAT " sticker to my products. It is the perfect banana nut bread scent. It fills the house with a fresh baked fragrance. I highly highly recommend this one.
Owner, Kepi's Custom Candles
By far one of my favorite fragrances on here. Can't believe I haven't reviewed until now, oversight on my part. Smells like a buttered slice of banana bread browning on a pan and has an AMAZING scent throw. CT is great, HT is even better, HT filled a large bathroom with vaulted ceilings in about 20 minutes using 100% soy wax. My mother and I joke that it should be classified as a drug because it's so addicting. Everyone who has smelled it absolutely LOVES it. 11/10 (no that's not a typo), would definitely recommend!
Amazing scent, however it has zero heat throw in coconut wax. Sad times.
Scent Disappeared in Soap
My customers and I loved this so much in candles that I made a batch of soap. I was ok with the soap turning brown but the scent disappeared. Bummer! Will put the soap on sale.
I ordered a sample bottle and I will definitely be ordering a bigger one. This smells exactly like banana bread. Yum!
This Candle smells beautifully, I used 4ML fragrance for 4oz candle. Great CT and HT, it's warming and inviting.
Love love love this! I am not a fan of bakery scents but this one is so, so delicious... and nostalgic! This FO reminds me of those late summer nights when my mom would bake her fresh banana bread when I was a little kid.
This smells so good! i cant wait to make a candle with it
Smells like a bakery I love this Fo will be ordering more
This fragrance will be part of my main line. It has a great hot throw and smells heavenly. I plan on experimenting with adding a small amount of just banana to this. It is great the way it is but I think adding a touch more of banana to it will really set it apart.
This was my best selling and most requested fragrance for my candles. Really great scent! Warm and sweet, and many customers said it had a real banana fragrance to it! The house smells AMAZING when making candles with this fragrance.
Owner of The Cubed Canvas
This fragrance smells amazing and true to its name. Very popular scent in my collection. I love to see people's reaction when they open the jar and smell the candle. I use 444 soy wax and 10% FO.
this is my favorite scent so far that i have ordered from candle science. i was really scared when i first smelled it straight out of the bottle, but once i made it into the candles it smelled amazingggg
Best fragrance oil I've tested so far! This one is so strong everyone in the house can smell it when I am making my candles. Definitely recommend!!!
When I first bought this and smelt the bottle I wasn't happy with it but once I made it into a candle I loved it. I was nervous with how my customers would feel but it quickly became a favorite
Loved this, was a little bit reluctant at first because of how strong FO's are before you add them. Bu in the end their a favorite with customers, I call it chestnut for the holidays, because of how nutty and lighter it gets.
Bought a sample size of this and fell in love, had to order a bigger bottle! One of the best fragrance oils they have. If you like banana you will love this
Loved the smell of this fragrance! It may be one of my favorites from my order. We made candles last night and added about 3% fragrance and it seemed just right. However, I did receive leaky bottles which was a little disappointing, as I also saw someone else say the same thing on the review feed.
I'm not a huge fan of banana scents but I bought this as part of a bulk sample pack. At first the smell right out of the bottle was quite unpleasant but after melting into beeswax candles it smells amazing! It turned out to be my husband's favorite and it really made our house smell like a bakery.
When it came straight out of the box, I was beyond disappointed. It smelled so bad! I read over reviews that promised it would smell good after it was in the wax, and they were totally right! It smells really good, and that coming from someone who doesn't like bananas.
I ordered a bunch of fragrance oils that arrived today. This was one of them. The scent is amazing however I was disappointed with the packaging. It looked like the oils were just thrown in the box. A few of them were leaking, so now my initial measurements are off and scents are mixed.
Hi there! A member of our support team has reached out to assist further with the damage!
My dad LOVES banana nut bread so he asked me to try it out. I'M SO GLAD I DID! Our house smelled like a bakery when I was making the wax melts and the ht is amazing!
I love this FO! It's the perfect banana nut bread fragrance that I've been searching for, and the throw is very strong! My customers love this one. This is a fragrance I make sure to always have in stock.
At all cost I generally avoid these types of fragrance when i've shopped for candles, but OMGOSH this smelled lovely. I've only used it when I made myself a 14.5 oz candle and when I say it has my house smelling G-R-E-A-T you will NOT be disappointed.
Out of the bottle is smells closer to a banana candy. I tried it in a few candles anyway, and man did this smell good. It has great cold and hot throw!
CT 10/10 HT 10/10. I cant express enough how wonderful this Fragrance is and just how great of a seller it has been for me. My customers can not get enough!!
The Banana Nut Bread is so amazing, the hot throw is 100%. My family loves it.
The best smelling scent!! This is my favorite and has sold out! It smells strong and amazing!
100% will purchase this fragrance again! The second I opened the bottle every member of the house asked if I was baking banana nut bread! As a matter of fact, I just want to eat it.
Don't judge it without pouring first!!
Out of the bottle this smells like banana medicine. I used a perfume paper to test it before hand and it mellowed out. In the candle it's perfect. Great HT and CT. I get more baked goods than banana but that's just how banana bread is. It's very buttery and makes your mouth water. Great hot throw. It smells like I'm baking.
I love CS banana nut bread fragrance in my 444 wax candles. Customers love it so I thought I'd make a soap with it. Unfortunately, even though there is no vanillin content, it discolored gray and the scent is almost gone. Just didn't survive the high pH. Bummer. I still recommend for candles and will be candle favorite for me.
We tried the Banana Nut Bread as a sample - there is some banana fragrance in the bottle, but when made into soy candle tins it loses what little banana scent it has and it smells more like baked goods. Not horrible, but maybe mix with something else.
Don't judge by the bottle!
I bought a small sample to try in CP soap, sniffing from the bottle, I was disappointed, but I decided to try it out in my banana puree soap and I was so surprised it completely changed it my soap turn out smelling so warm and comforting. Will buy again.
This is a great scent too test, I'm new to candle making and felt like I couldn't get a great Hot/scent throw . It's awesome!
Used in 464 soy wax with a 10% fragrance load.
When I first opened the bottle, I wasn't sure how I'd feel about it. It had a very imitation banana scent to it, and I think the CT still has a bit of that imitation scent, too. But! The HT is wonderful and fills up a room really well. We burned it in our kitchen and all of us immediately started craving banana nut bread!
Doesn't Smell like Banana Nut Bread. Smell like Banana Laffy Taffy
Smells artificial does not smell like a real banana or bread smell more like BANANA LAFFY TAFFY. I Will not buy this again.
There is a noticable difference in fragrance between a Walmart brand candle and a candle you purchase from a specialty candle store. Something about the scent that you can't put your finger on, but you just know when you smell it - almost like a "rustic" scent. This banana nut bread fragrance oil has it. I love banana nut bread scented candles and fragrance oils. I have smelled many. I have previously purchased banana nut bread oils from other vendors, and although they smelled nice and I was satisfied at the time, when I received this one, it was a complete game changer. Of all the amazing scents here from CS, this is in my top 3!
This is my all-time favorite scent I've tried so far! Every time I burn this candle, I get so many compliments. It is the perfect combination of banana and spices ! It brings such a 'home' feel to every room I burn it in.
I really like this scent. It reminds me of fall and delicious baked treats. Other people I showed it too didn't enjoy it as much, stated it was a little strong and sweet for them.
This scent is so amazing , loved it from the first smell
Definitely one of my most favorite Scents. Amazing to have in dinning area or kitchen. Love , Love, Love it!
smells fantastic in my soy candles. customers love it
I used Golden 444 in the 8oz jelly jars and the Banana Nut Bread sold out on my second day of sales. I Melted at 185 added fragrance at 140 and I let cure 24 hrs, any imperfections I fix with a heat gun.
Would someone anyone PLEASE TELL ME WHAT WAX AN WICK COMBINATION WILL THROW THE BANANA NUT BREAD??? This is ticking me off big time. I'm tempted to blend the candle science and peak candle Banana Nut Bread scents to see if I can finally get a kick butt banana nut bread scent.
Smelt too much like artificial banana and nutmeg
If you have customers who love to buy foodie candles make sure you add this to your line!
This has great cold as well as hot through in 464 soy.
I bought this on a whim and made a few to try to sell to some pretty picky customers and they all loved it. Even those who did not like foodie smelling candles loved it.
Excellent stand alone fragrance oil. I use it in 444. Smells so good I will use it again.
I accidentally put 5% of fragrance and still got a great hot and cold throw, I also gave my aunt who makes banana bread every year for Christmas after her husband passed away. She has it in her room and loves the smell and look that she doesn't want to burn it . I was so satisfied with this fragrance. Very personal.
There is no mistaking this fragrance oil for anything but banana bread fresh out of the oven. Strong hot throw and amazing cold throw. Not your average middle-of-the-road indeterminate bakery scent- the banana and nut fragrances are very distinct. This is a true banana scent- it's not overly sweet or cloying.
I absolutely love this! It is a thicker oil and it blends VERY well with soy. It has such a good hot and cold throw. And it smells just like banana bread! Mine and my customers favorite by far!
This one smells just like my wife's banana bread it's awesome I think think this one is more true than the other brand I was using
I LOVE the smell!! So goooood!
I originally got this fragrance as a sample. Before I even put tags on this candle my family and neighbors bought it! I am now stocking up on this fragrance! It smells exactly as stated in the title. It is absolutely delicious smelling!
This is one of my best sellers! I love this one so much I made it for myself and have had to reorder it twice now. Need to buy bigger quantities of it now. Everyone loves it.
One of my top sellers by far.
Not Overwhelmingly Bakery
I am easily overwhelmed by scents that are supposed to be baked goods, but I really love banana nut bread and wanted to give it a try. It has a ripe banana scent (I agree that it can come off as candy-smelling) and you can tell it is a banana dessert. My brain hops from banana pudding to banana bread, and since I love both this works well for me. The HT is fabulous and the CT is just enough to scent the immediate area around the candle.
The FO smells amazing! Still testing the HT but CT is amazing!
"The original strength and fragrance characteristics have been preserved."
No. No they have not.
I absolutely love this fragrance!! I've tried banana nut bread from 2 other companies and CS has the best. I can smell my banana nut bread soy candle 2 rooms away!! Everyone wants to eat them. The cold and hot throw are both A+!! Please don't ever change this!! It's perfect!!
I wouldn't say this is banana but bread. Im getting no nutty, or bread undertones. Im definitely getting banana. I would describe it more as banana Taffy. It has a sort of artificial smell, like candy does. Not a bad scent. Just not but bread.
I enjoy it you can definitely smell the banana and it's perfectly balanced out by the nuttiness great for body products and candles
Great fragrance in my 464 soy wax!!!
Definitely one of my favorites! I make it with the Golden Wax 464 and it's smells lovely! Just like banana nut bread!