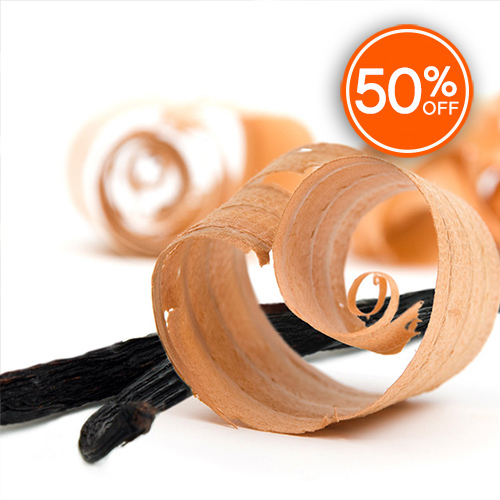 As of 04/30/2020:
Cedarwood Vanilla was discontinued and has been replaced with
Cedarwood Blanc
. For more details
see below
.
Details
REVISION NOTICE: It is CandleScience policy to notify customers if any part of a fragrance was changed for any reason.

As of April 21, 2020 our Cedarwood Vanilla was revised to meet our new stringent safety standards to remove ingredients with similar characteristics to phthalates. See new Cedarwood Blanc.

Cedarwood has a delightfully earthy tone and a strong woody base. We've blended it with a classic vanilla and a touch of sweetness to create a fragrance that is both warm and sophisticated.

This fragrance is infused with natural essential oils, including cedarwood.

Note Profile:
Top: Cedar
Middle: Moss
Base: Cedar, Oak, Vanilla


Suggested Colors: Brown, Ivory
See our complete list of candle making dyes and soap colorants.
Note: Bottles filled by weight, levels may vary.
Properties
Candle Safe

Yes

Usage: 3-10%
Soap Safe

Yes

Usage: 3-6%
Lotion Safe

Yes

Usage: 1-2%
Vanillin Content
0%
Soy Performance
Flashpoint
212 °F
Phthalate Free
Yes
Prop 65 Warning Required
No
Diffuser Base Compatible
Yes; Up to 25%
*Usage amounts are recommendations only. Individual usage amounts can vary based on your desired fragrance strength, wax type, soap base, or lotion base. See IFRA certificate for max usage levels.
Documents

Reviews
This is a best seller fragrance and my personal favorite. Please consider offering it again!!
Please consider bring back this fragrance. It is one of my shops top sellers and my personal favorite.
Best Seller! Please bring back
I can't believe this was discontinued. There is nothing like this scent. Please bring this back!!!!!
Please bring this back.. this is used for one of my top sellers. The Cedarwood Blanc that's replaced this is a completely different vibe.. its scent smells like floral perfume, yuck.. nothing how cedarwood should smell :(
This is one of my best sellers and original scent I started with almost 4 years ago - please bring this amazing scent back!
Please bring it back. Or a close version!! This is our top seller 😕
This is the absolute BEST SMELL! It's a top seller! Love the vanilla woodiness of this scent! Why on EARTH would you discontinue such a WONDERFUL scent???
Top seller and all time personal favorite. Rich woody smell and the vanilla rounds it out perfectly.
This is one of my tip selling scents and is personally my favorite
I am leaving this review because i see it has a low soy performance rating. However, I use this with 444 Golden Brand soy and I think it works wonderfully. I just wanted to give my 2 cents!
Cedar OOB, Vanilla Sugar in a candle :/
Maybe if you are going for a vanilla bean candle with a woody twist, this would be perfect. I just made a batch of candles that were supposed to have a great earthy, woodsy theme and out of the bottle, this oil smelled JUST like cedarwood! HOWEVER.... in a candle, its wayyyyyy too sweet. They should call this masculine vanilla haha! Just wanna warn anybody who is wanting a truly masculine & earthy scent------ skip this one.
We ordered this.
And yes, straight out of the bottle the cedar is strong and it's got a sweetness to it. We've added it to gb646 and the cedar is already mellowing out and we're starting to get the hints of vanilla. I'm excited to smell the candles once they've cured. We used a 10% strength.
I was really excited to receive this fragrance so that I can use it for my men soaps but I was disappointed when I smelt it. The cedar is so overpowering you can even smell the vanilla. I won't purchase this again.
Love the scent, but no throw!
I absolutely love this scent, but it isn't strong like my other CS oils. In the bottle it is great. I use it in the exact same ratio/formula as my other candles and when lit it barely has a scent throw. Super super sad about this one. I really wish CS would reformulate to make it stronger!
I absolutely LOVE LOVE LOVE this scent. If you like sweet, woody scents, this one is for you! Definitely a hard combination to find.
It has a very strong woody smell! I love it! If you are into strong woodsy smells you will love it too! It mixed very good in sox wax and has such a strong hot and cold throw.
Love this scent - it's great for CP soap. Very cedar-y at first and I didn't like it first out of bottle or during cure, but after 8 wks, it mellowed into this super mellow cedar-vanilla scent that I love. I made a beautiful siberian tiger soap (safari soap collection) so I planned for and used the discoloration (a dark brown) to my advantage. Soaped at low temp (90 degrees), no ricing, acceleration, or separation. Behaved beautifully.
Not much endurance but smells very nice.
I tested this scent for wax melts and its very weak.
I put about 2 teaspoons for 1 wax melt, and that is nearly no scent.
You'll have to stand directly above it to smell it.
It smells nice mixed with Egyptian Amber, but you just can't smell it across the room.
It seems like I'll have to increase the dosage for wax, but I'm disappointed at how much I need to use.
Not sure why the scent doesn't carry in the air or why its so weak.
Hi! Thank you so much for the feedback. You may want to consider measuring your fragrance by weight on a scale rather than by teaspoons. Each fragrance has a different density so will take up more or less space than another fragrance. Measuring by weight will be more precise to make sure you are not under or over fragrancing your wax. For most waxes, they can hold 6-10% of fragrance (between 1 - 1.6 oz) so you may want to test with weighing to see if that helps. Also, consider cure time. If you are using soy wax, you may want to let your melts cure for at least a week to allow the fragrance to fully develop and help the strength! Feel free to reach out to our support team if you need further assistance along the way.
Excellent in CP soap. It's doesn't discolor right away, but after 30 days, it will turn a dark brown. I used it for my tiger soap. Didn't love this scent out of the bottle, but after using in my soap, I will reorder. The scent becomes a vanilla-woodsy that the guys love. Very subtle, but strong (I know that doesn't make sense, but if you love vanilla, you'll know what I mean). I soap at low temps (90-100 degrees F). No ricing, acceleration, or separation. Behaved very well, Be patient if you want this deep color, it will take a few weeks to reach it's full glory!
This scent is *aggressive* right out of the bottle, both too sickly-sweet from the vanilla & too sharp like raw cedarwood, but don't let that scare you, because it really mellows in wax. The CT is surprisingly sweet, but it really shines when it's lit, suffusing the air with a cozy woodsy scent.
I'm obsessed with this cedarwood! It's a sexy and perfect combination of cedar and vanilla. The possibilities are endless with what mixes well with this oil. All of my favorite concoctions would be unsexy without Cedarwood Vanilla.
Didn't really smell as described, or as other reviews said in my opinion. Had been looking for something earthier and this seemed promising but, out of the bottle and in the wax (GW 444), it smelled quite sweet. It seemed there was more vanilla than cedar, which is fine, just not what I needed.
Have this in a diffuser, using Candle Science's diffuser base, 25% strength. It smells fantastic. Not overwhelming, but fantastic. Love it!
When I first smelled this scent out of the bottle, I thought is was above average. When I first used it in a candle, I liked a little more, but still didn't love it. Then, after the candle had cured for a couple of weeks, I went and smelled it again. It was amazing. One of the best. I think it has a very nice mix of cedar and vanilla. Neither overpowers the other!
On its own, the scent is too sweet from the vanilla. However, I've had good results mixing it with Sandalwood. It tones down the vanilla just enough so you get the woody notes coming through the strongest with just a hint of sweet.
LOVE! One of my all-time favorites! And customer favorites too!
This was one of the very first scents I chose for my line years ago, and it has been a personal and customer favorite through the years. It is one of my top favorite scents ever. I absolutely love the cedar smell, and how the vanilla softens what can sometimes be a little harsh with cedar. It is a delicious, earthy, and warm scent. Please Candlescience, do not ever stop making this scent. I LOVE it!! Customers love it in candles and melts too. I will be trying it in soap soon, and am glad about it having 0% vanillin contents.
Its not a combination I would put together. I was hoping for something a little fresher with a vanilla bottom note, to round it out. This is very heavy and the two fragrances were not compatible. I sadly will return this scent.
This is not a bad scent. It is very sweet. The first note is woody, but the final note reminds me of frosting. I use this as a mixer with other fragrances. I have not sold one of my cedarwood vanilla candles this year, but I would suggest using it as a mixer.
This is a beautiful scent with a warm, woody aroma. Good throw, cold or hot. If you like nag champa, patchouli, and vanilla type scents you'll probably like this one.
This is not one of my favorites because the vanilla is overpowering. It just kind of smells like super sweet cake to me. But I have had people tell me they are obsessed with it, so I will probably keep using it a little.
My sister bought this candle for me and its amazing. I will say the candle does not turn
I purchased several samples to decide which fragrances I will be adding to my year round anchors and upcoming spring line. When I smelled this out of the bottle it was terrible. Almost a vinegar smell masked by a little vanilla. I will give a try in a candle to see if it's different when mixed in wax but shew shew shew!
Been using this scent for a while but now I am discontinuing it due to the fact that every candle turns bright yellow and turns people off from buying it. The smell is nice and strong but changes over time and starts to smell more like a cake type candle on the cold throw, I would keep it in my line if it did not turn yellow. I have also used a number of different types of wax with this scent and they ALL turn yellow.
This is a personal favorite as well as with my customers!!
I love, love this fragrance. I purchased it as a masculine scent to make some soap for my adult sons, and they're both very happy with it. There's an undertone to this scent that is very appealing to me, hard to describe, but I love smelling it. I plan on ordering a larger quantity very soon.
Like Roasting Marshmallows Over a Fire
It just goes to show you, not everyone has the same scent preferences. What one person finds repugnant, another finds delightful. This is one of my favorite scents in candles using the 464 Soy wax. It reminds me of roasting marshmallows over a fire. It's a warm, cozy scent. I happen to love the smell of cedar and find it comforting. I also mix this with Fireside to get an even cozier scent.
Love this fragrance! The cedarwood is sharp and clear, rounded out by mellow vanilla. I've used it in soap, candles, bath fizzies, hand cream and so much more. My tip? Add a few flakes of rooibos tea. Looks just like cedar shavings without the scratchiness!
I find this scent to be repugnant. Very disappointed.
I love the smell of this. I purchased it to make soap for a friend's husband because she said he likes cedarwood. She was fond of it, but he was not. He said the vanilla was too noticeable.
I cedar'wood' buy this again
The cedarwood scent is strong in this one, so it may be off putting to some. I mix it with another scent and it works perfectly.
I say give it a try.
You can definitely smell the cedar, and there is a hint of vanilla. Not the greatest smell, but performance is good.
I haven't burned the candle, because I was making this one specifically for my mom. While I was mixing it into the wax, my whole house was filled with a fragrant cedar with just a hint of vanilla. My mom is going to love it! Used GB 464 wax.
This scent smells exactly like Cedar wood with a sweet note (vanilla). If you don't smell cedar, you either got a dud, which has yet to happen to me from candle science, or you are sick and can't smell anything! I love this scent.
I read through every review, but still hoped for the best. This smells more like cake frosting, with almost no discernible cedar. I have a very fine nose, and this gave me a bit of a headache while making wax melts. I used EcoSoya PB. So far the melt has been melted in my burner for about ten minutes and the throw is faint, even though it's two feet away. I am hoping it really is the fragrance and that I didn't just goof up.
Earthy is right. Like you're burning some weird stuff from the yard. My least favorite yet.
This is a nice blend of vanilla and cedarwood, where neither fragrance overpowers the other. In my oil burner, the blended scent eventually gives way to mostly a sweet vanilla. I've added a drop of Strawberry Shortcake to this scent, and it fit in nicely with both the vanilla and cedarwood fragrances.
This one is a customer favorite both at shows and thru online purchases. It continues to sell. I prefer it for myself in fall and winter, a little too heavy for spring and summer. I personally love the smell of cedar and vanilla balances it well for a candle fragrance.
This is a very warm deep scent. Reminds me of a cedar chest. This is my very favorite scent of all time, and burn it winter and summer. Actually it was the search for this scent, discontinued by candle co I used to buy candles from, that started my current candle career. Customers love this scent as much as I do, especially in the wintertime. It will fill a house with warmth! This has great throw in the 6006 wax we use both cold and hot!
Don't Believe All You Read - This Scent is Amazing
I just read some of the poor reviews for this scent, and my jaw hit the floor. Mixed at 10% with EcoSoya CB Advanced Soy, this has been one of my best sellers for years. I have yet to find a single person to do anything but fall in love with its true fresh cut cedar notes & light touch of clean (not bakery) vanilla. I am not a "woodsy" type scent person, but I burn this scent for fun quite often. It compliments a few other CS scents beautifully (intoxicating with Driftwood), and it is an all around must try. Everyone is entitled to their opinion, but please don't pass this up based on negative reviews. If you do, you will miss out on something amazing.
I grew up in a cedar log cabin home and had high hopes for this scent. It smelt nothing like clean cedar/vanilla. It smelled like dusty wood chips, and I even added more vanilla tying to mask the poor cedar smell. I used GB 464 with 1.5oz/lb
Not a fan of this one. Smells like someone spilled vanilla extract on cedar shavings. Like the ones you use in a barn. However IF you like that smell, this one is for you!
This is a nice scent. Smells like a somebody took some vanilla and threw it in there fireplace. Not very strong with the GB 464 but enough to enjoy the scent.
This fragrance is great! It gives me visions of being in a log cabin curled up in front of a fireplace.. It is a warming fragrance and has a wonderful blend of cedar and vanilla. Not real overpowering.. Works great in the GW464. This is one of my favorites..
Great clean and refreshing scent.
I just made the first of a set of candles with this scent tonight. I am still waiting for them to cool overnight, but this is a lovely scent that has filled my whole house already. I only wish it was approved for personal use, because I can see this making an incredibly popular hand soap.
This scent is fresh and crisp...Not overly crazy about it, cannot put a finger on what it smells like
I love this scent!!! Smells like fresh cedar with a hint of vanilla. Great for fall, winter, and Christmas time!! Excellent scent throw in GB464. Thanks for a great scent!