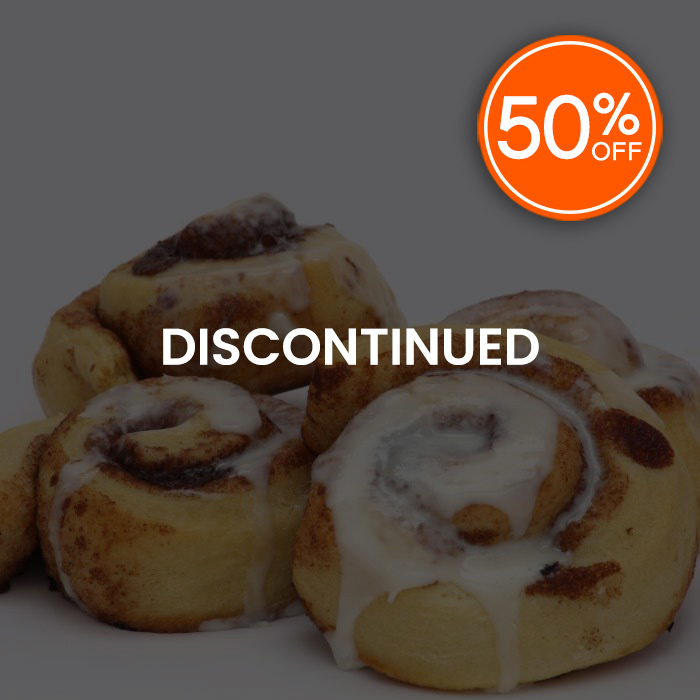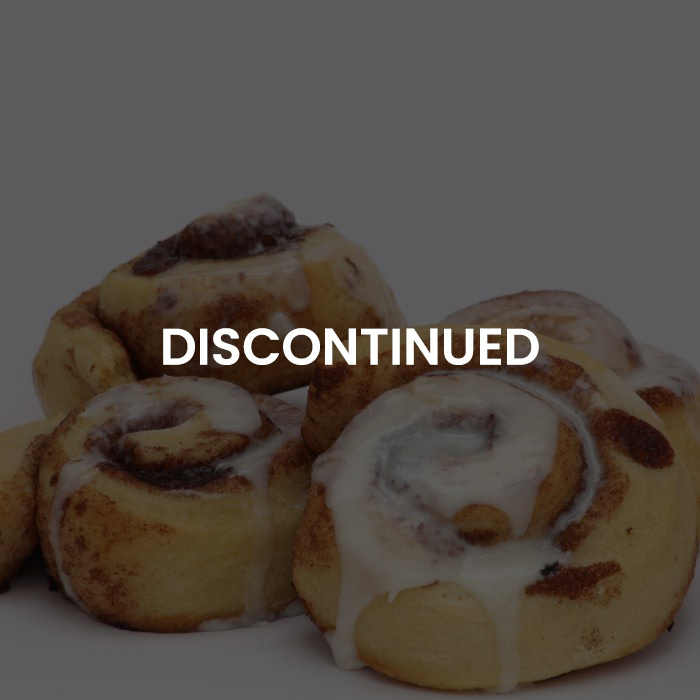 As of 05/19/2021:
This product is discontinued and no longer available.
Details
Remaining Stock On Sale Now!
All remaining stock of 1 oz Cinnamon Buns fragrance oil is now 50% off the original price of $2.66.
Note: For a similar fragrance, we recommend trying a Cinnamon Vanilla.
Warm cinnamon buns fresh baked and drizzled with vanilla icing.
This fragrance oil is infused with natural essential oils, including Clove.
Note Profile:
Top: Cinnamon, Clove
Middle: Butter, Sugar
Base: Vanilla, Cream

Suggested Colors: Brown, Ivory
See our complete list of candle making dyes.


Note: Bottles filled by weight, levels may vary.
Properties
Candle Safe

Yes

Usage: 3-10%
Soap Safe
No
Vanillin Content
0.01% - 2%
Soy Performance
Flashpoint
200 °F
Phthalate Free
Yes
Prop 65 Warning Required
No
Diffuser Base Compatible
No
*Usage amounts are recommendations only. Individual usage amounts can vary based on your desired fragrance strength, wax type, soap base, or lotion base. See IFRA certificate for max usage levels.
Documents


Reviews
I absolutely love this scent. I'm so sad it's being discontinued.🥺 I hope they sell this scent again
I put real cinnamon into the wax and made pie crust for cherry pie candles. It smelled amazing. Now it is discontinued :(
"true" to scent. Customers love this in a candle
While I do enjoy the fragrance of this, I couldn't get the hot throw where I wanted it. The scent was nice but didn't scream cinnamon buns.
You know what I love about candle science is they don't filter the reviews (element' oils does!! I recently paid a lot of money for an oil through them based off 100/ positive reviews! When the oil arrived it was nothing like what I was wanting. It was horrible! They never responded back)
I'm giving this oil 5 stars because it smells amazing!! However I personally had an allergic reaction to it. I've not ever been to sensitive to cinnamon oils before. I didn't wear a mask like I probably should have. I'm totally guilty there. This is my second bottle of it. I love the smell. But there is something in it that tore me up twice.....
Be careful when making this oil if you even suspect you may have cinnamon allergies. :))))
Just ordered a bigger bottle - love it!!
This smells just like cinnamon buns, just a light fragrance though. Just enough to fill the room but you know its' there.
This fragrance smells amazingly potent in the bottle and has a strong cold throw but the hot throw was lacking. The cinnamon smell was way too subtle.
Almost as good as walking by cinnabon! I like it. Sweet but not in an overwhelming way.
Smells more like Cinnamon. The sweet smell is not there for me. It gives a great cinnamon scent throw though.
If you can't get a hot throw with this one than revamp your recipe and try again because I got a very strong hot throw with this using 464 soy and 10% fragrance. A little too strong. I'll probably use 9% for the next round. I added a little bit of dulce de leche to it and it's just like the caramel covered cinnamon rolls that my friends bakery sells. A lady who bought one today said that it's smells warm and buttery and yummy.
For tarts / melts I use a parasoy blend and this fragrance throws like a major league pitcher. The only problem is that it makes me crave those mall cinnamon buns. (I can smell all the notes in this scent, not just cinnamon.)
This is a great scent for candles! I mixed with cake scent and it smells exactly like my favorite cinnamon bun store.
I used 464 Soy Wax I haven't done a test burn yet. But the scent is very strong right out of the bottle. It smells more cinnamon than cinnamon bun. I was expecting more of sweet smell also but that does not happen. When making the candles you can smell the scent through the home. Hopefully it has a nice hot throw when burned. Will mix it with Pecan Pie to see if it has more of a sweet and savory flavor added to it.
I received this scent as a free gift with my previous order. The scent out of the bottle and the cold throw are amazing. Unfortunately, there was zero hot throw from my 6 oz. candles. (I used 464 soy, 1 oz. scent to 1 lb. wax, as recommend in the CandleScience soy tutorial. This ratio worked well with the Lemon Poundcake scent.)
This was more of a red hot cinnamon than the cinnamon baked goodness I was looking for and that was the feedback from all 4 members of my household.
This is a wonderful aroma. I use 464 soy wax and the outcome is just marvelous.
This is the best cinnamon FO I have found. I have tried many from different brands, but they weren't attractive. When my customers smell my candles with this FO, they adore it. Cinnamon lovers are in bliss. Thank you!
I am absolutely not a fan of cinnamon smells or really cinnamon at all but I loved this scent! It is a very light subtle throw that smells just like cinnamon rolls! You can smell the sweetness and dough without the cinnamon over powering everything.
This fragrance is me least favorite so far and it is weak in my 464 soy wax
I purchased this scent based off of good reviews and that I really wanted something with cinnamon. I tried to make candles 5 times with this scent and it was always a FAIL. At first I thought I was the one making a mistake but after many tries and not getting the same exact scent oob and wasting my wax and fo, I have made the conclusion that it's not me! The scent is very weak! nothing like OOB and causes tunneling... buy a sample size if you want to try.. I made a mistake and bought a 16 oz
This scent is very weak!! Smells great in the bottle . Smells totally different in a candle what you can smell. I'm burning it as we speak its a weak fragrance.
This smells exactly like cinnabon cinnamon rolls and its addicting! Has an amazing scent throw as well!
wow this scent is so good
My favorite have to order a bigger size
I loved this fragrance but after making my candles ended up with hives! To be fair I can't eat anything with cinnamon oil such as mints or big red gum. If you have an allergy to cinnamon be very careful when making this scent, wear gloves and long sleeves. The candle itself has caused no irritation or headaches, just the little bit of oil that got on my skin.
Smells like the buns I make fresh out of the oven.
Definitely buy not joking around
Don't buy to make candles.
I purchased this scent and it has a great cold throw while getting ready to pour candles, might be good for melts, but it is horrible for candles. Causes tunneling even though I wicked according to C.S. recommendations. Tried again with different larger wicks and it still tunnels. Wasted a lot of time on this scent trying to make it work with different wax, wicks, etc. Same wax, wicks with Honeydew Melon and the candles burned perfectly. There is something in this scent that causes issues.
I must be doing something wrong because this fragrance comes out like weak cinnamon. I would not recommend if you are just starting
Holy moly, this is a delicious scent. It smells JUST like cinnamon rolls with cream cheese frosting.Nice & strong but not headache-y, not too much. Good cold and hot throw. The only problem is that it makes me crave the real thing!
A very strongly scented oil. To me it smells more cinnamon than cinnamon buns, but it is still a good product.
Was expecting to be very fragrant since it smelled good when the lid was opened, but the smell is very weak when burning.
Amazing - Buy lots the first time!
Amazing - but lots the first time!
I received a sample of this with my order. It is nothing short of AMAZING!!! Smells like I just took cinnamon rolls out of the oven!
Nice but not a best seller
I love this fragrance but it wasn't very popular with my client base. I only sold one of them unfortunately. Would be a great Autumn/Winter scent but maybe I'll try mixing it with something else and see if I get better results
Used in 444 soy. Has a fairly substantial hot throw (not the strongest but good), and definitely a yummy scent. To me, the sweet "icing" scent was far prevalent over the cinnamon, though it definitely has that deeper spicy cinnamon note to it. Some people will be more sensitive to the cinnamon, so I would say it's a good choice for fall/holidays.
I got 4oz bottles of Cinnamon Buns, Gingerbread, Hansel & Gretel's House, and Creme Brule, and I have to say they are all so similar that I can hardly tell the difference between them in a finished candle, with Creme Brule being the most different. If I were trying to come up with a selection of food scents for a candle line, I might only pick one of these four to include. They all have slightly different notes, but after a while you realize they all have a very similar overall tone. I would suggest trying smaller bottles of these to see which has the undertone you prefer, or try mixing them with other scents that compliment their specific undertones to bring out a wider variety of custom scents.
Expecting this scent to be more sweet. It's not that exciting for what I was expecting. Smellet more likexpensive a cinnamon spice. Definitely going to add vanilla to this to give it some sweetness
Absolutely love this FO😍.., Literally makes your tummy growl, it smells like rich caramel with a hint of soft cream cheese!!!💕
I love this one! Lots of cinnamon and it's not overly sweet. Sells quite well.
I absolutely love cinnamon rolls! So when I saw this fragrance I had to try it. It smells amazing!! One of my favorites.
I use this scent in my wood wick collection. Great scent throw in GB 464 wax. When I was making the candles my 21 year old daughter thought I was actually baking when she walked through the door. Needless to say she was disappointed! lol
This scent I could not smell when I lit my tea candles. Does it work better with larger containers . Disappointed.
My customers LOVE this scent, it's true to it's name, it smells so good you will want to eat your candle. Used 1.5 oz to 1lb C3 Soy Wax. A keeper for my soy line!
It's ok but rather weak I thought. Not a good cold throw in GB 464.
People love this scent. It's a little too much on the cinnamon for me, but everyone else loves it.
this is by far the best cinnamon bun i have bought. i tried others and they do not mix with the wax, but this one is awesome and smells great
"I am having a hard time not eating my candle!!" - that's what one of my customers told me about this scent! It is very mouth-watering. You can almost taste the cinnamon in your mouth! I used GB464, 1oz/lb, ECO#10 wick
Perfect Holiday / Fall / Winter Scent!
Wow! This is by far my favorite cinnamon scent... it is just YUMMY! Wonderful hot & cold scent throw. It works perfectly with the GB 464.
I am so surprised by my absolute love for this scent. I got it to try something different and turns out this is definitely one of my favorites! 1oz in 12oz melted soy 444 has AMAZING hot and cold throw. It fills up my entire first floor/open floor plan house. I will definitely be making more of these.
I like the fragrance and have placed a couple of orders for Cinnamon Buns. My Customers seem to like it also. 1.5 frag in soy wax. Good Both hot and cold throw.
Popular but beware for sensitive skin
My customers love this scent--it's great for the holidays and is true to its name. When I make larger batches of this scent, I break out in a rash on my arms and hands. I have sensitive skin, so other people may not experience this, but you may want to use caution if you or family members in your home have sensitive skin.
This scent is exactly what I wanted for a cinnamon bun fragrance! It's a rich scent of cinnamon and sweet icing. I love it and will buying it again!
Very true smelling fragrance oil. Great cold and hot throw. Can definitely smell the whole cinnamon bun, doesn't just smell like cinnamon. Very strong and appeals to a wide variety of people, year round. I used it in containers with Soy464 and wooden wicks, worked great!
Strong cinnamon, little icing....
This is a good cinnamon scent but the icing part is very weak!! I remember ordering this a few years ago and it seemed to be more of a true cinnamon bun (blend of warm cinnamon with sweet vanilla frosting). However, it's definitely a strong scent.
I used 1/2oz in 13oz of 464 with a wooden wick. Its amazing. Its a great cinnamon roll scent thats not like the run-of-the-mill cinnamons. Its a smooth cinnamon with a subtle hint of icing. Could use more icing, but the throw is great. Warning: MAJOR cravings!
This is a nice cinnamon fragrance but is weak in regards to the icing. Not exactly the blend I was looking for but still a very nice and strong fragrance.
True cinnamon, weak icing
The vanilla icing scent could use more strength. I could detect a slight icing aroma from the bottle, but after use in EcoSoya PB, I can't smell the icing at all. The cinnamon is clean, strong, and pleasing. Overall a great cinnamon scent, but this fragrance doesn't quite live up to the name.
this was an amazing treat that I will order year after year for sure!
cinnamon rolls with icing
Used for body products. Smells just like pillsbury cinnamon rolls with icing. everyone goes, oh my god it does...
Smells so yummy. It does smell just like cinnamon buns.
I LOVE this fragrance!!!! It smells JUST like the cinnabon cinnamon rolls in the mall!!! GREAT REPLICA!!!!
Good scent throw hot and cold in GW464, and Ecosoya PB. This scent started selling as soon as it hit the table.
Just the cinnamon I was looking for! It has such depth..not the typical chalky cinnamon stick smell. A strong, warm & deep fragrance. Great hot & cold throw. Will order this again for sure!! Thanks once more CS
I love this fragrance oil. It is very strong and very comforting. By far my favorite smell. Great scent throw when warm and cold. An overall favorite from all that smell it. Buy this, you will not regret it!!!
This scent is amazing! When you first smell it you pick the spice up immediately with a deep cinnamon chaser. Wonderful hot and cold throw!
this one sells the fastest..smells just like Cinnamon buns & even my pickiest customers love it!
This is the best scent I have bought. Needless to say I LOVE,LOVE,LOVE THIS ONE!
This is one of those scents that will make you hungry!
Really smells like Cinnamon Buns, very strong throw.Fantastic!
I want to eat cinnamon buns everytime I light this candle! If your looking for a wonderful bakery addition this is it.
This is by far the best cinnabun scent I have used. This has a great cold and hot throw.
Wow! What a strong fragrance! Smells just like a cinnamon bun. Don't care for baked scents, but this was one of the few exceptions.