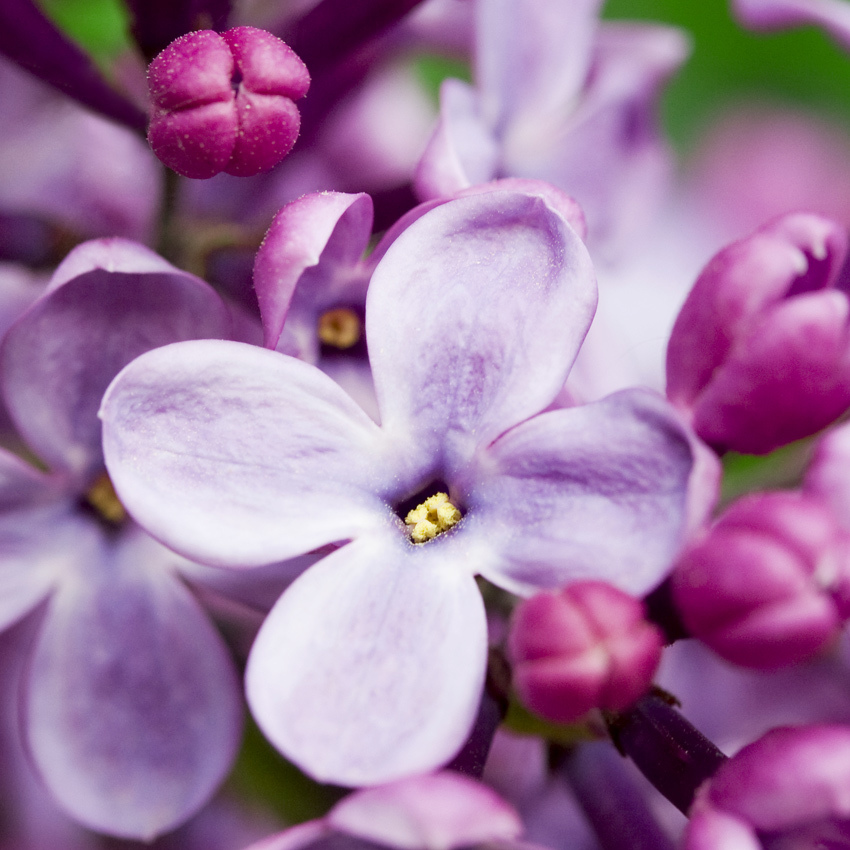 Ready to Order?
6+ 5lb Jugs
$79.94
$1.00 /oz
12+ 5lb Jugs
$71.94
$0.90 /oz
Safer Scents For The Home
CandleScience Clean Scents™ are free from carcinogens, reproductive toxins, and other potentially hazardous chemicals often found in fragrance. Choose Clean Scents and create safer home fragrance products you and your customers can enjoy with confidence.
Read More >
Details
French Lilac captures the serene beauty of a field of lilacs in peak bloom. Notes of green leaves, lily of the valley, and honeysuckle blossoms enhance the alluring bouquet of French lilacs. Clean powder and woody amyris round out this floral scent with a soft, romantic touch.
This classic fragrance fits right in with any candle or wax melt line, and its delicate beauty blooms in handmade lotion, melt and pour soap, and other personal care products.
This fragrance is infused with natural essential oils, including peppermint oil.
Alternative Branding Ideas: Butterfly Garden, Lilac and Tulip, Snapdragon, Tiger Lily
Note Profile:
Top: Green Leaves
Middle: Lilac, Lily of the Valley, Honeysuckle
Base: Amyris, Powder

Suggested Colors: Pink, Purple, Lavender, Lilac
See our complete list of candle making dyes and soap colorants.
Note: Bottles filled by weight, levels may vary.
Properties
Candle Safe

Yes

Usage: 3-10%
Soap Safe

Yes

Usage: 2-3%
Vanillin Content
0%
Soy Performance
Flashpoint
> 212 °F
Phthalate Free
Yes
Prop 65 Warning Required
No
Diffuser Base Compatible
No
*Usage amounts are recommendations only. Individual usage amounts can vary based on your desired fragrance strength, wax type, soap base, or lotion base. See IFRA certificate for max usage levels.
Documents


Reviews
LOVE THIS ONE! ONE OF MY FAVORITES!
This lilac scent is so beautiful that I'm sort of hoarding the batch I made for myself. I'll just have to make more for everyone else! If you love the smell of fresh blooming lilacs..don't hesitate!!
This is a strong floral scent. I don't usually like floral scents, but love this one. It fills my entire kitchen and living room with vaulted ceilings.
very florally - smells like straight flowers :)
Some of these reviews are ridiculous!
I wish there was a way to respond to reviews. Other reviews mention pouring this FO at 110° degrees and the next day it had no scent. First of all you should be pouring FO at 185° like CandleScience has stated multiple times. Secondly your should be curing your soy candles for at least 2 weeks to allow the FO to fully bind with the wax. Please don't leave negative reviews on a FO that doesn't deserve the negativity just because you're incorrectly making your candles 🤷🏻‍♀️ This is a great Lilac! If you're wanting a Lilac fragrance look no further
This smells just like lilac, my favorite flower! Strong CT and HT, it filled my whole living room while it was burning. It felt like spring, even though outside is covered with snow. This will defiantly be in my spring collection, love it!
This is a great lilac scent. Straight lilac kinda bothers me but this is nice. I bought more samples for melts and they smell great.
I am not sure if my bottle was bad, but I am not happy with this FO. I made one batch of candles using 6006 on 12/30/20, wax melts using Ecosoya PillarBlend on Jan 3, and another candle batch using Ecosoya PB-135 also on Jan 3. I have been checking them daily, and all of them barely have any CT. I also burned one candle from the first batch 2 days ago to check for HT, and same thing...barely noticeable. I am disappointed because I really love lilac scent. But, I guess they can't all be winners.
Thanks so much for leaving a review! A member of our Support team has reached out to you via email to assist.
I am a floral designer, candle maker and lilac lover, this one is the real deal. I use 464 and burned the sample after 24 hours to test a wick and the CT and HT are great already! Ordering lg bottle to make more and let them cure, will be in our spring line and most likely become a classic.
Over 20 years of professional candle making and this is the best single Lilac I have ever experienced. Don't let the OOB bother you at all, it matures to a beautiful, true lilac scent in wax. I use 464 soy, after 1-2 weeks of cure this candle has an amazing cold and hot throw and finishes beautifully. I have used it as a single scent for a true Lilac as well as blended with vanilla and other florals for my custom scents.
It will made it to the Classics line up of our studio and will stay there.
Really lovely scent! I used it with sea salts and it just has very strong, lovely scent. A little goes a long way!
And I find myself giggling at some reviews. But I would not say this company finds anything amusing in unfair bad ratings... One person complains about how he got embarrassed and how the name insulted the French, yet 5 days later " corrects" himself stating that the scent manifests after 3- 7 day cure ( so does he sell uncured candles to his customers?) - but nonetheless, the damage of the very negative rating was done.
Another review states it smells watered down. Hmmmm- I'd say that sounds more like a problem with that person's nose cause I can smell the opened bottle at least 8 feet away? And my senses are very used to Fragrance Oils!
Another reviewer called this " Lilly" - so very different from Lilac.
How about thinking of the purpose and impact of reviews?
It's NOT funny. My giggle was more of a speechless sarcastic reaction.
This FO is just a good in quality and strength as other ones. I explained minimum seizing with my CP soap, but not really worth mentioning. It's a decent representation of a lilac scent
I recently purchase my first order from Candle Science. I found this site by an Amazon reviewer who referred to this site while looking for fragrances for a candle warmer I recently ordered. I am more than pleased! I am super happy with the scents I randomly tried, Calla Lilly, French Lily and I forgot the last one I chose because I gave away as a gift. I am now a loyal patron of this site and I'm looking forward to many more purchases from you. I might get into candle making or lotions or soaps, never thought of it before visiting this site! Very informative on scent information and I am please with a great selection available! I am here today to repurchase more scents.
Great quality items and informative website!
T.Nisperos
Not as bad as I originally thought
In regards to my previous review, this fragrance is not as bad as I had originally thought but the response I'm getting from my customers is that the fragrance is weak. After making the candles the fragrance seems to get stronger after the candle has cured for 3 to 7 days. I started to add more fragrance than what is recommended and that seemed to help too but you have to be careful. I now sell two versions of Lilac using fragrances from other companies for my second version in the hope to keep my customers satisfied. I am a bit of a Lilac connoisseur, but if you're not going to produce the best then what's the point! My customers will decide if I continue to buy this fragrance.
For the first time since I have ordered any scents The French Lilac was a BIG disappointment,,So watered down wont order again,
Lovely smell but I did experience an extreme acceleration in trace. Will absolutely use again just only with 1 or no color!
A friend
Not trying to be mean, but the previous reviews basically just told me that one person is a Lilac connoisseur extraoirdinaire who simply isn't happy with this particular Lilac FO and the other one liked the smell by opening the bottle and taking a sniff. 🤔
A friend of mine shared her order with me and I used this FO in wax as well as CP soap.
The candle I made with 444 GW using 10% FO (same with Parasoy Tarts) had a good cold and hot throw and the soap smells awesome, too- no seizing, ricing or separation issues!
I disagree with the previous review and also believe people ought to wait until after using a FO before reviewing. OOB doesn't mean much- FOs can smell a certain way OOB but change during the application in a product and that's what people like me are looking for.
Now for the issue with discontinuation of a FO... Unfortunately, it happens. As far as CS causing someone to be embarrassed that they can no longer offer customers the very same scent... Well, in this craft, sometimes we have to invest and take chances ordering elsewhere if a certain FO no longer is available. Most of us, who have been doing this on a more professional basis end up with several bottles of the same scent from different suppliers. It's the name of the game to sometimes have to invest more than we necessarily want to if we aren't quite happy with one supplier's version. Just explain it to the customers and try to find one they'll be happy with! (That's where reviews really come in handy)
I wonder if previous reviewer would even know the difference between different Lilacs to say naming this one "French" Lilac is an insult to the French?
This FO definitely does NOT deserve a bad rating ( and I personally dislike floral scents). It's not about our personal likes and dislikes.
Extremely disappointed!!!!! Candle Science had a really good Lilac fragrance and my customers loved it, it was one of my best selling candles. So what does Candle Science do? They discontinue it and come up with French Lilac. To call this French Lilac is an insult to the French! I poured an ounce of French Lilac into 12 ounces of Golden 444 at 110 degrees and a day later I can't even smell the fragrance in the candles. Doesn't Candle Science test this stuff? So now I have no Lilac fragrance to make candles with, and when I do find a new fragrance it won't be the same. So Candle Science, what do I do now? I understand your try had to get all of your fragrances as healthy as possible but don't shoot yourself in the foot trying to do it. Now I'm out of Lilac and apparently out of luck. This is going to be extremely embarrassing for me to explain to my customers. I'm a huge fan of Candle Science and love many of the fragrances and as far as I'm concerned CS has some of the best fragrances on the market, but this time someone dropped the ball. I'm going to try and mix it with The Flaming Candles, Lilac, and or Lilac from P&J Trading and we will see what happens. So sad!!!
I loved the old lilac and could not find a decent replacement for it anywhere else. I just recieved a bottle of the new French lilac and, while I haven't made a candle with it yet, it smells fantastic right out of the bottle. Good job on this one!