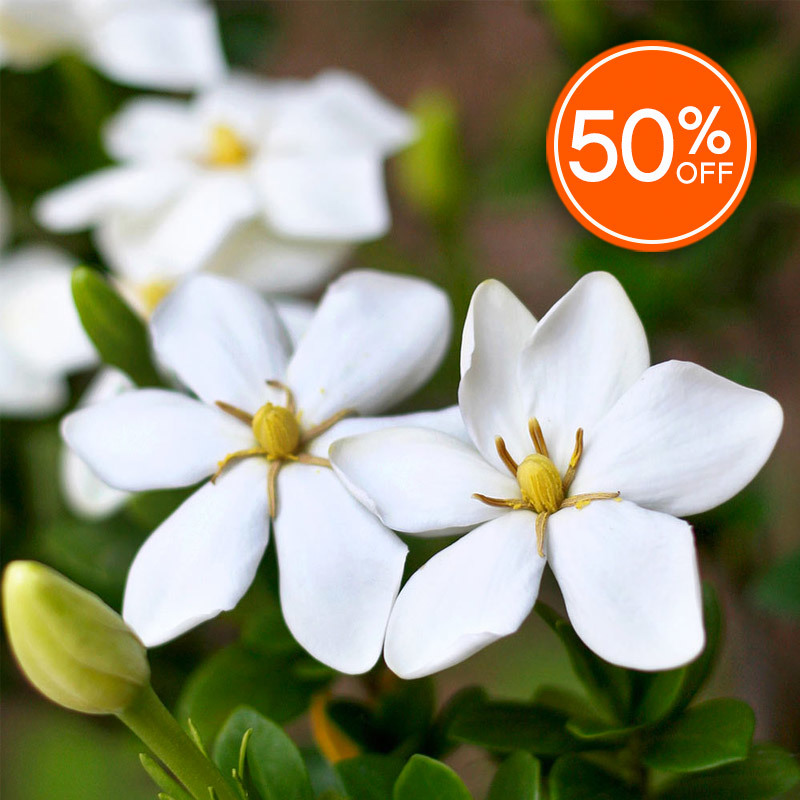 As of 05/30/2019:
This version of Gardenia (Discontinued Version) has been discontinued and replaced with the new Gardenia Tuberose. Click here to check it out!
Details
REVISION NOTICE: It is CandleScience policy to notify customers if any part of a fragrance was changed for any reason.
As of May 2, 2019 our Gardenia was revised to meet our new stringent safety standards of being Phthalate-free. See new version.
The exquisite aroma of tropical Gardenia with a top notes of fresh green leaves and tuberose. The heart of the fragrance is a gardenia that truly captures the natural aroma found in this beautiful flower. A soft powder base note adds depth to this lovely floral fragrance. This fragrance oil is infused with natural essential oils including clove. Note Profile:
Top: Green Leaves, Tuberose, Spice
Middle: Gardenia
Base: Powder

Suggested Colors: Ivory, Light Yellow
See our complete list of candle making dyes and soap colorants.
Note: Bottles filled by weight, levels may vary.
Properties
Candle Safe

Yes

Usage: 3-10%
Soap Safe

Yes

Usage: 3-6%
Vanillin Content
0%
Soy Performance
Flashpoint
200 °F
Phthalate Free
No
Prop 65 Warning Required

Yes

Diffuser Base Compatible
Yes; Up to 25%
*Usage amounts are recommendations only. Individual usage amounts can vary based on your desired fragrance strength, wax type, soap base, or lotion base. See IFRA certificate for max usage levels.
**Warning: This product can expose you to benzophenone, which is known to the State of California to cause cancer. For more information go to www.P65Warnings.ca.gov.
Documents

Reviews
I grew gardenias and it is missing a sweet note to this scent.
Thanks misinformation rampant!
I love this scent! It's really pretty. I'm sure my customers will too.
I want to thank the person whom wrote the misinformation rampant review below. I wondered what was up with the pthalate. It sounds like you have done some research?
I'm glad I read your review and will now look further into it myself. I don't have a problem using any of the products at Candlescience. I trust they only give us great products and if something isn't right they fix it. I can count on Candlescience to always look after our best interest.
I liked the pretty floral fragrance of this oil, but it is not at all like a gardenia flower.
Misinformation is rampant
I have read some reviews concerning fragrance oils that contain phthalates. The comments were that they would not purchase the product again because it contains phthalates. That is your prerogative & choice! But there is so much misinformation circulated out there, that it has created unnecessary alarm & hysteria. Many people oppose synthetic fragrances because they contain "allergens". What they don't realize is that 18 of the 26 listed as allergens, are naturally occurring in essential oils. Safer Choice products are supposedly better for the environment, but what most if not 99.9% of the general population doesn't know, is that safer choice products "cannot" contain Natural or Essential oils, because the EPA claims that they are harmful to the environment. Diethyl Phthalate was a common solvent used in fragrances. It has "no" known adverse effects but because it's a phthalate it has been banned. You actually are exposed to more harmful toxins every time you touch a receipt that contains BPA (Bisphenol). Industries are forced to remove every vestige of formaldehyde from their products. Yes formaldehyde is dangerous, but did you know that formaldehyde naturally occurs in apples, apricots, banana's, cabbage, carrots, grapes etc.? My point is that their is a lot of misinformation out there that is not supported by scientific data. Every time you pull up to a pump & pump gas into your vehicle, you come in contact with small amounts of petrol ingredients & God knows what else was transferred from the person who touched it before you. Fragrance companies expend a lot of money & go to great lengths to assure that the products they offer are safe & meet safety standards.
First time ordering with CS and I will never order elsewhere! The turn time on "priority shipping" was incredibly fast, beyond any vendor I have ever used. The fragrance oils are spot on or "leaf on"! Gardenia, cold throw is 10+++ and warm throw is 10++++
My whole home smells amazing from this oil!
CandleScience is user friendly, educational, reasonably priced and honest!
Win win win!
Great scent not to flowery. Nice subtle.
I really like this gardenia and personally do not care that it isn't phthalate-free. I made a small batch of cold process soap with it and added goat milk. Turned out nice ivory bars and smelled lovely.
Used this FO in CP soap. The fragrance behaved nicely. It went to trace faster than some FO's, but wasn't a problem as I was only using 1 color. This is a great fragrance and can't wait to use the soap.
I bought quantity to test. The cold throw is spectacular. I have yet to burn it. But it contains phthalates, so unfortunately, I will not buy more quantity for production. Very upset about this. Please make it phthalate free!!!
This is a wonderful tropical, floral scent.
Absolutely beautiful scent!
Gorgeous tropical scent that is outstanding when lit. Performs well in GB464
Gardenia as shown in the picture is my childhood flower, my favorite scent of all flowers. Unfortunately I can't use this FO since it contains phthalate. I'm sad to learn that it's not phthalate-free like the other CS FOs I've purchased. CS, please make this scent Phthalate-free so I can make candles with it knowing that it's not harmful to people who will be smelling it :(
I really liked this one and especially because I bought it for a friends request, however, it contains phthalates. I am not buying FO's phthalates anymore, so unfortunately, I will not purchase this FO again until it's reformulated. it was great mixed with another FO that gave it more "weight" and a hint of sweetness which made it smell more like natural gardenias. All in all though, minus the stuff I said before, it smells good.
Smells really good! Not chemically like other floral scents.
This scent is the best seller. My clients just take one sniff and they are hooked
I can not get a good hot throw with this..I am using Glass Glow Palm wax @ 1oz/lb as recommended.
This is one of my favorite scents, never disappoints so light and fresh.
Another amazing scent by Candle Science. Soft, yet absolutely wonderful. Fantastic scent throw in Feather Palm Wax Tarts. I sell alot Gardenia Palm Wax Tarts. Keep up the fantastic job.
Such a wonderful scent.. I am more amd more impressed with CS with each order. Everyone who smells this goes "what is that?". Its not an immediately recognizable scent, but EVERYONE adores it immediately. I sell out as soon as they come in stock. Also my personal favorite out of 40 scents! Light scent but great throw. Not overwhelming.
I love it! I was using another Gardenia from another company but this is much more truer to the scent. Great in candles as well as bath and body products.
I was using a scent from another supplier but this one is way better definately a keeper.
I use 415 soy wax.
Love this scent.Great throw in soy. Customers love it. Great job Candlescience!
I have tested this in 16 oz. jar and a votive. Amazing throw both hot and cold. Definitely a keeper on my list!!