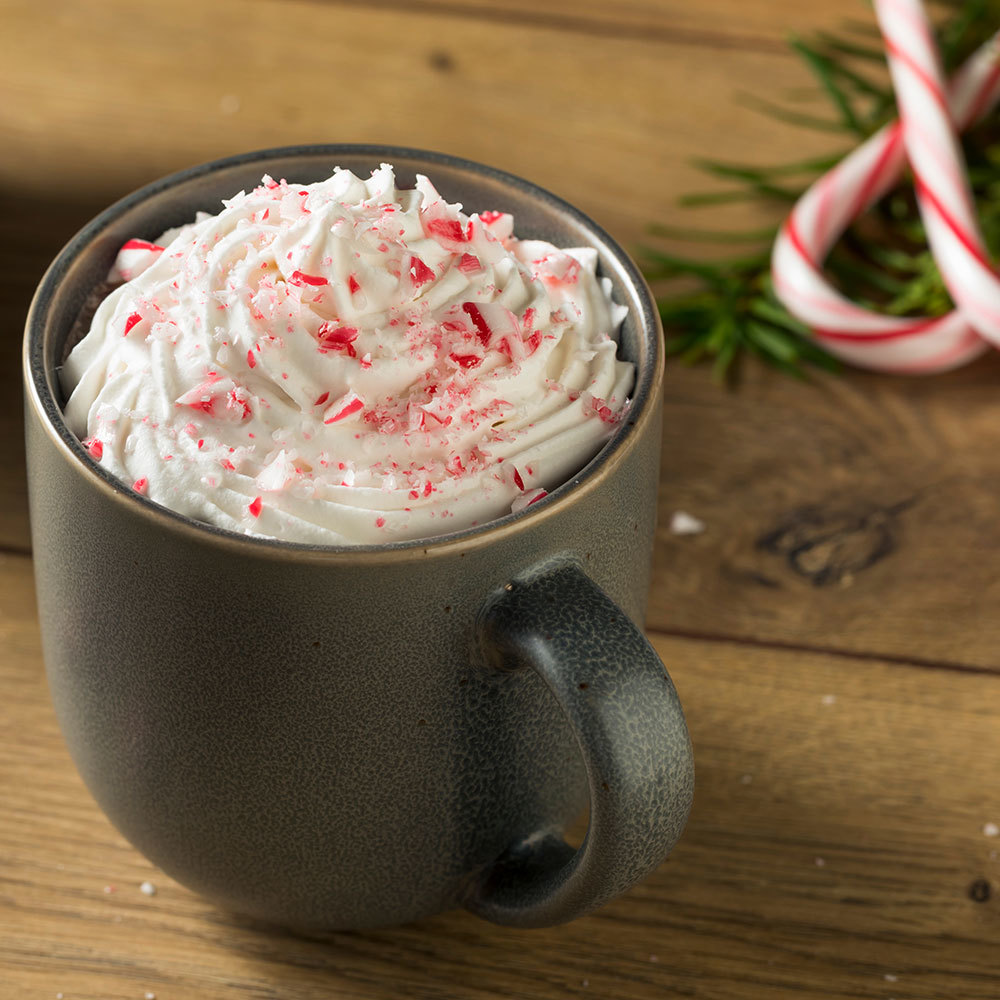 Ready to Order?
6+ 5lb Jugs
$79.94
$1.00 /oz
12+ 5lb Jugs
$71.94
$0.90 /oz
Safer Scents For The Home
CandleScience Clean Scents™ are free from carcinogens, reproductive toxins, and other potentially hazardous chemicals often found in fragrance. Choose Clean Scents and create safer home fragrance products you and your customers can enjoy with confidence.
Read More >
Details
Our Peppermint Mocha fragrance is a chocolatey delight for your senses. This signature drink fragrance blends decadent chocolate and peppermint into an irresistible treat. Notes of peppermint and a hint of coconut milk blend with rich chocolate and creamy vanilla.
Candles, wax melts, and tarts infuse areas with the craveable aromas of this minty coffeehouse favorite. Chocolate lovers will appreciate the familiar scent of their favorite treat in specialty bath and body care products like cupcake soaps and body souffles.
This fragrance oil is infused with natural essential oils, including mentha arvensis.
Note Profile:
Top: Coconut Milk
Middle: Peppermint
Base: Chocolate, Vanilla

Suggested Colors: Green, Red, Brown
See our complete list of candle making dyes and soap colorants.
Note: Bottles filled by weight, levels may vary.
Properties
Candle Safe

Yes

Usage: 3-10%
Soap Safe

Yes

Usage: 3-6%
Lotion Safe

Yes

Usage: 1-2%
Vanillin Content
0%
Soy Performance
Flashpoint
199 °F
Phthalate Free
Yes
Prop 65 Warning Required
No
Diffuser Base Compatible
Yes; Up to 25%
*Usage amounts are recommendations only. Individual usage amounts can vary based on your desired fragrance strength, wax type, soap base, or lotion base. See IFRA certificate for max usage levels.
Documents


Cold Process Soap Performance
| Acceleration | Discoloration | Separation |
| --- | --- | --- |
| None | Dark Brown | None |
Lye Water Temperature 103ºF
Oil temperature 115ºF
We did not experience any acceleration or separation. This took a little longer than typical to come to a light trace and remained very easy to work with. Once at a light trace, the batter did turn a brownish yellow color. The soap was quite soft, so we allowed it to stay in the mold for 5 days before removing. While removing the soap from the mold, the soap was still soft and the corners stuck in the mold. The edges did turn a tan shade while the center remained white. We did not observe any signs of the soap going into a gel phase. The scent was very strong. After 30 days the soap discoloration was very patchy, but overall the final bars were a dark brown and there was still no sign of the soap going into a gel phase. The scent was quite strong and had a true chocolate peppermint scent. Due to the discoloration this would be a fun fragrance to create a holiday themed coffee soap.
Reviews
This candle scent was amazing! Smelt so good in the bottle and in my candles! They sold so fast!!!
This scent is amazing... I got the 1oz to sample and instantly made it into a candle and bought a 4oz. Great smell and does not have that fake peppermint smell... it's the real thing! Thanks so much for such a wonderful fragrance!
Delicious, but needs a better throw...
This oil smells absolutely wonderful. I just made a test batch. I don't know if I will buy more, because it doesn't have a strong hot through. I used it in 464 soy wax & used both wooden & regular wicks.
On my quest to test out new oils to go with my Christmas theme, I decided to give this a go. The review on mocha being prominent caused me to add a touch of Peppermint and Eucalyptus and let me tell you something... AMAZING!! That may seem a little crazy, but it works and I definitely recommend giving it a shot for a nice balance of both the peppermint and mocha.
I took a stab in thw sark and secided to try this scent and I am totally in love with this scent, wish i could bathe in it🤩🤩🤩🤩🤩🤩, I would definitely recommend this to anyone
I love this FO! Perfect balance of peppermint and mocha. I'm still getting orders for it
this is got to be one of my favorite scent from Candlescience it has such a warm buttery smell combined with peppermint and chocolate you will be in love with this scent.
Very Disappointed - Should be called Coffee Mocha
The old Peppermint Bark was my all time favorite. I was so disappointed when it was discontinued. Tried the new one and although it does smell nice, it doesn't compare at all. All I smell is coffee and chocolate. I got a faint smell of peppermint when I was making my candles/melts, but once they are lit/melted, it smells like a coffee shop. No peppermint whatsoever. Again, they still smell nice, but the name is misleading. Please bring back something with more of a peppermint scent.
Smells EXACTLY like a peppermint mocha!
I added this scent to our line-up this winter season. We are receiving wonderful reviews from our customers regarding this scent. It is so spot on.
I hate leaving a less than perfect review because I like Candlescience so much. I wanted to love this one but the hot throw just wasn't there. However, it smelled delicious out of the bottle. I don't make soaps, but maybe it would be better for that.
Reminiscent of Peppermint Bark, but not quite as good
***I normally use this fragrance for holiday soap***
While this scent is a good combination of peppermint and mocha, it is heavier on the chocolate side than what I was looking for. I LOVED the previous Peppermint Bark, which was lighter on the chocoate notes. But I still love trying all the fragrances! I might try it as a candle this time instead of soap.
This is a great scent and works very well with soy wax. It has a great throw and very popular!
I made two of these to test and while I absolutely LOVE the cold throw-perfect blend of peppermint and mocha, the only hot throw I have is if I stand near the candle and even then it's underwhelming. I am used to having strong hot throws from CS oils but this one missed the mark for me. I'm glad I only tried this vs making a bunch for holiday sales and have disappointed customers.
Can Not say enough good things
Let me start by saying I usually stay away from food related scents in my products... but being a business owner we all know its not always about what we like but what our customers like. When I seen this scent... I thought... okay, I need to come up with my Christmas scents asap, so I ordered this. It smells so good I cannot stand it! I just made an oatmeal whip for the face and used this... I bet I have washed my hands with it at least 10 times already! It smells so yummy, I am amazed... !! So glad I decided to try it. I just ordered another food related scent, so I will see how that one goes. I am very impressed with CandleScience scents...
I admit I am a fan of both peppermint and mocha and CS nailed it on this one. The FO does not overwhelmingly favor peppermint or mocha but is a perfect marriage of the two fragrances. This is my go-to morning candle. Great job! Rick Maloney, Owner, Pour and Penchant
I agree with the OOB meh comment. Get it into candles and soap. It's amazing. Will be purchasing more of this. A++
I did a review a few hours ago saying that this FO smells like fudge brownies and that I could barely smell the peppermint. After making soap and candles with it, I was blown away! The peppermint instantly cleared up my stuffy nose!!! It's strong but not too overpowering and smells so yummy and cozy. I love it.
Smells like fudge brownies
I like the smell. But it does not have a peppermint or mocha scent at all. It smells like freshly baked fudge brownies! It's a good scent tho, just need a name change because the name of the scent is deceiving!
I bought the peppermint mocha scent from the 99cent sale. I absolutely love this scent. I made soap using it. It smells amazing in the soap. Next up is bath bombs. I can't wait to see how all of my customers react. Most definitely will purchase more of this. It makes me think of sitting by a fire and watching the snow as I drink warm peppermint mocha. :) Thank you.
Peppermint Mocha is an invigorating scent that smells exactly like mint chocolate coffee! Every sniff makes me crave a warm mug of mint chocolate coconut milk. Peppermint Mocha differs from Peppermint Bark with a hint of coffee and richer cocoa scent to my nose, but is just as lovely. It's plenty strong with the maximum amount of fragrance in GB 444. The negative reviews surprised me, but they always do because I'm not love with only one CS fragrance. Also, I appreciate that every scent is someone's work of art. I understand that every nose is different and people get attached to oils, but phthalate and prop 65 eliminations are worth slight differences and some oils being discontinued.
Love this fragrance!! It's a smooth, delicious, warm, comforting winter scent. I also loved Peppermint Bark, but do understand the need to discontinue fragrances & add new ones (have had to do it myself for various reasons on a much smaller scale). The upside to not having Peppermint Bark now is that hopefully some day it'll come back & can be marketed as a blast from the past!
I dont understand the discontinuing of scent and replacing it with something that is not as good. Ive been forced to by elsewhere due to to all the difficulties in discontinuance. Mainly Lavender Chamomile, this was a huge seller for me for a B2B account and it took forever finding what I needed.
Doesnt smell like peppermint or mocha
It smells okay, just smells like chocolate/fudge. I dodnt get a hint of mocha or peppermint. Could just be me though
Owner, Pare Candle Company
We were pleasantly surprised at how much we enjoyed this fragrance as we've been testing for our fall and holiday candles. We have not previously used Peppermint Bark, so I cannot speak to those previous comparison reviews. I will say that this fragrance stands out as unique in a sea of apple, pumpkin and evergreen fragrances. We plan to add this to our line and see how it goes. It's not overly sweet, and the peppermint, chocolate and vanilla notes come through nicely in our soy and coconut wax blend that we create. I only gave it 4 stars instead of 5 because I'm not sure how it will sell yet. We love Candlescience!
I agree with a previous review, this fragrance doesn't compared to Peppermint Bark. Very disappointed to see that fragrance replaced by this one. Even my customers, who I gave samples to, did not like it. Sad to see so many of the fragrances I did really like, being replaced or discontinued:(
SO SPOT ON! FIVE STARS! Smells exactly like a starbucks peppermint mocha.
Very true scent! Peppermint mocha smells just like I thought it would.
This is no replacement for Peppermint Bark, which you suggest, I was selling P. Bark wonderfully. Why are yoiu discontinuing so many great fragrances?