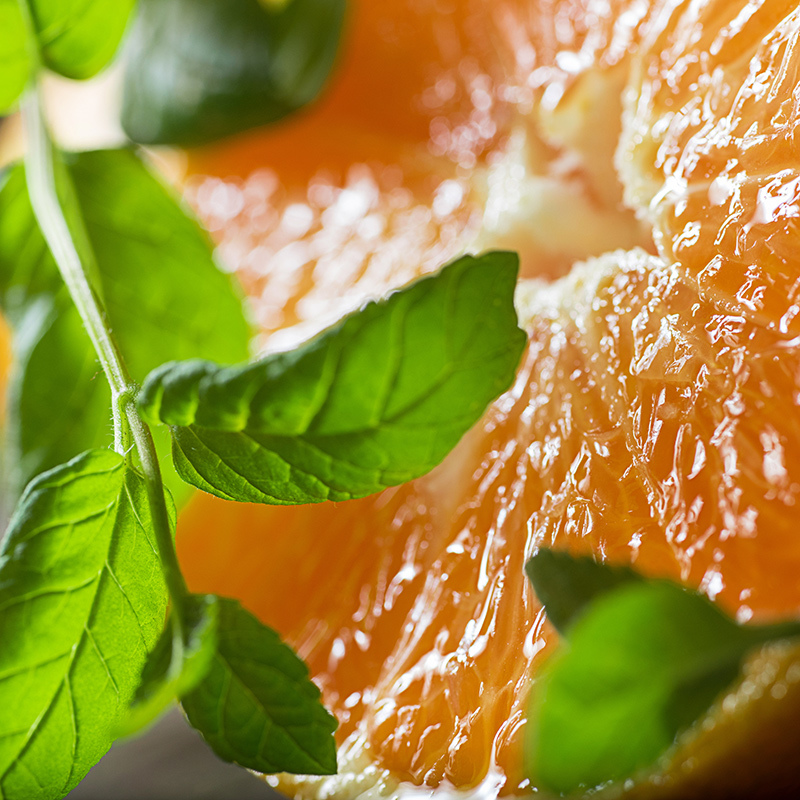 Ready to Order?
Out of stock. Expected: East Coast 5/18, West Coast 5/25
Ships from East Coast. Expected: West Coast 5/17
Out of stock. Expected: West Coast 5/17
6+ 5lb Jugs
$84.84
$1.06 /oz
12+ 5lb Jugs
$76.36
$0.95 /oz
Safer Scents For The Home
CandleScience Clean Scents™ are free from carcinogens, reproductive toxins, and other potentially hazardous chemicals often found in fragrance. Choose Clean Scents and create safer home fragrance products you and your customers can enjoy with confidence.
Read More >
Details
Watermint and Clementine is an invigorating orange citrus fragrance enveloped in an herbal bouquet. Top notes of citrus and sweet basil give way to a prominent orange peel note. Mint leaves and chamomile combine with agave nectar and tomato leaf in the base. Orange and lemon essential oils keep Watermint and Clementine bright and juicy, while mint and eucalyptus essential oils reinforce the green, herbaceous accord.
This fragrance oil is infused with natural essential oils, including orange, lemon, mint, spearmint, and eucalyptus.
Alternative Branding Ideas: Citrus Basil, Orange Grove, Sunshine and Citrus
Note Profile:
Top: Citrus, Basil
Middle: Orange Peel, Mint, Chamomile
Base: Agave, Tomato Leaf

Suggested Colors: Orange, Green
See our complete list of candle making dyes and soap colorants.
Note: Bottles filled by weight, levels may vary.
Properties
Candle Safe

Yes

Usage: 3-10%
Soap Safe

Yes

Usage: 2-5%
Vanillin Content
0%
Soy Performance
Flashpoint
172 °F
Phthalate Free
Yes
Prop 65 Warning Required
No
Diffuser Base Compatible
No
*Usage amounts are recommendations only. Individual usage amounts can vary based on your desired fragrance strength, wax type, soap base, or lotion base. See IFRA certificate for max usage levels.
Documents


Cold Process Soap Performance
| Acceleration | Discoloration | Separation |
| --- | --- | --- |
| None | Light Yellow | None |
Lye Water Temperature 108ºF
Oil temperature 116ºF
We did not experience any acceleration or separation. We brought this to a light trace and it poured smoothly into the mold. After 24 hours the soap had a pale yellow discoloration and we observed no more than an acorn size gel spot in the very center of the loaf. The scent was strong with mild citrus notes and more dominant minty, basil notes. After 30 days the soap had a light yellow discoloration and the scent remained strong. This would be an ideal fragrance for many different designs that require a light trace.
Reviews
By far my favorite scent. It's so amazing!!!
This is a lovely citrus scent! It's bright and beautiful. It has just the right amount of water-mint whatever water-mint is (I can't smell it so yay!). Clementine's are juicy and tangy and sweet just like the fragrance. I use coconut soy wax and have great hot & cold throw with this scent. Love!
This is a lovely citrus scent! It's bright and beautiful. It has just the right amount of water-mint (I can't smell it so yay!). Clementine's are juicy and tangy and sweet just like the fragrance. I use coconut soy wax and have great hot & cold throw with this scent. Love!
Perfect strength of the scent, and the blend smells fantastic.
One of my favorite scents for spring & summer.
Great invigorating fragrance! It works well with 464. HT is pretty good. I let it cure for 2 weeks and candle filled an entire room.
Absolutely love the fresh mint smell!!
This is amazing in CP and HP and in LS it is so simple to use!
One of my best sellers and one of my personal favorites.
This scent smells AMAZING in 464! I let it cure for 2 weeks and it smelt so good filled my large kitchen/living area.
This is my least favorite FO I've ever smelled. I really can't place it, but not for me!
This scent smells so good. When I got it, I tested it in a wax melt and had great results. The CT and HT were very strong and clear. So, I bought a pound of oil and started testing candles. I have made three candles (tweaking my recipe trying to get better results) using Golden Brands 444 and have had no success. I am so disappointed.
Hi there! A member of our support team has reached out via email to see if we can assist further with your hot throw trouble!
I just got a tester bottle today and I'm IN LOVE! I couldn't wait to make a tester candle with my sample. I can't wait to put this on my springtime fragrance line. The initial scent is that sweet clementine, followed by the refreshing scent of mint. Such a wonderful combo. Thank you and please keep this, as I might just have to also put it on my summer line as well!
Awesome FO for cold process soap!
Used this recently in our CP soap and it was a dream to work with. No acceleration, no ricing, so far no discoloration, had a nice long working time. Would be great for swirls! Lovely strong citrusy/green scent. Just know our customers are going to love this one.
This is a great fragrance, but in our opinion, the 'Watermint' is accurate. We named it Lively Mint. The orange and basil are no where to be found. Not disappointed at all, it's a great addition to our garden collection, but still looking for that 'basil' smell.
Smells like bubble gum to me. I was expecting something more refreshing and not as sweet. I can see why other people would like this FO - it isn't unpleasant. I just don't care much for sweet scents.
When I first got this and smelled oob I thought it was, shall we say "not good" and never used it, however I recently decided to try it in a test batch of cp and it actually smells really good, just like the name implies with a touch of peach. It is very strong, so less is more with this one. Behaved well, no A&D ricing or separation. Probably best for Spring or Summer projects.
I never write reviews BUT
This smell is LITERALLY the best thing ever. I make body butters, scrubs, soaps, and candles for my business and this scent is always the first to go! CandleScience team, if you ever discontinue this scent I will cry...like actually cry...don't break my heart...thanks.
I got a sample of the FO without much expectation. I liked the scent OTTB but wasn't immediately impressed. After I made a tester candle with it...wow! The CT is amazing and the HT even better. I'm getting a bigger bottle and would recommend giving this FO to anyone looking for a fresh, citrusy scent that's not overly sweet.
Great fragrance for those who like fruit scents that aren't cloyingly sweet. Light and airy citrus scent that's slightly sweet and green and juicy fresh orange. Strong in 464. Great hot and cold throw. Customers love it and so do I!
I really enjoyed this scent so far. It's fresh and sweet and I'm trying to broaden my range. I really like strong more masculine scents but I'm hoping to add this to my range. I really enjoy this as a brightening scent to my more woodsy deep scents. I'm hoping it does well.
Love this scent, all I could think was yummmmm. It made me want to sit outside with my sunhat and eat a bowl of fruits.
I really had little idea on what to expect from this fragrance, but after I made a 3-Wick candle with only using one ounce I was very pleased with the results. The fragrance is potent, clean, and refreshing. A nice addition to any candle collection.
Love this scent!! I use 464 and this preforms really nice, will definitely keep using.
I really loved this fo first time I ordered it was great
Second time I ordered unfortunately whole bottle spilled so I contacted customer service and they replaced the bottle but am not sure what happened I can't get no smell from this bottle ,, it's not the same i made 2 candles and I am disappointed not the same it's weak .. I really don't want to give up but I intend to purchase another bottle and compare with the one I have here . I will follow up ..
So depressed that Citrus Basil is gone as I have sold nearly 400 pcs of Citrus Basil and it's just gone.
Then I tried this which is SO NOT citrus basil because it's so sweet, so not unisex and my target audience just don't want sth so sweet.
I still cannot get over this depression to find out my best seller is discontinued.
:(((((
This is my absolute favorite CS scent. The cold throw and hot throw are both incredible. I can't get enough of it!
This FO was love at first sniff for me, and is FANTASTIC in CP soap! There's not a single note in this blend that dominates another; its notes of clementine and mint make for a scent that is delightfully crisp & refreshing, sparkling, juicy and botanically fresh! Stays put in CP too and performance was excellent! No ricing, no acceleration, and with the use of mica colorants, I've seen no noticeable discoloration. An all-around sensational aroma, perfect for summer as well as chasing away the winter blues. I'm excited to put the soaps in my shop... If they sell well (I'll be surprised if they don't!), I'll be back for a bigger bottle!
I just have to say this is an amazing fragrance, you can pick every note this is my second bottle I can't be without it
clean fresh spa type
just beautiful
thank you CS
Totally unlike Cool Citrus Basil
I have sold hundreds of Cool Citrus Basil candles and suddenly found out the oil has been discontinued. CandleScience suggests this scent as the best substitute, and I bought a 1 oz bottle and find it SOO SO MUCH sweeter than Cool Citrus Basil. So sad, I cannot find a replacement now.
So many customers are still asking me for Cool Citrus Basil. SOB SOB.
Watermint and Clementine has turned out to be one of my favorites. The cold and hot throws are wonderful in soy blend wax melts, and the melt and pour soap bar that I made with it scents the whole bathroom just by sitting in the shower! Love it.
Refreshing Citrus & Mint Scent!
I don't know why I waited so long to try this scent! I love it! Great refreshing citrus scent with a hint of mint.
I'm really enjoying this one. Throws very well. It's very refreshing. The mint note is noticeable, but not overpowering like a eucalyptus or anything. It blends well with the clementine. Makes my home feel and smell more airy, fresh and clean. The mint note really cools things down in this hot Georgia weather we're having and the clementine adds a nice fresh scent to the air. Would buy again.
Spectacular refreshing scent
Oh my! I am so impressed with this fragrance it performs amazingly well in soy coconut wax it's so refreshing and Crisp I absolutely adore it and so did my customers!! Another great FO thanks CS Already have more in my cart
This scent is amazing. It's a fresh spring/summer scent. I picked this as a sample scent and I will be ordering a bigger size. It performs well in the small straight sided jars w/small wood wick and the tumblers(libbey) w/large wood wicks in IGI 6006.
What a lovely scent. I used this in 464 at 10% FL...smells wonderful.
I had high hopes from the name alone. Once my sample arrived, it was love at first whiff, but I know better than to get trapped out of the bottle. Ten days after curing in GW-444 at 11% and I can't get enough of the cold throw, and best of all, the hot throw is no slouch either! It's sweet, fresh, minty, tangy and 100% totally amazing. I can't wait to get a few pounds of this one and get to work. This might be my new favorite!
All at once..Fresh, clean & sweet. I made tarts & candles using my favorite IGI Coconut blend wax. Everyone loves this scent!
Oh my gosh, I love this scent! Just gorgeous and the perfect blend of bright citrus and mint, in a high-end kind of way. The mint is very light but discernable. This might just end up being one of my top summer smells (along with grapefruit and mangosteen). LOVE it!
Love this scent! A great, fresh citrus. I can detect just a hint of mint, which is great for me because I didn't want a strong mint scent.
This a fantastic new spring fragrance. I often find citrus fragrance oils can smell too sweet and syrup-y, but this is a really nice, clean take. Blends really nicely as well.
This is a beautiful fresh, minty, citrus scent oob. I definitely prefer it to the Grapefruit and Mint fragrance which is a bit too overpowering in my opinion. It's got a nice herbal-ness to it that really balances it out
STRONG cold and hot throw! Using c3 soy wax. Have it lit 2 rooms away and can smell it and only using a 9oz jar.
This is a wonderful scent! Fresh clean with a hint of mint. I bought a sample size and tested after 24hrs and was perfect. Can't wait to order more and add them to my booth!