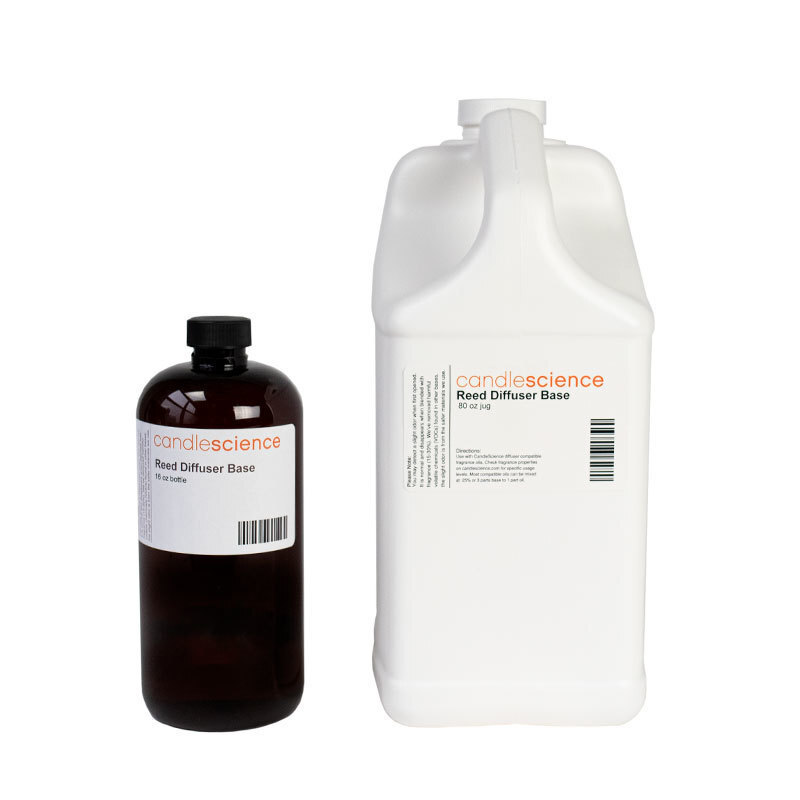 As of 06/03/2020:
This version of Reed Diffuser Base (Discontinued Version) has been discontinued and replaced with the new Reed Diffuser Base. Click here to check it out!
Details
REVISION NOTICE: It is CandleScience policy to notify customers if any part of a product was changed for any reason.
As of April 21, 2020 our Reed Diffuser Base was revised to meet our stringent safety standards to remove ingredients with similar characteristics to those on the Prop 65 List. See new version.
Reed Diffuser Base is a liquid you mix with fragrance oils to make reed diffuser oils. It makes fragrance thinner, or less viscous, so that it flows up the reed easily. Please note that not every fragrance is compatible with a given reed diffuser base. We test every single one of our fragrances in our base, and list the compatibility on individual fragrance pages. Use our Fragrance Finder tool to easily find compatible fragrances to use with the diffuser base.
Are all Reed Diffuser Bases the same?
Absolutely Not! There are two big things to watch for:
1. Safety - Many states have restrictions on the VOC percentage of reed diffusers. VOC's or Volatile Organic Compounds are compounds that are harmful and create indoor air quality problems. Our reed diffuser base is non-toxic, and VOC compliant in all 50 states, so you can be confident that your reed diffusers meet indoor air quality regulations. This product does not contain DPG.
2. Flow - Our reed diffuser base quickly and easily flows up the reeds, allowing the fragrance to reach its strongest potential.
Watch our quick guide to learn how to create reed diffusers with candlescience diffuser base. Watch Now >

Wholesale Ordering
Check out our wholesale page for more information on ordering reed diffuser supplies in bulk or by the pallet.
Reviews
Does this reed base works as a air freshener base?
We do not recommend this base for making room sprays or air fresheners. It works best for reed diffusers or other types of aroma diffusers such as car diffusers.
There's a lot of people commenting but there are no answers to all these questions that people have. Why? I really want to try this but would like to know some answers to some of these questions.
Hi! Feel free to email support@candlescience.com if we can ever help with any questions.
I think it works great and I'm glad to have found it! I've loved Reed diffusers for a long time and I am excited to start making my own. I've made a few different scents now and all of them have worked great with the base.
I'm always been really happy with everything I've ordered from Candle Science but the reed diffuser base is the exception. Even though I followed the 3-1 ratio, used the diffuser recommended fresh linen fragrance oil, added more reed diffusers, and even flipped them over I couldn't get them to throw the scent. The only time you could smell the fragrance was if you actually smelled the diffusers. The oil seemed to seep up the diffusers just fine. Sorry but can't recommend the diffuser base. I'd be happy to try other suggestions to make this work tho.
Love this base, but new 5lb jug design please!
As with all CS products that I've used, this diffuser base is fantastic quality and I appreciate their attention and dedication to creating healthier fragrance oils and bases. I use the diffuser base at a 3:1 ratio and it works perfectly every time, without being too overbearing in small spaces.
My only issue is the square-ish topped detergent style jug used to ship the 5lb diffuser base. It's difficult to open at first (and I'm strong), plus when you need to turn the jug fully upside down to get out those last few ounces, the liquid gets trapped in the square top of the jug and will literally spill out everywhere due to the detergent style large spout. The 5lb jug would be a much better product if shipped in a more simple and straight sided jug.
I have been buying this diffuser base for 5 years and I can say it is one of the best you can get out there. I mix 1:4 FO:DB and works perfect. I cant keep up with demand for reed diffusers. However, I found out that not all approved fragrance oils diffuse well. You have to do your test before you roll out. But the good ones are really good. Try Bamboo and Coconut, Honeysuckle Jasmine, Pineapple sage. However, I wish there was still bulk discount for the jugs not only the pail because I am scared to order the pail because of spillage during shipping.
I followed the instructions as perfectly as possible. My reed diffusers hardly give off a scent. Not more that a couple inches from the jar. I used a 3:1 ratio of diffuser base to fragrance oil. I used one of their approved scents. I even emailed customer service. They suggested adding more reeds up to 12 which I had already done didn't work. They also suggested flipping the reeds. Which I did. It did increase the scent slightly. Definitely didn't come close to filling the room. One week later and still barely smelling the fragrance oil. What a disappointment.
I use this base in our car diffuser fragrance oils and it's great. candlescience fragrances are wonderful to start with, adding them to diffusers has made a lot of my customers happy. The only drawback that I have found so far is that many fragrance oils are not compatible.
Please Test Before Selling Or Gifting
I made my first diffuser for my grandmother following the 3:1 (base to FO) ratio that Candle Science suggests. I then placed 5 reeds in the solution. After a few hours the scent made its presence known. Then I thought it would be a good thing to give to my grandmother who has poor vision. I'd tried candles, but I could only burn them while I was there. I figured she'd neglect a melter and that could present a fire hazard. I also considered placing strong candles in different rooms using the CT to odorize her home, but I want to sell my candles. So a diffuser seemed like a sound option.
I proudly delivered the diffuser and set it up with 5 reeds in a room adjacent to her kitchen. An hour or two more passed and the scent was so strong that I could hardly stand stand breathing without covering my face with my hood while sitting in the next room. I asked her if the scent was too strong for her and she replied "no." I stayed for a couple of hours and asked a couple of more times. She hadn't been affected as I had. Over the next couple of days I called and checked with her to see if the scent had become too overwhelming. Again she rejoined, "no." After three days I called and she informed me that she woke up, opened her bedroom door and was confronted by an invisible yet powerfully odiferous assailant; In her words, "Baby, it lit up the whole house!" She also informed me that she removed the reeds, wrapped them in plastic and placed a jar over the diffuser bottle, but they were where I'd placed them initially. After her complaint I had intended to adjust the solution, but by the time I'd returned she'd replaced a single reed and the room smelled wonderful. I'm glad she didn't toss the product. Now, before some of my fellow craftsmen and women start judging and/or castigating me, I will say this — I chose to test it with her because she is unable to air her home out without assistance and wanted to freshen up the air. On that note and in the words of President G.W. Bush, I say, "Mission accomplished!"
Here's what I learned: One reed people! It was a small room (and I wish I knew the exact dimensions), but one reed was sufficient at a 3:1 ratio. This occurred using a light spa-type FO purchased from this site. I will have to try a 4:1 ratio as MB suggested in their review.
Love Candle Science!
Just curious, what kind of containers does everyone use for the reed diffusers?
I love it this product but can I use it with essential oils?
Thanks!
All of our fragrances have been tested for compatibility with the base. However, if you plan to use fragrances from a different supplier or essential oils, you would need to conduct your own testing to see how well it works.
What is a base? Also how do I make the oils safe for skin?
The reed diffuser base is used to make diffusers. Check out this article for how to make them! https://www.candlescience.com/learning/how-to-make-reed-diffusers
Use 4 parts of base to 1 part of fragrance. If using Candlescience fragrances, it will work every time (as long as they say it is compatible). If using another company's fragrance, just test it. You can use as many reeds as you want, but we use 8 - 10 for everyone we sell.
How many Reeds should you to use in the 4 oz. oil? I am a newbie and have lots of questions. I do think I am going to make these as gifts, along with my candles and soaps. These look amazing! Thanks
We usually suggest starting with 3-6 reeds. You can then adjust from there depending on your testing.
I used this for the first time with some fragrance oils and have had amazing results.
I have a question, once you have your base and oil mixed together can you put the mixture in plastic bottles? I am new at making the reed diffusers, I have always seen them in glass jars in the stores. So just wanted to find out if plastic can be used to store the already made up mixture.
I purchased the 80 oz. size and was able to get 17, 6 oz., bottles of diffusers out of it. I used a 5/1 ratio and that worked out well. I'm hoping all of the CS f/o's will be compatible soon so I can make the diffusers in the same scents as my soy candles.
I made my first Reed Diffuser today using Sunwashed Linen. I used 3 ounces of diffuser base and 1 ounce fluid. It smells clean and a nice level of fragrance for our bathroom. Though this worked well, I still have questions before I jump in with both feet. Can you use any fragrance oil from Candle Science? Looking for some more feedback from others too. Thanks for posting all your reviews!
My formula is 3 to 1 as suggested. Works great and easy to remember!
I used 10 reeds in my diffuser bottle :)
I'm still learning about reads and base and stuff but.. I made a diffuser today and it's working very well. I used 6oz of base and 1oz of fragrance oil (Love Spell) and it's potent! My office smells great! It says you can use 3oz of diffuser and 1oz oil but I think it would be too strong. 6oz base to 1oz fragrance is perfect. Can't wait to make more diffusers.