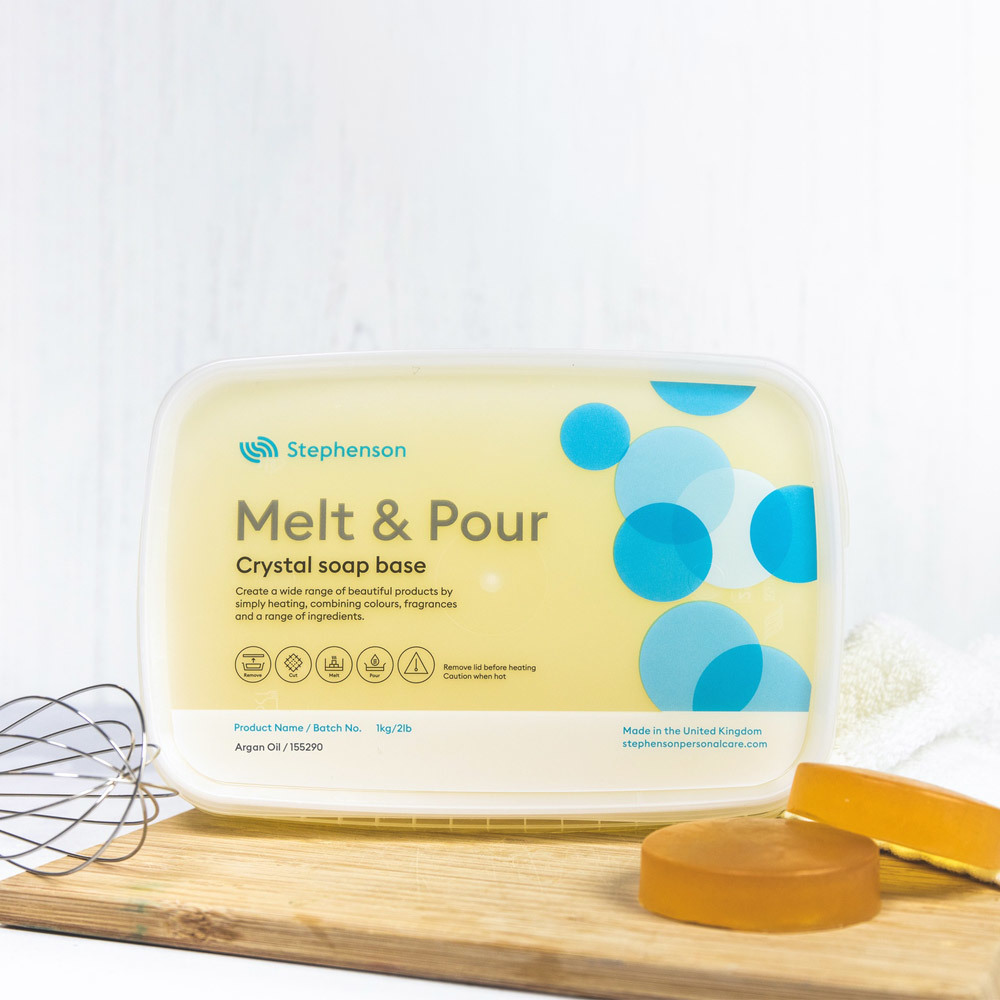 Details
Anything known as "liquid gold" has got to be good. This pure Argan oil melt-and-pour soap base provides the ultimate in luxurious skin care. Rich in vitamin E and naturally occurring fatty acids, this soap base offers excellent lathering qualities. Without using additives or coloring, the base makes soap bars with a slight natural yellow hue.
Ingredients: Aqua, Glycerin, Sorbitol, Sodium Laurate, Sodium Stearate, Sodium Oleate, Sodium Chloride, Argania Spinosa Kernel (Argan) Oil, Sodium Citrate, Helianthus Annus (Sunflower) Seed Oil, Citric Acid, Pentasodium Pentetate, Tetrasodium Etidronate, Beta Carotene.
Highlights
Vegetable based
Free of sulfate, SLES, SLS, and parabens
Good foaming properties
Excellent moisturizing properties
Neutral odor
Excellent fragrance lift
See our complete list of soap colorants.
IMPORTANT - Any time products are used on the skin, it is essential to test for safety. It is your responsibility to test any and all of our products to ensure satisfactory and safe results in your finished product. When adding ingredients to any soap base, do not use candle dye or fragrance oils that are not approved for bath and body use. Please see the individual fragrance page for recommended product usages, and review the IFRA sheets for usage maximums. You can also view soap-safe fragrance changes that have been affected by the IFRA 49 amendment.

Labeling
Interested in selling your products? Check out a brief overview of labeling guidelines for cosmetics, which includes melt and pour soap, scrubs, whipped bath soaps, and more.
Wholesale Ordering
Check out our wholesale page for more information on ordering soap supplies in bulk or by the pallet.

Made in the UK
Reviews
Generous lather. Super clean feeling. Will buy more of this
Bought this base to start making soaps. This is a great base. Great selling potential with the Aragon Oil. Customer have name awareness with this oil. Also most are aware it is a costly this oil can be to buy. This base is beautiful and golden when set, easy to use, and great on the skin. My customers have even reported their acne clearing up with use. I love the moisturizing, yet squeaky clean feeling this soap provides after use.
The fragrance oil may shade the tone of the golden hue if the oil is darker. I have not tired any of the other bases to be able to compare to this one. All in all I love this product has a great scent hold, and application on the skin. Would recommend.