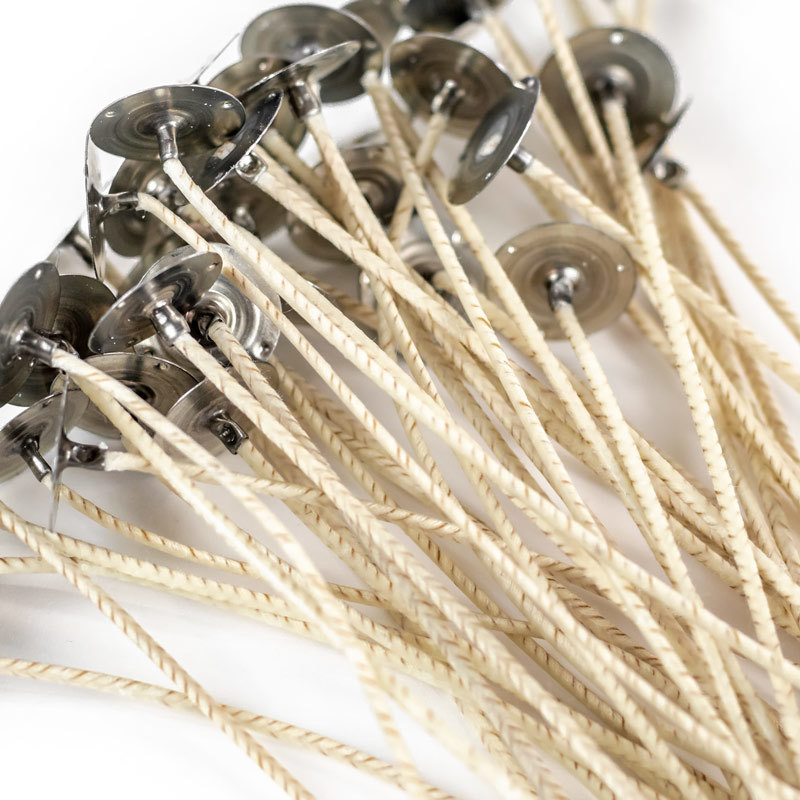 Details
About the CD Series
CD (Stabilo) wick is a flat braided cotton wick with paper threads woven into the cotton. The reinforced construction of the wick is designed to ensure a consistent burn with higher fragrance loads, especially with softer, more viscous natural waxes. The superior rigidity of CD wick allows the wick to stand up straighter for easier pours and keeps the wick upright in a deep melt pool.

Note: Any carbon buildup should be removed once the wick is extinguished.

CD wicks are lead and zinc free.
For help choosing the right wick for your candle, visit our wick guide.
Properties
| | |
| --- | --- |
| Length | 6" |
| Tab Size | 20 x 6 mm |
| Wax Coating | Natural |
| Prop 65 Warning Required | No |
Reviews
Amazing wicks, they burn great ever time! I'll never go back to the Eco series
Great Wicks But Didn't Work With My 4oz Tins
I love the CD wicks (mushrooming and all), and find these work great and the smaller sizes definitely mushroom less than larger (lookin at you CD22). However, the wick guide recommended CD 8 for my 4 oz tins based on the soy wax I am using, and they did not burn to the edge, even after four hours.
Am I trimming the wicks too short? Could that be my issue?!
Hello! We have reached out via email to better assist you!
I'm a newbie to candle making and stumbled on to CS while researching. I love love everything about them. From wick size recommendations (which was spot on. Perfect burn!) to the quick shipping. I've placed 3 orders in less than a week!!!
These are the best wicks! I used to use the eco series, but they always seemed to burn inconsistently. One batch would burn perfectly, the next batch would burn too low. I almost gave up candle making, but then switched to the CD series and never looked back! They burn hotter, so although you may get more mushrooming, I think it beats tunneling any day! And they always burn consistently. Would highly recommend. .
I used this wick for my 8oz glasses. It was recommended. I don't know if it is because I use color and luster dust in my candle but the flame was extremely small and kept blowing out, unfortunately. I had to use a bigger wick for my candles and it is much better.
I use the CD series for all my 3-wick glass tumblers. I have a high fragrance load of 10%FO in IGI 6006. I have a low liquid dye load, around 5-7 drops per/lb, when using the CD8 wicks. I have other candles with a higher dye count and I wick up to the CD10. The CD8 wicks burn great, highly fragrant and are slow-burning. My pours are 17 ounces and I get around 50-60 hours per triple wicked candle.