7 Social Media Content Ideas for Your Small Business
Unsure what to post? Steal these ideas.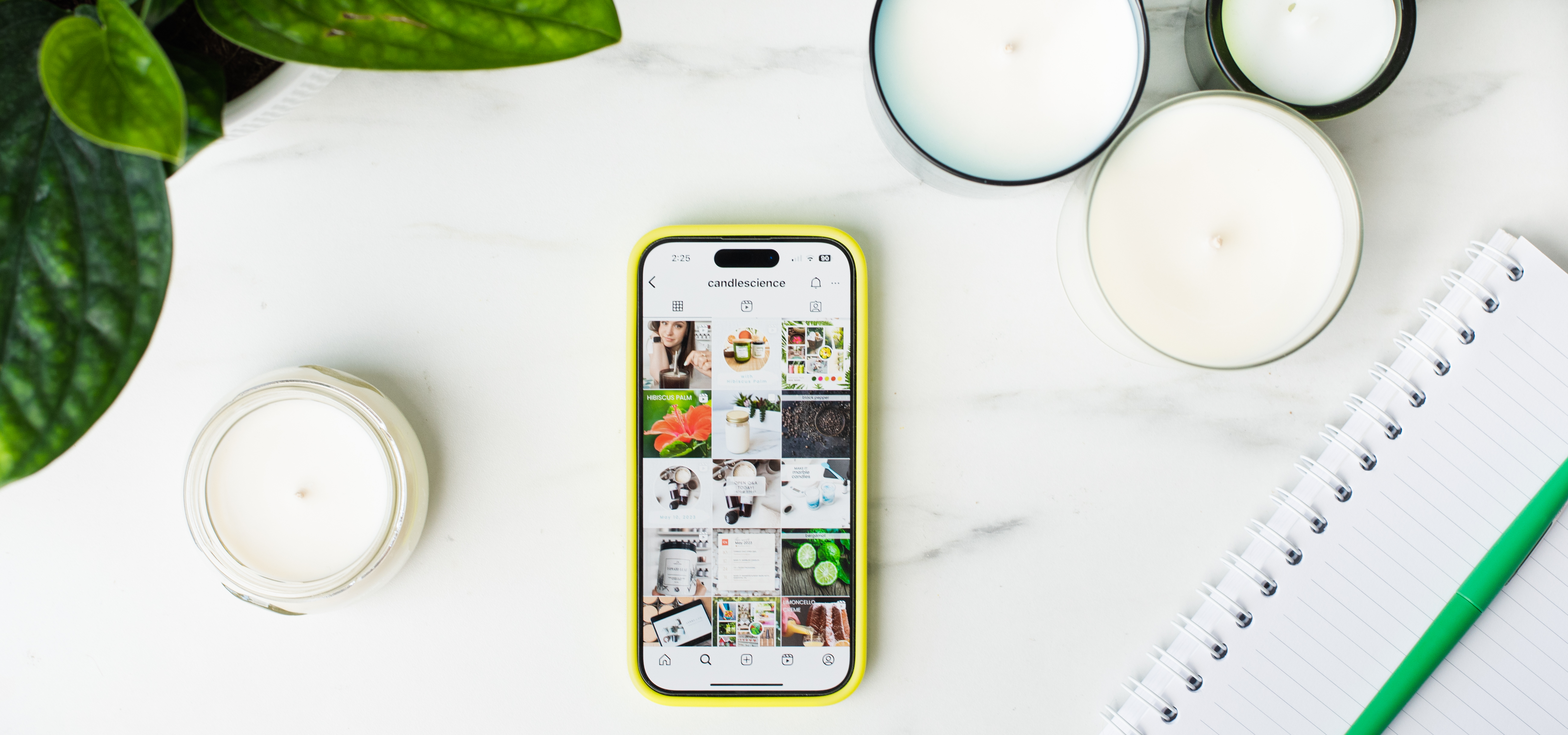 Figuring out what to post on your business social media accounts can be daunting, especially if you're not someone who uses social media much personally. But it's an important avenue for marketing your products, spreading awareness about your business, and ultimately gaining new customers. 
A great way to get inspiration is by taking notes from accounts you follow and admire, especially if they are within your same industry. What are they posting, when, how often? It's also good to think about the kinds of posts that are realistic for your own business and personality. Don't force content that doesn't seem natural or unauthentic, and always stay true to yourself and the vibe of your business. 
Pro Tip
Know your audience and define your goals
We talk a little more about this in "Getting Started on Social Media." Basically, think about your intended audience and what you want your social media accounts to achieve, and keep that in mind as you plan out your content. 
This is the most obvious type of content for your social media channels, but it can also be the most difficult to get right. It's a balancing act between informing your audience about your products, and not bombarding them with salesy language. Share information about your products—their benefits, special features, and highlight unique aspects of your business.
Example: Product information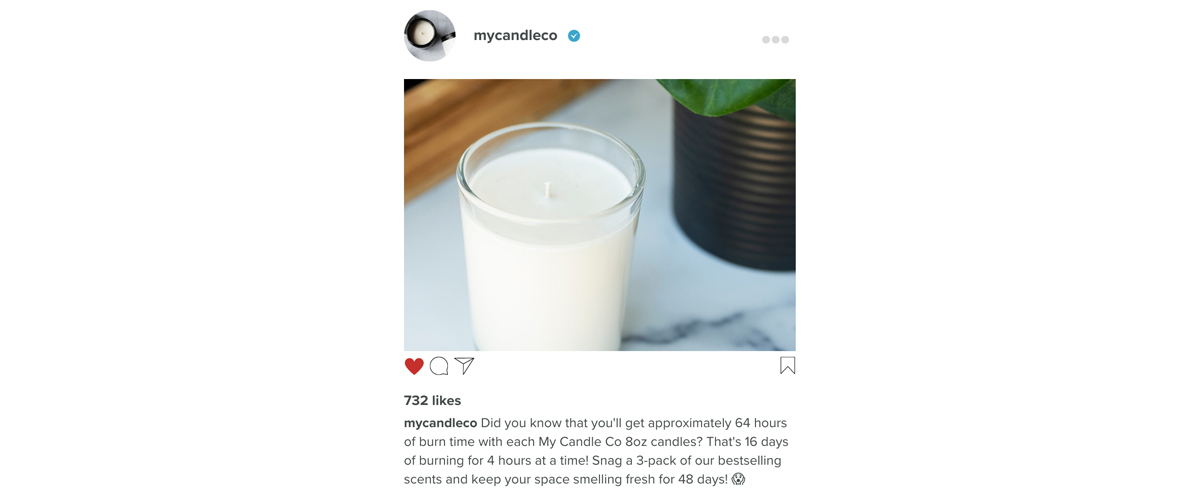 2. User generated content
User Generated Content, or UGC, is content sourced directly from your customers. This type of content is highly effective and we strongly recommend utilizing it regularly. UGC acts as social proof and instills customer confidence in the quality of your products. It's a very authentic form of promotion since it comes directly from your customer base. Encourage your customers to follow you on social and share their own photos on any printed materials that you send with your products (on candle care cards, thank you cards, etc).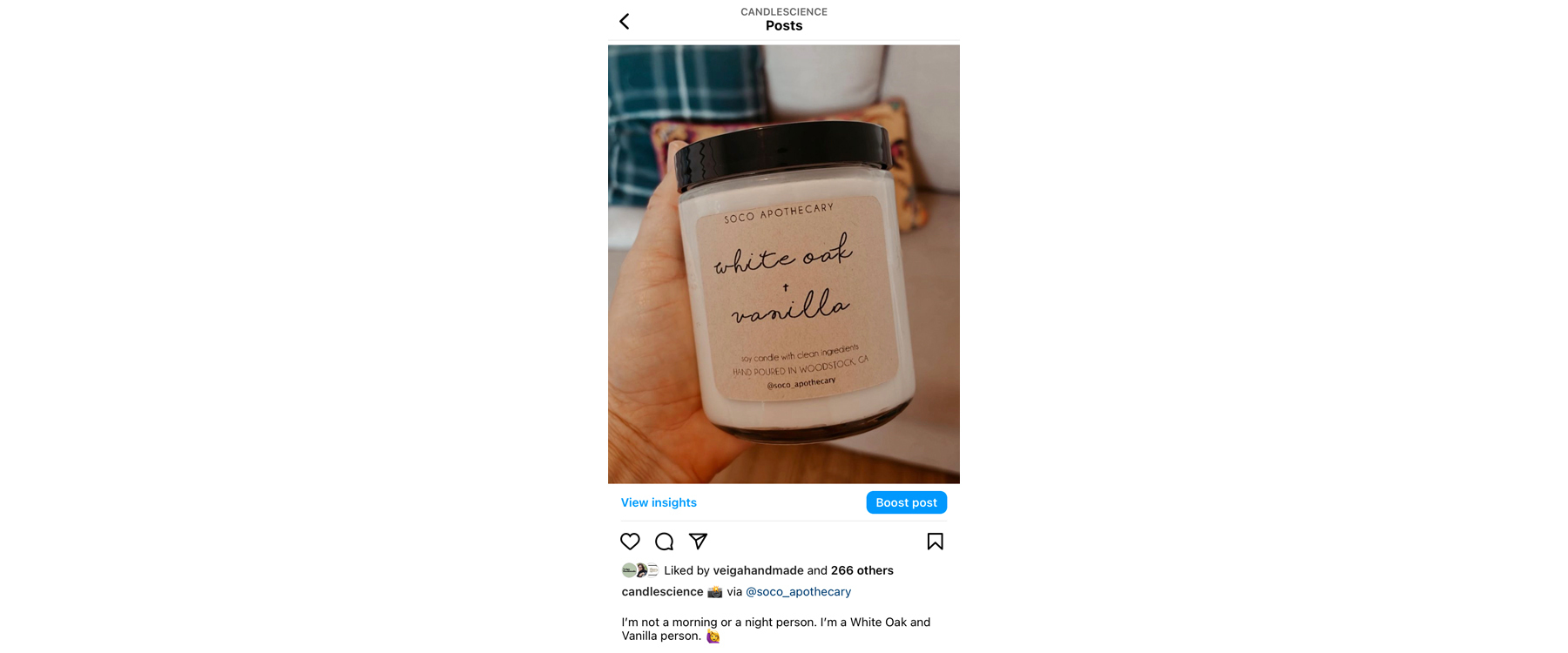 You can incentivize customers to share their own photos by holding giveaways or offering chances to win free products.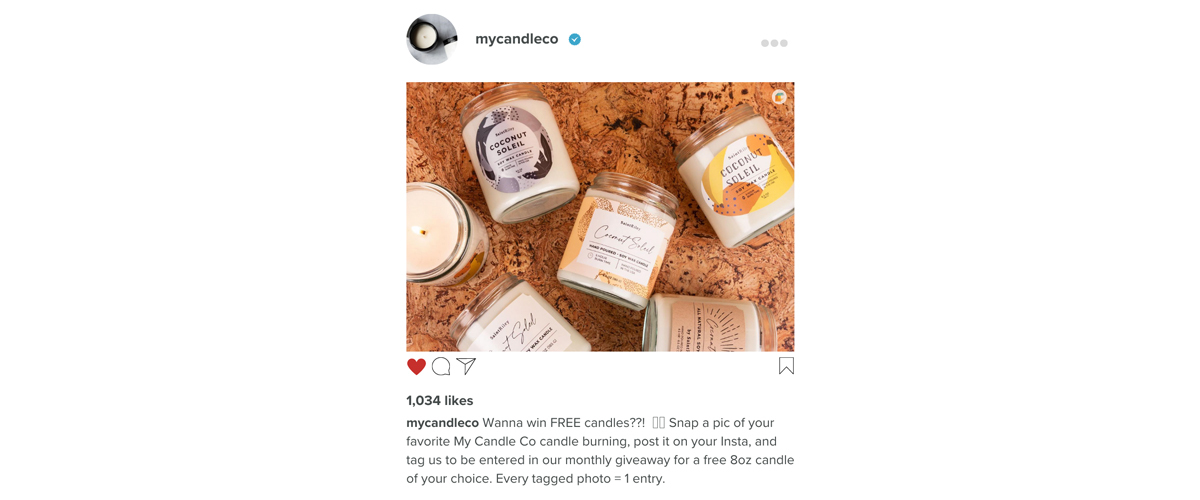 Interactive content is great because it encourages engagement and helps you connect with followers. Ask your audience questions, go Live and talk about life as a small business owner while you pour a batch of candles, hold a poll about new scents you're thinking of adding, or post a sneak peek of an upcoming launch and ask followers to guess what it is.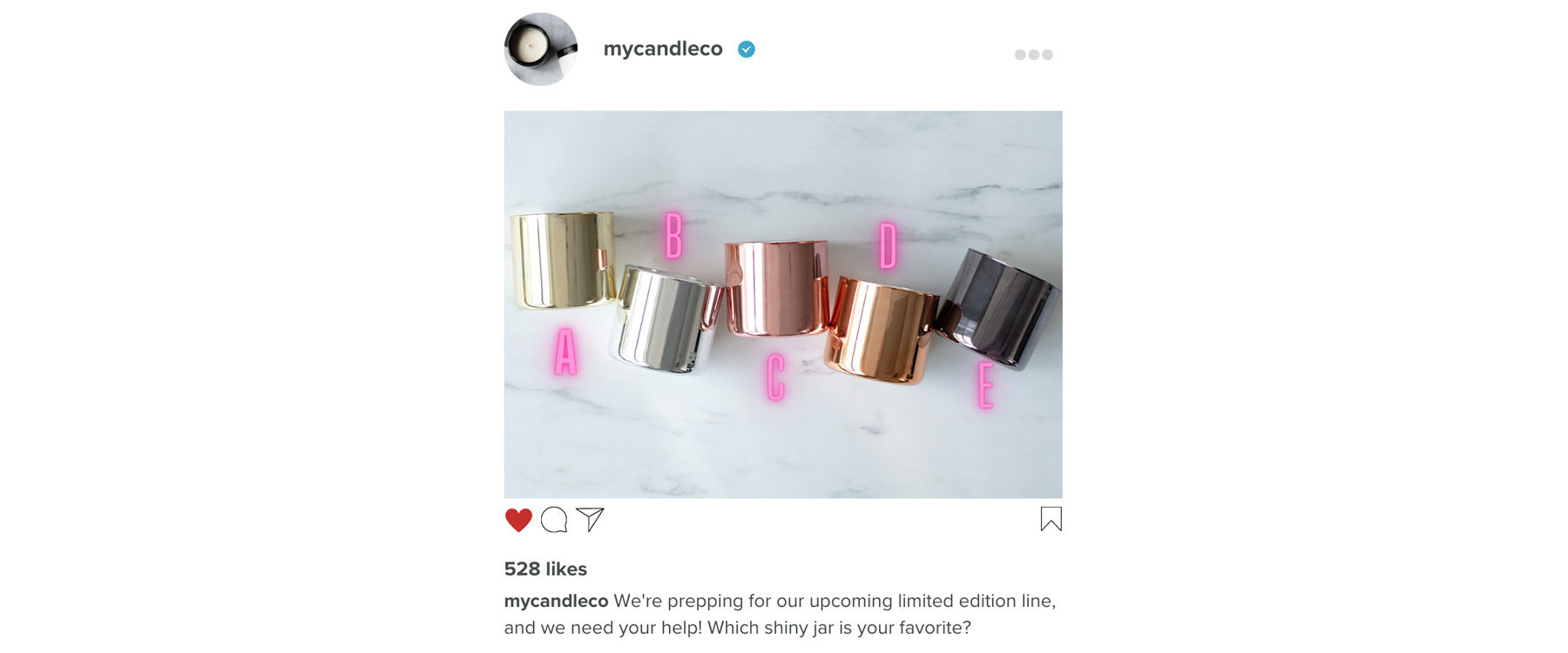 4. Behind-the-scenes content
Give followers a look at what goes on behind the scenes, and share snippets of your life as a small business owner. Allow people to relate to you and get to know the real person behind the products they love. Film yourself pouring a batch of candles, packing up orders, or snap photos of your workspace. Help your audience feel like they're a part of your life, and to remind them that buying a candle from you means directly supporting a small business owner. 
Example: Behind the scenes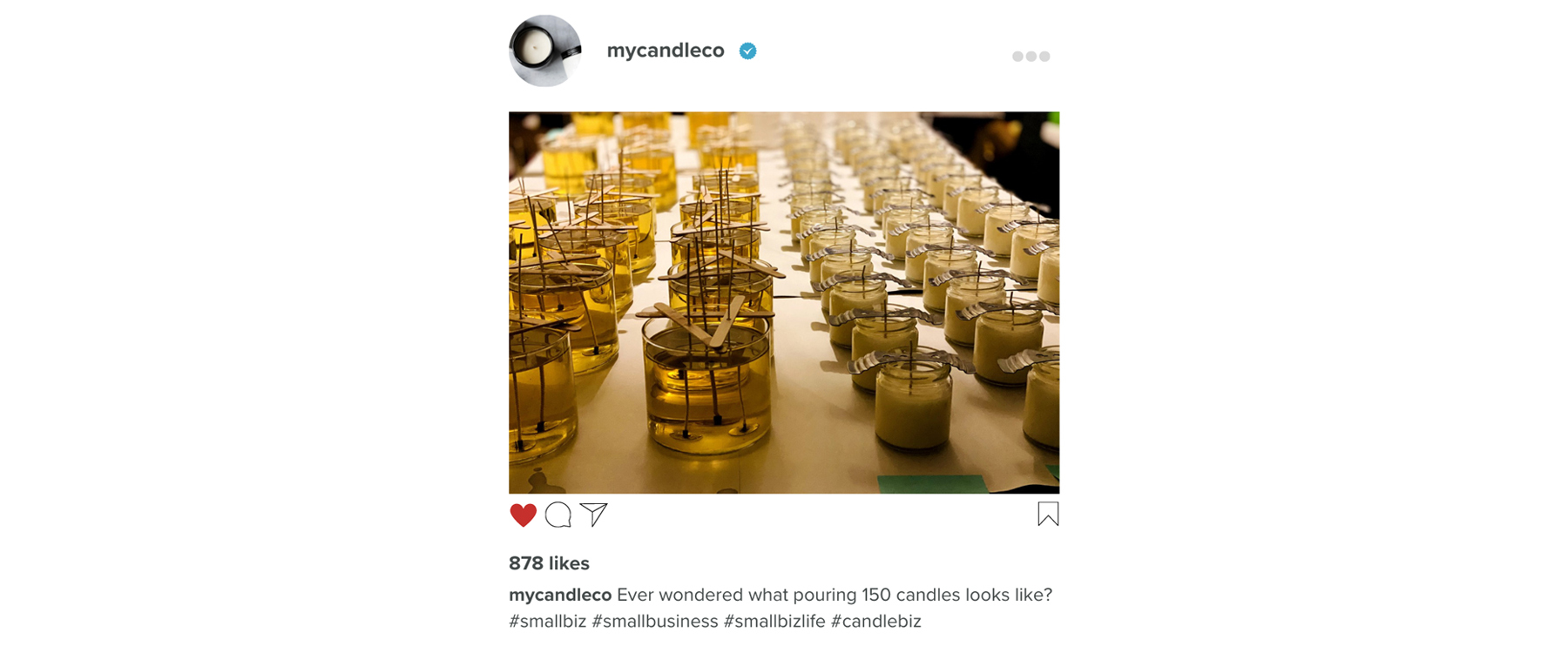 5. Seasonal and trending content
Holidays are an easy way to fill in your content calendar! From Mother's Day to Halloween, there are always holidays to post about. Wish your followers a Happy 4th of July, share the ways your company does your part for the environment on Earth Day, and promote seasonal collections leading up to gift-giving holidays. 
We do recommend being selective about which holidays you choose to sell your products for—holidays like Christmas have an inherent gifting element so celebrants will be on the lookout for gifts to purchase for loved ones—while others are more for memorializing events and remembrances. Use your judgment! 
If you make Reels or are active on TikTok, make sure you're taking advantage of popular trends and audios to increase your visibility. Many of these can be quick to make and have a big impact on your reach and follower counts.
Example: Seasonal content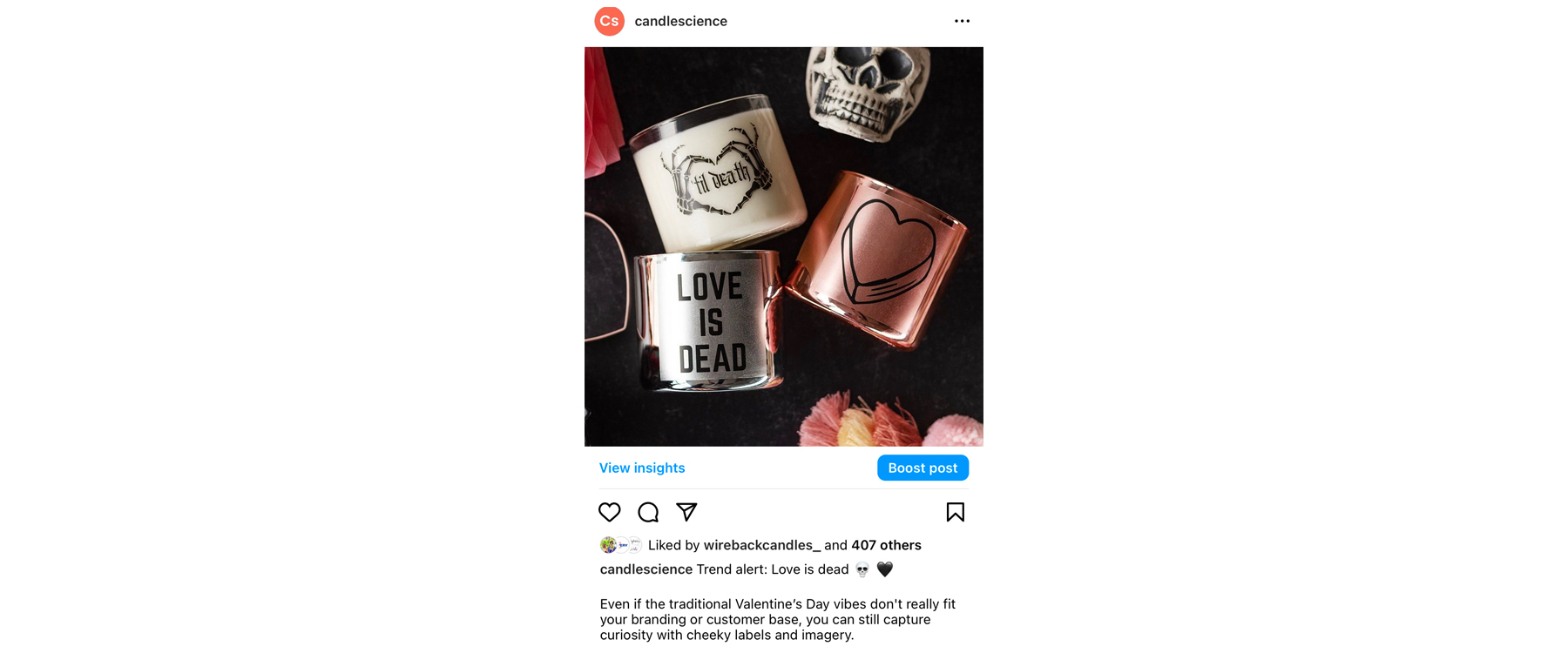 6. Educational and how-to content
Think about ways you can inform your followers, not just about your products but also about interesting facets of your industry or niche. For candle businesses, sharing candle care tips on a regular basis is a great way to help your customers get the very best burn out of your candles and is information they might not have known.
Other ideas are sharing the concept behind each of your fragrances or fragrance names, how to clean out a candle jar to reuse as a planter, or choosing the best wax melter for your wax melts. 
Example: Educational / How-to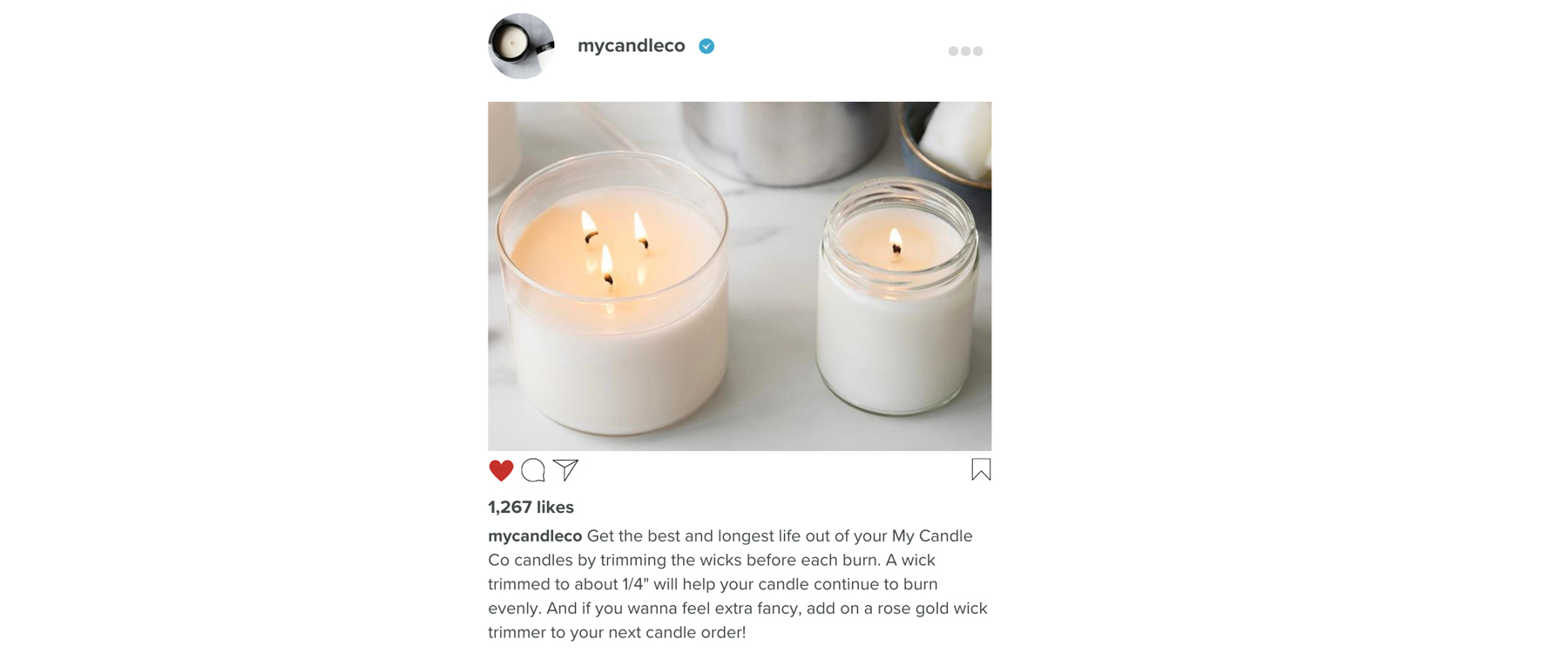 Inspirational content can go several different ways. From sharing parts of your own personal story, to ideas for ways followers can practice self-care, to quotes that others might find uplifting. Quotes and with related images are especially great for filling in days you otherwise don't have anything planned.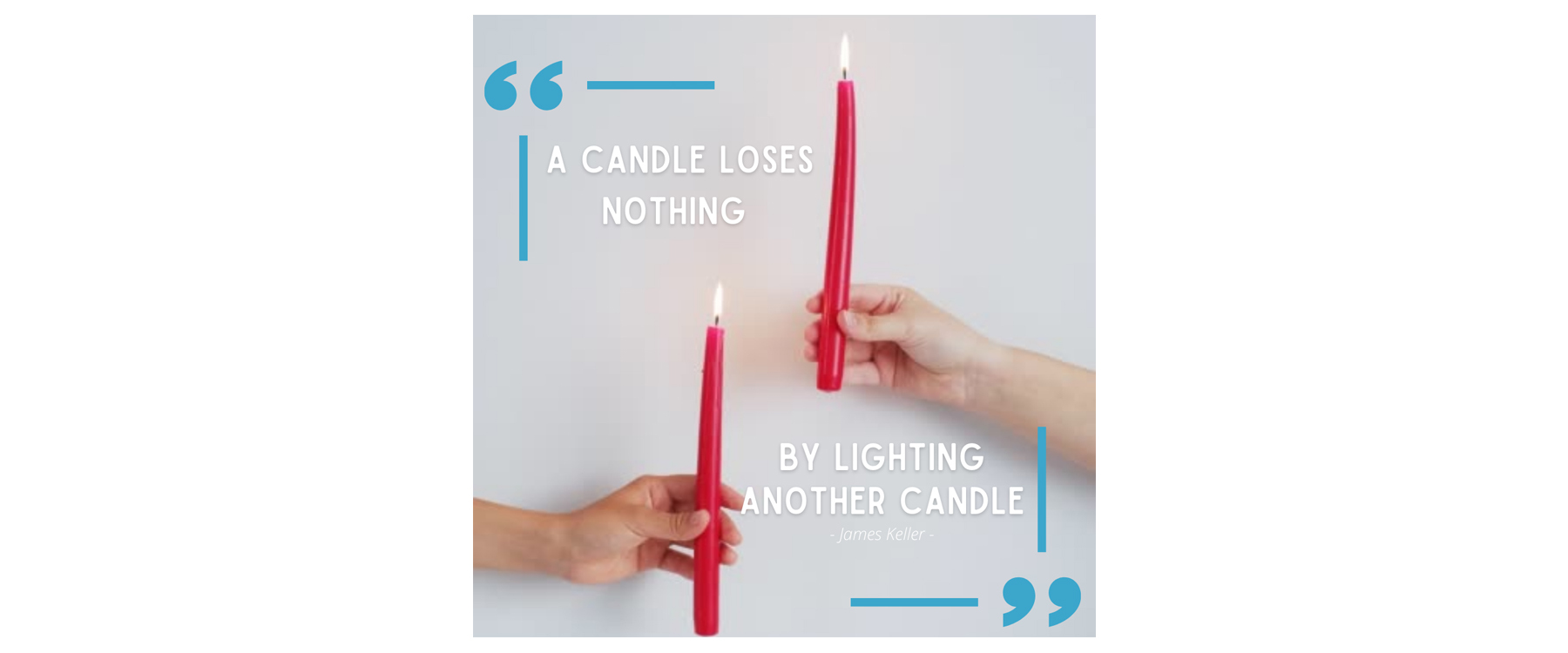 We hope these content examples are helpful and sparked some ideas of your own! If there are other social media-related topics you'd like to see us cover, let us know by dropping a comment. And don't forget to tag @candlescience in your Instagram and TikTok posts–remember that UGC we posted about above? You might see yourself shared on our accounts!