AUTHENTIC BRAND STORYTELLING
with Jennifer Gunn of Wax Cabin Candle Co.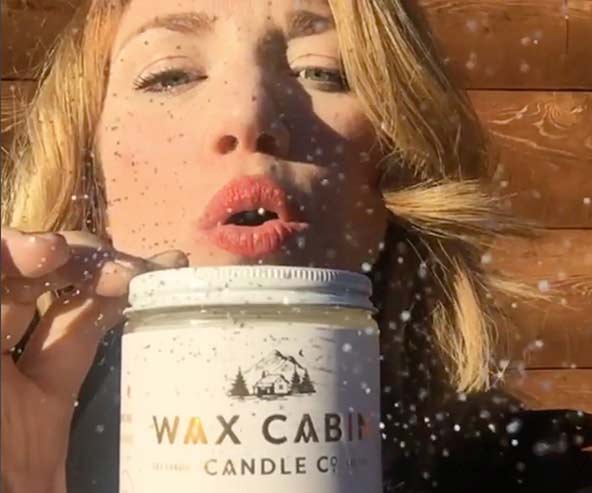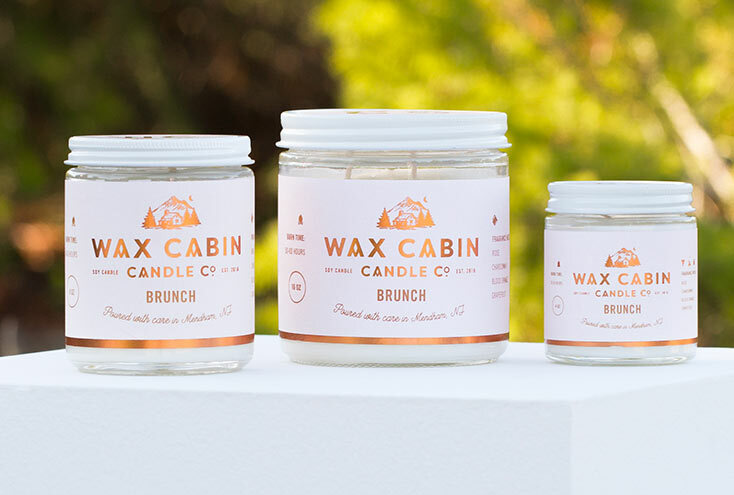 In fall 2016, Jennifer Gunn decided to leverage her skills in graphic design and product branding to launch a candle business: Wax Cabin Candle Company. With a visually stunning product line and powerful brand narrative, Jennifer uses Instagram, Facebook, and other online channels to drive sales. We spoke with Jennifer to get her unique perspective on running a successful candle business.
Interviewed March 29, 2017
First, what inspired you to start your candle business? I'm a graphic designer with a degree in product and print from Savannah College of Art and Design. So I love creating products—coming up with labels and packaging and concepts for business. I liked the idea of candles as a business. When people think "candle," there is always the scent, but it's also about wanting something beautiful to display as an interior design piece. Some candle brands have labels that do not look that great. My girlfriends say they want to turn the label around in their own houses. So I wanted to come up with something beautiful and also functional.
Wax Cabin is an interesting name. How'd you settle on that for your business? I went through a lot of different names. A lot of my training in school was about catchy phrases. I took two days to test my names on different people. And "wax cabin" came from the most authentic place I could think of—I actually live in a log cabin. I was making the candles here. So I felt that, if the brand was going to show my story and my life, it would need to be something around that.
You tell an amazing brand story. What's your secret to great storytelling? Keeping my brand closely connected to me gives me a very honest voice that I feel customers connect with. I use my day-to-day life as a springboard for creating all types of content in support of my brand. Design school prepped me for developing my personal aesthetic, so when I look at my brand's color palette, scent choices, and photography style, I see my personal style throughout. "Staying true to your brand" is a common phrase. What it means to me is this: not only do I fully believe in my product, but I show through my marketing that I also love my product.
How have you gone about creating a distinctive brand? My brand is 100% authentic to myself and my life. You'll see my daughter and dog in a lot of my pictures. My mother-in-law is an antiques dealer, so we have a lot of great pieces in the house. I don't know if I could re-create what I'm doing for another brand, because this is a true story about myself and my aesthetic. People know what's authentic and what's not. Your brand should be an honest place.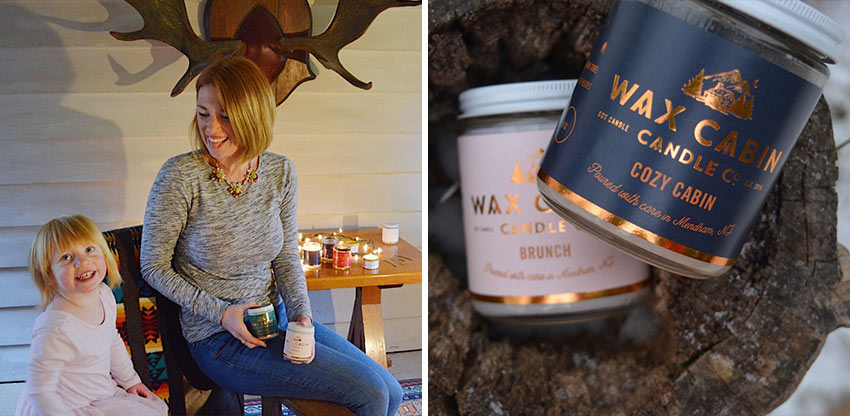 What's the best part about creating your products? I love seeing the idea that I had in my head a couple months ago turn into reality through production. When people affirm my product, that's a great feeling.
What are some of the biggest challenges of opening a candle business? There is a lot of research you have to do. There is candle making the craft, and then there is the business side of it. You have to take care of all these tiny little things—registering your name, building a website, buying URLs, and lots more. The part that can kill your success is if your products are generic—if people say, "I've seen this before."
Pricing can be hugely intimidating for candle makers starting a business. How'd you approach it? You have to know your candle making costs down to the penny. Otherwise, you could be losing money. It's a very important aspect of going from a hobby to a business. You have to do the numbers, and it's a huge win for you when you do. You have to make that boring Excel spreadsheet that covers everything. Then you have to look at your market. What are similar brands? What types of labels are you using? What kind of person do you want to purchase your candles? What stores do you want to be in? That's how you know where to price. People can sense when things are overpriced, and people can sense when things are underpriced. If you know the math—and how much you need to make—then you can make it work.
As a candle maker and business owner, how important is "knowing your worth"? You have to understand your worth. A lot of candle makers don't know the value of their products. They underprice and feel like they don't have enough leverage. For example, you don't have to give every single person a discount. If you know you have a great product, and believe in your pricing structure, people will pay it.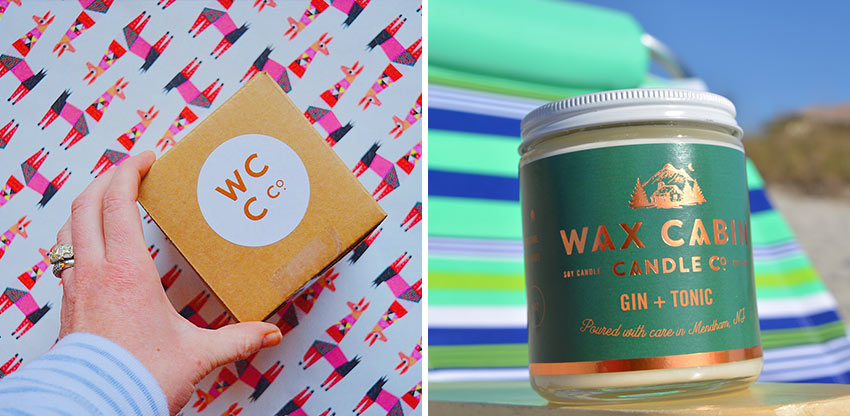 You sell candles online and in stores. How do you approach both? Eighty percent of my sales are online, and the other 20% are in stores. I knew that if I built a following, and had a very clean social media presence that presented a good story, certain stores would be attracted to my brand. They have contacted me through social media and asked me about wholesale. Then I did some word-of-mouth work as well.
You use Shopify for your online store. What lessons have you learned about e-commerce so far? I did research and really liked the simplicity and customer service that Shopify offered. There are a ton of other platforms out there, and I'm sure they're all great. One of the most challenging aspects of setting up an e-commerce store has been the "boring" business aspects: taxes, shipping fees, content, etc. These are small elements, but they are make-or-break! One tip is to never undercharge or overcharge for shipping. Customers are constantly shopping online, and they can feel when they're being overcharged for shipping.
When making your candles, have you ever had a batch of candles go completely wrong? How did you try to resolve the problem and what did you learn from it? In the beginning when you're making your candles, you might end up spilling wax everywhere—I learned that the hard way! There really is a specific temperature for wax, and where you store your curing candles matters a lot. Putting them in my kitchen, all the bouncing from people walking by caused them to settle incorrectly. So it was a trial and error period. I would also have smelling parties with my friends. They were so brutally honest, but it was good.
Where do you keep your workspace? I have a separate area in my basement that's dedicated just to candle making. That's a huge part of your development as a business owner. Once you start seeing wax everywhere, that's when you have to make a jump to somewhere else!
"I get 70% of my orders through Instagram. Facebook is good for family and friend connections—they'll see your products through the recommendations of friends and family. "
– Jennifer Gunn
We actually found you through your impressive Instagram page. What role does social media play in your business? Social media is changing so often that it's very important to understand it and use it correctly. There are so many great online tutorials that will show you how to use a social media platform. In terms of strategy, if you are constantly forcing people to eat product, it's not satisfying. If you learn how to tell a story gracefully, it's more interesting. I think people will come back that way. They'll want to see it. Interaction is a big thing, too. We recently started producing small tin fragrances where we had fans on social media help us name them. That's been huge. People love to play along.
Do you find one social platform more effective than others? They're all very different. Instagram allows you to tell a beautiful visual story. In fact, I get 70% of my orders through Instagram. Facebook is good for family and friend connections—they'll see your products through the recommendations of friends and family. Bloggers are a great way to share product, too. You have to be very careful and very specific with them, and come up with a mutually beneficial business exchange.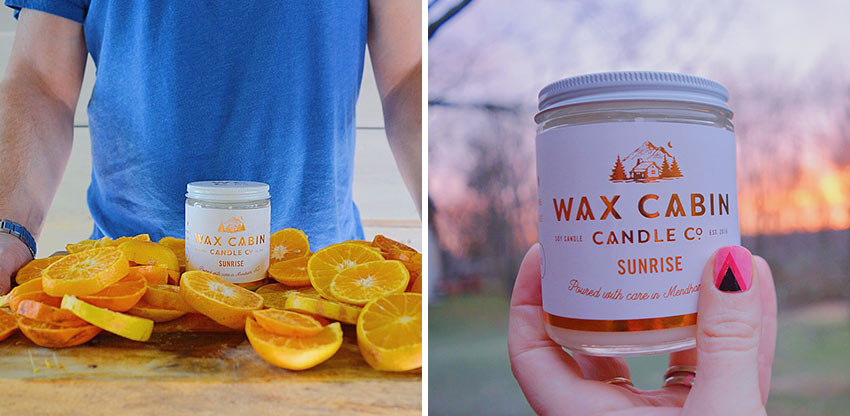 You have great product photos. How has high-quality product photography benefited your business? It definitely has. Buy yourself a great camera, and think every day about the best opportunities for photography. Focus on producing quality content. If it's not high-quality, don't worry about putting it up. Sometimes, I'll post two photos in a day, and they perform worse than when I post just one photo. So don't be afraid to let your content "breathe" a little bit.
Based on your early experience, what advice would you give to other candle makers who want to start their own business? The most important thing is to do your research. If you want to take this business beyond just your family and friends, you really need to read about it. Read some articles. Go to stores and look at their products. Have scent parties where people come and smell your candles. What can you do that's different? What's important about your brand? I think if you ask that question—and do your research—then you really can go from a hobby to a business.
What do you love most about running your own candle business? I like the combination of entrepreneurship with the arts. It's that old corny phrase: If you like what you do, you'll never work a day in your life. I love my products, I love making them, and I love being my own boss. It's been really fun.
Want to see your small business story featured on our site?
We're eager to share empowering stories that will inspire other candle makers to grow their ideas into successful businesses.
Shoot a brief email to [email protected] introducing yourself and your candle business. Your story might be the next one we feature on the website!