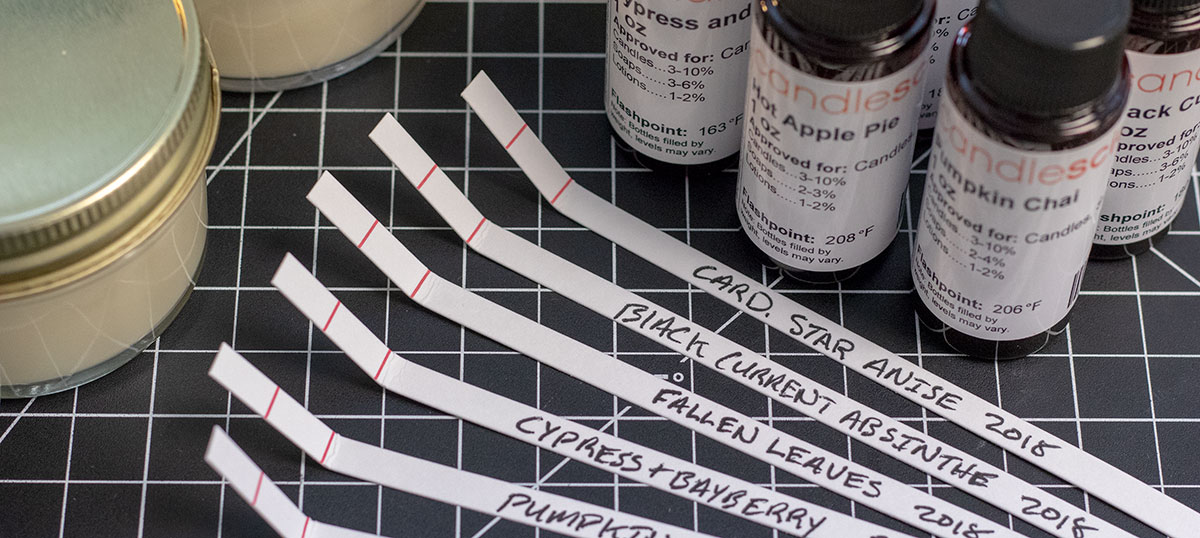 We're proud of our fragrance oils.
Not just because our customers give us great feedback year after year on their quality and performance, but also because every scent we sell is a graduate of our vetting and testing program. Only the best of the best earn their diploma. Making it as a CandleScience fragrance is harder than getting into Harvard. (Yes, really! We've done the math.) 
Selecting scents for your candles, soaps, and other creations is one of the most enjoyable parts of the process, and also one of the most difficult. With so much to consider—Will my customers like this? Will I like this? How will it perform in soy? Will it discolor my wax? Will the hot throw be as strong as the cold throw?—picking out new scents can feel like a game of chance.
It's a game many of us are familiar with as candle and soap makers ourselves, one we're not very fond of playing. That familiarity deeply informs our process for adding new fragrances; we know those frustrations all too well, so it is crucial for us that we do everything possible to eliminate all the mystery and guesswork we can. You may have noticed that CandleScience doesn't carry a staggering number of fragrances like many suppliers. That's because our standards for fragrance oils aren't just high, they're rigorous.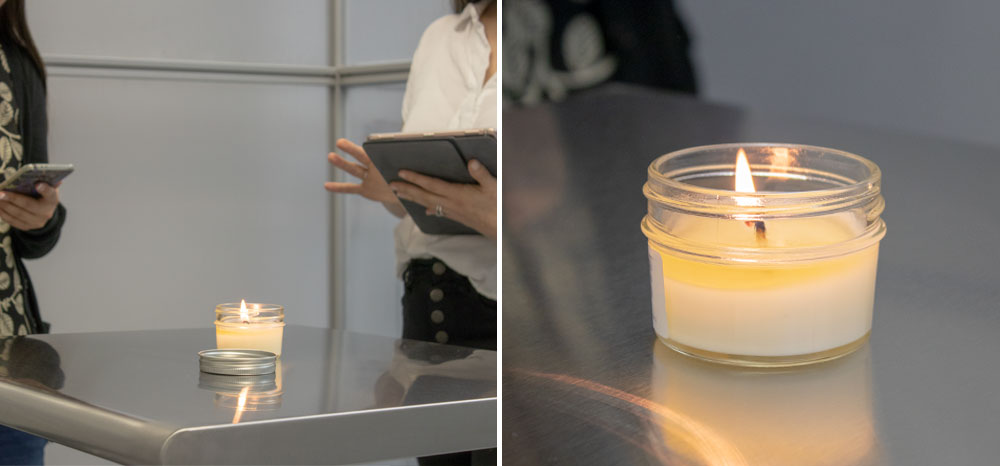 Before we even begin the process of vetting and testing fragrances, we are listening—to trends in the market, industry reports, the competitive landscape… But the voice most important to us is yours.
Every piece of feedback we receive about our fragrance oils, every search on our website, every request for new scents, we track. We often find common threads between your feedback and the target list of potential additions and revisions we've already compiled.
Many fragrance concepts won't even make it to this point, as they simply don't meet our most recent safety and regulatory standards. You may have noticed our ongoing commitment to phasing out phthalates in all of our fragrances. But of course, safety is just the baseline. When we're testing fragrances, we pay attention to strength, character, and burnability.
Does this scent perform to our standards in soy wax? Is the strength of the hot throw consistent with the cold throw? 
Does this scent have the character we're looking for? Is it distinct from others on the market?
Does this fragrance give us a proper burn? Is the flame too small or large? Are we getting a sooty candle?
Because we all experience scents differently, our testing process is a group effort. Everyone at CandleScience, from tech to marketing, gets involved in evaluating fragrances. Usually, we spend a couple months testing multiple revisions of a single scent but as you'll see, sometimes it takes a little longer.
Hot Apple Pie seems like a simple concept, but as our testing revealed, that simplicity is deceptive. Our standards for fragrances (and for pie) demand authenticity—this had to smell just like a freshly baked pie hot out of the oven. We've been testing and reformulating, testing and reformulating, for over four years. During this four year endeavor, we did find a few versions that came close, but we just weren't satisfied with "close" and never will be—it has to be right.
Well, here you have it folks. This final iteration of Hot Apple Pie is a super realistic fragrance that will, fair warning, leave you hungry. Learn more from Stephanie in the video below.
Cypress and Bayberry is another fragrance that's been in the works for awhile—we've been sitting on this scent since 2016. Not because of a multitude of reformulations like with Hot Apple Pie, but because we were waiting for what we felt was the right time to launch.
Holiday specific fragrances are always seasonally popular, but we have been seeing consumers asking for scents outside the traditional pine notes that will also appeal to high-end, upscale markets. We've released related scents in the past, like 2017's White Birch. While White Birch quickly became a highly reviewed, popular fragrance, demand for similar scents wasn't slowing down.
The elegant, unexpected Cypress and Bayberry meets that demand, capturing the spirit of winter while still being a great year-round choice for clean, woodsy fragrances. Want to know more about this scent? Cassi shares details in the video below.
We've been trying for years to find a realistic cardamom scent that performs to our standards in soy. Getting a strong hot throw can prove tricky and similar to many citrus fragrances, the chemistry of burning cardamom-scented candles often results in an unpleasant, fuel-like smell.
Finally, we found the right formulation. No burning fuel here! One of our CandleScience teammates, Prashanth, grew up around these spices and gave us his seal of approval on the authenticity of the spice notes in this fragrance. It's one we're excited for you to try, and if you want to know more, hear what Lyndsey has to say in the video below.
When we're planning a release, we try to include fragrances that will appeal to high end, "prestige" markets. However, we also want to make sure these unique fragrances are accessible for any customer looking to expand their line with trendy scents. One of our favorites in this category from past years is Amber Noir—it quickly became a bestseller!
Black Currant Absinthe is this year's sultry addition. We knew we wanted to include a trendy concept consumers will have heard lots of buzz about, like absinthe, and ground it with something more familiar, like currants. Hear more about this intriguing fragrance from Julia in the video below.
The changing leaves, the cooler weather, the warm spiced beverages, the scarves...autumn is special, and we sought to find a fragrance that truly captures the spirit of this magical season.
The hard part was finding something that would serve as an alternative to your typical apple and pumpkin fragrances. We love the concept behind the name of this fragrance, and the nostalgic coziness it induces will surely make an impact with your customers. Learn more about Fallen Leaves from Kevin in the video below.
It's no secret that pumpkin is a popular scent, especially in autumn. Even with four other highly reviewed pumpkin fragrances, it remains one of our most requested. For many, it isn't really fall until they get their first PSL of the year. We've been wanting to add a classic fall beverage fragrance, but were looking for something more distinct than the mainstream scents currently on the market. Enter: Pumpkin Chai.
We spent a lot of time testing and reformulating this fragrance to hit the right balance of realistic pumpkin and authentic chai spice. Even those of us who aren't pumpkin lovers really enjoyed the final formulation. Move over PSL, Pumpkin Chai is anything but basic. Hear what Julia has to say in the video below.