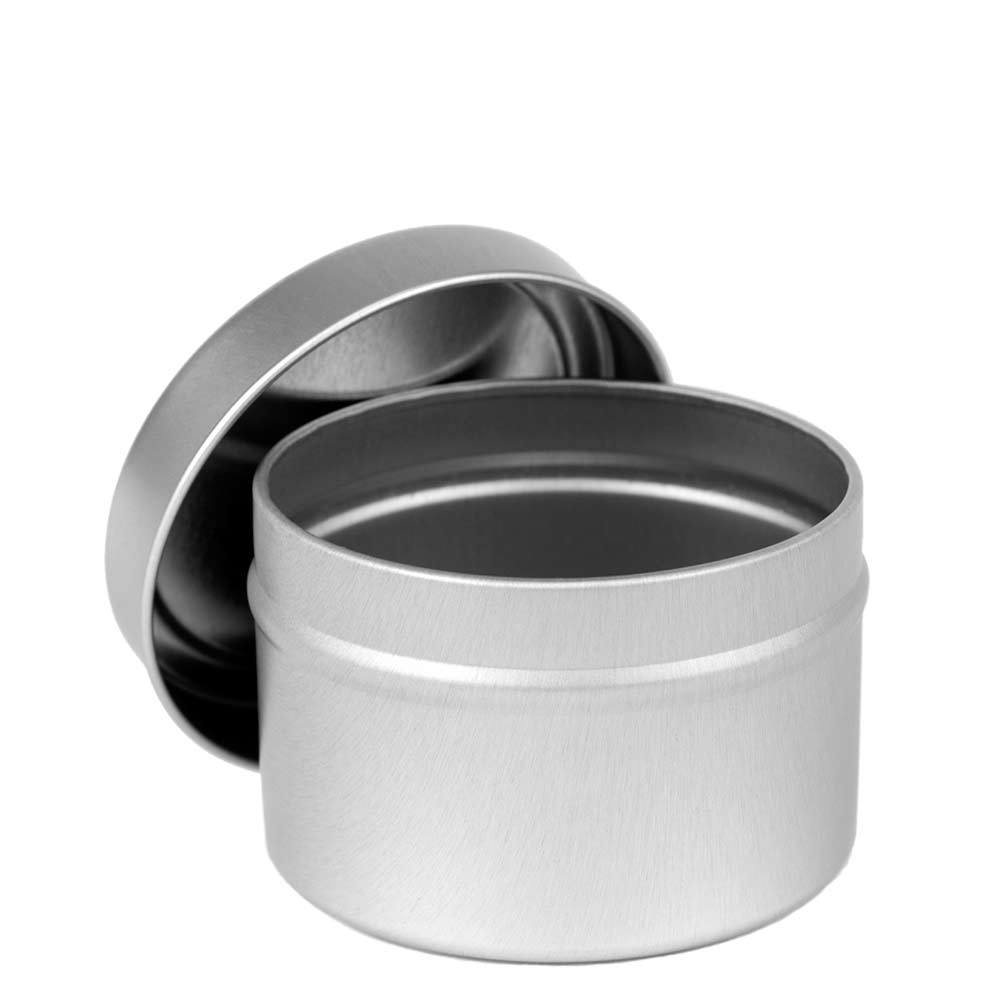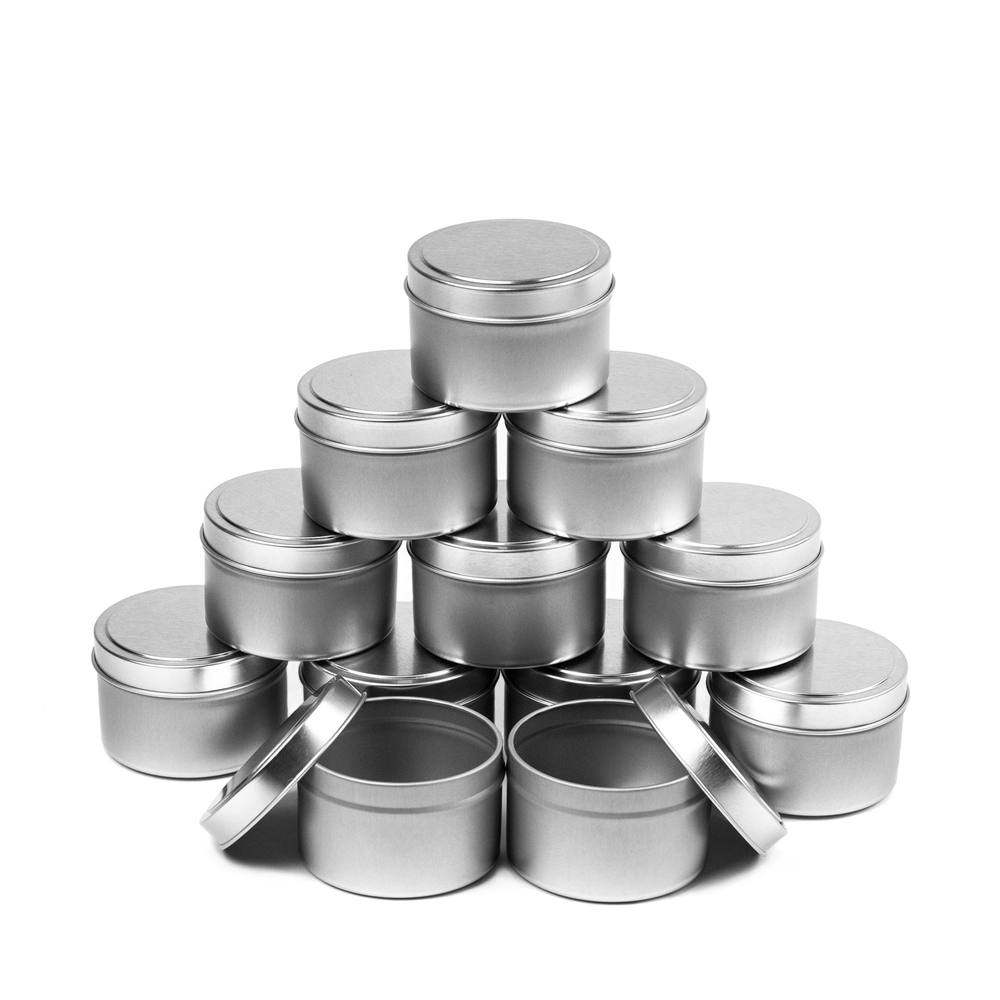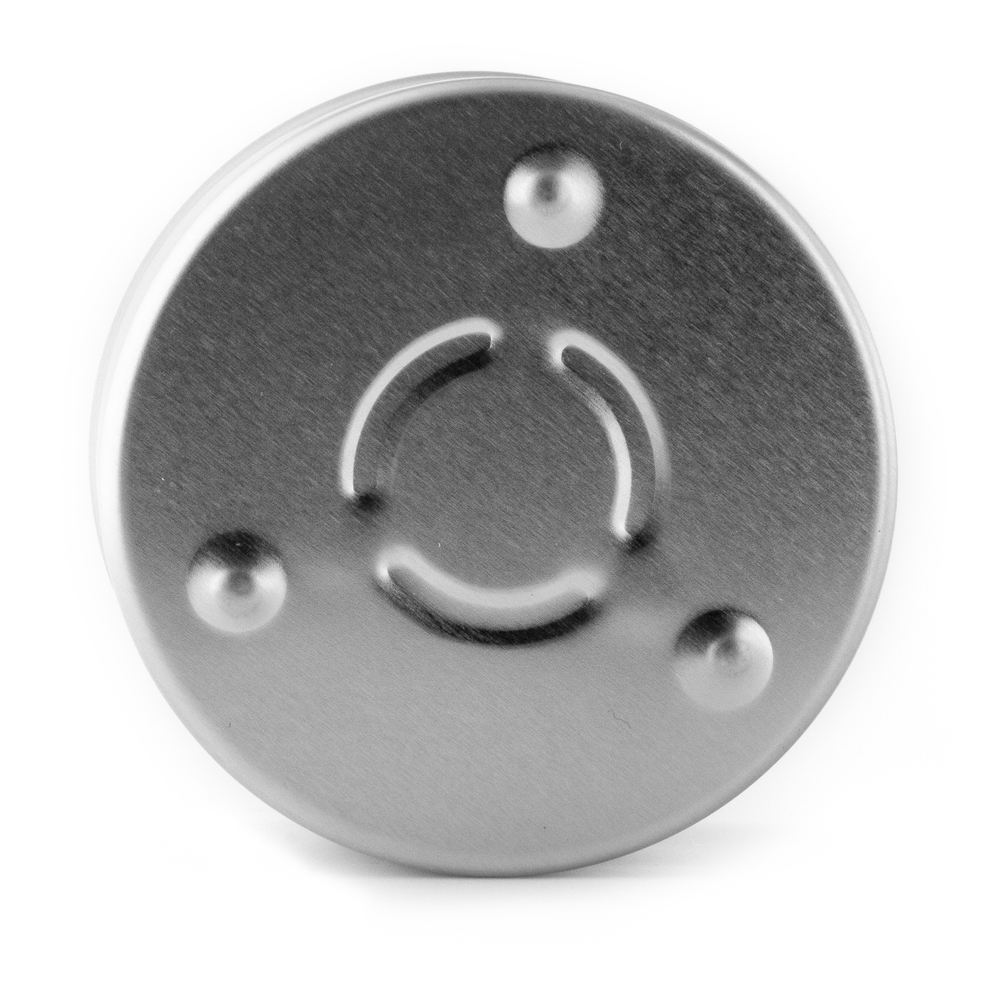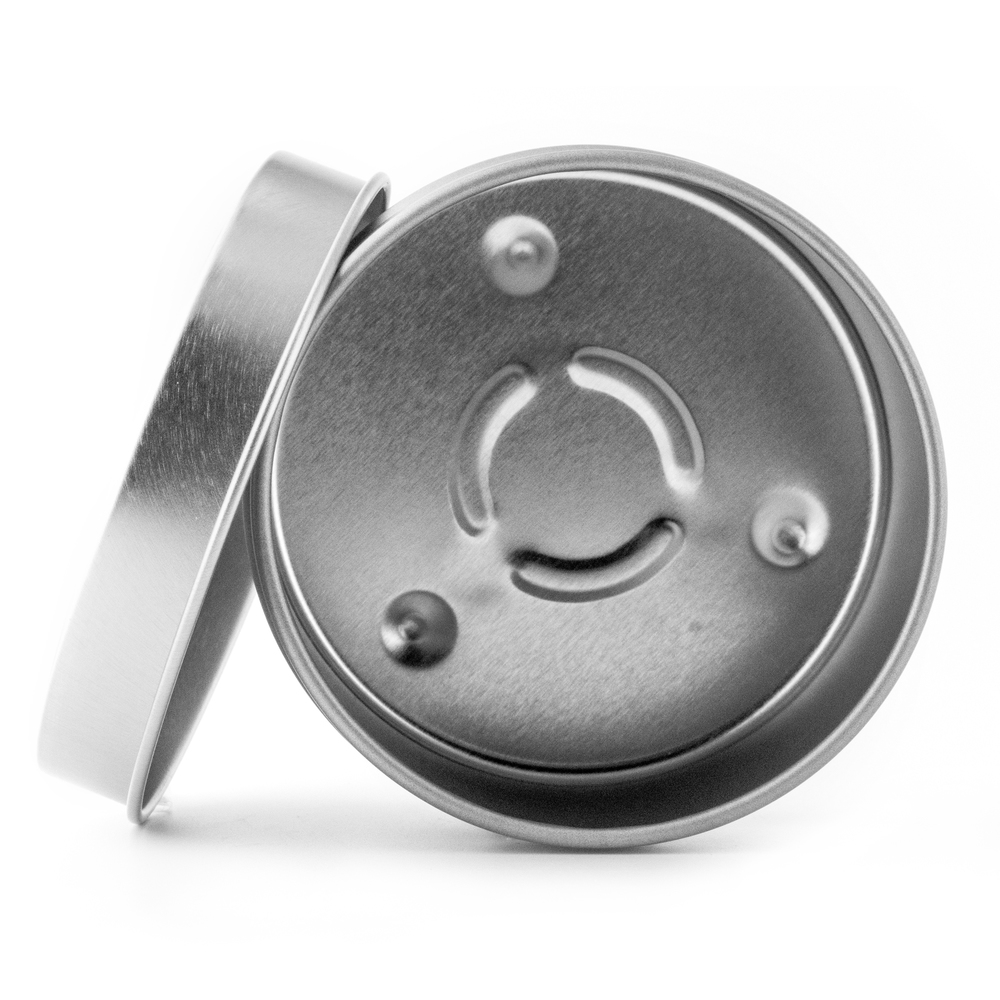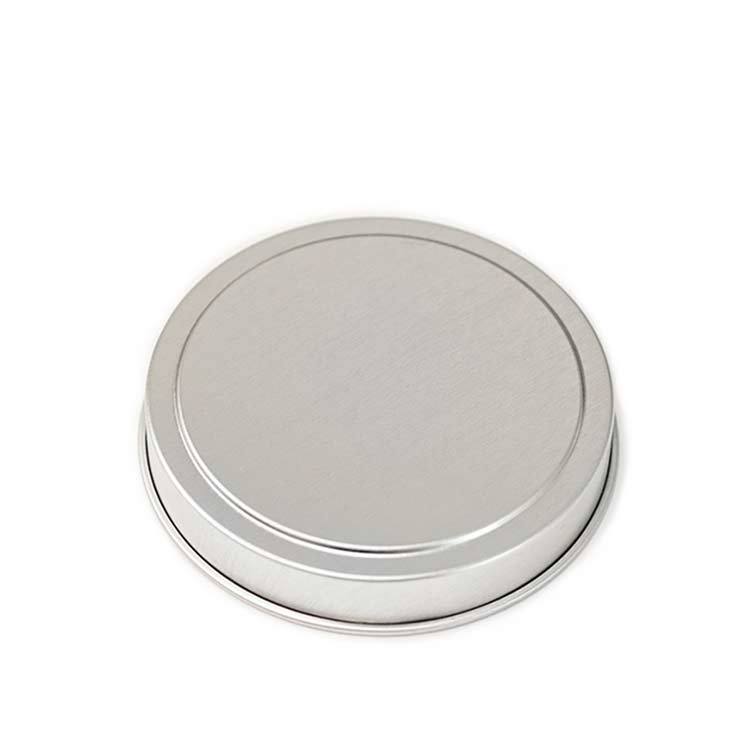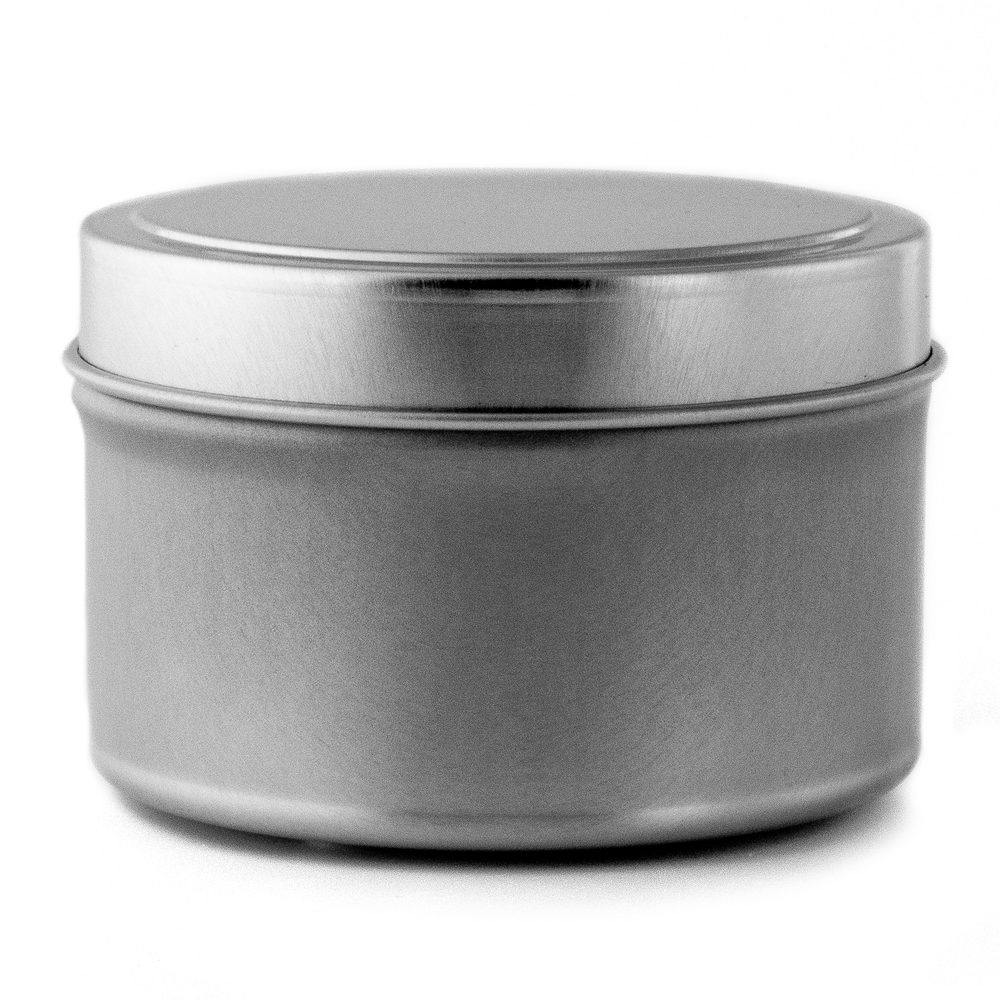 Ready to Order?
4+ 120pc Cases
$78.69
$0.66 /pc
36+ 120pc Cases
$74.94
$0.62 /pc
Details
Candle tins are a great alternative (or complement) to traditional glass candle containers. Ours have a really nice finish and include snug fitting lids. Candlescience tins are made from steel and are safe and easy to use, thanks to:
Raised Safety Feet that keep surfaces cool, and candle burners happy!
Wick Tab Outline that makes wicking a breeze.
Protective Varnish Coating
Our candle tins have a varnish coating on the inside of the tin to help protect the metal from discoloring. Keep in mind that aroma components like citrus oils, cinnamon oil, and vanillin in fragrance oils can still cause the color of the tin to shift, particularly at higher fragrances loads.
Labeling Area:
Top - 2 1/8"
Side - 8 1/8"W x 1"H
Bottom - 1 1/4" (between feet)

The 4 oz size is popular on its own or as a smaller size in a line that includes an 8 oz tin.

How much wax will it hold?
Wax Weight (to Fill Line) - 2.7 oz.
Volume (to Overflow) - 4.7 oz.

Looking for a wick suggestion?
GB 464 - CD 8
IGI 4630 - LX 14
IGI 6006 - ECO 2
Check out our wick guide to see recommendations for other waxes! Our recommendations are estimates and should be used as a starting point for your own burn testing.

Made in the USA

Wholesale Ordering
Check out our wholesale page for more information on ordering candle tins and other candle supplies in bulk or by the pallet.
Reviews
I love these candle tins. However, some of mine arrived with dents and/or scratches on them.
Hi! A member of our team will be reaching out shortly!
I secure the wicks using the pro wick stickers. I place each one carefully and press down firmly. Once I've poured the wax (135 degree pouring temperature), the wicks no longer stick and start moving! I put flowers in my candles so by the time the wick moves, it's too late for me to save the wax! I can't have flower petals anywhere near the wick if I were to pour the melted wax in another tin. I'm not one to leave bad reviews, but I've wasted too much money and supplies on these.
To all the friends I've seen asking about label sizing - I use a 2.5inch round label for all my tins. This size goes all the way to the edge of the 4oz tins and goes to the edge of the raised portion on 6oz tins. If you want a label that fits to the edge of the raised portion of the 4oz tin, I'd recommend a 2inch round label 😁 if you are making labels for the sides, check out the dimensions listed and that should tell you the height so you can plan accordingly. Happy chandeling!
Side note: I use only CS tins even though they are more expensive just for the raised feet feature! My customers appreciate it. I've had requests for 16oz candles, but I can't find any with the raised feet. Please consider adding 16oz tins to the collection 😁
Hi there! Thank you for your review. We have passed your suggestion along to our product development team!
I love these tins, no problems in rust or discoloring and I've used fragrance oils & essential oils.
I just ordered the 6 oz size
Hello,
The tin can gets really hot. I picked it up to move it, while burning, and it was so hot to the touch that I dropped it (natural reaction) immediately. I almost burned myself. I was shocked. I used the instructions to the exact measurements. I will continue to use Candle Science because I trust the quality, like the product selection and love the educational series you share to ensure users produce quality products. I truly believe its sooo hot because it is TIN after all but wanted to share my experience as a first time candle maker and so that you know. But wow, was I shocked to pick up the tin can.
Sincerely,
Still a happy customer
Love the tins, but wick size is tricky.
I have been testing wick sizes with the 4 oz tins using 464 soy wax. The Eco 8 seemed to be a bit too small, and I'm not a huge fan of the "eco" in general. The CD 12 was too big, but not ALL that big, surprisingly. I finally bought the CD 8, as recommended. I has the candle lit for 2 hours, and still no full melting pool- what a bummer, I ordered a bunch of them.
Any suggestions from candlescience or others- anyone using 464 and these tins that have a magic wick size!?
Hi! We're happy to have helped troubleshoot this for you!
I'm very happy with the 4oz tins. Do you have any suggestions for side labeling? I've searched Avery and google to find the perfect size. Unfortunately, I've been unsuccessful.
Thanks
Loving these tins! I was wondering if anyone had any insight into the label specs? They avery site starts at 6 oz. Any insight would be greatly appreciated!!
Hi! I do love Candle Science and been using them for a very long time. These tins are awesome, I loved them, especially the feet - most tins don't have little teeny feet! These DO cause discoloration with some scents. When I emailed they said they could send me a list of scents that will cause the reaction with the inner coating. I lost a ton of money bc I could not sell the discolored tins (4, 6, and the 8oz) - anything with vanilla will FOR SURE cause a rusty looking color on the inside of the tin AND on the wax around the edges. Please add the list of scents that will cause the reaction so small businesses don't lose money - or wedding favors ruined like the comment below. I really truly love you and the tins wont stop me from ordering - your customer service is spectacular and so is everything else. I feel like this is a need to know though, especially with vanilla being so popular and since SOOO many scents contain a percentage of vanilla - even a small percentage.
Happy with my very first order
Ordered 4 oz Tin cans- came all in good condition.
Wicks - ordered 2 sizes (CD-8 & CD 18) After reading other reviews, I used the cd 8 for the 4 oz tin can. The pool is almost perfect, but I think I will also experiment cd 18 on my next one.
I was going to order jars but due to the pricy shipping cost, I decided to ordered it from Amazon instead.
Similar size for the straight sided jars Height 3 1/2 - Diameter 2 1/2, I use the CS wick cd 8 and cd 18. They both looks great but you decided which you'd prefer to choose.
464 soy wax - Yes! I recommend this. I have not try yet the 444 wax but maybe on my next order.
I have tried Natural soy wax outside CS, but at no success.
I'm glad CS has a processing order in NV which shipping was not so bad $20ish.
I eliminated other orders because CS would charged me almost $40 since the order is coming from NC.
But, overall, I'm pretty satisfied :> and happy new customer :> Thank you!
From WA state:>
These tins are an awesome size- for samples, gifts, whatever. The wick recommendation for parasoy wax is accurate, and when I burned a candle in this tin, I noticed no rust or discoloration.
Great quality and extremely convenient to use!!
I have yet to master centering my wicks properly, and these tins completely save the day! They have a really nice ridge on the inside in the middle perfectly fitting for the wick tabs which is extremely helpful. I have bought these in the 4 and 8 oz size and I have loved them and will certainly be buying more soon. Thank you so much!!!!!
I love everything I purchase from CandleScience. I had to start purchasing my products from another company because the shipping cost is way too much. You pay more for shipping than the products. I work at USPS and I can tell you, the cost for shipping (weight of items) I purchase here, are way less then what I am charged by CandleScience. Candlescience should really try to provide their customers with a better shipping deal. Priority Mail is way less than UPS or whomever they are using.
THE TIN CANS ARE AWESOME!!
My second time pouring candles. These containers are fantastic! I did achieve the stated wax weight of 2.7oz using 464 wax. I checked the volume to be also over 4oz to the brim.
I expected to fill this container with 4 ounces of candle wax. The most wax that this container held was 3.65 ounces, to the brim. I filled 7 tins to capacity. I turned the wick sideways to put the lid on, which was suitable. But the issue is the volume. The jar doesn't hold 4 ounces. So I can't use them as planned. I'll have to look elsewhere for what I want.
Odd discoloration on candle
I am resending this review...my prior had some letters that did not type.
I made 132 candles for wedding favors. When my husband and I went to put labels on, he happened to open and smell candle and asked how come there was some brownish color that appeared to seep from outer edge of candle where it touches tin?? I first thought rust and thought "oh no!"... they were very time-consuming gift I am doing for our son and soon-to-be daughter-in-law. I haven't gone through them all yet! They turned out absolutely adorable and I was so pleased, until I see this. I saw someone post about a chemical reaction with some scents?? I used Very Vanilla??? Please help so I know for future reference. And I am assuming they will not hamper my candle burn or scent in any way? Just disappointed after all the time and work that went Into them.
Love these tins! These are perfect.
Not sure why the buyer below said beware but these tins work great. I tried looking for the cheaper tins referenced but the closest I saw online was 88 cents per tin and these are priced at 73 cents.
Anyway great tin for a great price, I really love CandleScience.
They do change color with certain scents over time and it will look like rust. Hard to make all customers aware it is not rust. Also just found that this is actually one of the most expensive sites to purchase these tins at. Last time I'll be ordering these tins here. They cost me the exact same at my 8oz amber glass jars (lids included). Bummer because I like candlescience.
Love love love these tins! Perfect size for gifts, custom favors and travel candles. Would absolutely love to see them in gold as well!!
These are excellent and my first batch of candles turned out well. Will you be selling these tins in gold or other metallic colors at all, or just the regular silver?
Never used tins before. Bought a 12 count of these 4 oz tins and used NatureWax C-3 (not sold here but very similar in properties to the 464 was that is), and used the ECO-8 wicks (which were bought here).
Heated wax to 160-170, put color and scent in almost right away (per manufacturer spec). After a few days I noticed smooth top and wonderful cold throw.
Burn after 3.5 hours reached the edge very well. Successful burns after the first burn too. Noticed that the ECO-8 seems to be a perfect fit for these but that obviously depends on your wax usage too.
I will likely order a 120 count set to incorporate these into our inventory. Really love the little tin feet on the bottom!
This is an awesome product.
Love your products - there is actually very little I have ever been disappointed with, when it comes to Candle Science.
These tins are actually the best quality, for the best price, that I have found. We have purchased via Alibaba, DHGate, various stateside retail places, as well as wholesale. While I can find them a tad cheaper, the quality is simply not there.
Please consider carrying the black tin, as well. Our customers have been requesting them lately and I would love to offer that option to them!
I'm so happy and finally realize one of my longest dreams ! To make my own Soy Candle and at the same time make my profit.
I used 4 oz and 8 oz with Soy 464 wick it is perfect for both of them ! My customers always make complements about it ! Thank You !
I am new to making candles and just purchased the 4 oz tins. I did the burn test with ECO 10,12,14. I burned for 4 hours the wicks wasn't any different. Day 2 burned for 4 hours in separate rooms wick 10 and 12 gave off more throw in gave off more hot throw in a smaller room. Can barley smell the wick for 14. I did this burn after 24 hours. I heat wax to 180, put dye in, add scent at 140 -/+5, and poured at 10 degrees from when I add the scent. I stirred scent for 2 minutes. Smooth tops. I've also noticed that if there is a lot of movement around the candles where they are curing cause rough tops. I used 10% of scent and loved this
I love this size tin! My friends and family say it's their favorite size.
My 120 jars came in clean and none were dented. Very happy.
I recently ordered 120pc of these 4oz tins for a wedding. I've gone through half and have already come
across 12 lids that are badly dented and useless to me. Hope I have better luck with the other 110 lids b/c if I'm unable to use these lids I'm wasting my money buying them. The lids came in large bags all thrown in together, not good packaging on the lids. Pretty disappointed.
Use these with the recommended wick and it burns great in GB 464. A nice product to offer when a customer just wants to "try" it at home and see if they want to go for the bigger candle.
I forgot to mention that I used the ECO 2 6" Pretabbed Wick. This size worked perfectly for this tin. The wax melted evenly and to the side of the tin. See my review for the ECO 2 6" wick and the Ecosoya CB-135 soy wax.
Good Quality - Great Size for Gifts
I am using these tins to make natural candles for bath and body gift sets. They are a good quality and the lid fits nicely.
I use these all the time - they are great for giving as gifts. They also travel well. I hope you don"t stop making these. I also use the 8oz tins.
Any recommendation for wick size for the 4oz tin? Thanks!
120pc Case - Could Be Better
I love these tins, I've been using them for a while now. I had a large order recently and purchased the 120 piece set instead of the normal 12 piece. As much as I love these, I was very frustrated with how these were packaged. There was some sort of dust or small paper type substance in each of the tins, requiring me to clean out each and every one. The lids came packaged separately in a bag, which I appreciated over them being assembled, but each lid had what looked like little strings or shavings on them, likely from the lids rubbing on each other. The extra savings per tin is nice, but having to clean each tin and each lid is time I would of rather not wasted.
These 4 oz candle tins are perfect for any gift or boutique set up sales! I'm excited to make more.
They're a GREAT size! I have a whole line of candle tins on my website using these 4 oz tins!
They're a GREAT size! I have a whole line of candle tins on my website using these 4 oz tins!
Easy to use - great results
Love these tins. I followed the directions in the video and have some lovely gifts for Christmas.
These are perfect. I love the raised feet. My candles came out perfect in these.
I love these tins. They are very nice. I have both the 4 and 8 oz. and both are great.
These tins are the best! I love the raised feet! CS is the greatest!