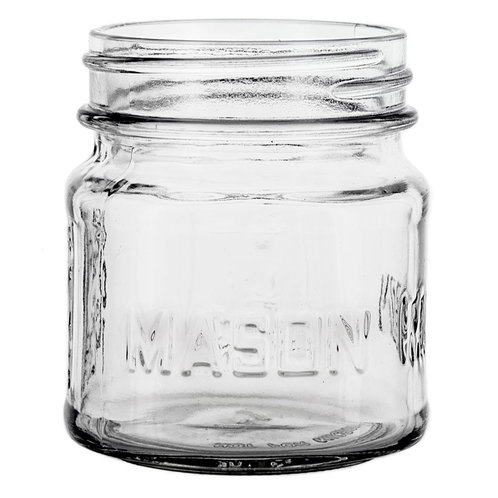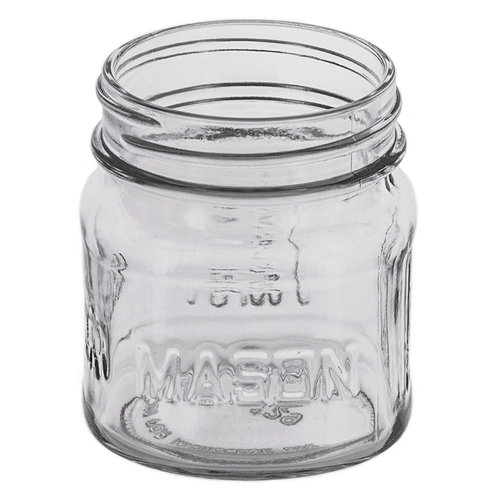 Ready to Order?
6 - 89 cases
$6.66
$0.56 /pc
90 - 164 cases
$6.17
$0.51 /pc
165 + [pallet]
$5.86
$0.49 /pc
Details
Our 8 oz. square mason jar is a great choice for country-style container candles. This jar displays "MASON" on 2 sides and the classic measurements on the other 2 sides. We also carry a 16 oz. Mason Jar.
Tops are sold separately.
The 8 oz. Mason Jar works with any of the #70 G Threaded lids; antique gold, black, gold, silver, pewter, rustic, white, or pewter daisy.

How much wax will it hold?
Wax Weight (to Fill Line) - 7.9 oz.
Volume (to Overflow) - 10.5 fl. oz.

Looking for a wick suggestion?
GB 464 - CD 12
IGI 4630 - LX 18
IGI 6006 - ECO 4
Check out our wick guide to see recommendations for other waxes! Our recommendations are estimates and should be used as a starting point for your own burn testing.


Looking for labels?
Put the finishing touch on your candles with the perfect product label from Avery WePrint. Browse designs, create your own, and take 10% off all label orders! Head to
avery.com
to get started.

Wholesale Ordering
Check out our wholesale page for more information on ordering candle supplies in bulk or by the pallet. Imported
Properties
| | |
| --- | --- |
| Height | 3.5" |
| Diameter | 2.9" |
| Max Labeling Area | 2 1/4" x 1 1/2" |
| Prop 65 Warning Required | No |
Reviews
I ordered 4 boxes of these adorable jars and at least 1 jar was broken in each box.
We're so sorry to hear this happened and we'd be happy to help. Our support team has reached out to you via email!
These are cute little jars but one was broke and I didn't find them packed very well. Surprised there weren't more broken.
Thanks so much for leaving your review! We're sorry to hear one of your jars arrived damaged, however, a member of our support team has reached out to you to better assist you!
I love the jars, but I am having a hard time to get the wicks to stick to the bottom. Does anyone have a solution as to how to get it to stay on the bottom? The wax keeps getting under each sticker! I am getting frustrated and cannot sell my product!
We're so sorry to hear this happened and we'd be happy to help. Our Support Team has reached to you via email
I like the jars, they seem fine. Just wondering if anyone has any secrets on how to best secure the wicks to the bottom of the jar. The wick stickers don't work well with this glass and shape
What wick should I use with this??
Hi! The wick you'll want to use will depend on the type of wax you'll be using with this container. We'd be happy to offer suggestions or help to troubleshoot if you'd like to contact us at support@candlescience.com!
Best customer service in this industry
I've been ordering supplies for my shop from Candle Science for over two years. They consistently have excellent products, super quick shipping and great prices. Recently, I ordered a few boxes of jars and one jar arrived broken. I contacted Candle Science and they responded as soon as they received my message! They went above and beyond to make things right and were so nice and understanding. Great customer service is so rare these days and SO appreciated! I am a customer FOR LIFE! Thank you so, so much...love this shop! :)
My issue is not with the jars. Info I've read throughout the site to the contrary, 1 lb of wax (16 oz) does not fill three 8 oz. jars. I was able to fill one jar nearly to the shoulder, and the other two are well below that. I believe it would take at least one and one-fourth lb. of wax to make an acceptable (not skimpy) presentation. The jars themselves are just as cute as pictured.
I love the look of these jars! I use them a lot around the holidays. If you are looking for a rustic style for your candles these fit the bill. They are great last minute gifts for customers that just want a little something.
Best Price and shipping..Love these jars and so will my customers!
These little jars are great! Even better now that they offer one that you can put labels on. They look very cute all done even though I only use white wax. Definitely worth the price.
My customers love these 8 oz. Mason Jars! I use the Rustic Lid and put a 2" round label on the lid. Because I do not color my wax, I tie colored raffia or ribbon around the neck of the jar to correspond with the name of the candle scent.
Pleasantly surprised with this jar. Easy to work with and wax looks beautiful once cooled. I prefer these jars WAY MORE than the tins. You can not beat the price either. Definitely impressed with the quality and service CS provides. Used with Rustic lids....looks AMAZING!!
When this jar had two smooth sides it was easy to label, therefore an easy 5 Star. Now that it has measurement symbols on what used to be the blank sides it has become impossible to label.
Makes the perfect medium sized candle
I prefer this shape over other 8 oz canning jars that are either too shallow or too deep. If you want to make a meaty medium sized candle with a good balance between diameter and depth, this is the jar for you. I used the Golden 464 soy wax and an Eco 14 wick and got a complete, even wax pool with beautiful curl to the wick. No mushrooming at 6.5% scent load with Holly Berry FO.