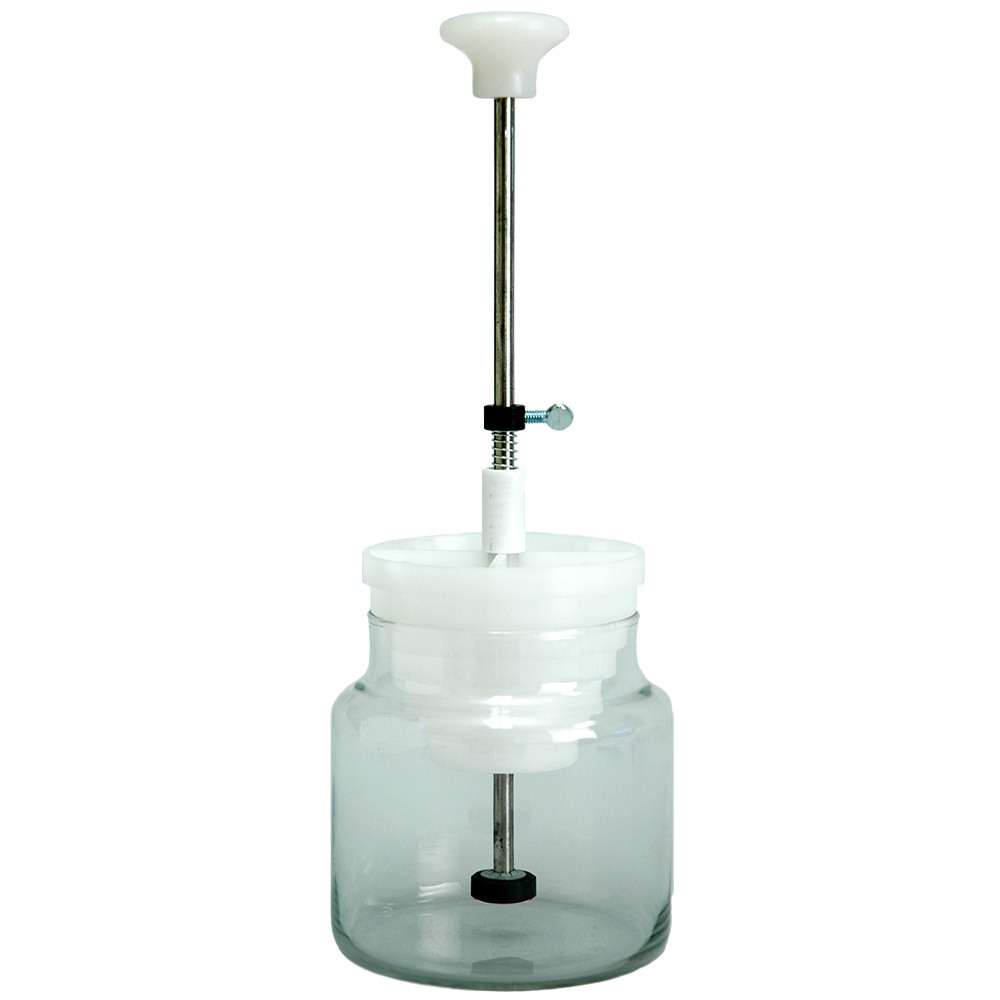 Details
The EZ wick setter is the fastest and easiest way to wick your containers. Improve the appearance and safety of your candles by ensuring the wick is perfectly centered every time. A single candle maker using the EZ wick setter along with our Wick Stickers can easily wick dozens of containers a minute. The EZ wick setter fits containers with an inside neck diameter of 1.75 to 3.10 inches.

Made in the USA
Reviews
Tried with many different jar sizes. Flimsy and almost never gets the wick centered.
I hesitated to review this product at first because while I had difficulties, there seemed to be options for support. This product works with my Jelly Jars and thats it. My libby straight sided jars do not work. They alignment of the unit is not correct and result it terribly off-centered wicks. The unit comes with a letter from the manufacturer asking to reach out if it doesn't fit and you can send it in and they will properly align it for your vessel. I emailed them EIGHT times with zero response. I tried looking the company up and found nothing useful. I reached out to Candle Science and was given the same contact email that I already had and that was really it. I expressed my concern with the product to Candle Science and they didn't seem to really have an interest in helping me get it fixed with the manufacturer so now it sites in a drawer virtually unused. Very disappointed in this purchase.
Finally upgraded to this wick single wick placer. It is easy to use, easy to adjust and fits my straight sided jar perfectly! Definitely worth purchasing.
- Andrea Taylor
Elegant Scent Candle Co LLC
This wick setter makes it very easy to get an centered wick each time.
No...
First off you would think that this could be adjustable and design… To have it stuck on some static width is not great. Secondly I purchased the street Tumblr jars I use the amber the clear the black and the white just an FYI this tool will work on those same jars about 30% of the time. Those jars different size slightly enough that the tool will not work I just made 12 candles with the candle science street tumblers… This tool fit and two of those jars the rest I had to hand center. To not have an adjustable feature and candlemaking pretty much deems it not that important of a tool. It does not fit the tens it does not fit the glass straight Tumblr's… If it's at part of the time. Not helpful for me as a candle maker
A great concept, but it only works if your vessel is perfectly round. I mostly use your Tumbler Jars and it does not work with them because it does not sit snugly on the jar which is why most of your reviews said it was wobbly & subsequently not centered. I tried it on some drinking glasses from my home and it fit snugly on them resulting in a perfectly centered wick, sadly those are not what I am making my candles in.
I purchased an EZ Wick Setter a few months back and it really saves time when wicking large batches of containers. I love how it almost effortlessly centers the wick every time! If you are making more than just the occasional candle or two do yourself a favor and buy one today!
As others have stated, the setter is just a tad bit wobbly while it's sitting on top of your jar. If you don't manually hold down and level the setter while it's sitting on your jar , you will not get a centered wick. Even If you think the setter is level, it's not sometimes.
When I think I have it centered, I press down very lightly and then check to be sure the wick is centered, this way if it isn't I can pull the wick out of the jar and try again. The product does work, but 9 out of 10 times, I have to try two or three times before my wick is perfectly centered.
So, overall I like the product. I think the "poor plastic construction" people speak of Is nonsense. It's built fine. It works pretty great for my 8oz and 4oz jelly jars. However, my Libby jars are not great with this. The way it fits in, the machine is just a tad too big to fit in the jar at the next setting and it causes A LOT of wobble resulting in wicks that are not centered. Ultimately you can make it work but at that point, eyeballing it is almost quicker. I can also recognize that it's hard to make one product for for every vessel so I'd still rate it a 3 since the product works and well, just not with my particular vessel. Make some minor tweaks to improve it and I think it'll be amazing! :)
Honestly kind of pointless
I love love love love Candle Science, but this was such a waste of money. I use a variety of vessels for my candles, from glass to tin to concrete. It doesn't matter what the material of the vessel is, the setter is just not level. It wiggles around and not one time have I ever gotten a centered wick. I'm not slamming it down hard, I'm calibrating the thumbscrew and collar as per the instructions, but it continues to wiggle unsteadily. I even tried it upside down, holding the vessel on top, thinking that may make it steadier. I'm so disappointed because I have a tremor in my hands and placing wicks is not my strongest suit. I really thought this would help, but it doesn't.
Not for Metal Tin Candles or Shallow Glass/Ceramic
I wanted to love this device, but it does NOT work for metal tins or shallow jars. The width is off for deep tins distributed by other candle supply companies and it doesn't work on them because they aren't deep enough. If you order tins from Candle Science, you don't need this device. If you order tins from other companies, don't even bother with this - it won't fit on your tins!
Works Well, Bit Loose, Overpriced
I bought this so that my wicks would go in dead center, BUT, it was loose on the jars I was using, and would take additional time to center. It is better with than without, but its not as good as it seems, and it's a bit overpriced.
I love this gadget! Makes centering wicks a breeze and is so much faster. This pays for itself since I can get through this part so much faster. Love it!
Makes wicking the candles easy!!!
I was skeptical after reading some of these reviews. But thisnthing definitely makes it easier to center wicks, period. I love it, and im glad i gave it a chance
It works just as advertised and we had ours adjusted to fit our jars snug. I see people here complaining about paying the postage for having that done which I think is pretty hilarious. If you can't spend the extra ten bucks to have it adjusted, do each candle manually then.
Yes, I'm sure you can make your own for less (and that goes for pretty much for everything in this world) but I don't think that's a valid argument in this case. The unit is not overpriced and does it's job good. I recommend it warmly.
I was really was looking forward to getting this device since Im having a hard time centering my wicks. This product does not work. Its flimsy and does not sit still on top of the jar which makes the wick not centered after its placed. Don't waste your money on this.
Overpriced piece of plastic
Doesn't work 100% well and is not what you think it is. In reality it is a metal rod with a flimsy piece of plastic secured on top.
Not really worth your money. You can make the same by yourself for a lot less.
No more guessing, very easy to use and well worth it
this thing is awesome.. I used to dread centering my wicks and it took forever.. this is such a time saver. I use it on pint and half pint mason jars.
We've been using this tool for a few years now and we've never had a problem. We've wicked literally thousands of jars with this very tool and it works just as well today as it did three years ago.
One of my biggest challenges with my candlemaking is getting a wick perfectly centered. I thought I had struck oil here, but its truly a piece of junk. The company that makes it offers to have you send it back to them to be adjusted, but the cost is yours at about half the price of the device. Truly, don't waste your money.
Very handy, not the best materials
This is a handy tool that's fairly simple to use, and makes centering your wicks in most containers very straightforward and a lot more precise than other methods.
However, it isn't particularly well made. After a few light uses (using barely any pressure, just enough to stick the wick sticker to the container) following the recommended instructions, the crimp that keeps the magnet in place became dislodged. I did get it tamped back down and the tool has worked since, but the construction method and quality of the materials used is lacking.
I also recommend using wicking that has some stability to it, as plain braided cotton can be a little tricky to get into the tube. Mine may just have a pit or a burr on the inside that catches the wick, but I tried different, sturdier wicks and it worked much better.
All in all, a handy, inexpensive tool for light use. My order also came with free wick stickers, and the shipping was quick, which I appreciated.