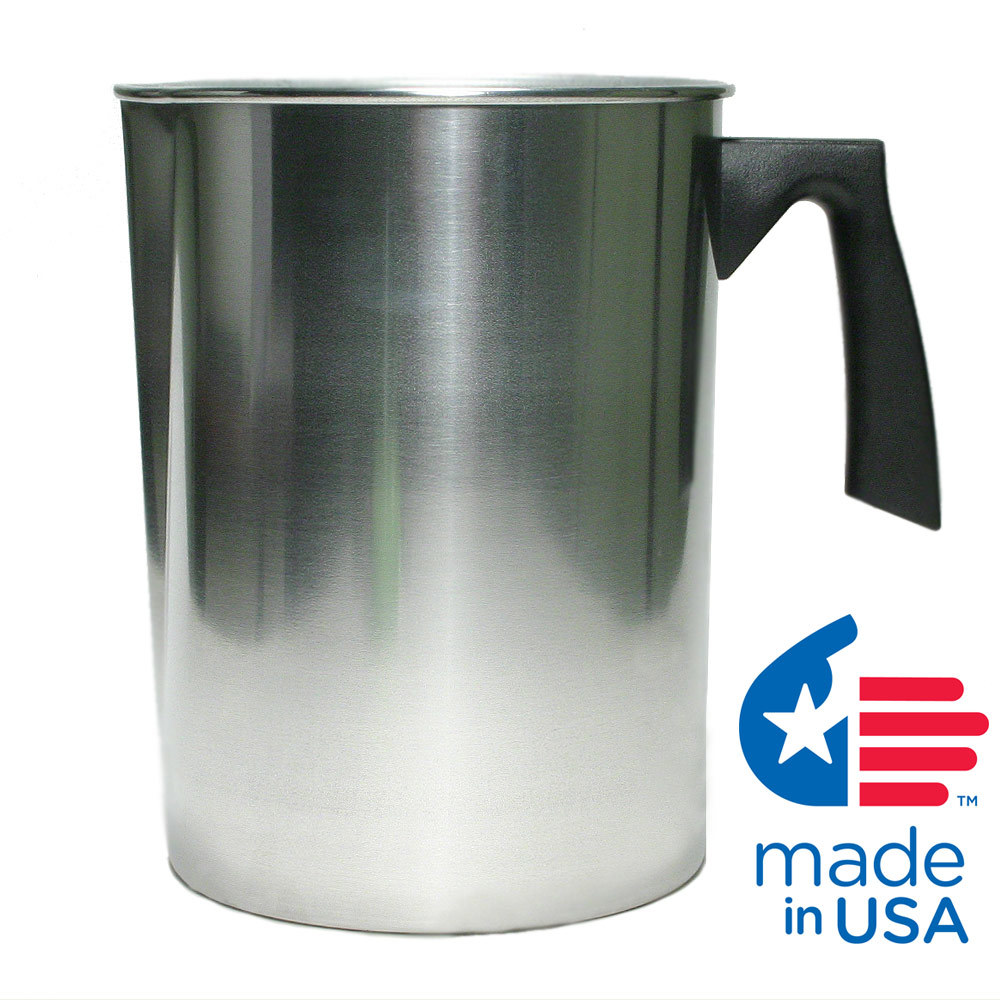 Ready to Order?
Ships from East Coast. Expected: West Coast 10/9
Details
A must for candle making, our large aluminum wax melting pot efficiently melts soy and paraffin wax and allows for easy mixing of fragrance and dye. This melting pot has a plastic handle that stays cool for easy handling, even when used with a double boiler. The spout also makes pouring small candles and tealights a breeze. The large pouring pitcher holds up to 4 lbs. of melted wax.

Wholesale Ordering
Check out our wholesale page for more information on ordering candle supplies in bulk or by the pallet.

Made in the USA
Properties
| | |
| --- | --- |
| Height | 8" |
| Diameter | 5 1/2" |
| Prop 65 Warning Required | No |
Reviews
Works great, but the black handle turns my hands black and it's hard to get it off.
Great but How many ounces is this pitcher?
Hi! This holds 64 ounces, or 4 pounds, of melted wax. Hope this helps!
I hate that it turns my hand black. Ive washed it and it still turns my hand black. It gets everywhere!
Perfect for melting my soy wax!
I love this pitcher and it is priced right! other places priced over double. It does the job and I love the size and its super easy to clean. I got 3 of them.
I love my small pitcher. And the large pitcher will be ordered soon.
Hello, In regards to the Pouring Pitcher is this the only size? Also do you sell funnels to help w/ pouring?
Hi! We also carry a Small Pouring Pitcher for candle wax, which you can find here: https://www.candlescience.com/equipment/small-pouring-pitcher. Unfortunately, we don't have funnels for pouring candle wax, but you should find you have a good control when using the pouring pitchers!
I saw someone else recently posted the below:
"It is so light that it doesn't sit well in a double boiler, so you have to hold it down.
- It turns my hands, shirt...anything it touches...black! And it wont come out. I ruined two shirts before I realized it was the pitcher."
I thought it was just me, but I'm having the same issue with the last 2 pouring pots I purchased.
Overall I like this and it's been good for the small production I have. Not sure I'd buy it again though. I've only used it about 4 times, but my only observations are:
- It is so light that it doesn't sit well in a double boiler, so you have to hold it down.
- It turns my hands, shirt...anything it touches...black! And it wont come out. I ruined two shirts before I realized it was the pitcher. Has this happened to anyone else or am I doing something wrong?
I have a few of these pouring pots and they are wonderful! However, how am I suppose to clean after making a batch of candles? Are there instructions on how to clean with a small amount of wax still in the pots? Can they just be thrown into the dishwasher? Would love to hear what others are doing for the clean up process. Thanks!
Hi! We are happy to hear that you are enjoying the pouring pitcher. Check out this FAQ for some cleaning tips: https://support.candlescience.com/hc/en-us/articles/201351504-How-should-I-clean-my-pouring-pots-and-molds-
It works well for now, but I haven't used it long enough to speak on the longevity.
This worked great until I started pouring. I lost half my wax on the table.
Hi! We are sorry to hear that you had some trouble with the pouring pitcher. They can be a bit tricky to get the hang of pouring out of, especially if you have them filled fairly full. We'd be happy to help with some tips so feel free to contact us at support@candlescience.com.
I used this to do 2 pound candle batches and it worked great!
You guys should probably mention that these are not dishwasher safe. I just ruined two of them. :(
used this for the first time yesterday, it's great!! cleans well, does not hold scent after it has been washed. this is a must have for every candle / tart maker!!
i was thinking which one i have to buy.
but big one's best for me.
Awesome for double boiling and smaller batches
I am just starting out but this pitcher is great. Though it does do a few drips down the side. I use the soy wax and it melts perfectly and the can does not hold the scent after cleaning it out. I am considering buying a second to make more candles at one time due to craft fairs lining up.
Does stainless retain the fragrance?
I'm trying to decide between getting a wax melter and using these pitchers in a double boiler format. Can anyone tell me if you scent the candle in the pitcher if the pitcher itself retains the scent? I'm wondering about re-using the stainless pitchers to make different scents.
This pour pitcher makes it so much easier to melt the wax and to pour it!